Ousted Zimbabwe vice president flees into exile, claiming assassination attempts against him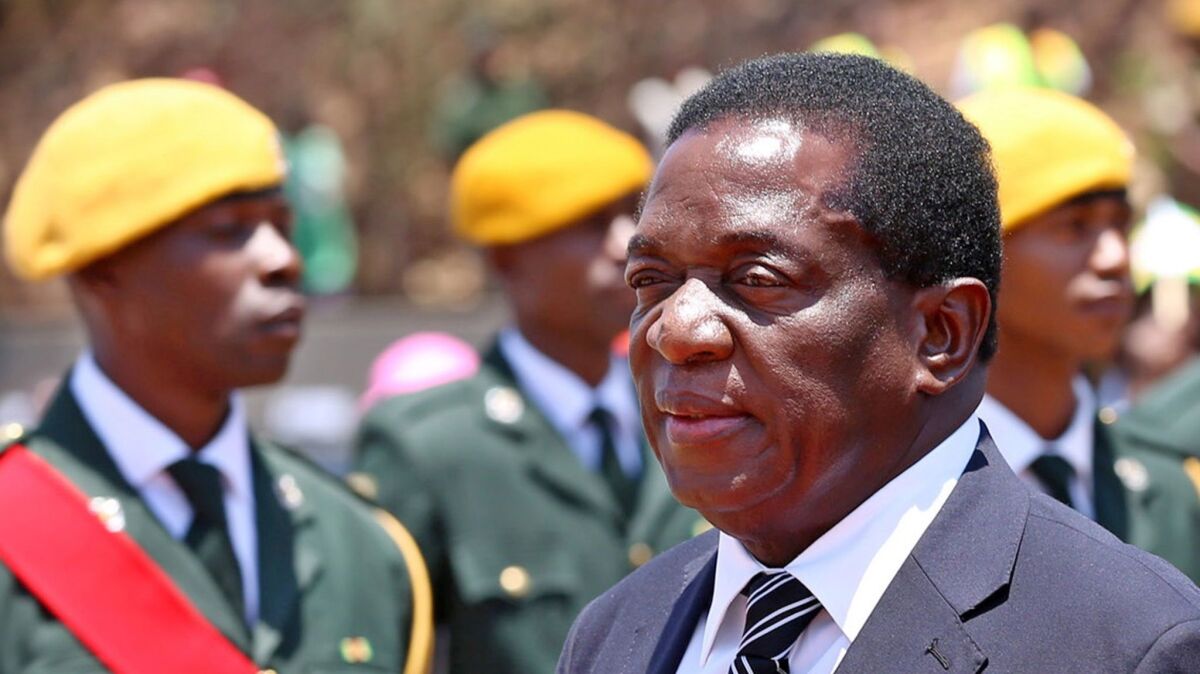 Reporting from Johannesburg, South Africa —
He was one of Zimbabwe's most powerful men: right-hand man to President Robert Mugabe with strong links to the security services.
But Emmerson Mnangagwa's fall and sudden removal as vice president was swift after he fell afoul of Mugabe's ambitious wife, Grace, who recently called him a "snake" whose head must be crushed.
Zimbabwe faces economic paralysis and critical shortages of hard currency as members of the ruling ZANU-PF party exchanges accusations of witchcraft, poisoning, assassination plots, treachery and the theft of billions of dollars in diamond wealth.
Two days after dismissing Mnangagwa, Mugabe on Wednesday accused him of using witchcraft as part of his plot against him. Mnangagwa fled Zimbabwe on Wednesday, citing death threats.
Mugabe's move to get rid of Mnangagwa smooths a path for his wife to take his place as vice president.
The two vice president posts are crucial in Zimbabwe: Should the increasingly frail 93-year-old Mugabe die in office, the acting deputy vice president will lead the country to elections. Until recently, Mnangagwa, nicknamed "Crocodile" for his role in Zimbabwe's liberation war, was seen as Mugabe's likely successor.
As Zimbabwe's economy collapses, Mnangagwa's fall has focused attention on a ruthless succession battle that has been unfolding in the ruling ZANU-PF party — and on Grace Mugabe's increasingly strident efforts to grab the leadership of the party.
Mnangagwa complained that he was poisoned in August after he fell ill at a rally in Gwanda, southern Zimbabwe, after eating ice cream. He was flown to South Africa, where doctors reported finding he had consumed poison, leading to liver damage. His poisoning claim enraged Grace Mugabe and set the stage for his removal.
Mnangagwa's dismissal came after people booed Grace Mugabe at a ZANU-PF rally in the southern Zimbabwe city of Bulawayo on Saturday. The state-owned newspaper, the Herald, reported Wednesday that a police manhunt was underway to track the suspected ringleader in the jeering episode, an expelled ZANU-PF member, Magura Charumbira. The Herald described Charumbira as a Mnangagwa loyalist.
The efforts to arrest Charumbira for booing underscore a recent crackdown on dissent in Zimbabwe. A U.S. citizen, Martha O'Donovan, was charged last week with subverting the government, an offense that carries a sentence of 20 years in prison, and insulting President Mugabe. She has been held in jail since Friday and is due to appear in court Thursday at a bail hearing.
Despite his age, Mugabe, who has ruled since independence in 1980, intends to seek reelection next year. On Sunday, his wife urged Mugabe to bequeath the presidency to her, a proposal that outraged many Zimbabweans, including some ZANU-PF members.
"I say to Mr. Mugabe you should ... leave me to take over your post. Have no fear. If you want to give me the job, give it to me freely," she said at a church rally in Harare. The ZANU-PF Youth League and the Harare branch of the ZANU-PF Women's League have called for Grace Mugabe to be appointed vice president.
Another serious contender to succeed Mugabe, however, is Defense Minister Sydney Sekeramayi.
Jonathan Moyo, minister of higher and tertiary education, who is allied with Grace Mugabe, hinted on Twitter on Wednesday that Mnangagwa was responsible for stealing $15 billion in diamond wealth.
After fleeing into exile, Mnangagwa released a signed five-page statement accusing President Mugabe and his wife of ruining ZANU-PF. He said he fled the country because of incessant death threats. His whereabouts were not clear, but close ally and war veterans group leader Chris Mutsvangwa told journalists in South Africa that Mnangagwa was on his way to South Africa.
Mnangagwa called Mugabe "one stubborn individual who believes he is entitled to rule this country until death."
"This party is not the personal property of you and your wife to do as you please," he railed in his statement. "I have been accused of treasonous acts dating back from 1980. This is not only fake but laughable and the president knows that."
He said Mugabe had allowed ZANU-PF to fall under the control of "a few undisciplined, egotistical and self-serving minnows" who derived their power from him and his wife. He warned Mugabe that he and his allies would be ousted from ZANU-PF leadership in coming weeks by popular will and he vowed to fight Mugabe and return to Zimbabwe.
Grace Mugabe and her children are deeply polarizing figures in Zimbabwe, as she and her family party and spend lavishly, while ordinary Zimbabweans struggle amid the country's economic collapse.
Grace Mugabe and a son from a previous marriage, Russell Goreraza, reportedly imported Rolls-Royces into Zimbabwe recently. She also took court action this year to recover $1.3 million she spent on a diamond ring purchased from a Lebanese businessman, Jamal Ahmed.
In August, Zimbabwe's first lady was accused of assault by a South African model, Gabriella Engels, who said Grace Mugabe hit her on the head with a power cord after finding her in a hotel room in upscale Sandton with her two younger sons, Bellarmine and Robert Jr. She escaped prosecution when the government allowed her to claim diplomatic immunity, a claim being challenged in court by Engels on the basis that Grace Mugabe was in the country on private, not government, business.
The two younger sons are controversial in Zimbabwe because of videos posted on social media showing them living extravagantly in South Africa, partying in night clubs and ordering bottles of Dom Perignon Champagne.
Mugabe appears to be preparing for a sweeping party purge of Mnangagwa's allies in ZANU-PF, following a similar purge when he ousted Joice Mujuru as deputy president in 2014, accusing her of plotting to assassinate him.
Mugabe told ZANU-PF supporters Wednesday that he would deal with Mnangagwa's co-conspirators in coming days.
Twitter: @RobynDixon_LAT
---
Must-read stories from the L.A. Times
Get the day's top news with our Today's Headlines newsletter, sent every weekday morning.
You may occasionally receive promotional content from the Los Angeles Times.