Former Sri Lankan strongman Rajapaksa aims for a political comeback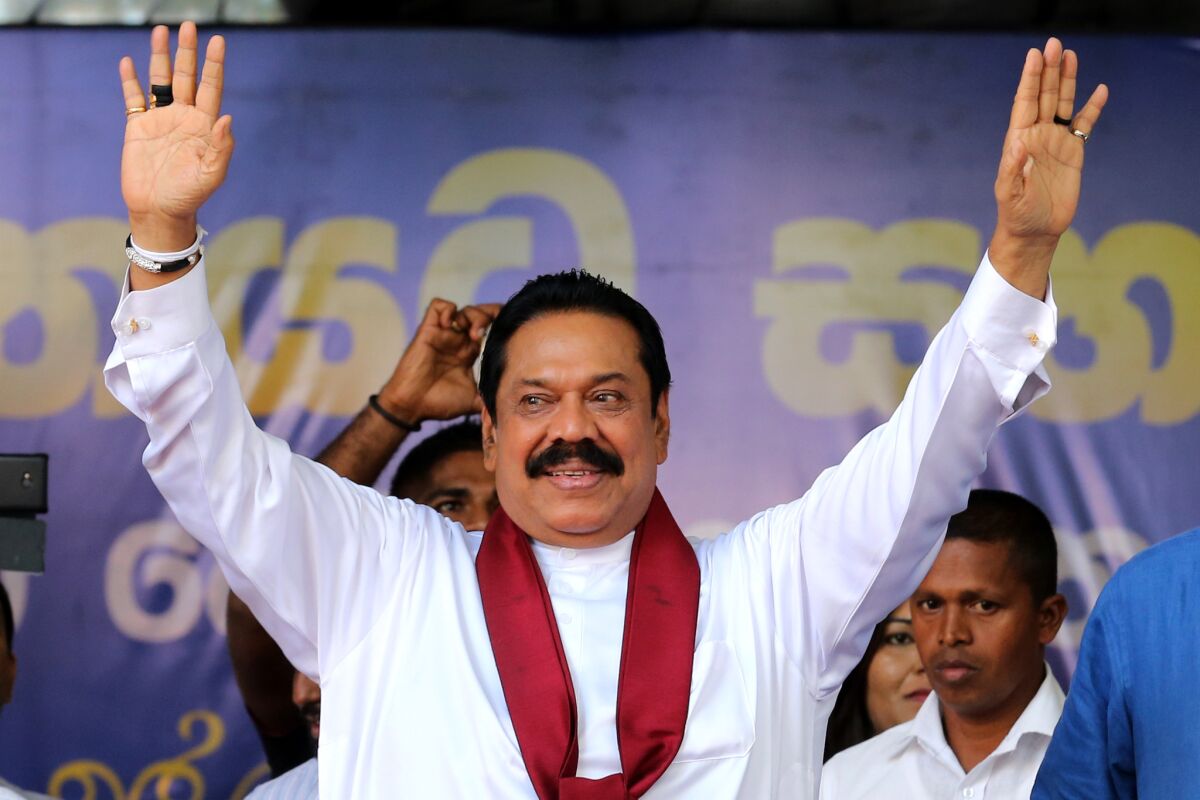 reporting from Mumbai, India —
Sri Lankan strongman Mahinda Rajapaksa's election defeat in January was the political surprise of the year in South Asia. Now the island nation is focused on him again.
Sri Lankans went to the polls Monday to elect nearly 200 lawmakers, and Rajapaksa was among the candidates. He's running for a parliamentary seat in a bid to be named prime minister if his Sri Lanka Freedom Party wins a majority.
Partial results released Tuesday morning by the Sri Lankan election commission showed Rajapaksa's coalition in a close race with Prime Minister Ranil Wickremesinghe's governing bloc, each side short of an absolute majority in the multi-party contest. A Rajapaksa spokesman tweeted that he "hasn't yet received official final results" and was not ready to claim victory or concede defeat.
Rajapaksa's attempted comeback has turned what might have been a sleepy parliamentary election into a significant regional story. Having presided over the end of Sri Lanka's long civil war, Rajapaksa led the nation for a decade until his brutal treatment against minority Tamil separatists and growing concern over government corruption quashed his reelection bid.
NEWSLETTER: Get the day's top headlines from Times Editor Davan Maharaj >>
Yet he retains support among ethnic Sinhalese, who make up the majority of the country's 20 million people. In campaign rallies this summer, the former president, wearing his familiar red scarf, cast himself as a war hero.
The election has shaped up into a referendum on the democratic reforms that President Maithripala Sirisena launched after unseating Rajapaksa in one of the biggest election upsets in the region in years.
Sirisena has released some Tamil political prisoners, pledged a domestic inquiry into army war crimes allegations, opened corruption investigations and trimmed the powers of the presidency, which Rajapaksa had turned into an almost imperial post.
The changes have been hailed by the U.S. and India, the regional power that was irked by Rajapaksa's hard-line stance against Tamils — a politically influential minority in India — and his friendship with China, which has long sought a foothold in the region.
Under Rajapaksa, Chinese state-owned companies won contracts to build massive infrastructure projects, including in his sleepy hometown of Hambantota, which now sit almost empty. Most upsetting to India was Rajapaksa's decision in September to allow a Chinese submarine to dock in Colombo, about 200 miles from the southern Indian coast, without informing New Delhi.
Rajapaksa's comeback bid is widely seen as an effort to block or stall corruption investigations. Ministers in Sirisena's government have accused Rajapaksa's family and its allies of stealing as much as $18 billion, although evidence has yet to surface.
In recent weeks, Rajapaksa has also been dogged by allegations involving the death three years ago of a star rugby player, who was reported at the time to have been killed in a car crash. The body of Wasim Thajudeen was exhumed last week so authorities could investigate accusations that he was tortured by security forces — a charge that Rajapaksa has denied.
The former president's resurgence has placed Sirisena in a challenging position because both belong to the Sri Lanka Freedom Party. Sirisena disappointed some supporters when he allowed Rajapaksa to run for Parliament under the party banner, but he has said he would not appoint him as prime minister if the party wins a majority.
Sirisena's government has fallen short of its ambitious reform pledges. Authorities have failed to appoint a new body to investigate thousands of cases of people, mainly Tamils, who went missing during the civil war and its aftermath.
Rajapaksa's reemergence "could give him significant power to complicate [Sirisena's] government's ability to handle the deep problems Sri Lanka faces: on corruption and rule of law, on demilitarization, reconciliation and a negotiated settlement of the ethnic conflict, on accountability and the economy," the International Crisis Group, a nongovernmental research and policy-advocacy organization, said in a report.
Yet even among some Sinhalese, there are concerns over Rajapaksa's ambitions.
"The general perception is that the reason why he is contesting is not for the benefit of the country but to delay or stop the investigations into corruption and abuses," said Muttukrishna Sarvananthan, founder of the Point Pedro Institute of Development, a research organization in northern Sri Lanka. "Because of that he could very much play a spoiler role."
For more news from South Asia, follow @SBengali on Twitter
ALSO

Sri Lanka road trip finds north and south still divided after civil war
Sri Lanka confronts ex-leader's extravagant projects in 'middle of nowhere'
6 years after war, Tamil families want to know where their loved ones are
---
Must-read stories from the L.A. Times
Get the day's top news with our Today's Headlines newsletter, sent every weekday morning.
You may occasionally receive promotional content from the Los Angeles Times.