After a bloody month in Afghanistan, demonstrators demand security reforms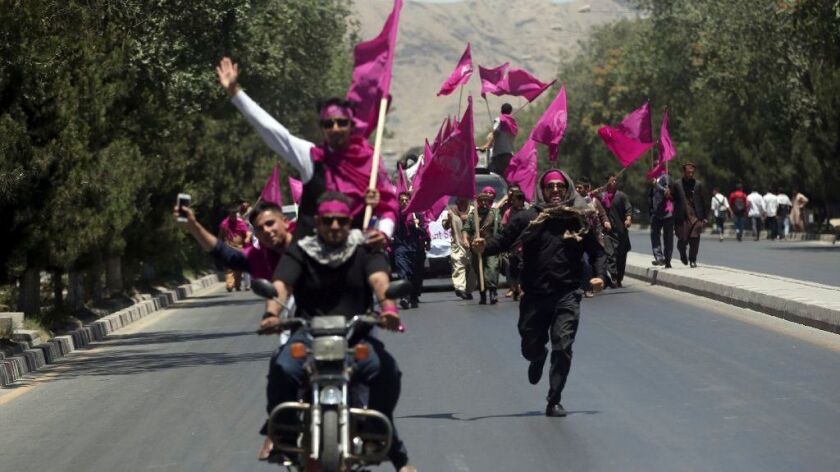 Reporting from Kabul, Afghanistan —
Protesters returned to the streets of Kabul on Monday waving pink flags and demanding the resignations of top security officials in the wake of the deadliest month in Afghanistan in years.
The demonstration was a continuation of weeks of sit-ins and protests in Kabul after a massive truck bombing killed at least 150 people on May 31. Days later, security forces opened fire on demonstrators, killing at least seven, and eventually dismantled the protest camp by force, resulting in another death.
At least 230 people died during the holy month of Ramadan, which ended last week. But the protests are only one manifestation of a political crisis that is threatening President Ashraf Ghani's government.
Ghani is already under fire for security failures and the inability of security forces to contain the Taliban insurgency. President Trump is considering sending as many as 5,000 additional U.S. troops to Afghanistan in the coming months to prop up the flailing Afghan army and police.
The crisis has taken on an ethnic dimension in a country where ethnicity plays a major role in politics. Critics have long accused Ghani of favoring a clique of people from his own Pashtun ethnicity, widely believed to be Afghanistan's largest, although no census has been conducted since 1979.
The frustration culminated on Saturday in a highly publicized meeting in Turkey among leaders of three ethnic minority groups, who announced they were forming a coalition calling for reforms and greater inclusivity in the government.
The members of the coalition – an ethnic Tajik, an ethnic Hazara and an ethnic Uzbek — all hold top government positions but believe they have increasingly become marginalized.
In April, Ghani fired Ahmad Zia Massoud, a Tajik, from the post of special representative for reforms and good governance for what the presidential palace said was "weak performance."
Then Abdul Rashid Dostum, an ethnic Uzbek who is Ghani's estranged vice president, left the country for Turkey in May after Ghani's government began investigating allegations that Dostum ordered sexual abuse of a political rival. Dostum's aides said he left Afghanistan for health reasons, but there is widespread speculation that he is trying to avoid prosecution in the assault case.
"Ghani started cracking down on these personalities," said Tahir Qadiry, a senior adviser to Atta Mohammed Noor, an ethnic Tajik and chief executive of Jamiat-i-Islami, the largest political party in Afghanistan. "The clique wanted to get rid of these people."
Noor, the governor of the northern province of Balkh, was in talks to join Ghani's government in Kabul but those talks fell apart after Ghani's advisers began "spoiling" the discussions, Qadiry said.
Ehsan Qaane of the Afghanistan Analysts Network, a Kabul-based research group, said ethnic leaders believe Ghani is not giving them enough authority. "People think he is trying to remove Uzbeks and Tajiks from power," he said.
When civil society groups took to the streets after the May 31 attack and security forces opened fire on them, the ethnic leaders saw a chance to put pressure on Ghani's government.
That has led to a heated debate playing out on Afghan social media. Mainly Pashtun supporters of the government accuse the protesters of being "thugs" and claim that Jamiat-i-Islami, as the largest force within the opposition, is paying them.
A civil society movement that organized the protests, called Uprising for Change, denied that it was backed by the opposition coalition.
"This movement is a self-organized, civic and independent movement made up of citizens who are educated and don't belong to any political parties in Afghanistan," said organizer Asar Hakimi.
Qaane says the protesters and the coalition are not linked, even if some of them might have links to political parties.
"The protesters are coming from the grassroots level, they are made up of youth," he said. "Their demands are legitimate and according to the law."
Ghani has repeatedly vowed to reform the security sector and promised an inquiry into the killings of protesters, although no tangible steps have been taken. Najibullah Azad, a Ghani spokesman, said his government includes people of "all tribes, languages, regions and religions" and accused the opposition coalition of being "based on personal interests."
"We want every politician in and out of government and political party to stand with the elected government of Afghanistan against the common enemy of the government and people," Azad said.
Liuhto is a special correspondent. Times staff writer Shashank Bengali contributed to this report from Istanbul, Turkey.
ALSO
Cycle of violence continues in Afghanistan with bombing at funeral; at least 7 die
Voices grow louder in Turkey to convert Hagia Sophia from a museum back to mosque
Hope. Concern. Resignation. Afghans have mixed feelings about the possibility of more U.S. troops
---
The Latinx experience chronicled
Get the Latinx Files newsletter for stories that capture the multitudes within our communities.
You may occasionally receive promotional content from the Los Angeles Times.