90 reportedly killed and 400 wounded after car bomb goes off in Kabul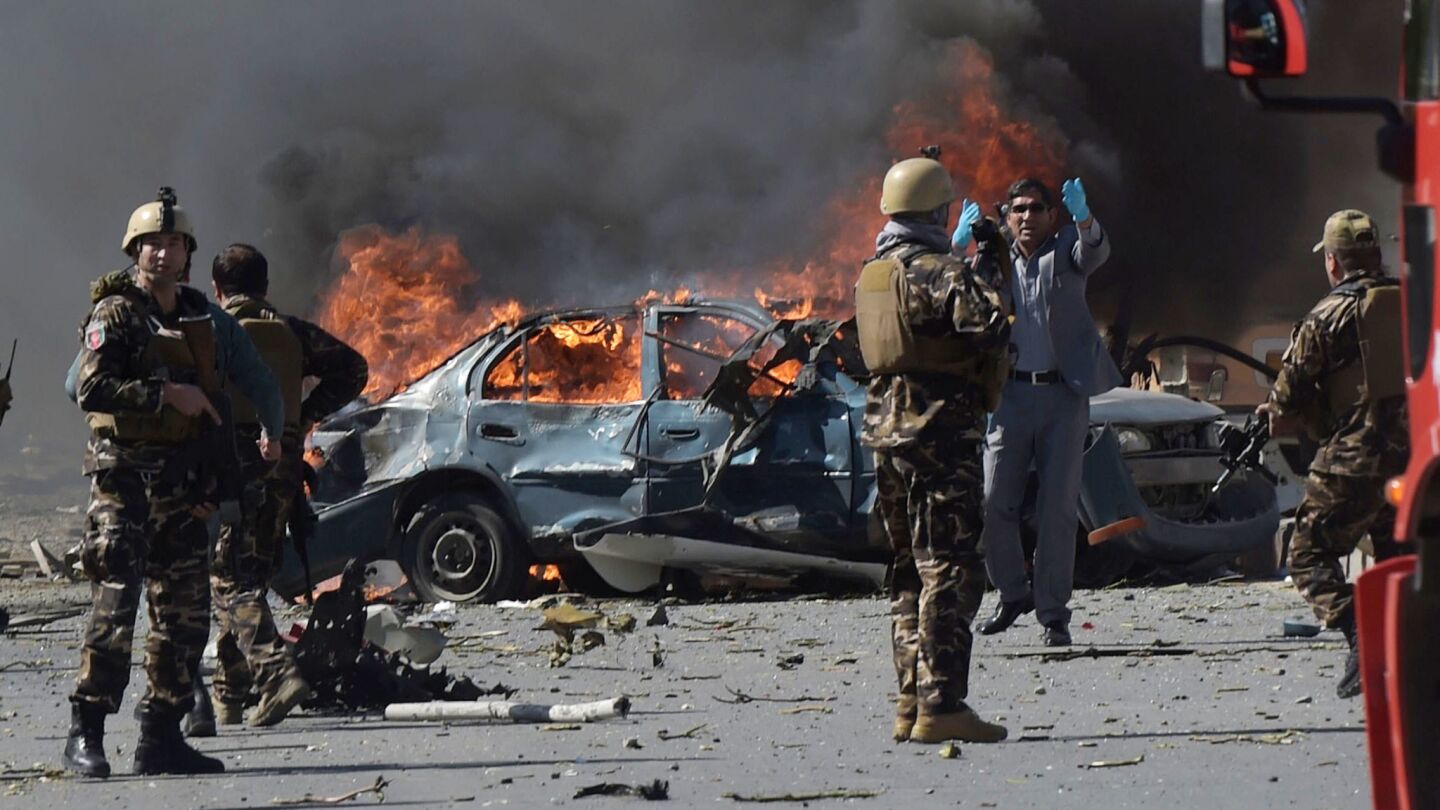 Afghan soldiers keep watch amid burning wreckage and debris after a car bomb exploded in Kabul on Wednesday morning.
(Shah Marai / AFP/Getty Images)
Soldiers secure the area where an explosion rocked Kabul, Afghanistan, on Wednesday, killing dozens and causing extensive damage, including to the German Embassy, background.
(Rahmat Gul / Associated Press)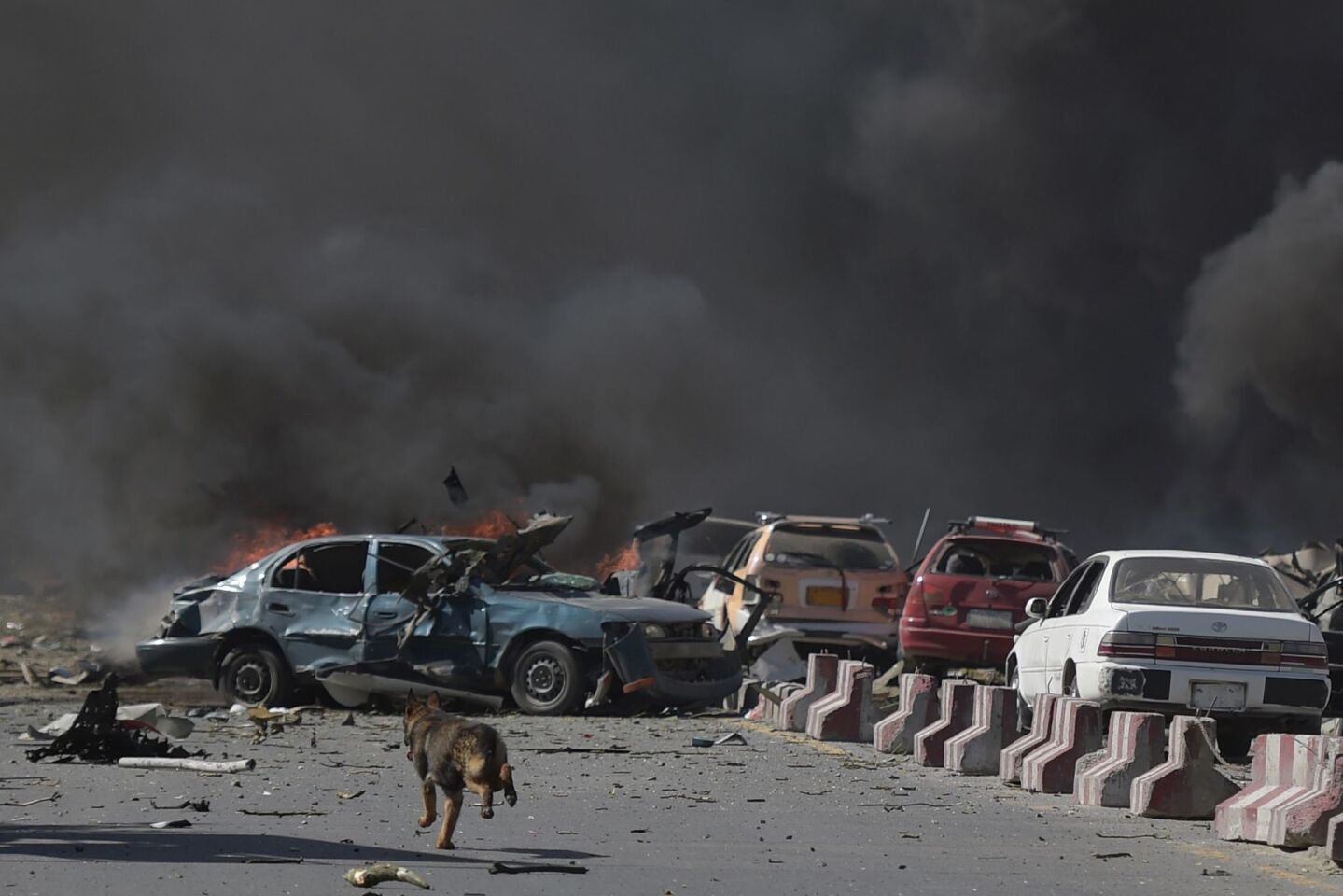 Smoke billows, a car burns and a dog scampers down the street in the chaos after an explosion in Kabul, Afghanistan, that killed scores on Wednesday.
(Shah Harai / AFP/Getty Images)
Volunteers carry victims away after a massive car bomb exploded in Kabul.
(Shah Marai / AFP/Getty Images)
An injured man is carried to a hospital after a suicide attack in Kabul, Afghanistan.
(Rahmat Gul / Associated Press)
A man wounded in the car bomb attack is treated at a hospital in Kabul.
(Wakil Kohsar / AFP/Getty Images)
Afghans survey the damage wreaked by a massive car bomb in Kabul on Wednesday.
(Hedayatullah Amid / EPA)
German and Afghan security officials inspect the destruction caused by a suicide bomb attack near the German Embassy in Kabul.
(Hedayatullah Amid / EPA)
Reporting from KABUL, Afghanistan —
Tayyeb, a 22-year-old bank employee, had just arrived at work Wednesday, a typically busy morning in central Kabul's diplomatic quarter, where rush-hour commuters' cars inched along streets that house foreign embassies, commercial buildings and the presidential palace.
Suddenly a heavy explosion shook the neighborhood, shattering windows as far as a mile away. In the bank, rooms went dark and shards of glass hit Tayyeb in the head.
"We couldn't find anyone or anything," said Tayyeb, who, like many Afghans, has only one name. "After maybe a minute, we could see some of our colleagues had been injured because of broken glass."
Colleagues brought the victims to a nearby hospital run by an Italian medical charity. The Public Health Ministry said at least 80 people were killed and more than 350 were injured in the blast, one of the worst to strike Kabul since the 2001 U.S.-led military invasion and a bloody reminder that Afghans continue to suffer in militant violence far from the international spotlight.
The government's media center later raised the death toll to 90 killed and 400 wounded, quoting a statement from the Ulema Council, the country's top religious body.
One witness said the explosion — which occurred on the fifth day of the Muslim holy month of Ramadan — was caused by a bomb in a large tanker truck that left a crater in the road more than 30 feet deep.
Interior Ministry spokesman Najib Danesh said the blast occurred in Zanbaq Square, which is close to the German Embassy and the headquarters of Roshan, the country's leading telecommunications company. Danesh said officials had not determined the target of the attack.
No group immediately claimed responsibility for the blast. Taliban spokesman Zabiullah Mujahid said in a statement that his group had no part in the attack.
Speculation immediately fell on militants loyal to Islamic State, which had claimed responsibility for the deadliest recent attack in Kabul, the bombing of a protest by ethnic Hazaras in July that killed more than 80 people.
The Taliban represents a far greater threat to the government. It has inflicted severe casualties against security forces and grabbed so much territory that more than 40% of Afghans now live in areas wholly or partly controlled by the insurgent group, according to U.S. military estimates.
But a few hundred militants claiming allegiance to Islamic State — many believed to be former Taliban fighters from Pakistan — have drawn growing attention from the fewer than 10,000 U.S. troops in Afghanistan. In April, U.S. warplanes fired 460 weapons on targets in Afghanistan, the most in a month since mid-2012, many targeting Islamic State. They included a massive bomb dropped on a network of caves used by the group in eastern Afghanistan.
President Trump is reportedly considering sending 3,000 to 5,000 additional troops to Afghanistan to bolster the country's security. But Afghan officials say the U.S. has not explained the role any additional soldiers would play.
"This was the heaviest blast I have ever witnessed in Kabul," said Daud, a 36-year-old shopkeeper in the Shahr-e-Naw district about a mile away.
The German Embassy was heavily damaged in the attack, with several staff members injured and an Afghan security guard killed, according to a statement from German Foreign Minister Sigmar Gabriel. All embassy staff members were safe, Gabriel said.
The BBC said that one of its staff members, a driver named Mohammed Nazir who was ferrying colleagues to the news organization's office, was killed and that four journalists were injured. BBC World Service Director Francesca Unsworth called it "a devastating loss."
The blast also caused damage at Amani High School, a large, elite school supported by the German government that sits behind the embassy.
"Many students in 12th grade were injured. Everyone was crying and running in panic," Haseeb, a 15-year-old student, said as he was being walked to safety with fellow students.
Many of the victims were brought to the Italian-run hospital, Emergency, which attends to war victims. A crowd gathered outside, many waiting on news of loved ones being treated.
"We have lost him, we have lost him!" one man screamed in desperation. He was speaking of a colleague who had been traveling in a taxi and was seriously injured in the blast.
Atiqullah, 24, was standing outside his restaurant in front of the hospital when the explosion happened.
"I think I saw more than 200 injured people being brought to Emergency," he said as he picked up pieces of broken glass outside his restaurant.
A teenage boy, Rizwan, who was on his way to an Islamic school for Koran recitals, had bloodstains on his shirt and a bandage on his ear, the result of broken glass from a shop window.
"It was a very heavy explosion," he said. "We didn't know which way to go."
Afghan President Ashraf Ghani called an emergency meeting of senior officials and tweeted that he "strongly condemns the cowardly attack in the holy month of Ramadan targeting innocent civilians in their daily life."
Mirwais Yasini, a lawmaker from the eastern province of Nangarhar who visited the blast site, blamed Ghani's government, wondering how such a large car bomb could have penetrated the city center, which is lined with checkpoints run by Afghan security forces.
Yasini cited a string of recent deadly attacks, including one against a military hospital in Kabul in March and one on an army base in the northern city of Mazar-i-Sharif that killed more than 100 soldiers last month.
"This is a complete disaster of the government," Yasini said. "Ghani is not doing his job. He has completely failed and he should resign."
Special correspondent Liuhto reported from Kabul and Times staff writer Shashank Bengali from Mumbai, India. Special correspondent Sultan Faizy contributed to this report.
ALSO
Islamic State claims responsibility for attack on Coptic Christians in Egypt that left 29 dead
U.S.-led airstrike on Syrian city kills more than 100; criticism of air campaign mounts
What's that drone flying in over the horizon? It's a scout from Islamic State
Violent protests erupt in Kashmir after Indian forces kill 8 suspected militants
---
UPDATES:
11 a.m.: This article was updated with more background on Islamic State and the Taliban.
9:10 a.m.: This article was updated with new casualty figures.
7:50 a.m.: This article was updated with a quote from President Ashraf Ghani.
4:40 a.m.: This article was updated with additional details and reporting.
2:10 a.m.: This article was updated with a higher death toll.
1:20 a.m.: This article was updated with staff reporting.
12:30 a.m., May 31: This article was updated with a higher death toll.
This article was originally published at 11:30 p.m., May 30.
---
Must-read stories from the L.A. Times
Get the day's top news with our Today's Headlines newsletter, sent every weekday morning.
You may occasionally receive promotional content from the Los Angeles Times.