American rap, local whiskey: Tiny Bhutan guards tradition as it opens up to the world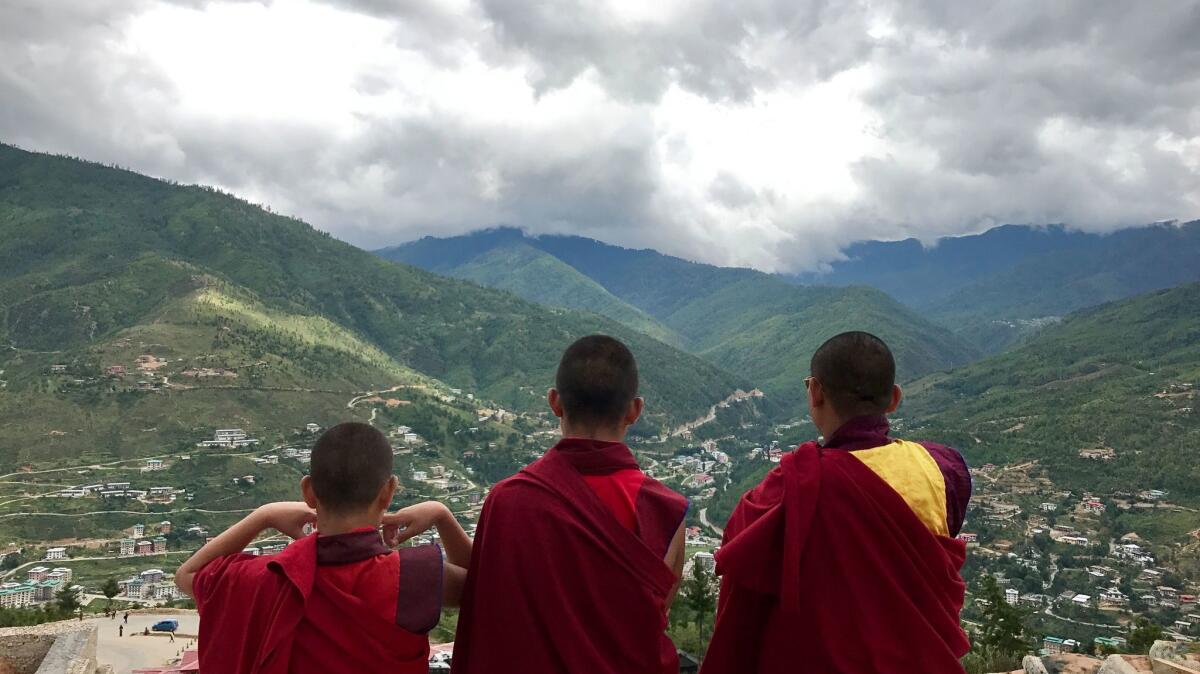 Reporting from THIMPHU, Bhutan —
The fresh-faced singer clutched the mic and looked conspiratorially at his audience, a few dozen young people several drinks down.
"This next one has some explicit lyrics," he said.
As a cheer went up from the front row, Younten Jamtsho, 20, and his five-man band, Yellow Pencils, launched into a jaunty pop rendition of "Crazy Rap" by the American artist Afroman. Members of the crowd grooved in their seats to the raunchy ditty that revolves around smoking weed, oral sex and a vulgar image involving fried chicken and the wife of KFC's Colonel Sanders.
"Yeah, that song is pretty racist," Jamtsho would acknowledge later. "But people don't mind. They're young — they just want to have a good time."
It was just after midnight in a bar along the compact main drag of Thimphu, capital of the Himalayan kingdom of Bhutan. Almost every other establishment had long since closed. In the chilly darkness, the howls of stray dogs echoed off the steep hills ringing the city.
Inside the bar, young women danced in a corner while smoking cigarettes — frowned upon by the royal family and heavily taxed, though not banned — and bartenders doled out generous pours of K5, the dangerously drinkable local whiskey named for Bhutan's five kings.
After a couple of glasses — and with Jamtsho belting out hits by Bruno Mars and Coldplay — it was possible to forget this was once among the most isolated countries in the world, one that didn't even get television until 1999.
Bhutan was never going to be an early adopter. It is a small and remote place — a little more than twice the size of Los Angeles and Orange counties combined, perched at the eastern edge of the world's highest mountain range. The Buddhist constitutional monarchy, however, is steadily moving into the modern era, even as its 800,000 people struggle with how much of it to embrace.
"Our generation has been exposed to the world," Jamtsho said the next afternoon on the patio of a coffee shop, sipping tea with honey before another gig. "It's a part of development — you have to move with time."
The Yellow Pencils, formed four years ago, took their name from the color associated with Bhutan's royal family and the fact that the members — all 22 or younger — were students when they started playing together. Sometimes, the band swaps out the electric guitar for the dramyin, a long-necked Himalayan lute used in Bhutanese folk songs, to achieve a more bluesy sound.
Those are the band's only nods to tradition in a country that holds tightly to its heritage. Thimphu can sometimes feel like an open-air museum, with its rows of low-slung buildings topped with gently sloping roofs in the local style, and sidewalks filled with men clad in the knee-length robe known as the gho and women in the kira, a slim-fitting, ankle-length dress.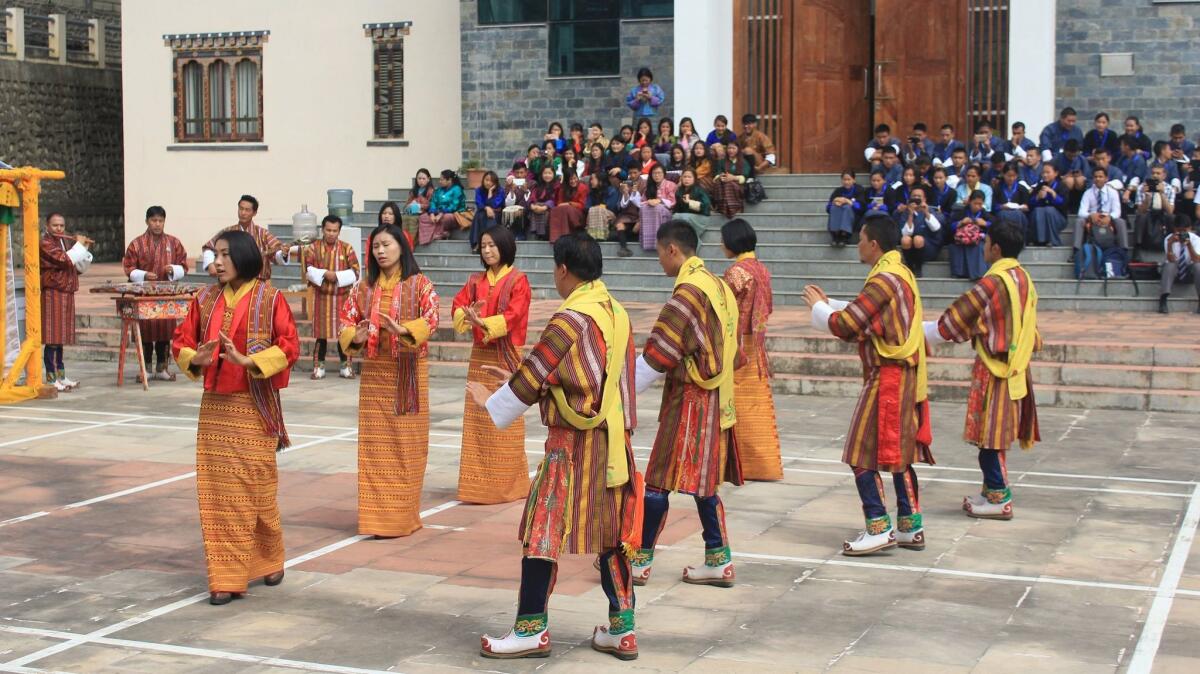 Those outfits are required in government offices and in most businesses and schools. Western clothing is seen as decidedly casual. An editor at one of Bhutan's biggest newspapers said he knows his reporters aren't going out on enough interviews if they show up to work in slacks and shirts.
But along the narrow sidewalks in the center of Thimphu, Western-style apparel stores outnumber those selling traditional Bhutanese wear. Cafes advertise Italian espresso and free Wi-Fi. Traffic jams have begun to clog the main roads, and cars are proliferating so fast that a multi-story parking garage, the city's first, is taking shape on its southern edge.
Much of the income derives from tourism, and Bhutan has retained its reputation as a quiet Shangri-La in part by charging foreign visitors a daily fee of up to $250 in the high season. Bhutan wanted to avoid the fate of neighboring Nepal, another popular Himalayan destination, where droves of Western backpackers fill up cheap hostels and live on noodles for weeks at a time.
"It is our fascination with conservation," said Singye Dorji, a Bhutanese entrepreneur who manufactures paper packaging. "We need development, but not at the pace of somewhere like China. We are not going to destroy our environment."
Bhutan is by some lengths the most relaxed place in South Asia, a region known for pell-mell cities and toxic pollution. Arriving from India recently for the annual Mountain Echoes literary festival, I stared up at the sapphire sky and did something I hadn't done in weeks: inhale deeply.
Indian drivers ignore traffic lights; Bhutan, with a fraction of the population, has decided it doesn't even need them. One traffic signal installed in Thimphu several years ago was promptly taken down. In the middle of the city's main intersection, a white-gloved police officer stationed in a pagoda-like enclosure directs lines of slow-moving cars with an almost hypnotic series of waves. There are no accidents.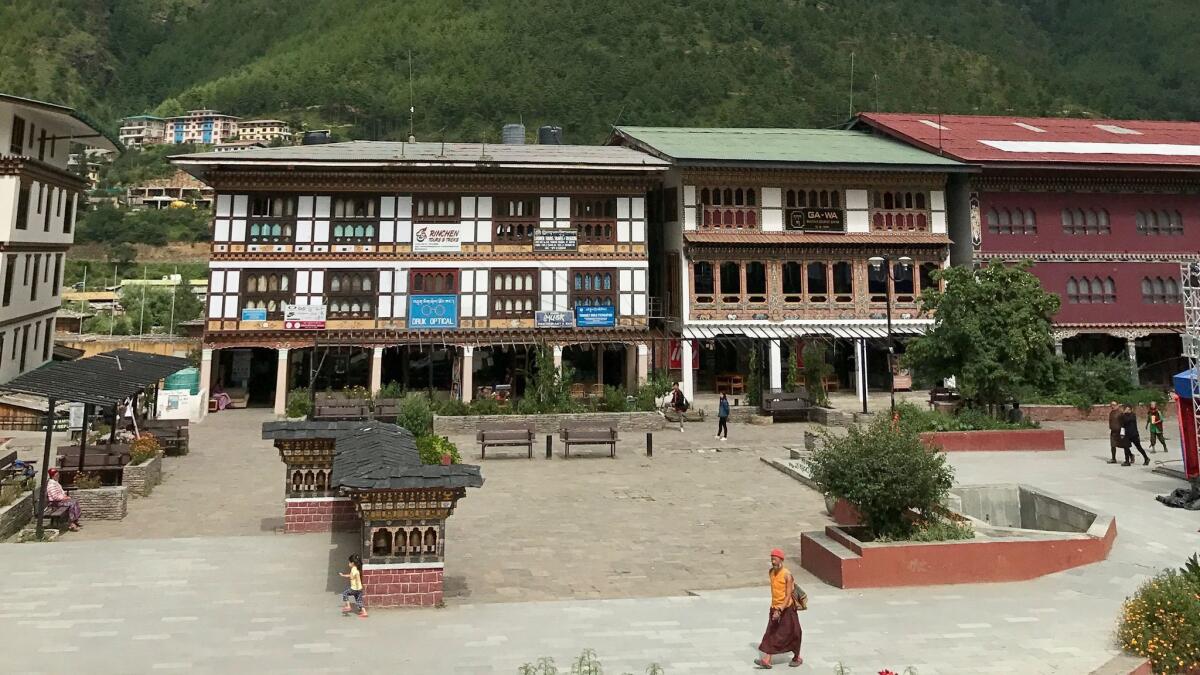 But many wonder how long Bhutan can retain its worry-free reputation and adherence to "gross national happiness" — the country's guiding philosophy, introduced by the current monarch's father, that environmental preservation and equitable growth should take precedence over material wealth.
At Renew, a women's rights organization, community outreach officer Meenakshi Rai said many young Bhutanese were flocking to Thimphu in search of scarce jobs. Most of the complaints her organization receives concerned domestic violence and sexual abuse, often stemming from high rates of alcohol use.
"Everything is happening fast for us," she said.
But modernity had brought positive changes, she said. In the recent past, especially in the eastern hinterlands, Bhutanese men observed a local custom known as bomena, in which they would scale the walls of houses in the middle of the night and climb through windows in search of women.
A traditional courtship ritual, bomena sometimes allowed men to force themselves on women, leading to cases of rape, Rai said. But cellphones now reach into the mountains, allowing young men and women to chat and arrange dates on social media, eliminating the need for surprise late-night visits.
"This is the key to our society: taking the good traditions and forgetting the harmful ones," Rai said. "This is part of gross national happiness."
ALSO
As China and India tussle in South Asia, a pristine mountain kingdom is caught in the middle
How a humanitarian crisis tarnished Nobel winner Aung San Suu Kyi's legacy, perhaps forever
Singapore has an idea to transform city life — but there may be a privacy cost
Follow @SBengali on Twitter for more news from South Asia
As China and India tussle in South Asia, a pristine mountain kingdom is caught in the middle
Sign up for Essential California for news, features and recommendations from the L.A. Times and beyond in your inbox six days a week.
You may occasionally receive promotional content from the Los Angeles Times.