A human rights activist is slain in Cambodia, and the mystery leads all the way to California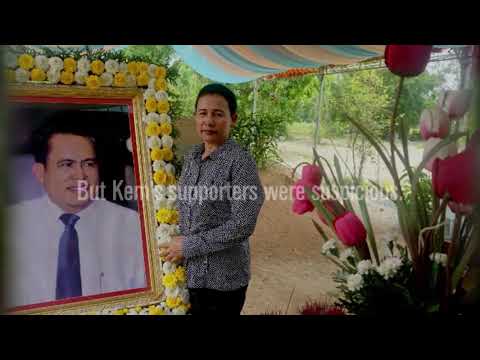 Kem Ley, a famous political pundit and human rights activist in Cambodia, was shot and killed in July 2016.
Reporting from Phnom Penh, Cambodia —
Cambodia's most shocking killing in years happened in broad daylight, on a muggy July morning, just as its capital city was stirring to life.
Kem Ley, a famous political pundit, walked into a convenience store at a Caltex gas station just before 9 a.m. and ordered an iced latte. A man approached, carrying a semi-automatic pistol. He shot Kem twice — once in the head, execution-style.
The suspect, Oueth Ang, 43, walked away calmly down the city's crowded streets, past languid snack sellers, low-slung French colonial homes and motor scooters jostling like schools of fish. About a half-hour later, SWAT police arrested him.
Later, he confessed to killing Kem over a $3,000 debt. A Cambodian court charged him with premeditated murder. Authorities considered the case cut-and-dried.
But questions lingered about why Oueth shot Kem, and if anyone put him up to it. And the ensuing fallout — involving massive protests, a dictator, a secret video file, a U.S. oil company, and a law firm in San Francisco — has upped the stakes for Cambodia's small human rights community.
Kem — a crusader whose causes included illegal logging, corruption and sovereignty issues on the Cambodia-Vietnam border — was a widely beloved public figure. On July 24, two weeks after the killing, tens of thousands of Cambodians gathered for his funeral. A sea of mourners surged down Phnom Penh's broad boulevards, carrying Kem in a glass coffin covered in flowers. Many wept; some marched the entire 50 miles to his hometown in Takeo province, where they laid his body to rest.
The march was as much a repudiation of Cambodia's prime minister as it was a tribute to Kem. Hun Sen, a 61-year-old strongman, has ruled the country for 31 years, making him among the world's longest-serving rulers.
Hun wields almost total control over the country's police force, military, major media and courts — and Kem criticized him relentlessly, casting him as a corrupt despot.
Hun called the killing a "savage act," and promised an investigation. But Kem's supporters were suspicious.
Hun's Cambodian People's Party (CPP) has been accused of assassinating opponents, then manipulating the investigations of their deaths. And some details from the shooting cried out for further inspection — witnesses claimed that a police vehicle pulled up to the gas station that morning, lingered briefly and departed just before the shooting. They claimed that Oueth attempted to jump on a police motorbike before walking away.
The truth may lie on the Caltex station's surveillance video. Kem's supporters have repeatedly lobbied authorities to release the video files, to no avail.
Then in December, they received an unexpected shot of hope.
Caltex is owned by Chevron, the San Ramon, Calif.-based energy giant. A boutique law firm in San Francisco, BraunHagey & Borden, suspected that Chevron still had the files — and that it could force the company to release them.
One of the firm's lawyers who had worked on human rights issues in Cambodia was disturbed by the killing, and thought the firm could inject some fairness into the case. On Dec. 13, its lawyers filed a suit in U.S. District Court for the Northern District of California.
"I feel these are times when the 1st Amendment, the freedom of the press and the freedom to dissent — to speak your mind — are more important internationally, and I think law firms should be standing up for that," said Matthew Borden, a partner at the firm.
On Dec. 23, the Phnom Penh Municipal Court closed its investigation into Kem's death. This week, the California lawsuit took a major step forward.
Kem was born to a family of farmers in an impoverished, rice-growing village a half-day's drive from Phnom Penh. His mother, Pok Sin, 78, described him as a smart but quiet child. "He never said anything about wanting to be famous or influential," she said. He studied medicine in Thailand and Malaysia, and after graduation, worked as a public health researcher for international nonprofit organizations.
In 2013, everything changed. Hun won election to his fifth term as prime minister. The opposition Cambodian National Rescue Party came close; its leaders alleged mass voter fraud, and refused to accept the outcome. Protests erupted, and in January 2014 the government cracked down, resulting in four deaths.
The events enraged and emboldened Kem. He began to travel widely, spending his nights with rural families, and appearing on radio and television to air their grievances. He campaigned against illegal logging, pollution, corruption, inequality and land grabs. He founded an independent political party, the Grassroots Democracy Party, which planned to field candidates for local elections in 2017.
"He was pretty much like a man with eight arms," said Virak Ou, a Phnom Penh-based human rights activist and friend of Kem's. "He seemed to be everywhere. And that was one of his strengths."
Kem's organizing was dangerous, and he knew it. Many Cambodians believe, despite a lack of conclusive evidence, that the CPP has at least played a role in the deaths of its fiercest critics. In 2004, Chea Vichea, an influential union leader, was shot to death; in 2012, Chut Wutty, an environmental activist, was gunned down near a protected forest. Their killers were never brought to justice.
Kem's final radio interview may have been the last straw to his most violent opponents. On July 9, he appeared on Radio Free Asia to discuss a Global Witness report that claimed Hun's family members had amassed a fortune worth at least $200 million.
Kem spent his last days living in fear, according to Buth Bunteng, a Buddhist monk and anti-illegal logging activist. Buth recalled meeting Kem at a cafe on July 7, three days before the killing.
"Before then, he thought he would be arrested," he said. "On the 7th, he thought he would be killed. He was afraid. His facial appearance changed. His behavior changed on that evening. He looked so sad."
After the killing, journalists visited the gunman's rural hometown on Cambodia's western border and heard that he was a former soldier and inveterate gambler. Voice of America reported that Oeuth likely didn't have $3,000 to lend Kem; the Cambodia Daily, citing Oeuth's family and friends, reported that he had "never even uttered Kem Ley's name." He had vanished from his village 10 days before the shooting.
After Oeuth was arrested, he gave an unusual nickname to police: "Chuop Samlap," Khmer for "meet to kill." Oeuth's trial is scheduled to begin March 1.
The case could hinge on something called a "Section 1782 discovery" — a simple U.S. statute with complex implications.
It stipulates that if an American company is involved in a legal proceeding outside the U.S. — say, a trial in Cambodia — a litigant can apply to an American court for evidence that could be used in that proceeding.
BraunHagey & Borden's lawyers considered the statute, and saw an opportunity.
Hours after Kem's killing, Sam Rainsy, head of the opposition Cambodia National Rescue Party, had called the death an "act of state-sponsored terrorism," with parallels to the killings of Chea and Chut. In August, Hun's government sued Rainsy for defamation; he went into exile in France.
Also, in October 2014, a group of Cambodian citizens brought a case to the International Criminal Court, accusing Cambodian officials of crimes against humanity.
Chevron's surveillance video was relevant to both cases, and BraunHagey & Borden filed the discovery request for the video, along with other materials, on behalf of both Rainsy and the Cambodians in the ICC case.
The energy giant itself had used Section 1782 before in an environmental case in Ecuador. "We're basically using it in all the ways that Chevron has used it," Borden said.
Chevron has not yet filed any responses in court, but maintains that there's no point in suing for the video. A spokesman, Gareth Johnstone, said the gas station's "digital video recorder, along with the footage it contained, was removed by the police shortly following the incident." He did not offer further details.
The law firm is skeptical. Eva Scheuller, an associate attorney at the firm, said it seemed "somewhat implausible" that the digital files were not backed up.
On Thursday, the court granted the firm's request, allowing Chevron 30 days to object. Judge Donna M. Ryu wrote that the request for the files "does not appear to be unduly burdensome."
The Cambodian government has repeatedly denied having a role in Kem's death. "I think there's speculation, and that's the right of the people," said CPP spokesman Sok Eysan. "But as a government ruling party we don't want such incidents to happen." He blamed the opposition party for stirring up resentment and denied that Hun would interfere in the country's courts.
Yet the killing has cast a chill over Cambodia's human rights community. Kem's wife and five sons have fled to Thailand; they are applying for asylum in Australia.
Chum Houth and Chum Houth, 27, prominent environmental activists who are identical twins with identical names, said they now fear for their lives.
"Many [aid] workers have told us to wear helmets and masks over our faces whenever we go out," said one of the twins. "But I said no, that would make me not a Cambodian citizen."
"We don't know who is an enemy, and who is a friend," added his brother.
On a rainy afternoon in November, Pok Sin, Kem's mother, sat on a damp wooden platform outside of the family's home, receiving busloads of guests — weathered farmers, coiffed office workers, Buddhist monks in flowing orange robes. They bowed deeply, then snapped photos by Kem's coffin, their expressions defiant but darkened by grief.
"Kem Ley wrote something on his Facebook before he died about brave people who stood up to government pressure," said one visitor, Bov Sorphea, 38, who has protested land seizures near her home in Phnom Penh's Boeung Kak area. "Whenever we went to jail, when we got out, he was there to support us."
As Bov left, another bus pulled up, and Pok watched the new round of visitors quietly approach.
For more news from Asia, follow @JRKaiman on Twitter
ALSO
Their parents' lives were defined by war. Now Vietnam's youth are pushing the country toward a new identity
In Asia, China looks like the winner after scuttling of Trans-Pacific Partnership
A plain-spoken German populist may have a shot at ousting Angela Merkel
Sign up for Essential California for the L.A. Times biggest news, features and recommendations in your inbox six days a week.
You may occasionally receive promotional content from the Los Angeles Times.