Their parents' lives were defined by war. Now Vietnam's youth are pushing the country toward a new identity
Reporting from Ho Chi Minh City, Vietnam —
In front of Ho Chi Minh's statue and the baroque yellow walls of Communist Party headquarters, they danced.
Strobe lights and bass washed over sweaty young bodies twisting in the tropical night air. The DJ took a selfie with the crowd, and the din on this downtown promenade blended with the roar of motorcycles cruising along the Saigon River.

For the record:
11:44 p.m. Aug. 23, 2019This article incorrectly refers to the Fashion Institute of Design & Merchandising as the Fashion Institute of Design & Manufacturing.
This is the next generation's Vietnam, where coffee roasters and tech start-ups wedge in between noodle soup vendors and bike repairmen as the city sidesteps its socialist legacy in a dash toward the future. Two-thirds of the country's population was born after Saigon fell in 1975. Now they're helping transform the Communist nation into one of the world's fastest growing economies, with a hip gravity strong enough to lure back children of emigres who fled to Houston and Orange County.
These young people are creating a new national identity — one filled with capitalistic idealism, responsibility, and a belief that the country offers opportunity that many of their parents won't acknowledge.
"We're studying abroad, we're traveling, we see Western culture and our own culture," said Thao Dao, the 27-year-old co-founder of Ladan, a company that designs modern Vietnamese clothing and accessories for young adults. "For our generation, it's time."
She attended the Fashion Institute of Design & Manufacturing in Los Angeles, but saw her future at home in Vietnam.
Dao and a friend opened their small shop last year up a creaky flight of stairs near one of the city's oldest markets. They filled it with bamboo purses and elegant pastel riffs on the ao dai, a traditional Vietnamese dress-pant combo.
"You can come back and make a difference," Dao said.
She and co-founder Anna Phan, who grew up in Vietnam and graduated from Santa Clara University in California, have a dream: that a country that produces much of the world's apparel will now become proud to wear it.
Phan's mother survived postwar poverty jumping on and off trains to sell food. Dao's hawked fish sauce. Their daughters hope to turn "Made in Vietnam" into a fashion symbol.
"We don't talk about the war anymore," Dao said.
An increasingly affluent generation is traveling abroad, especially from urban areas such as Ho Chi Minh City and Hanoi, the capital. More than 21,000 Vietnamese students attended American universities last year, the sixth largest number of foreign students in the U.S., according to the Institute of International Education.
Up to 3,000 startups operate in Vietnam, a country of 90 million whose economy has grown twice as fast as that of the U.S. in recent years.
The statue of Ho Chi Minh, the country's revolutionary war hero, looks out at tower cranes and the city's most expensive real estate. Residents alternate between the official name and Saigon, a throwback to six decades of French colonial rule that ended in 1954.
Bike-sharing apps like uberMOTO are replacing street-corner men who for decades offered cheap motorcycle trips. Officials are building a subway and a second airport for the city's 8 million inhabitants.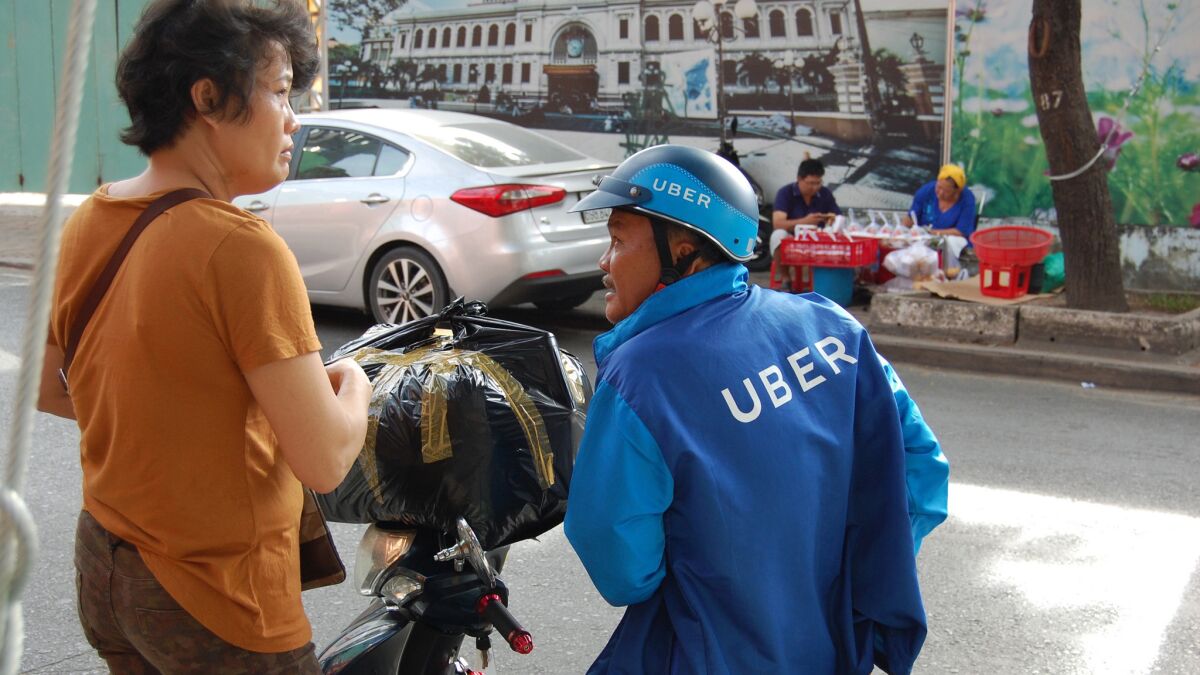 Vietnam also has grown closer to the U.S. Then-President Obama visited in May, when he lifted a longstanding arms embargo and highlighted the country's youth.
"This is your moment," he told a crowd in Hanoi. "And as you pursue the future that you want, I want you to know that the United States of America will be right there with you."
But optimism is still guarded. Young people talk about succeeding largely in spite of — not because of — the government. The one-party state is weighed down by public debt and bulky state-owned enterprises. Corruption pervades, despite an official crackdown.
Human Rights Watch ranks its record as "dire." Officials arrested a high-profile blogger last year who criticized the government's handling of a chemical spill that left dead fish scattered across beaches.
Saigon's growth has alarmed preservationists who watch the destruction of French colonial buildings and the rise of skyscrapers. Pollution is increasing; income inequality is rising.
"There are energetic people trying to do great things," said Vu Thanh Tu Anh, research director at the Fulbright Economics Teaching Program here.
"But it's constrained by the education system, by political constraints…and we have a system which is not responsive enough to the needs of people."
Although the country is growing faster than most, Vu said, "we're not close to our potential."
Hao Tran didn't know Saigon had another name until he was 18. The San Franciscan now calls Ho Chi Minh City his home. Tran, 24, left his tech job a year ago for a country his parents fled.
"My perception of Vietnam growing up was pho and war documentaries," he said. Now he's co-founder of Vietcetera, an English-language website that seeks to tell "the untold stories of the new Vietnam."
Recent articles profiled a young model promoting sustainable development and explored the local popularity of vaping.
Tran and his colleagues sat in the loft of a white-walled, minimalist coffee shop they'd just helped open. It could have been in Brooklyn, except with shaken lemonade and café sua, Vietnamese coffee with condensed milk.
"We want to reach a global audience and educate them on what Vietnam has to offer," said Tran, who'd recently met his mother's sisters for the first time. "There's still a lot of Wild West here; rules are ambiguous. But you can just see the energy."
Like Tran, thousands of overseas Vietnamese — also known as Viet Kieu — are overriding parental objections and returning to a country they view through a different lens.
Eddie Thai's mother cried when he told her he would move here.
She feared he would get cheated, that the business environment would prove too rough. Thai thought he had something to offer and it felt like the right time.
Thai's father worked his way from a Mekong Delta rice farm to graduate school in New York. His mother escaped Saigon as it fell to northern forces.
"There's a lot of opportunity to fill the gaps," said Thai, 31, a Vietnam-based partner at 500 Startups, a venture capital firm based in Mountain View, Calif.
"It's really awesome to help Vietnam and Vietnamese businesses leapfrog their partners," he said. "This young generation is hungry. They understand the world…a lot are asking, 'Where do we go from here?'"
Older high-level investors and business executives sound less sanguine about the prospects for rapid change, especially with a regulatory system that can impede innovation.
Some wonder whether the next generation can do much to change that.
"Young people are lazy," said Duy Dao, 36, a businessman who also runs an open-air café. "They don't know where the money comes from."
But if they can make it last, if Vietnam can continue on its high-growth trajectory, a country once considered among the world's poorest may become Asia's next stunning success.
Vietnam has moved into middle-income status, and this year the World Bank will start to phase out the low-interest, lengthy payback loans it gives the country. When this generation nears retirement age, the average lifespan will reach 80, according to the United Nations, up from 73 in 2012.
Le Xuan Loc thinks less about where Vietnam is going than what it still has to achieve.
The 25-year-old pharmacist moonlights as a social activist, and dreams of opening a healthcare clinic in his rural, coastal hometown. He's helped start a mentoring program for young people to build skills. Obama noticed something in Le that helped explain the new Vietnam, enough to mention him in his speech here.
Le doesn't brag about the Obama shout-out, although he blushes slightly when it comes up. He blended in at yet another coffee shop, a kid with earphones around his neck sipping a green tea float and talking about hopes for his country.
"Vietnam has potential," he said. "Why not change it instead of leave?"
Meyers is a special correspondent.
Twitter: @jessicameyers
ALSO
In Asia, China looks like the winner after scuttling of Trans-Pacific Partnership
South Korea is coping with its worst outbreak of avian flu ever — and U.S. egg farmers are benefiting
Australia doesn't want them. Trump doesn't either. Who are these refugees trapped in bleak island camps?
---
Must-read stories from the L.A. Times
Get the day's top news with our Today's Headlines newsletter, sent every weekday morning.
You may occasionally receive promotional content from the Los Angeles Times.