Despite the smog, bird-watching in Beijing takes flight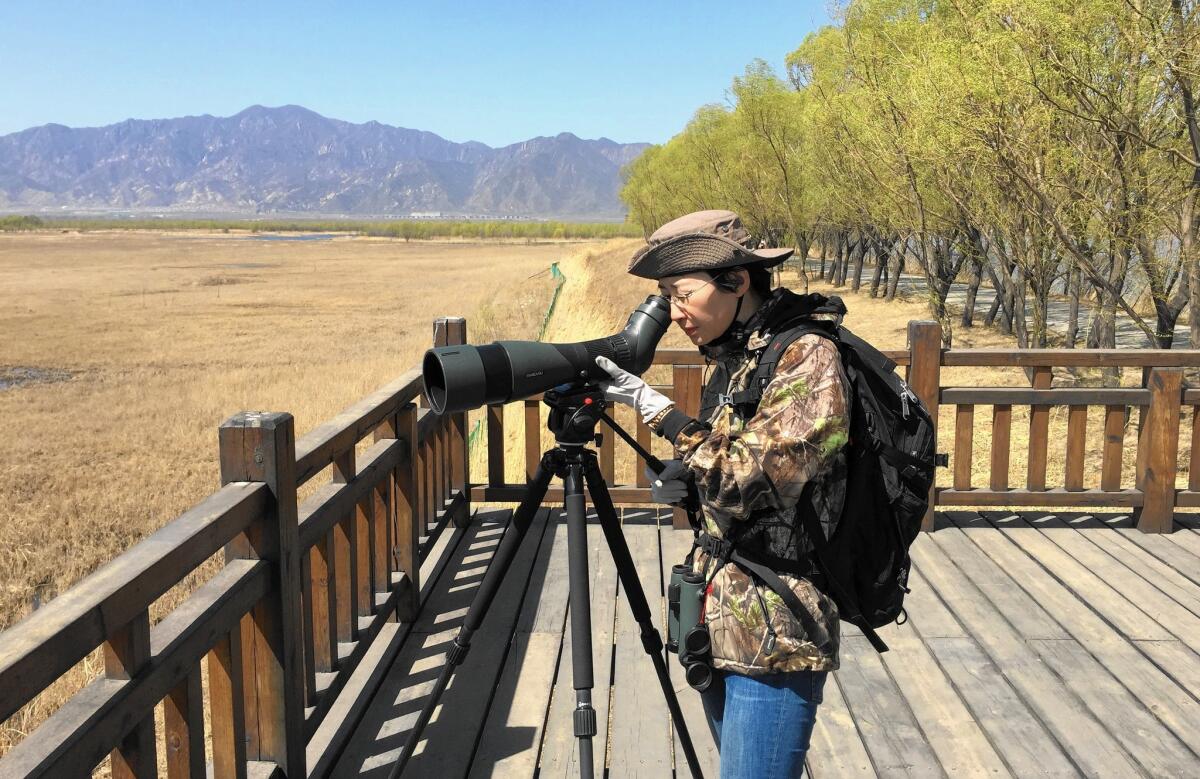 Reporting from BEIJING —
The morning was off to a slow start.
"Spot-billed duck," said Terry Townshend, 45, a British bird-watcher and five-year Beijing resident, as he sat in the driver's seat of his rental car peering through binoculars. "Common coot."
"That's a great crested grebe!" his bird-watching companion, Li Qingxin, shouted from the back seat.
"Where is it?" said Townshend.
"Long way away."
So they left the car, walked a few hundred feet and planted their telescopes on tripods. Then Townshend saw it — from a distance, only a speck scooting around at the periphery of a sprawling, dusty plain.
Water pollution is probably a bigger problem.
— Terry Townshend, Beijing bird-watcher, discussing smog's effect on the city's bird population
"That's a meadow pipit!" he exclaimed, homing in his telescope on a plump, brown bird with beady black eyes. He explained that the bird breeds in Central Asia.
"This is probably only the fourth or fifth sighting in Beijing," he said. "He must have gotten lost."
Beijing is notorious for traffic, construction and, above all else, smog — a thick, noxious haze that lies over the city on most days, burning lungs and cloaking cars and buildings in a thin layer of filth.
Yet in recent years, China's capital has also emerged as an unexpected destination for bird-watching. The city is located on a major flyway between northern Asia — where birds breed — and Southeast Asia, Australia and New Zealand, where they spend the winter, said Townshend, the director of EcoAction, an eco-tourism and environmental education organization.
Beijing residents are growing more affluent and have more time to pick up hobbies. They are becoming more environmentally aware.
"Personally, I think people here are getting used to a higher living standard, materially," said Li, a 35-year-old conservationist who goes birding three times a week on average. "And now they're chasing something of the spirit — something more meaningful."
The Beijing Birdwatching Society lists 20 bird-watching destinations in the capital, most of them parks and nature reserves on the mountainous outskirts. Few birds besides sparrows and magpies live within the smog-choked city center, but a short car ride away, the wealth of species serves as a reminder that despite decades of environmental degradation, Beijing still has a lot to lose.
The status quo is far from secure; conservationists say that overdevelopment and trapping have put many of these species at risk. More than half the country's coastal bird habitats, mainly tidal mud flats, have already been lost, according to the International Union for Conservation of Nature. Moreover, although Beijing banned the trade in several wild birds in 2008, enforcement remains lax. Many species, some endangered, are caught and eaten or sold as pets.
Perhaps the most vulnerable is the spoon-billed sandpiper, a white-bellied wader with a bill the shape of a spoon. As few as 100 pairs remain in the wild, according to the Cornell Lab of Ornithology. Government-backed reclamation projects on tidal mud flats are the main reason for their decline.
"It's the highest-priority conservation issue in China right now, I'd say," Townshend said.
How China's air pollution affects its birds remains unclear, he said. Although it might alter migration patterns for some species, most birds probably aren't exposed to it long enough to cause any major health effects. "Water pollution is probably a bigger problem," he said.
That Saturday, over about eight hours, Townshend spotted 55 species, including 60 buff-bellied pipits, 23 gray herons, four garganeys, three tundra bean geese, one Japanese tit, a black kite, an eastern buzzard and, of course, that lost and lonely meadow pipit.
"I think [Beijing's] diversity, in terms of number of species — and also the amount of birds, the actual numbers that you see — are very high," Townshend said.
Fu Jianping, president of the Beijing Birdwatching Society, said the organization — which arranges bird-watching trips and educational programs — has about 500 members, with 100 more signing on each year. "We have 30 to 50 people attending our weekly bird-watching activities in Beijing," she said, "and there are new birders coming every time.
"Bird-watching has existed in China for 20 years," she said. "That's a short time compared with Europe and the U.S. But I'm glad that with the efforts we've made, more and more Chinese have started to love bird-watching."
Many are as enthralled with the activity — and as proficient — as any bird-watching fanatic in the United States.
"I remember once when I was in the Baihe Valley [in the rural outskirts of Beijing] — it was winter, and not even a magpie was calling," Li said. "I was just sitting by a small hydroelectric dam. And just when I wanted to leave, there was a white-tailed eagle. It was only about [100 feet] high, flying overhead. At the moment, I thought I was dreaming or something.
"I think the most amazing thing," she said, "are these kinds of surprises."
Yingzhi Yang of The Times' Beijing bureau contributed to this report.
Sign up for Essential California for news, features and recommendations from the L.A. Times and beyond in your inbox six days a week.
You may occasionally receive promotional content from the Los Angeles Times.