In China, some people eat dogs; others have them as pets. Now an upcoming dog show is causing controversy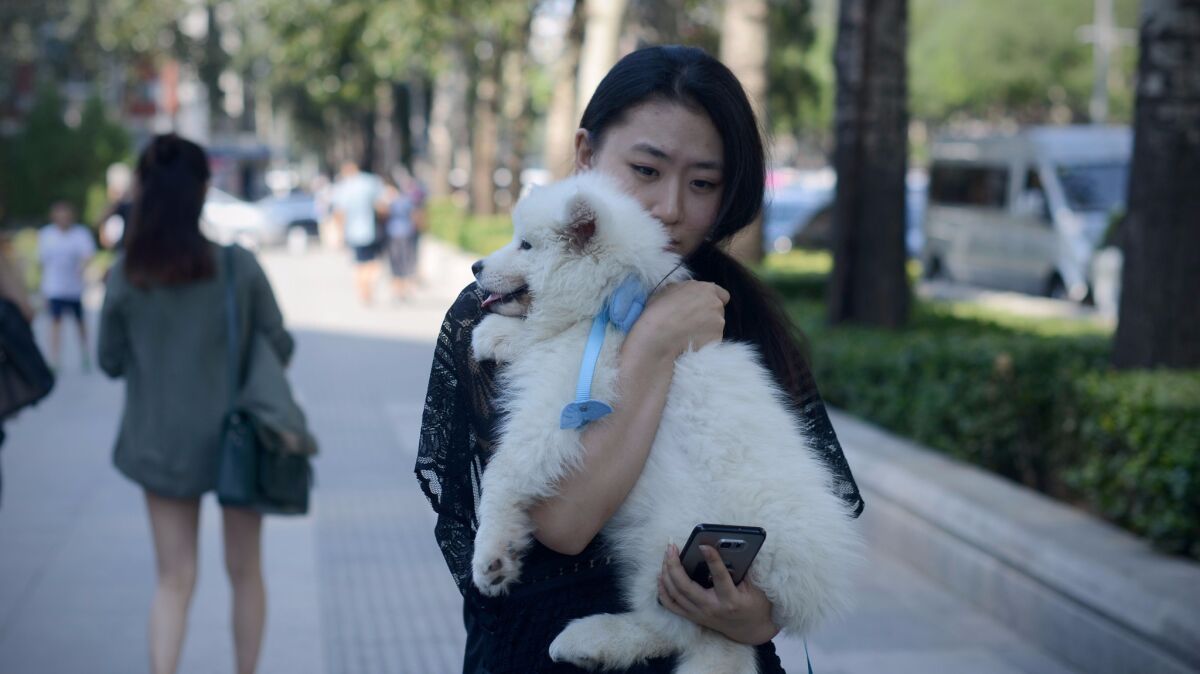 Reporting from Beijing —
Every year, locals in Yulin, a city in southwestern China, skin dogs alive, then season, cook and consume them alongside lychees and grain alcohol.
Three years from now, in Shanghai — 1,000 miles to the northeast — world-class dog breeders will converge to show their greyhounds, Great Danes and cocker spaniels to a crowd of adoring onlookers.
For years, activists have been protesting the annual Yulin Lychee and Dog Meat Festival, a midsummer celebration of all things dog meat; they say about 10,000 dogs are slaughtered at the festival each year. But now they're turning their attention elsewhere: the World Dog Show, which Federation Cynologique Internationale, a Belgium-based coalition of kennel clubs, plans to host in Shanghai in 2019.
Activists say that unless the Chinese government shuts down the Yulin festival, the federation should hold its show elsewhere — and the ensuing controversy has cast a spotlight on China's awkward relationship with dogs, which are regarded by some in the country as pets and by others as sustenance.
"It is not acceptable that the largest worldwide dog organization will support and arrange its biggest annual dog competition in such a country," said a petition on the website Care2 Petitions, which has garnered nearly 600,000 signatures.
The federation, which has hosted its dog show in a different city every year since 1971, has shown no sign of backing down.
For about four centuries, people in parts of southern and northeastern China have considered dog meat a delicacy, comforting on cold winter days. Yet attitudes toward dogs have changed in recent decades — an upshot of growing wealth and exposure to foreign ideas — and dogs have become popular pets among the country's burgeoning middle and upper classes.
In cities like Beijing and Shanghai, it's common to see golden retrievers, poodles and Samoyeds bouncing through public parks. In some villages and small cities, gutted dog carcasses hang in restaurant windows.
Yet these two worlds exist in proximity.
Hu Shujuan, 28, an animal rights activist in Shanghai, works for an American company full time and spends her weekends rescuing stray dogs. She said that about 80% of the people she knows regard dogs as pets and that 20% enjoy eating them. The two camps fall along predictable lines: Dog lovers tend to be younger and live in major cities, she said; dog eaters tend to be older and live in villages.
"Some [acquaintances] are people who eat dog meat. I tell them you shouldn't eat it, I try to let them know, but you can't change people," she said. "Sometimes, when we talk together, we just don't talk about dogs."
The federation's event is one of the world's most prestigious and well-known dog shows; it attracts about 20,000 entrants each year. Winning dogs are deemed "world champions." Last year, in Milan, Italy, the champion was a bearded collie.
Activists are divided over the virtue of dog shows. Though some bemoan the practice of breeding, showing and selling dogs for the sake of competition, others see them as a platform to draw attention to animal rights.
"The dog breeding industry, the dog show industry and the dog meat industry have one thing in common: They are all profit-driven and severely compromise animal welfare," said Jason Baker, vice president of international campaigns at People for the Ethical Treatment of Animals Asia. "Show dogs and those used for breeding are usually raised in small cages. The cat and dog overpopulation crisis is caused fueled by breeders and pet shops."
Yet some organizations, including Chinese ones, find the coming Shanghai show encouraging.
"The event aims to raise the Chinese government's attention to companion animals and to call for the government to quickly establish laws that protect animals in order to save them from being abused and killed," the Beijing-based China Kennel Union said, according to the state-run Global Times newspaper.
"The huge increase in interest in dog showing in China will result in more people seeing them as pets first and foremost," said Caroline Kisko, secretary of the Britain-based Kennel Club.
Marie Luna Duran, a marketing and public relations manager at Federation Cynologique Internationale, said the group's general assembly, though aware of the Yulin festival, voted last year to approve Shanghai as the location for the 2019 show "without any comment or discussion whatsoever."
"The FCI is a canine federation whose members are the canine organizations at national level," she said in an emailed statement. "The FCI applying the principle of non-interference with its member-countries, it is up to each member-country's governing bodies to act for the welfare of dogs."
She said that the federation includes Chinese members and that canceling the show "would amount to abandoning pro-dog colleagues … precisely those who have a good chance to cast a new light on how dogs are perceived in China."
Yingzhi Yang in The Times' Beijing bureau contributed to this report.
ALSO
The Philippines' drug addicts, shunned by society and hunted by assassins, find they have nowhere to turn
Beijing's wai mai drivers: Delivering dumplings and living to tell about it
Taiwan's president won a landslide election — and then her popularity sprang a leak
Must-read stories from the L.A. Times
Get the day's top news with our Today's Headlines newsletter, sent every weekday morning.
You may occasionally receive promotional content from the Los Angeles Times.