Inside Yiwu, China, the Easter trinket capital of the world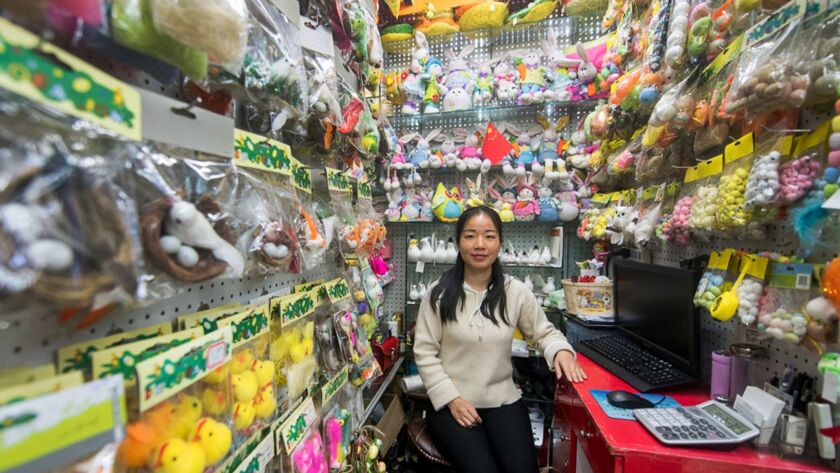 Reporting from YIWU, CHINA —
You'll find Easter one floor up from the fidget spinners, around the corner from the sax-playing Santas, past the "I love Croatia" shot glasses and iPhone-shaped ashtrays, and across from the statuettes of Jamaican men smoking marijuana.
There, Yang Wei, 30, maintains a child's bedroom-sized world of Easter wonders. She sits amid shelves overflowing with stuffed rabbits, plastic eggs with glued-on bunny ears, and countless fuzzy chicks, like nonedible marshmallow Peeps. Most of it is bound for the U.S., delivered by the crate-load.
"We have toy designers who go to the U.S. or Europe to do research," said Yang, manager of the Jiangsu Taizhou City Wenhao Handicraft Product Factory. "Then they come back and come up with toys that will suit the market."
Chances are, if you've experienced Easter in any form — a gift basket, a storefront display — you've seen a product that, at some point, passed through the International Trade City in Yiwu, a city of 1.5 million people about 160 miles south of Shanghai. It's the largest wholesale market in the world — five stadium-sized malls, home to tens of thousands of tiny stalls arranged in a labyrinth of florescent lights and beige linoleum.
Yang, like other Easter wholesalers, professed to know little about the holiday's traditions. Easter, for her, is simply business.
"I think Easter is for Jesus, like how Christmas is for Santa," she said. "Right?"
Yiwu thrived during the global recession, as customers opted for generic, low-cost toys, trinkets and jewelry over more expensive name brand goods. A 2016 documentary, "Bulkland," referred to Yiwu as "the city the dollar store built."
During the run-up to Easter, the colorful plastic eggs, tiny stuffed bunnies and baskets suitable for eggs hunts — many passing through Yiwu — fill up the shelves of retailers across America. Whether any of these goods will be touched by the tariffs on Chinese products that President Trump has ordered is still days, and perhaps weeks, from being clear. But regardless, times in the trinket trade are already changing.
China, in its attempt to become a high-tech powerhouse, is shifting away from the low-cost manufacturing that enabled its rise. Its cities are growing ever more developed, and ever more expensive; costs are rising for everything from machine parts to migrant labor. Factories are moving elsewhere — Vietnam, Laos, Bangladesh, Africa — to escape the crunch, and online shopping has leveled the remaining playing field.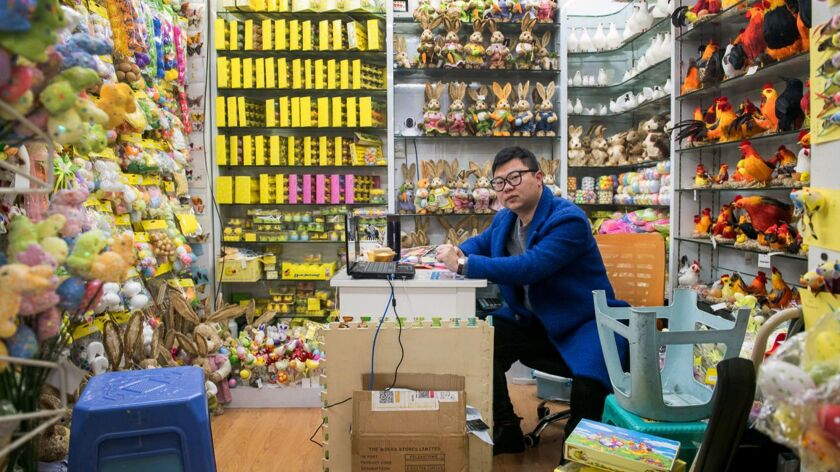 "For the Easter business, 2008 to 2012 was the best time. Now business has declined," said Tang Jian, 31, director of Jiangsu Province Tiangong Gifts, which exports Easter trinkets to Russia, Serbia, Chile, and Italy. He inherited the business from his father 20 years ago — it once only made feathery rooster dolls — and first heard of Easter at a trade exhibition.
Like many of Yiwu's Easter trinket vendors, Tang's factory manufactures Christmas decorations for half of the year, when demand for eggs and bunnies wanes. Yiwu produces an estimated 60% of the world's Christmas decorations: tree ornaments, inflatable reindeer, battery-powered Santas riding motorcycles and bursting from little pine tree houses.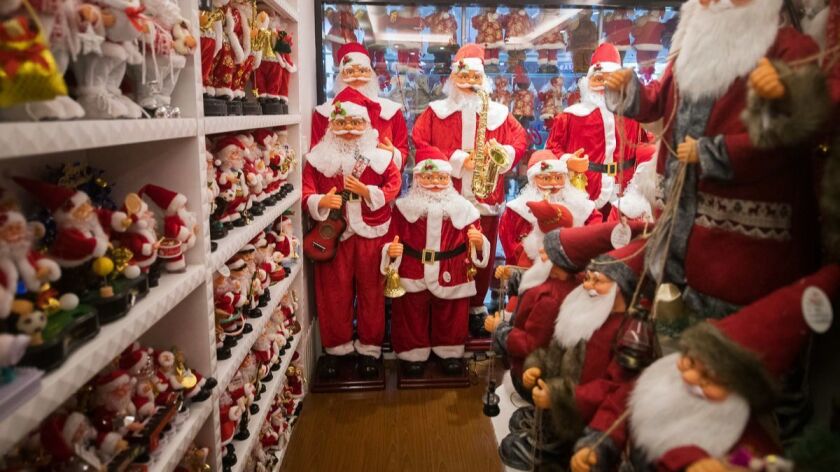 "The competition for companies focusing on Christmas stuff is much higher — 95% of factories here focus on Christmas," he said. "Only 5% do Easter. It's a small holiday after all."
China is home to millions of Christians, many of whom celebrate Easter with the same rituals as the West — eggs are considered symbols of Jesus' empty tomb, and rabbits, with their early spring proclivities, were once considered a fertility symbol. (During the Middle Ages, many believed that hares could give birth without sex, drawing parallels to the Virgin Mary.)
Yet while Christmas is big business in China — Santa hats and Christmas trees proliferate here every December — Easter wholesalers find most of their business abroad.
"It's a foreign holiday," said Yu Liying, 51, the owner of another Yiwu wholesaler. "It's like how we have the Dragon Boat Festival and Tomb Sweeping Festival. Foreigners have Easter."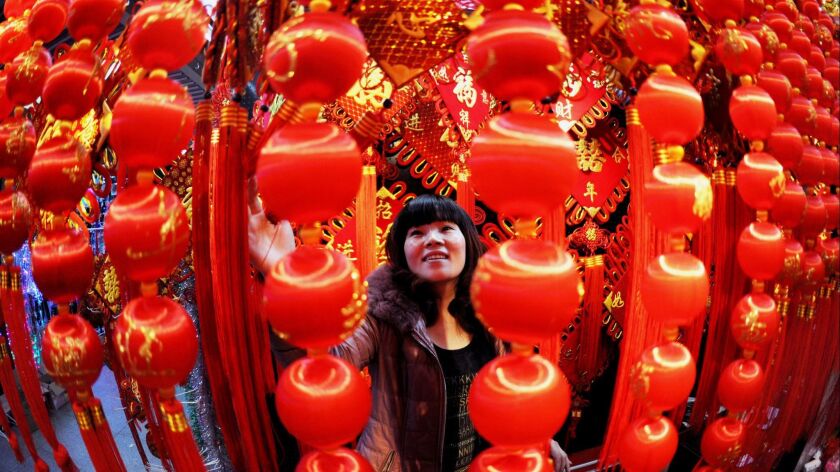 To read this article in Spanish click here
For more news from Asia, follow @JRKaiman on Twitter
Gaochao Zhang in The Times' Beijing bureau contributed to this report.
---
Must-read stories from the L.A. Times
Get all the day's most vital news with our Today's Headlines newsletter, sent every weekday morning.
You may occasionally receive promotional content from the Los Angeles Times.