More than 170 dead in China flooding; many still missing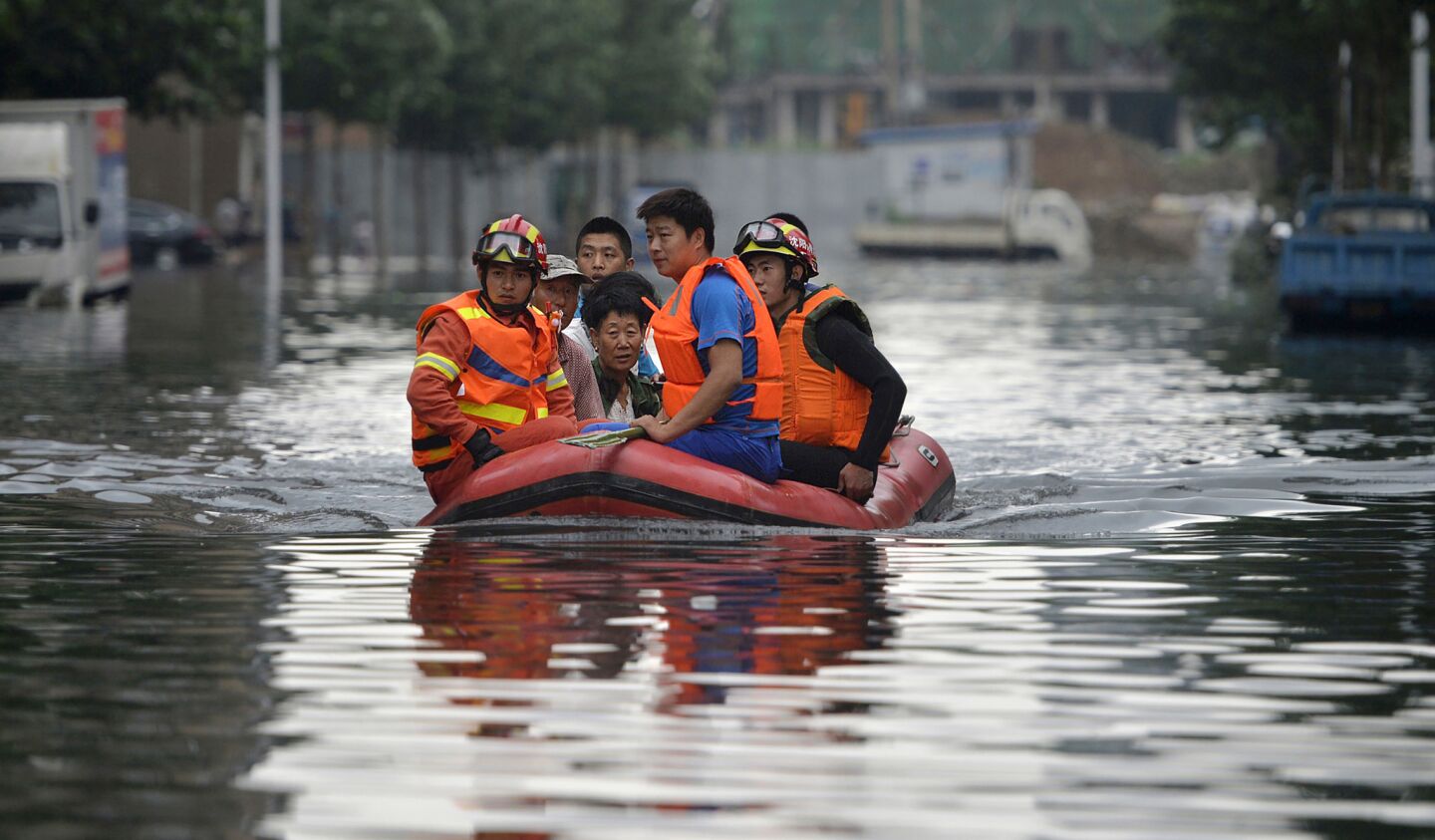 Rescuers transport people along a flooded street in Shenyang in northeastern China's Liaoning Province.
(Chinatopix / AP)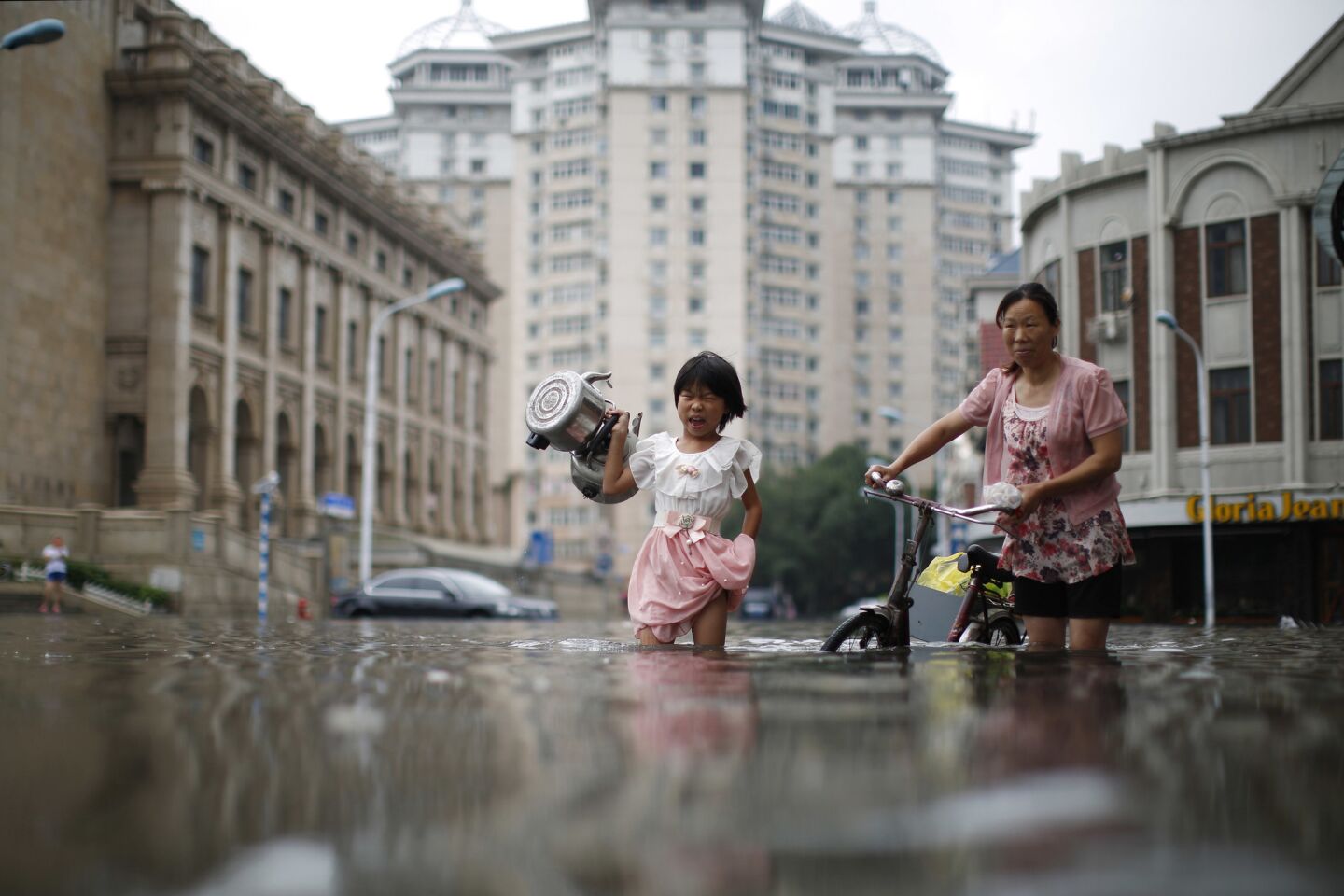 A child carries kettles through a flooded street Wednesday in Tianjin, China.
(Chinatopix / AP)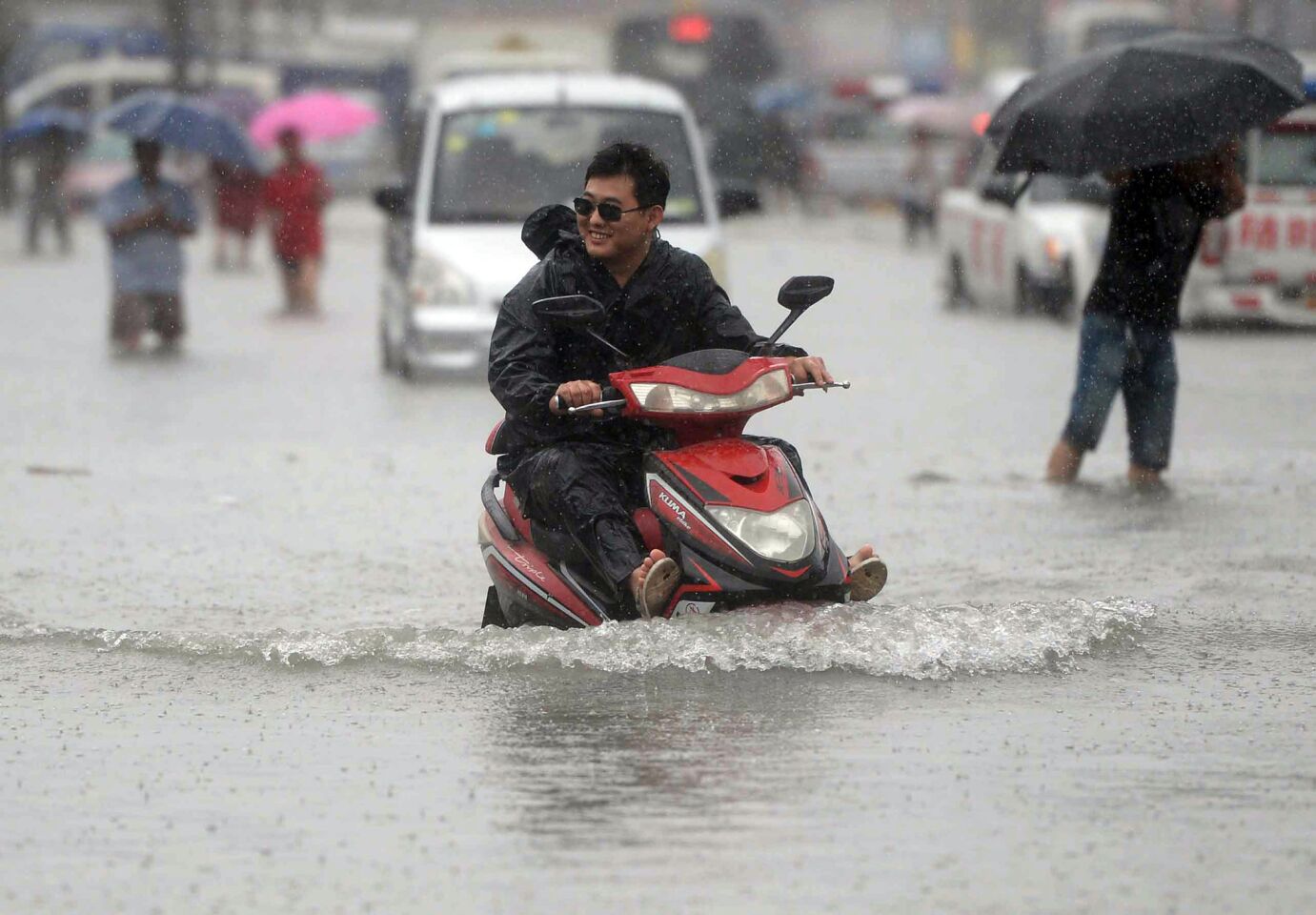 A man on a scooter makes his way through a flooded Beijing street.
(AFP/Getty Images)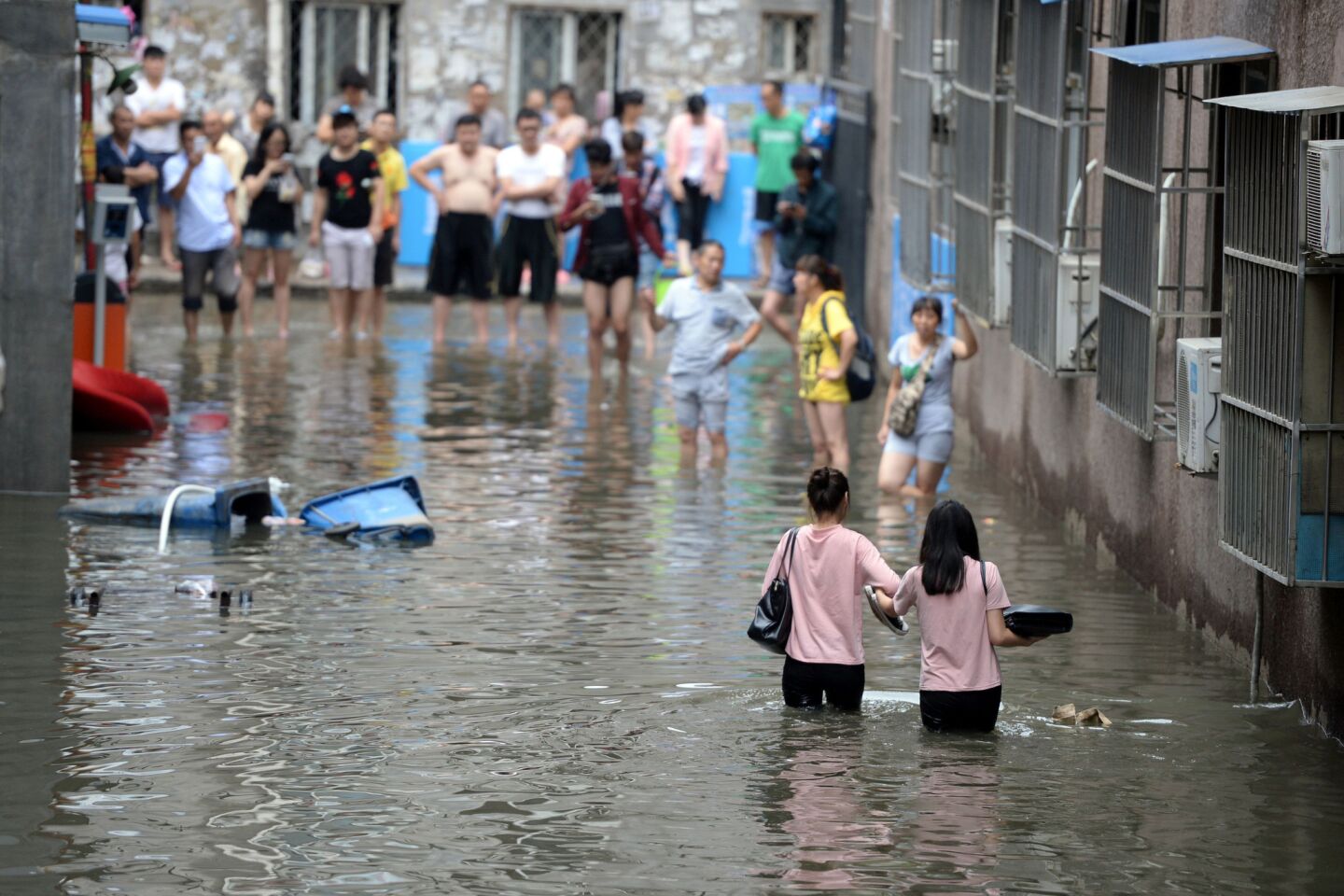 People make their way through a flooded area in Changping District in Beijing.
(AFP/Getty Images)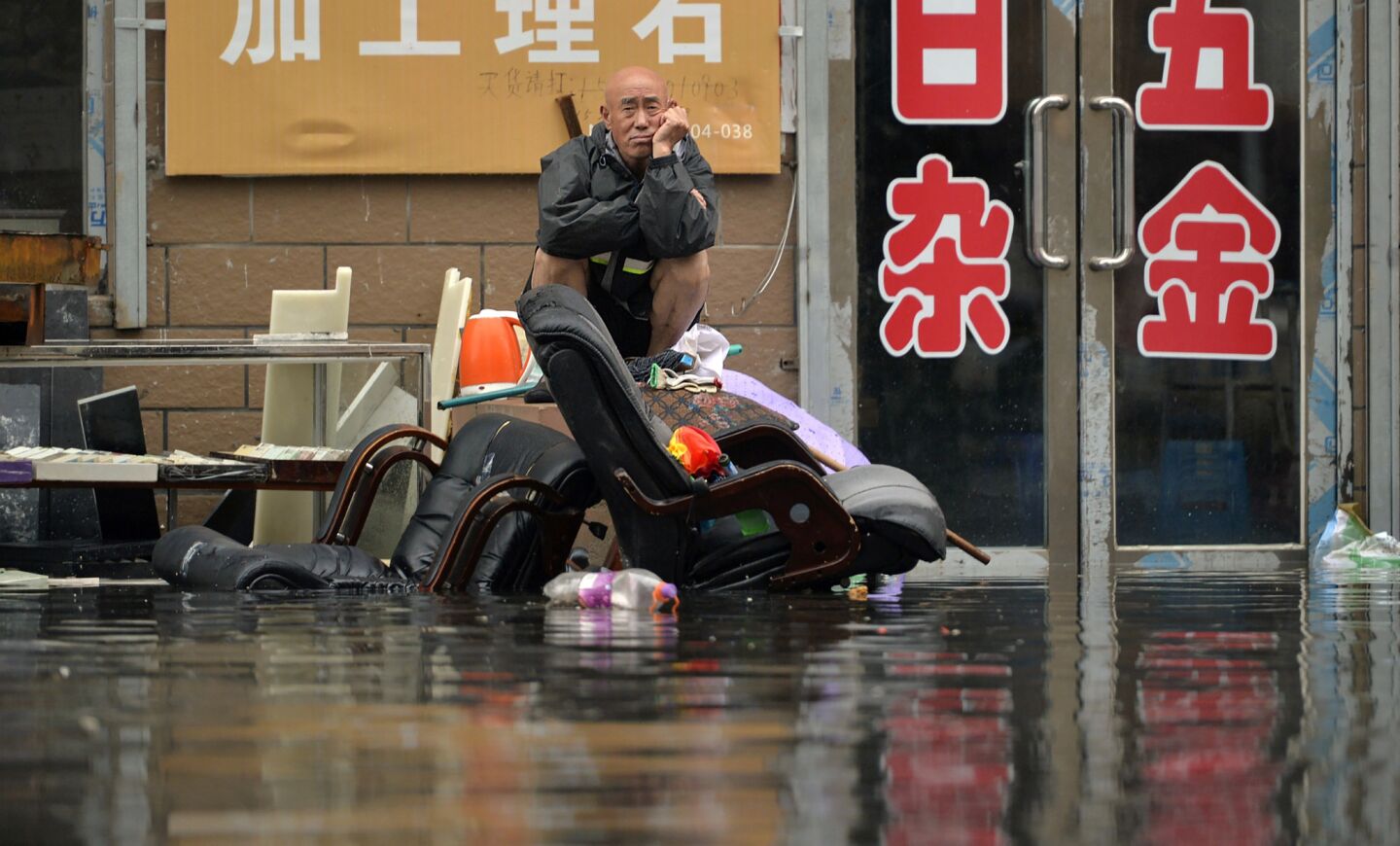 A man sits outside a flooded shop in Shenyang in northeastern China's Liaoning Province.
(Chinatopix / AP)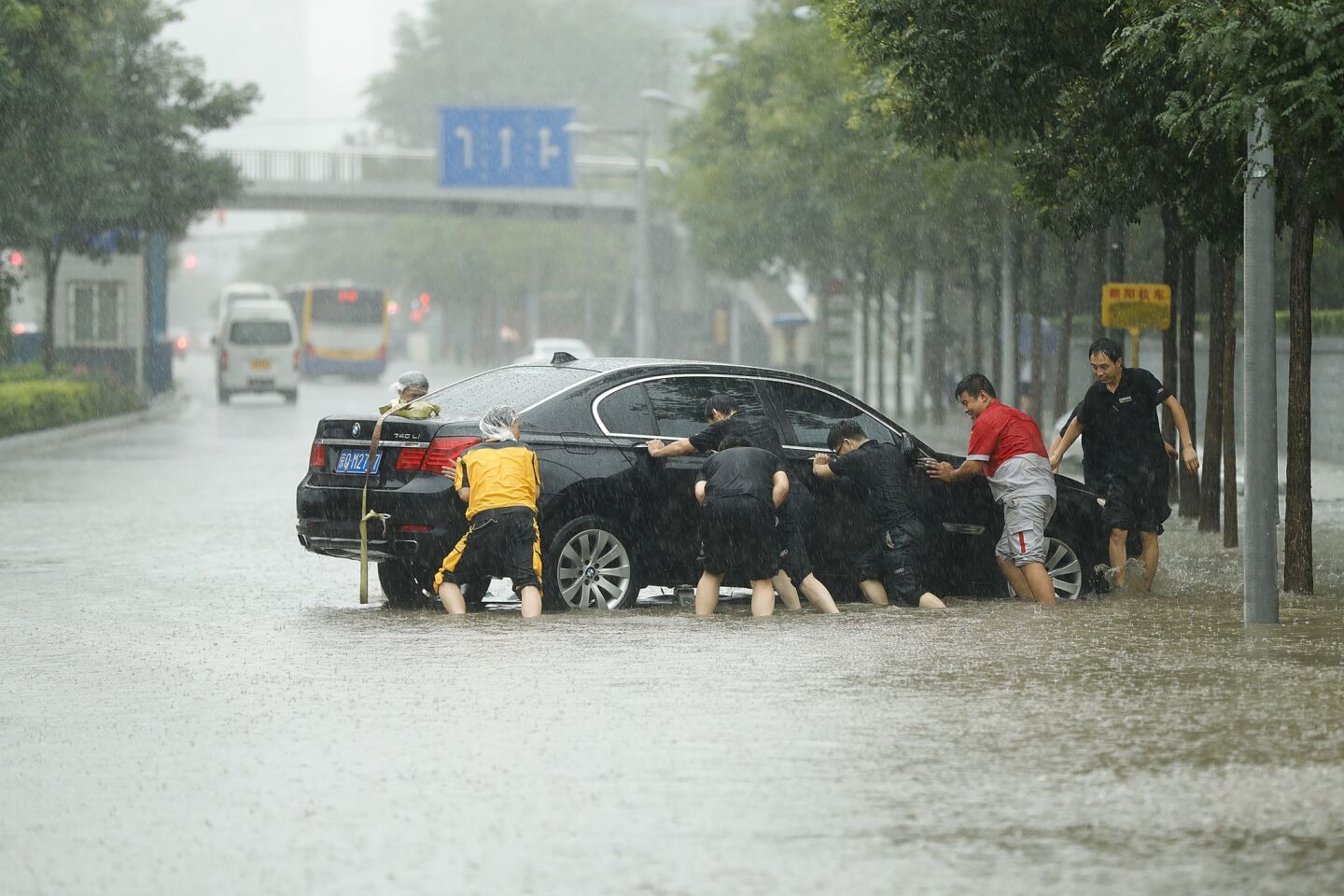 People push a car through a flooded street in Beijing.
(Lintao Zhang / Getty Images)
Reporting from Beijing —
More than 170 people died and scores remained missing after heavy rains touched off floods and landslides in China this week, officials said Saturday. State-run media put the economic losses at over $2 billion, and meteorologists warned that more thunderstorms were expected in the coming days.
In northern China, where most of the deaths were concentrated, the worst-hit area was Hebei province, which encircles the capital, Beijing. At least 114 people died there, the provincial branch of the Ministry of Civil Affairs told the official New China News Agency on Saturday. An additional 111 people were still missing in Hebei as of Saturday.
Authorities put the number of affected people in Hebei alone at more than 9 million, with nearly 300,000 evacuated.
In the city of Xingtai, about 200 miles southwest of Beijing, at least 25 people were dead, and 13 were missing after the Qili River overflowed its banks in the early hours Wednesday, flooding homes as people slept.
Photos and videos circulating online appeared to show residents retrieving the bodies of dead children from the floodwaters, but it was impossible to verify the authenticity of the postings. The Beijing News reported that the dead and missing included five children ranging in age from 3 to 10, as well as an 86-year-old man.
Some residents suggested the disaster in Xingtai might have been man-made, resulting from the release of floodwaters from a nearby reservoir.
On Saturday evening, the mayor of Xingtai, Dong Xiaoyu, held a news conference and apologized for the failure of city officials to adequately protect residents from the floods.
But at a news conference Saturday morning, officials denied that the disaster was caused by the intentional release of water from the nearby reservoir, saying the reservoir does not have a floodgate that opens into the river that flooded.
The vice mayor of Xingtai said that last week's downpours were the heaviest since August 1996, and that between 3 p.m. and midnight Tuesday, nearly 60% of the typical annual rainfall had inundated the area.
Water brimmed over the reservoir into the Qili River, they said, and at the same time, flash floods in hills to the west flowed into the western channel of the North-South water transfer-way, a massive engineering project designed to move water to China's arid north from the more lush southern provinces.
The water in the transfer-way also ended up in the Qili, causing the deadly floods, officials said. The problem was exacerbated because the Qili narrows in one place near a major highway, they added.
Other deaths were reported in central and southern China. A total of 19 people died in Guizhou province and in the giant city of Chongqing between Tuesday and Friday, the Ministry of Civil Affairs said. Between June 16 and Friday, 16 people died in Hubei province, and seven others died in Jiangxi, the ministry said.
Across the country, army troops were dispatched to rescue people stranded in flooded areas and deliver emergency aid via helicopter.
The flooding has inundated farmlands, wiping out $2.4 billion worth of crops, the news agency said. In the metropolis of Shijiazhuang, near Xingtai, thousands of residents have been without running water since Thursday, and service was not expected to be restored until next week.
Nicole Liu and Yingzhi Yang in The Times' Beijing bureau contributed to this report.
Follow me on Twitter @JulieMakLAT.
ALSO
Gunman in Munich mall shooting identified as an 18-year-old German-Iranian
Brazilian police arrest 10 suspected of planning for terrorist attack around Olympics
French prosecutor says killer of 84 in Nice had accomplices and planned attack for months
---
UPDATES:
9:25 a.m.: This article was updated with the mayor's apology and other details.
3:25 a.m.: This article was updated with a higher death toll.
This article was originally published at 1:40 a.m.
---
Must-read stories from the L.A. Times
Get the day's top news with our Today's Headlines newsletter, sent every weekday morning.
You may occasionally receive promotional content from the Los Angeles Times.