China once welcomed refugees, but its policies now make Trump look lenient
Reporting from Binchuan, China —
Nearly four decades ago, Mo Fengyue leaned over the boat carrying her to China and dumped her Vietnamese identity cards into the river. With a flick of the wrist, Mo sacrificed the land of her birth for an ancestral homeland she'd never known.
"You had to make a choice once you came back, so I became a Chinese citizen," said Mo, a 12-year-old girl then fleeing discrimination for her heritage.
Her story is a rare reminder of a time when China opened its borders. In the first three decades of the People's Republic, through the 1950s, '60s and '70s, leaders welcomed hundreds of thousands escaping persecution and violence in Southeast Asia. Most were ethnic Chinese. Authorities settled them in so-called overseas Chinese farms and handed out hoes. The government called the population "returnees." Many never left.
These are China's forgotten refugees.
Today, China has no refugee resettlement policy or national legislation on asylum. Chinese officials have merely acknowledged the humanitarian crisis in neighboring Myanmar and opted not to shelter Syrians escaping a multi-year war. But it wasn't always that way.
Mo settled on Taihe farm in 1978, now a scattering of brick houses and grapevines amid the green terraced hills of southern China's Yunnan province. These faded buildings and dirt roads reveal a piece of history largely overlooked -- one that offers insight into China's diaspora and its current rationale toward refugees amid the world's worst forced migration in decades.
"The government wanted to bring us back," said Sai Jie, 59, a neighbor of Mo's. "It's different."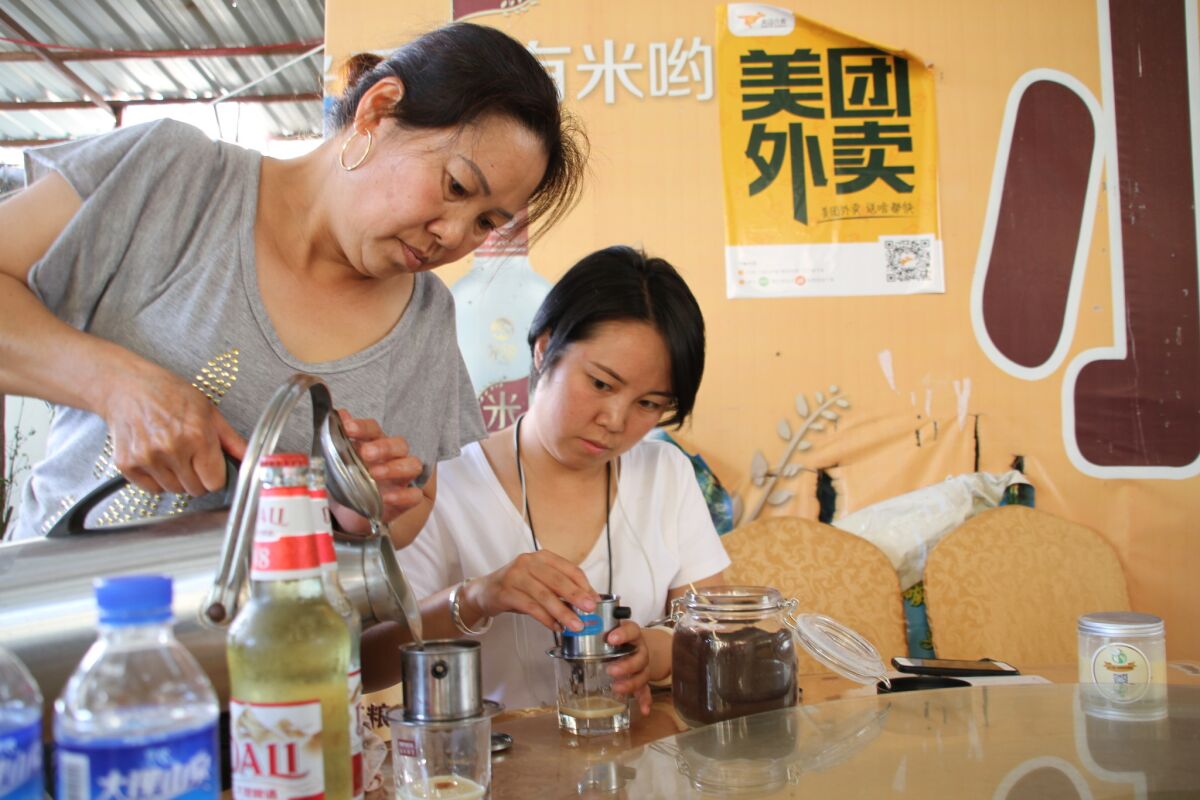 Just off Binchuan's main road, Sai's brother runs an outdoor cafe where customers sit in squat, blue plastic chairs. The family serves coffee with sweetened condensed milk and a slice of Vietnam. A mural spread across the far wall reveals the light blues and gray shadows of Vietnam's most famous landmark, Halong Bay. Even the leafy trees shading the shop feel more like tropical Southeast Asia than mountainous Yunnan province.
Sai was 20 when she left northern Vietnam in 1978 and settled on the farm. It was here she met her husband, who was born in Indonesia and had arrived almost two decades earlier. Sai, who now oversees the production of peppery chicken soup at a nearby Vietnamese restaurant, does not consider herself a refugee.
She is, she said, a returning Chinese.
Nearly 300,000 people from Vietnam alone fled to China's southern provinces around the late 1970s, as the countries turned on each other in a brief border war. Rather than establish temporary refugee camps, the government opted to place them on farms. Some, like Sai, received hukou, an essential household registration that allows people to work and attend school. She now receives a monthly pension of about $300.
Taihe and 83 other farms are dotted across China's southern provinces, although many original inhabitants moved abroad or died. The second generation married locals and further scatted. There is no definitive account of the total number that settled on these plots of land, or how many remain. But out of about 2,700 people at Taihe, just over half are returnee-refugees and their descendants.
Many in Dali -- a scenic lakeside town an hour-and-a-half drive southwest -- have never even heard of the farms.
"China did a pretty good job with refugee resettlement," said Elaine Lynn-Ee Ho, an associate professor at the National University of Singapore, who has studied overseas Chinese farms. They "did go through hardships, but they received care packages, and in terms of subsistence material the government gave it to them… and they have assimilated into Chinese society."
China ratified the 1951 Refugee Convention and a subsequent treaty known as the 1967 Protocol. But the country lacks its own method for assessing asylum claims and restricts the U.N. refugee agency's access to some populations.
Many Vietnamese are technically still recorded as refugees, although fewer than 800 other displaced persons were living in the country as of 2015, mainly from Somalia, Nigeria, Iraq and Liberia, according to the U.N. High Commissioner for Refugees.
Chinese officials contend they help people through other means, namely humanitarian assistance and the promotion of peace talks.
"When our neighbors have difficulties, we should offer a hand rather than just tighten our fences," Chinese President Xi Jinping told the U.N.'s Geneva headquarters in January. He then pledged $29 million in aid to Syrian refugees. Officials also recently sent 2,000 tents and 3,000 blankets as part of a relief package for Rohingya refugees.
But hosting them is another matter. China has a longstanding policy of noninterference in other countries' domestic affairs, and the acceptance of those fleeing conflict is often perceived as taking sides. Overseas Chinese who want to settle in China now require immigrant visas.
Welcoming refugees is also not a particularly palatable idea to many in the world's most populous nation, which still struggles with poverty and where Islam is increasingly equated with religious terrorism.
"Other ethnicities would only create instability," said Zhang Xiaolong, 26, a driver who grew up near the farms. "We'll give out humanitarian aid but we don't want to accept refugees. We have our own issues."
So what led China to make an exception?
The overseas Chinese farms speak less to a shifting refugee policy than to an entrenched sense of Chinese identity bolstered by the state.
Mo was a city girl from Haiphong, Vietnam, when she tossed her past into the river.
It was tough at first. She despised manual labor on mucky land. But soon after she arrived, Mao-era collectivization gave way to reform, bringing a more open economy and individualized work. She started a small Vietnamese restaurant.
Mo, whose face creases in smiles, insisted she was always welcomed. But researchers say tensions built with locals envious of the privileges granted overseas Chinese, who received financial assistance and preferential status to attend universities.
Not everyone benefited. Many of the farms lost money in the early 2000s, and living standards plunged. Vietnamese who can't prove their ethnic ties have found themselves unable to gain citizenship, according to the state-run Global Times newspaper.
In 2004, then-president Hu Jintao, vowed to help develop the farms and officials cast them largely as financial opportunities. Li Haifeng, then the deputy director of the central government's Overseas Chinese Affairs Office, called these areas "economic and political attributes."
Some farms now function as manufacturing zones or sugar cane plantations. Others market themselves as destinations for Chinese tourists looking to experience Southeast Asia without leaving the country. Their role, like the people inside them, has changed.
"These farms are going to be a disappearing relic," Ho, the professor, said. "It no longer has that historical value attached to it."
Deng Liqun sees them as something more. A 29-year-old entrepreneur with dark cropped hair and shimmery blue eye shadow, she is determined to turn her Taihe farm's open-air restaurant into a premier dining location.
Mo, Deng's mother, washed dishes one afternoon as Deng boxed up her homemade Vietnamese chili sauce for a trade show in Kunming, the province's capital. Deng was born on the farm and watched many others her age leave. She did too, and then returned six years ago to start Little Vietnam.
Unlike her mother, Deng doesn't need to choose one nationality.
"I want to keep my Vietnamese and Chinese dual heritage," she said, laying out a platter of rice paper crepes. "It's our unique identity. Otherwise, why would I open Little Vietnam?"
Her 5-year-old daughter came home from school, not much younger than her grandmother was when she crossed the river. Deng scooped the girl up, burying her in kisses and the tones of Vietnamese.
Gaochao Zhang, Matthew DeButts and Nicole Liu in the Beijing bureau contributed to this report.
Meyers is a special correspondent.
Twitter: @jessicameyers
ALSO
Welcome to Special Rich Guest Hamburger, the China edition of Fatburger
China welcomes the Kings and hockey as it tries to stir interest before 2022 Olympics
The first casualty of North Korean nuclear tests? The country's environment
---
Must-read stories from the L.A. Times
Get the day's top news with our Today's Headlines newsletter, sent every weekday morning.
You may occasionally receive promotional content from the Los Angeles Times.