Student activists in Hong Kong expect justice as they face charges over protests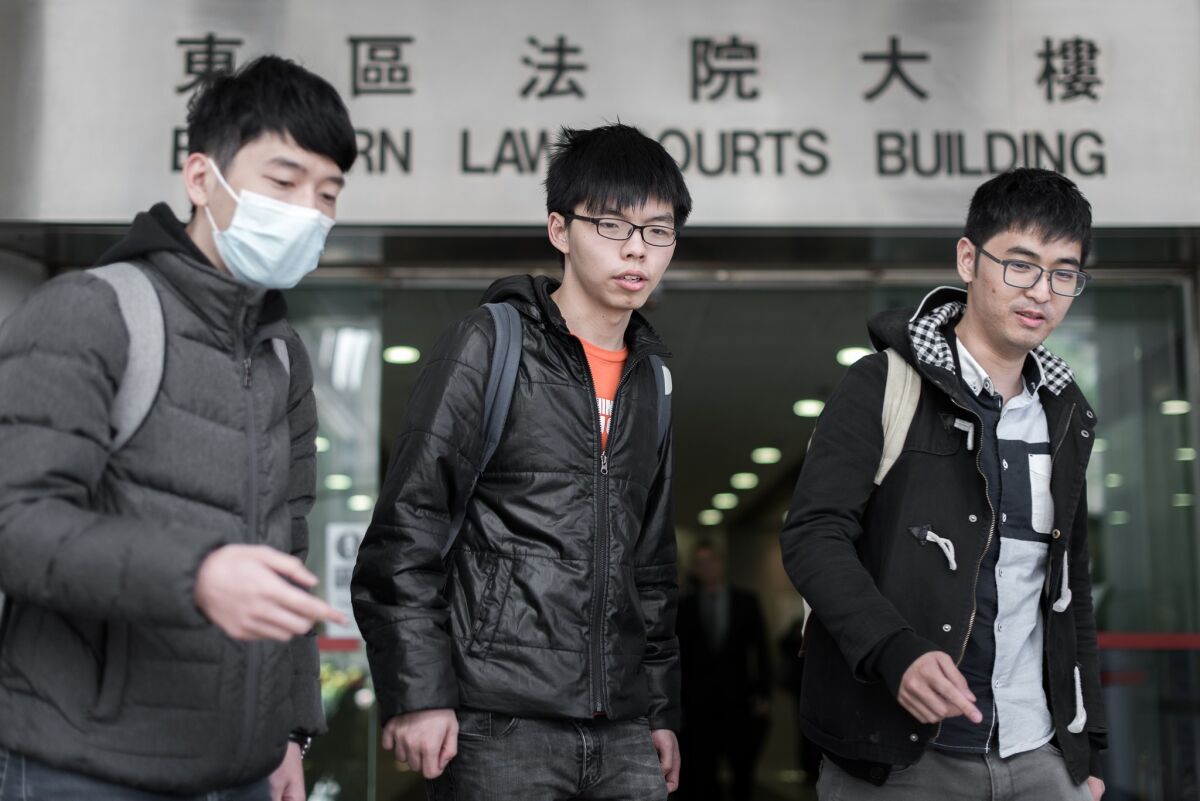 Reporting from Hong Kong —
Student leaders of pro-democracy sit-ins in Hong Kong that attracted thousands in 2014 went on trial Monday for their involvement in what became known as the Umbrella Movement.
Joshua Wong, 19, founder of high-school activist group Scholarism and the best-known face of the movement, is charged with participating in an unlawful assembly and inciting others to join.
Nathan Law, 22, president of the college group Hong Kong Federation of Students, also was charged with one count of inciting; his predecessor, Alex Chow, 23, faces one count of participating in an unlawful assembly. They pleaded not guilty to all charges.
"Today is the first time we stand trial. We can't go to school," Wong said to reporters gathering outside the courthouse. "This trial isn't an easy thing for us, but we believe we'll find justice here."
Hong Kong, a former British colony turned semi-autonomous Chinese territory of 7.3 million people, has maintained its own independent judiciary under a separate constitution which is to remain in force for 50 years after the 1997 transfer of sovereignty.
Even so, there are concerns that Monday's trial may mark the beginning of a long season of political persecution in Hong Kong.
"This trial appears to be nothing more than political muscle flexing, targeting those who dared to stand up for freedom and democracy, and it continues a very disturbing trend," Christopher H. Smith (R-N.J.), chairman of the Congressional-Executive Commission on China, said in a statement last week.
Calls by a local think tank closely affiliated with mainland China to name and shame judges considered too lenient on young activists have been condemned by the Hong Kong Bar Assn.
Representatives from American, Australian and British consulates attended the trial Monday, which was presided over by Magistrate June Cheung. The atmosphere of Cheung's court was notably cordial – a far cry from the scripted, stilted trials commonly broadcast in mainland China.
The student leaders, who were allowed to remain seated with their counsels, mostly trained their attention on their phones rather than on the proceedings. They stood out in their hoodies and jeans in a courtroom full of black suits.
The prosecution began by calling upon four police officers and one security guard to testify. When defense attorneys cross-examined some of the witnesses on the conformity of their affidavits, the student leaders grinned at each other.
"Don't laugh! This court is a solemn venue," said Cheung. "I noticed the defendants and a few others snickering."
The charges Wong and others face stem from the storming of a public plaza at the territory's main government compound by nearly 200 people, mostly university and high school students, at the end of a class boycott. It was staged in protest of the decision by the standing committee of China's National People's Congress to limit the choice of candidates for Hong Kong's highest office to the two or three candidates to be handpicked by a pro-Beijing committee.
Immediately after the storming of the plaza, police arrested Chow, Wong and at least 70 others. During the student leaders' daylong detention, demonstrators amassed and confronted police in riot gear, who failed to disperse the masses with force. The emboldened demonstrators then took over major roadways in encampments, which were eventfully cleared on court orders. Little political change resulted.
In recent weeks, Wong and other activists have signaled a plan to bring the fight from the streets to the legislative chamber. The student group said it's prepared to form a political party to field candidates to run for seats in the territory's legislature come September. Last year, Wong filed a judicial review on Hong Kong's electoral rules seeking to lower the minimum age to run from 21 to 18.
For each of the charges the student leaders face, the maximum sentence is five years. Anyone who has served a sentence of 30 days or more cannot run for the legislature. However, Wong doesn't think the charges he faces will affect the political fortunes of his activist group.
Law is a special correspondent.
---
Must-read stories from the L.A. Times
Get the day's top news with our Today's Headlines newsletter, sent every weekday morning.
You may occasionally receive promotional content from the Los Angeles Times.