America's best idea may now be China's, too, as it expands national park system
Reporting from Baihuashan Nature Reserve, China —
Wang Zhan drives three hours out of Beijing's smog, past gray-brick towns and yellowed hills to reach a place where he can hear birds.
The Baihuashan National Nature Reserve, a rare sanctuary of pine trees and unobstructed views just west of the capital, is one of China's more successful attempts to preserve its dwindling natural resources. Signs encourage people to stay on the trails and off the "wild mountains." Garbage actually lands in the bin.
China has no single agency responsible for managing its overcrowded, haphazard assortment of natural areas, places that are suddenly in demand by a growing middle class looking for refuge from polluted cities.
For help, Chinese officials are turning to a system born out of similar conservation goals a century ago, an idea once labeled America's best: its national parks.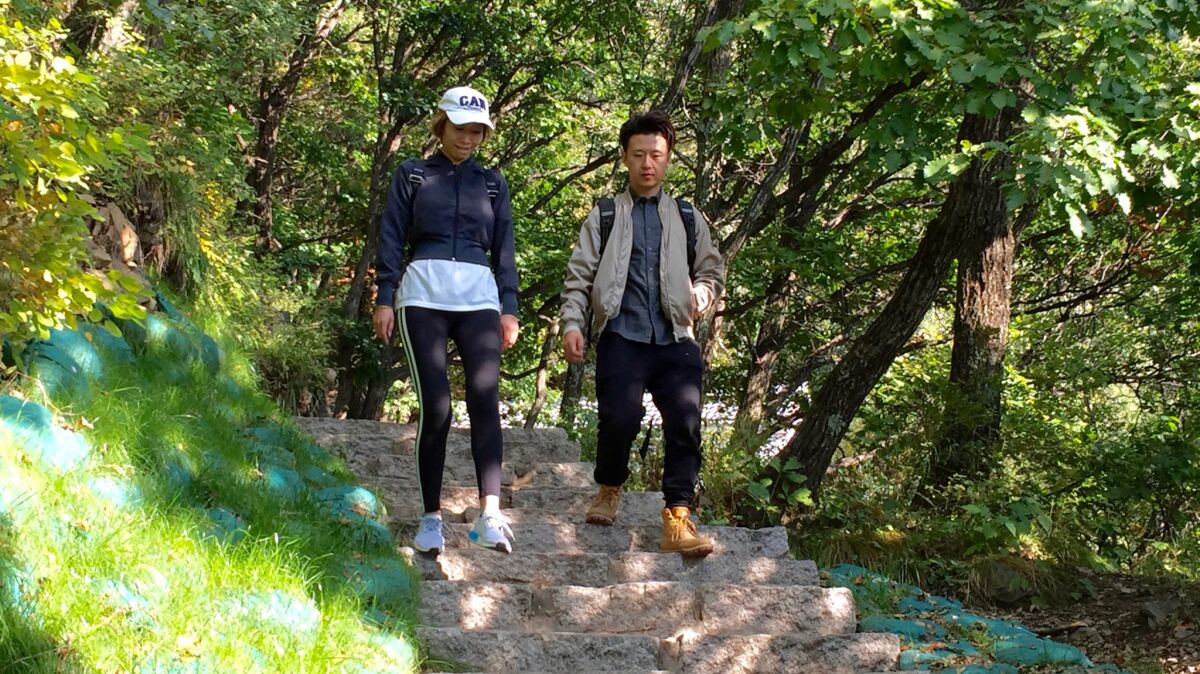 "I've never been to Yellowstone, but I saw it in a film," said Wang, a 36-year-old hairstylist from Beijing who used his day off to go hiking with his wife. He flicked through a series of phone photos from their trek through Baihuashan, depicting a series of cloudless skies and deep valleys that he imagined must be similar to the mountains of Wyoming. "We climbed to the top. I think the view is similar."
U.S. Interior Secretary Sally Jewell underscored the relationship in a visit in July to the reserve, where she established a sister park connection with Shenandoah National Park.
Two months later, China's National Development and Reform Commission and the U.S. National Park Service signed a formal cooperation agreement. The Paulson Institute, a Chicago-based think tank, also has agreed to assist Chinese officials with a pilot project that spans nine provinces.
"Our national parks are an important source of shared national pride and cultural identity," Paulson Institute chairman and former U.S. Treasury Secretary Henry Paulson said as his organization formalized the partnership in Beijing. He said the center will work with China to "help develop a comprehensive and effective system of protected areas."
Celebrating the centennial of the U.S. National Parks »
China has set aside about 18% of its land for protection, compared to nearly 14% in the U.S. Both systems comprise a patchwork of parkland, made up of forests, wetlands and other scenic areas. The U.S. Department of the Interior manages most of America's vast network in a clear, regulated manner. China's thousands of national-level parks have overlapping administrations, inconsistent standards and competing interests.
Local officials run Baihuashan, but a hodgepodge of government agencies – including the forestry and tourism administrations – oversee it.
China's diverse natural areas include such treasures as the multicolored lakes in Sichuan province's Jiuzhaigou valley, and haunting karst rock formations in Hunan's Zhangjiajie.
But conservation goals at some parks have lost out to the drive for tourism, a valuable source of income for local governments. Ticket prices can top $30, two days' wages for a rural migrant worker. At some locales, hordes trample scenic views, plastic bags drift downstream, and couples scratch their names in 300-year-old-trees.
"A lot of Chinese parks are not about preservation, they're about moneymaking," said Guangyu Wang, a forestry expert at the University of British Columbia. "National parks in China are like theme parks."
Guangyu recalled a recent trip to China, when he tried to see peach blossoms and instead spent four hours staring at cars stuck in traffic.
The Ministry of Transportation was expecting 650 million trips on China's roads during this week's National Day holiday, meaning even more packed parking lots and crowded green space.
China has struggled with ecotourism. In 2009, a man in Yunnan province hunted and ate the last tiger in a nature preserve. A wetland park in Guangzhou last year installed lightning rods after two tourists were struck by lightning.
The latest push comes from the top. President Xi Jinping told top officials in 2013 that the country needed a "real national park system," according to state media.
Leaders want to project China's new image as a climate-conscious global power. And they also recognize wealthier Chinese are exploring the world and desire similar experiences back home.
A lot of Chinese parks are not about preservation, they're about moneymaking.
— Guangyu Wang, forestry expert at the University of British Columbia
About 40% of Chinese who visited the U.S. in 2014 toured at least one national park or monument, according to the National Park Service.
China's Hainan Airlines announced in February that it would start direct flights from Beijing to Calgary, the jumping-off point for Canada's Banff National Park.
"Public awareness of nature conservation has increased, and the general public and decision-makers have really changed their philosophy," said Zhu Chunquan, head of the China office for the International Union for Conservation of Nature.
Officials also hope increased domestic travel will act as a salve for the slowing economy. Tourism has doubled over the last four years, according to China's tourism agency.
But Chinese use parks differently than Americans do, and administrators aim to select aspects of the U.S. model rather than simply duplicate it.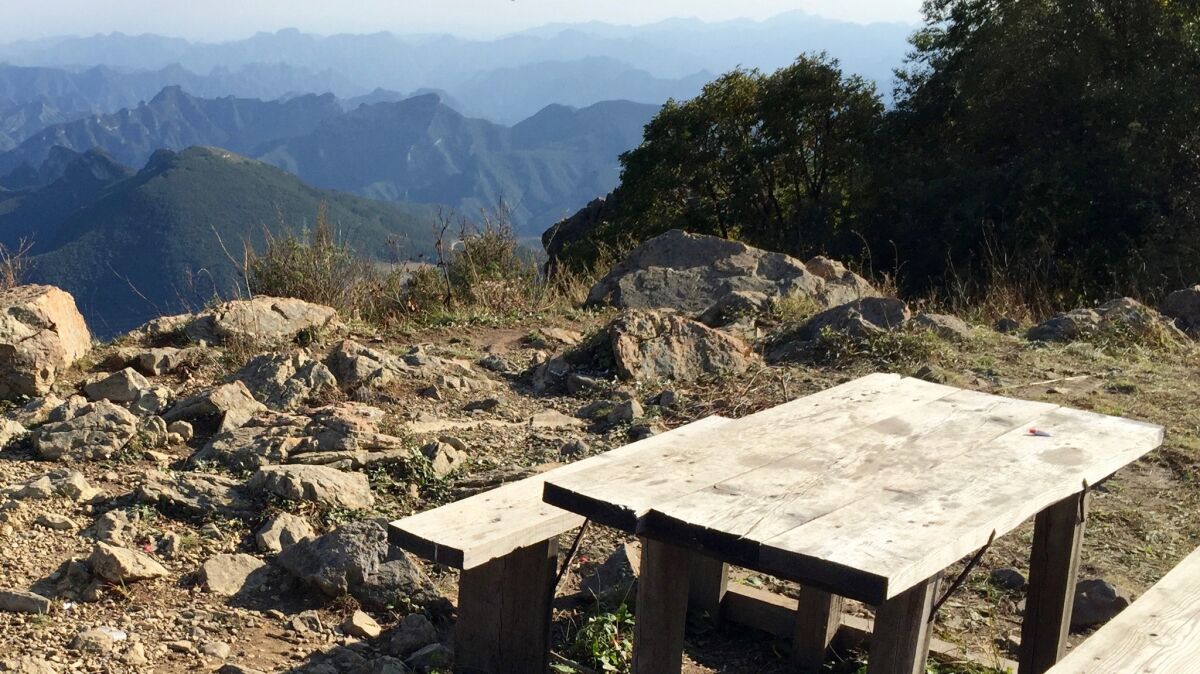 "The U.S. has done a really great job with environmental protection education that we would like to learn," said Su Yang, research fellow at the Development Research Center of the State Council, China's chief administrative body.
Chinese generally keep their park visits short; few sites even allow camping. And while family trips are becoming more popular, many still opt for cheaper bus tours.
"Chinese tourists mainly go for one day or a half-day to have a quick look around, not for one or two weeks to walk inside the reserve or to establish a personal relationship with nature," Zhu said.
The pilot projects look largely at management and funding, as officials weigh what role the central government should play in running the parks. U.S. national parks are publicly funded and rely only partially on entrance fees. But Chinese sites depend on revenue to sustain themselves, and officials sometimes use the income to cover other local government expenses.
Chinese officials also must figure out how to balance the needs of communities that have lived in these regions for generations.
The country's development commission and its forestry administration did not respond to requests for comment.
A record 307 million people visited U.S. national parks last year. (The Park Service celebrated its centennial anniversary in late August.) The Chinese government doesn't compile overall visits, and Baihuashan officials said they weren't certain about their total number because a different district operates two other entrance gates.
Wang Suohong, a 47-year-old who works in the construction industry, spent a recent afternoon with a friend surveying Baihuashan, which means "100-flower mountain."
"You can see a lot of man-made elements in Chinese parks, but if a tree falls in Yellowstone, they won't [clean] it up," said Wang, who spoke with awe of his trip years ago to the first U.S. national park.
Officials plan to assess next steps in their own national park vision after the pilot efforts conclude.
"What if the government pays the ticket for you and you go outside and see how beautiful our country is?" said Deng Zhaoming, a lecturer at Hunan First Normal University, who studies tourism management.
"To view with confidence the natural beauty and national image, that is what China is lacking, and that is what we need to do."
Meyers is a special correspondent. Nicole Liu in the Times' Beijing bureau contributed to this report.
Must-read stories from the L.A. Times
Get the day's top news with our Today's Headlines newsletter, sent every weekday morning.
You may occasionally receive promotional content from the Los Angeles Times.