Worried by Pyongyang's nuclear and missile tests, China will restrict oil exports to North Korea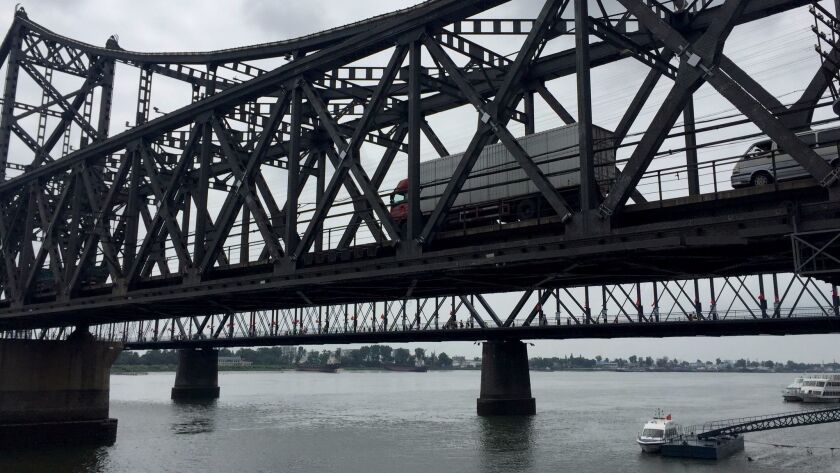 Reporting from BEIJING —
China will soon begin restricting oil exports to North Korea, the country's Commerce Ministry announced Saturday, marking a major step by Pyongyang's top ally and trading partner to further isolate the country from the global economy.
China said the new restrictions are in accordance with United Nations sanctions leveled against the North to stymie its nuclear and missile ambitions. They include a total and immediate ban on natural gas and textile exports, and will limit annual petroleum exports to 2 million barrels beginning Jan. 1.
"When approaching the upper limit, Chinese government authorities will issue a notice based on the export situation," said a statement on the Commerce Ministry's website. "Once it reaches the limit, from the date of implementation, no refined oil products will be exported to North Korea."
China has been North Korea's top ally for decades and now accounts for an estimated 90% of the country's trade. Yet Beijing has been increasingly uneasy with its northeastern neighbor's repeated nuclear and missile tests.
Chinese state media have been inconsistent in discussing the prospects of an oil ban. In April, the Global Times — a state-run tabloid that often reflects official thinking — raised the prospect of curbing oil exports in retaliation for North Korea's increasingly provocative behavior. Yet in early September, after North Korea conducted its sixth and biggest-ever nuclear test, it called the prospect of a full oil embargo "rash and extreme."
"If China completely cuts off the supply of oil to North Korea or even closes the China-North Korea border, it is uncertain whether we can deter Pyongyang from conducting further nuclear tests and missile launches," it said. "However, confrontation between the two is likely to occur."
Whether China will fully enforce the restrictions remains unclear.
President Trump has put Beijing at the forefront of U.S. efforts to rein in North Korea's nuclear program.
On Thursday, Trump announced an executive order authorizing a new round of sanctions aiming to slow North Korea's progress toward being able to launch a nuclear strike on the continental U.S. The new sanctions target any company or person doing business with North Korea. He called the nation a "grave threat to peace and security in our world."
China, in accordance with U.N. sanctions, placed limits on North Korean coal, iron ore and seafood exports this year.
Gas prices in Pyongyang have jumped by about 20% in the past two months, according to the wire service Agence France-Presse.
Trump and North Korean leader Kim Jong Un exchanged a volley of personal insults this week, further ratcheting up tensions, and neither side shows any sign of backing down. Trump, speaking during the U.N. General Assembly, called Kim "Rocket Man," and Kim threatened in a video to "tame the mentally deranged U.S. dotard with fire."
North Korea's foreign minister, Ri Yong Ho, said Thursday that the country could soon test a hydrogen bomb over the Pacific Ocean. "We have no idea about what actions could be taken as it will be ordered by leader Kim Jong Un," he said, according to South Korea's Yonhap News Agency.
Gaochao Zhang in the Times' Beijing bureau contributed to this report
For more news from Asia, follow @JRKaiman on Twitter
ALSO
Trump announces new sanctions against North Korea, but China's role remains key
Aides warned Trump not to attack North Korea's leader personally before his fiery U.N. address
'Dotard' rockets from obscurity to light up the Trump-Kim exchange, sparking a partisan war of words in U.S.
---
The Latinx experience chronicled
Get the Latinx Files newsletter for stories that capture the multitudes within our communities.
You may occasionally receive promotional content from the Los Angeles Times.