On the Ground: Van Gogh lives here. So does Rembrandt. A Chinese village where the great masters live on (in replication)
Reporting from Shenzhen, China —
A Van Gogh still life hangs in a budget hotel room. An abstract, black and gray composition brightens a corporate office. A Paris street scene gathers dust in a kitschy bar.
The artist behind any of these may well have been Xie Chunti, a 31-year-old resident of the Dafen Oil Painting Village, a community in the southern Chinese boomtown of Shenzhen that once produced 60% of the world's imitation oil painting masterpieces.
The village, a labyrinth of low-lying tile buildings and dark, narrow alleys, is home to an estimated 5,000 workers and 800 shops, most of which sell huge stacks of imitation art. Its artists, many of them classically trained, spend their days painting replicas of masterpieces by Picasso, Warhol, Monet, Rembrandt and others, each a testament to China's prowess at producing mass quantities of inexpensive things.
Yet hard times have fallen on Dafen. As labor costs rise, printing technology improves and foreign customers look elsewhere, artists such as Xie are struggling to survive. Some are hanging up their brushes entirely.
"A lot of artists have given up and left," said Xie, an art school graduate from the southeastern province of Jiangxi, as she hawked small Van Gogh replicas by the roadside. "Before, the international market was huge, and profits were high; we'd sell two or three paintings a day and be able to feed our families. Now we sell five or six, and we still can't."
Experts say that Dafen is a microcosm of China's economy at large. Beijing is attempting to shed the country's decades-old growth model — one based on manufacturing and investment — for a more sustainable, innovation-oriented economic future. Out are dingy factories; in are tech start-ups and shiny office parks.
The transition has been rocky. In 2015, China recorded its slowest growth in 25 years, and manufacturing workers in Guangdong province, a place once known as the "world's factory floor," have been among the hardest hit.
"Dafen village is just like other coastal cities in Guangdong," said Zhou Zhengbing, a professor at the Central University of Finance and Economics in Beijing who researches China's cultural economy. "They're focused on labor-intensive products…. These years, the economy is slowing down, demand is decreasing, yet labor costs are going up. For all these reasons, there are limited opportunities for the people who work there."
Dafen was a farming and fishing village until 1989, when Huang Jiang, a Hong Kong entrepreneur and master art copier, moved there with about 20 other artists. The village was cheap, he told the state-run China Daily newspaper in 2011, and was only a short drive from Hong Kong. He had been selling a few dozen copied paintings each month to foreign buyers, most from the United States and Europe; knowing the market's potential, he began teaching other artists his trade.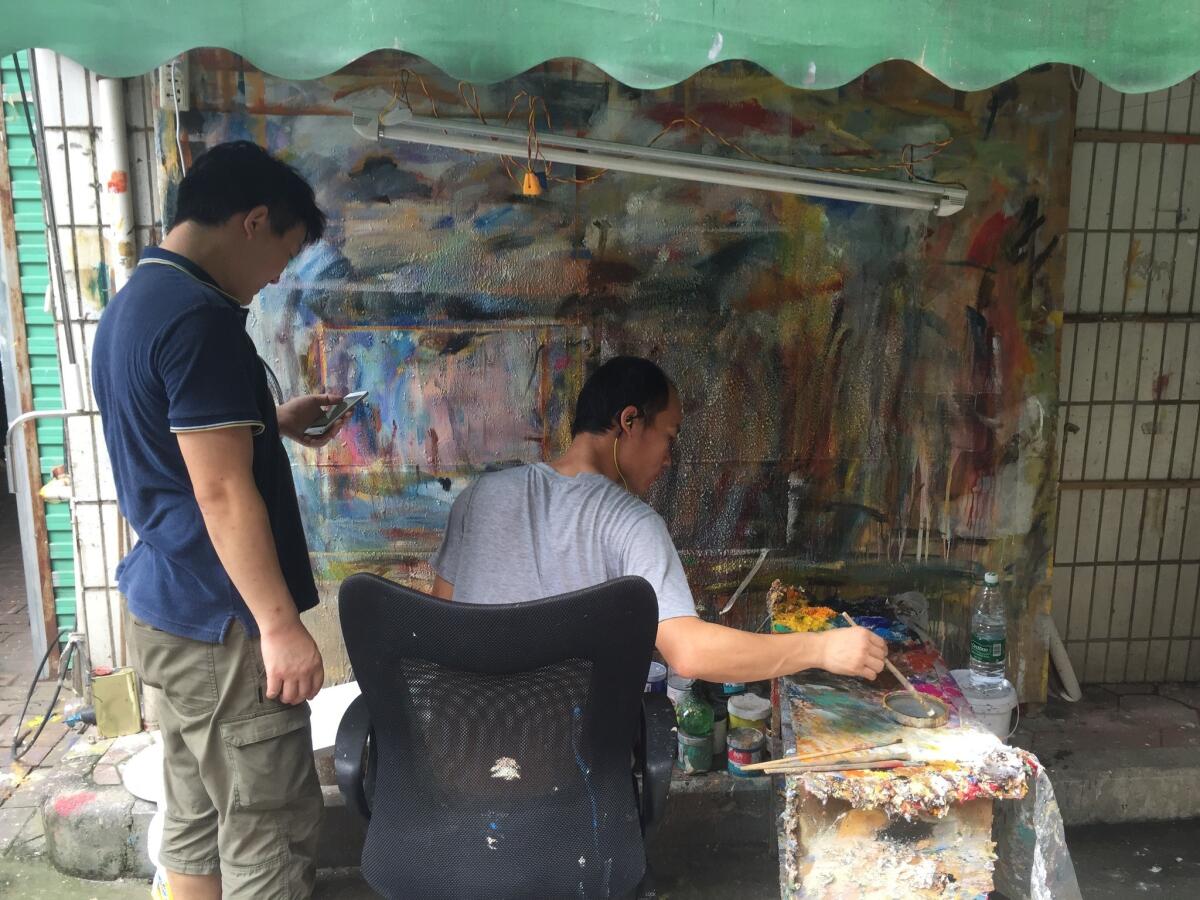 Over the years, demand skyrocketed, the village blossomed and Huang grew rich. Graduates from China's art academies flocked to Dafen; they'd train for three to six months, learning to paint up to 20 masterpieces a day. They'd specialize in certain forms: Renaissance portraits, floral still lifes, Monets.
Nobody would mistake them for con artists — their works are unabashedly copies, and cost anywhere from a few dollars to a few hundred. Dafen's painters have argued that the original works are in the public domain, as their artists died more than 70 years ago (though the Andy Warhol and Thomas Kinkade estates would probably disagree).
Now, residents are trying to adjust their craft to accommodate the new economy. As foreign buyers flag, they've been targeting the domestic market, swapping their Picassos for traditional Chinese landscape paintings and bright, colorful portraits.
They're also spending more time on their work. Rather than churning out 15 imitation Warhols a day, they're painting originals — and selling them at a premium. A village museum showcases some of the local talent: Their paintings depict wind-swept Tibetan nomads, determined People's Liberation Army soldiers, young urban women speaking on cellphones.
This is a common dynamic, according to Zhou. Across the province, factories are replacing their workers with automated systems. Some workers master the new technologies, and manage to live well; others fail and return to their rural hometowns.
"I think we should place [Dafen's] issues in a greater context," Zhou said. "We shouldn't be looking at this issue as an art issue. This is a labor issue."
Lin Jinghong, the owner of Hongyi Oil Paintings, a small shop stocked with paintings of horses, said that his business has been performing well with domestic tourists and wholesalers from Russia. "You build relationships, and people come back to you," he said. "Only a few people leave — maybe they're just bad painters. There are still opportunities here."
Yet he fears that improved printing technology could someday drive him out of business. "This is really scary," he said. "It's been a trend over the past two years or so. Hotels and other customers, now they're using printing services."
Liu Yaming, a shopkeeper and 17-year Dafen resident, was also optimistic about the village's future. "Some artists are very creative, and the market will acknowledge them," he said. "People start by copying, then they want to create their own things. That's a route to innovation."
He noted that most of Dafen's paintings, especially its highest-quality ones, are not created on assembly lines; they're painted by individuals. If a factory fails, its workers lose their jobs; if a Dafen workshop goes under, its artists still have the means to thrive.
"Over the past 10 or 20 years here, people have just kept on adapting," he said. "It's a place that emerged organically. So it's not just going to disappear."
Nicole Liu in The Times' Beijing bureau contributed to this report.
ALSO
China to explore outer space with its huge new radio telescope
U.S. and South Korea agree to deploy THAAD antimissile system to counter North Korea
Another financial crisis? Soaring global debt since 2008 raises risk as world economy sputters
Sign up for Essential California for news, features and recommendations from the L.A. Times and beyond in your inbox six days a week.
You may occasionally receive promotional content from the Los Angeles Times.