Oil tanker off Chinese coast at risk of exploding; search continues for missing crew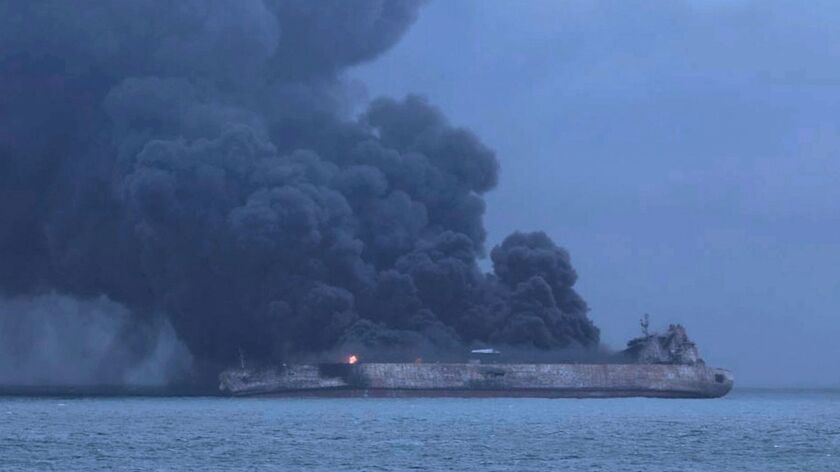 Reporting from BEIJING —
An oil tanker off China's east coast was on fire and in danger of exploding Monday, its precarious condition hampering rescue and cleanup efforts and raising fears of an environmental disaster.
One unidentified body was recovered Monday morning, and the tanker's 32 crew members — 30 Iranians and two Bangladeshis — remained missing.
The Sanchi, a Panama-flagged oil tanker, collided with a Hong Kong freighter about 8 p.m. Saturday in the East China Sea, about 160 miles off the coast of Shanghai. The Hong Kong freighter, the CF Crystal, wasn't seriously damaged, and all 21 crew members on board were rescued. But fires on the Sanchi have been raging since the collision.
The Sanchi was carrying 136,000 tons of Iranian oil condensate, a light, colorless fossil fuel, from Iran to South Korea; the CF Crystal was carrying U.S. grain to southern China. The cause of the collision remains unclear.
Beijing has sent four rescue ships and three oil spill-cleaning boats to the disaster area, Chinese state media reported. South Korea has dispatched a ship and helicopter. The U.S. dispatched an airplane from Okinawa, Japan, that has searched an area of 3,600 square nautical miles without locating any missing persons, according to a statement by the U.S. 7th Fleet. Authorities have set up a cordon of 10 nautical miles around the vessel.
Images aired on China's state broadcaster CCTV showed the 900-foot-long Sanchi ablaze as cleanup crews sprayed it with water; a massive plume of black smoke rose into the sky.
The Sanchi "is floating and burning as of now," the Chinese Transportation Ministry said Monday. "There is an oil slick and we are pushing forward with rescue efforts."
Poor weather has impeded rescue work, said Lu Kang, a Chinese Foreign Ministry spokesman.
"The prime focus should still be the missing … crew from the Sanchi but as time goes on the likelihood of a positive outcome diminishes," said Simon Boxall, an oceanographer at the National Oceanography Center in Southampton, England.
Condensate is a toxic and highly volatile substance, Boxall said, and that poses both advantages and disadvantages for the rescue and cleanup crews.
"The plus is that it will sit at the surface as it spills initially, and a fair proportion will evaporate off," he said. "The minus is it is very difficult to collect from the surface and will quite quickly disperse through the relatively shallow sea beneath the incident. This produces a very toxic plume of water which, unlike most crudes, won't decay through microbial action in the same way."
Dealing with the ship poses major risks both for cleanup crews and the environment, he said.
"If the ship's fire can be extinguished, and the ship made safe, then towing to a safe haven where the oil can be offloaded would seem the better option," he said. "However, if it goes wrong, it takes the pollution closer to the coast. If the ship sinks where it is with its cargo, then it will leak for some months to come and cause a chronic pollution problem, effectively writing off the local environment and fishing grounds for many thousands of square kilometers."
A safety data sheet by the oil company ConocoPhillips said that condensate "may be fatal if swallowed and enters airways" and is "toxic to aquatic life with long-lasting effects."
The substance may also release poisonous hydrogen sulfide gas, it said. "At high concentrations hydrogen sulfide may produce pulmonary edema, respiratory depression, and/or respiratory paralysis," it said.
Rashid Kang, a campaigner at Greenpeace East Asia, said in a statement that the organization is "worried about the potential environmental impact" of the collision.
According to the Shanghai Maritime Bureau, the incident has not disrupted traffic into and out of Shanghai or China's Yangtze River ports.
Similar incidents have a precedent of causing vast environmental damage. In March 1989, the Exxon Valdez oil tanker ran aground in Alaska's Prince William Sound, spilling 10.8 million gallons of crude oil, devastating herring and salmon runs and causing one of the worst environmental disasters in U.S. history. The area's environment still hasn't fully recovered.
In 1991, the ship ABT Summer exploded off Angola, spilling 260,000 tons of Iranian crude oil into the sea. Five of 32 crew members died, and the incident caused an 80-square-mile oil slick.
Nicole Liu in The Times' Beijing bureau contributed to this report.
---
UPDATES:
6:45 p.m.: This story was updated throughout with staff reporting.
This story was originally published at 11:50 a.m.
---
Must-read stories from the L.A. Times
Get all the day's most vital news with our Today's Headlines newsletter, sent every weekday morning.
You may occasionally receive promotional content from the Los Angeles Times.