How a professor in China predicted Trump's victory more accurately than most U.S. pollsters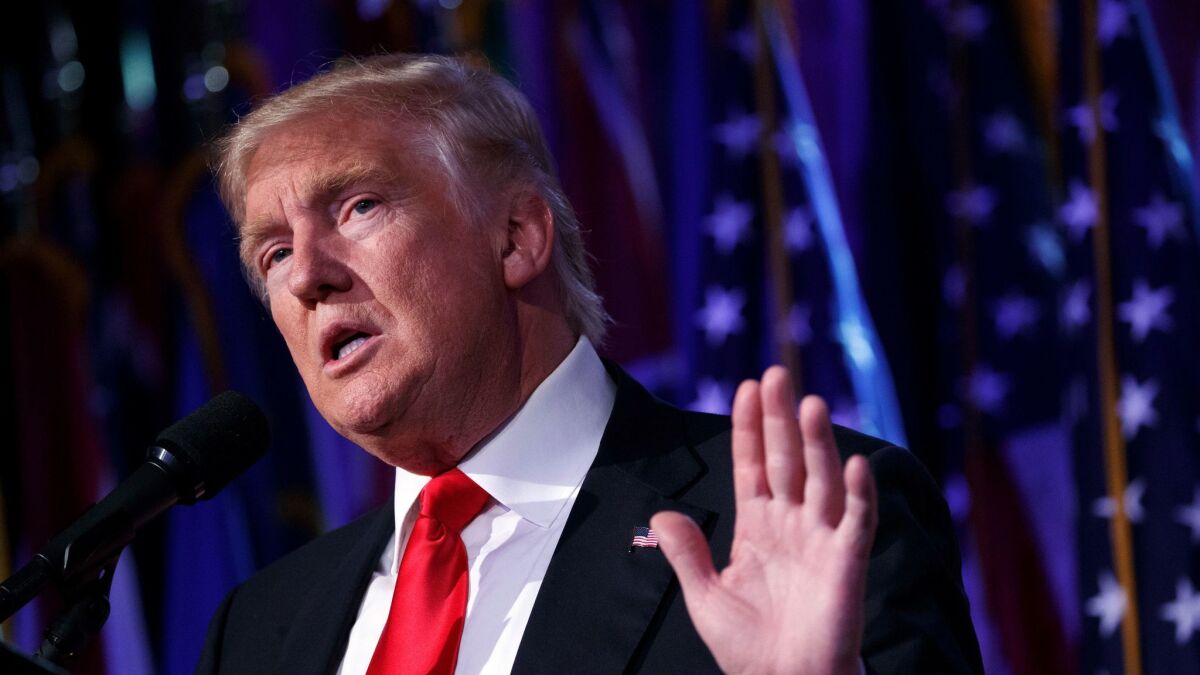 Reporting from Beijing —
Most U.S. forecasters missed the tsunami of alienation and anger that propelled Donald Trump to the presidency. A teacher in southern China nailed it.
Chen Dingding, an international relations professor at Jinan University in Guangzhou, predicted a Trump victory months ago. He correctly guessed that the rogue Republican would earn at least 286 electoral college votes, that a Rust Belt blue state would flip to red, that African American turnout would drop and that Congress would stay Republican.
The 41-year-old saw what many others did not: rural desperation and factory-town fear tugging voters toward the inexperienced outsider.
"All the reasons were there," said Chen. "I don't have any secret information."
Chen considered his outsider status a shield against the bias of a polarized electorate.
"For people in the U.S. the stakes were too high," he said. "Maybe that affected their judgment."
Chen's prediction has made him something of a hero among Chinese scholars. He used no models. He simply spent the last year monitoring polls and reading everything, from alt-right blogs to progressive bulletins.
He believed social pressure prevented voters from sharing their views about Trump. And he sensed their fundamental distrust of Hillary Clinton, a sentiment the Democrat couldn't shake.
Chen found it especially noteworthy that President Obama campaigned for Clinton more than once in Michigan and Pennsylvania.
"The working class in that area is very upset," said Chen, who also runs the China-based Intellisia Institute, a think tank focused on international affairs. "The status quo wasn't acceptable."
Chen grew up in the poor, southeastern province of Jiangxi and moved to the U.S. in 1997 to study. He focused on U.S.-China relations and earned a doctorate at the University of Chicago. The American political process fascinated him, coming from a country where a select group of Communist Party officials handpick their leader. He saw the decline of the Rust Belt firsthand when he drove across the region, and still remembers the shock when a school friend ran for a congressional seat in Missouri and lost the race by just 2,000 votes.
I was learning how people in a county next to the one I grew up in were going to vote based on a WeChat group in China.
— Sam Overholt, a 31-year-old Pennsylvania native
He left the U.S. in 2009 for a job at the University of Macau and moved this May to the Pearl River metropolis of Guangzhou, where he continued to track American elections.
Early this year, he started posting his analysis on WeChat, a popular Chinese social media app. People laughed.
"I just thought he was weird," said Sam Overholt, a 31-year-old Pennsylvania native who works for a PR company in Beijing and follows the scholar's posts.
Then Chen explained how the populist wave sweeping the world — from Britain's vote to leave the European Union to the presidential election of Rodrigo Duterte in the Philippines — might carry over to the U.S.
That made sense to Overholt. "I was learning how people in a county next to the one I grew up in were going to vote based on a WeChat group in China," he said.
Yanzhong Huang, who has known Chen for years, questioned his friend's judgment until election night.
Suddenly, Chen made sense. "He talked about certain structural factors like anti-globalization, anti-free trade, anti-political correctness, and the importance of contingency factors like individual scandals," said Huang, a senior fellow at the Council on Foreign Relations in New York. "He was very consistent."
Chen had doubts, especially after leaked video revealed Trump's boasts about groping women. But he stuck with his analysis.
"Many voters simply ignored mainstream media," Chen said. "They rely on Twitter, and I noticed he had more Twitter followers than Clinton."
Several other scholars also pushed back against the force field of certainty surrounding a Clinton victory. A political scientist at Stony Brook University in New York predicted Trump's success based on primary outcomes and a party pendulum shift that usually occurs every two terms. A Yale professor used economic factors to forecast the Republican's victory.
Filmmaker Michael Moore laid out why Trump would win on his website, noting Republicans focused on traditionally Democratic states in the Rust Belt and white males feared losing power and status.
American pollsters, in their defense, dealt with a tight race. But the Chinese scholar made his forecasts from the other side of the Pacific. And he was right.
For his next prediction, Chen doesn't rule out impeachment.
Meyers is a special correspondent.
ALSO
The people of a small Slovenian town are excited that Melania Trump is about to become first lady of the United States
Trump's plans to scuttle or amend the Iran nuclear deal remain a work in progress
Obama will spend his final presidential trip abroad trying to reassure the world about Trump
---
Must-read stories from the L.A. Times
Get the day's top news with our Today's Headlines newsletter, sent every weekday morning.
You may occasionally receive promotional content from the Los Angeles Times.