The people of a small Slovenian town are excited that Melania Trump is about to become first lady of the United States
Reporting from SEVNICA, Slovenia —
Down school hallways decorated with murals of rainbows and ladybugs, children in polka-dot winter jackets scamper and scream, plonking themselves on couches while talking excitedly about "Melania" — the school's most famous former pupil.
"We hope that she comes and visits us," says the primary school's headmistress, 45-year-old Mirjana Jelancic. "That would really put us on the map."
In the quiet Slovenian town of Sevnica, nestled on the banks of the Sava River and surrounded by forest ranges, all the chatter around this town of 4,500 is about America's next first lady, Melania Trump, who spent her childhood and early teenage years here.
In bakeries and bars, people wonder, bewildered and bemused, how a small-town local girl has found her way to the White House, the seat of global power and politics, many thousands of miles away in Washington, D.C.
"I couldn't believe it," says 22-year-old Suzi Mirt, pouring pints of beers in a downtown bar, while images of America's president-elect, Donald Trump, flitted across a television screen. "It shows that anything is possible."
One cafe is serving a Melania Trump almond and white chocolate cake, sold by the slice for about $3.25. A crane downtown suspended the American, Slovenian and local district's flags side by side, to the amusement of locals.
Questions about Trump are often met with a grin by locals, who have already taken to calling her "the first lady" and joke that it is the fourth name they have known her by — after Melania Knavs, Melania Knauss and Melania Trump.
It marks a point of contrast to the response in the United States, where protesters have taken to the streets in cities around the country, chanting that Trump is not their president, and decrying him as a racist and a misogynist.
Viewed from afar, the results were welcome in this quiet Slovenian town, where resentment of the Clintons is palpable. Much of that comes from their role in the Kosovo bombing campaign of 1999, and for Hillary Clinton's perceived aggravation of both the Syrian and Ukrainian crises.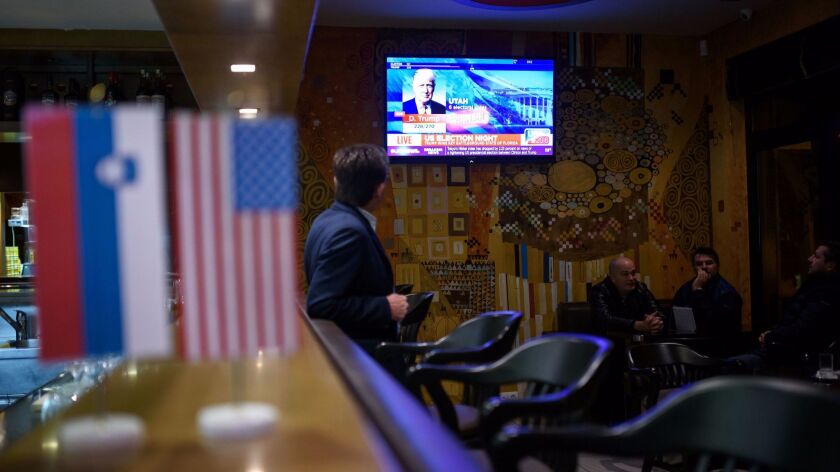 "We call her 'Killary,'" says Blaz Pecnik, a local insurance agent. "If she had won, I think she would have started a war with Russia."
Trains covered in graffiti rumble intermittently on tracks along the river, and smokestacks rise from the town's depleted industrial zone. Church spires stretch skyward from hilltops shrouded in an early-winter mist.
Melania was born in the nearby town of Novo Mesto in 1970. Slovenia, at the time, formed the northern extremity of Yugoslavia, a socialist bloc led by Josip Broz Tito, which was, after his death, plunged into chaos and a series of bloody civil wars throughout the 1990s.
"I grew up … near a beautiful river and forests," Trump recently wrote on her husband's campaign website. "It was a beautiful childhood."
Her mother, Amalija Knavs, labored on farms before finding work at a local factory producing children's clothes. Her father, Viktor Knavs, was a member of the Communist Party and a car salesman.
Both, according to locals, wanted more than a simple life in Sevnica. Melania seems to have inherited their drive. Her career as a model took her to the famed fashion houses of Milan and Paris — and New York, where she would become Donald Trump's third wife.
"Melania Knavs was very benevolent and respectful," says Jelancic, who lived in a neighboring apartment building during their youth. "She was also quite innovative and creative."
As kids, she and Melania used to spend evenings passing notes along a length of string suspended between their balconies, trading gossip — "an old-fashioned form of SMS," says Jelancic.
In Melania's teens, the family moved to Ljubljana, the capital, around 40 miles away, where she attended a design and photography high school in a monastery. A photographer, Stane Jerko, famously spied her at age 16, drawing her into the glamorous world of high fashion.
By the late 1990s, she was in New York, a world away from the snail-pace streets of Sevnica.
Since her family left, Sevnica — with its collapsing factories, and the sense of being left behind by a corrupt political elite — has in some ways grown akin to the Rust Belt, where Trump made such striking electoral inroads in this week's election.
Most of the factories of the Tito era — including a famed confectionary producer, the clothing manufacturer where Melania's mother once worked — are now closed, unable to endure the Yugoslavian collapse and post-socialist economic realities.
Some, like Melania, got out and enjoyed the trappings of wealth and success. Many, however, appear to feel a little trapped.
"We have a slow life. It's so different to somewhere like New York, or even Ljubljana," says Mirt, the bar worker, who trained as a primary school teacher. "We survive, but it is hard. We only have two restaurants, one fast-food place — and about 30 bars."
Many here hope that association with the Trump brand and his rise to the presidency will give the town a boost, encouraging tourists to visit the quaint old town, with its 12th century castle and the vineyards dotting the outlying lands.
"We hope that tourists will come and try our wines," says Jelancic.
Johnson is a special correspondent.
---
Must-read stories from the L.A. Times
Get the day's top news with our Today's Headlines newsletter, sent every weekday morning.
You may occasionally receive promotional content from the Los Angeles Times.