Province near Beijing aims to move polluting factories overseas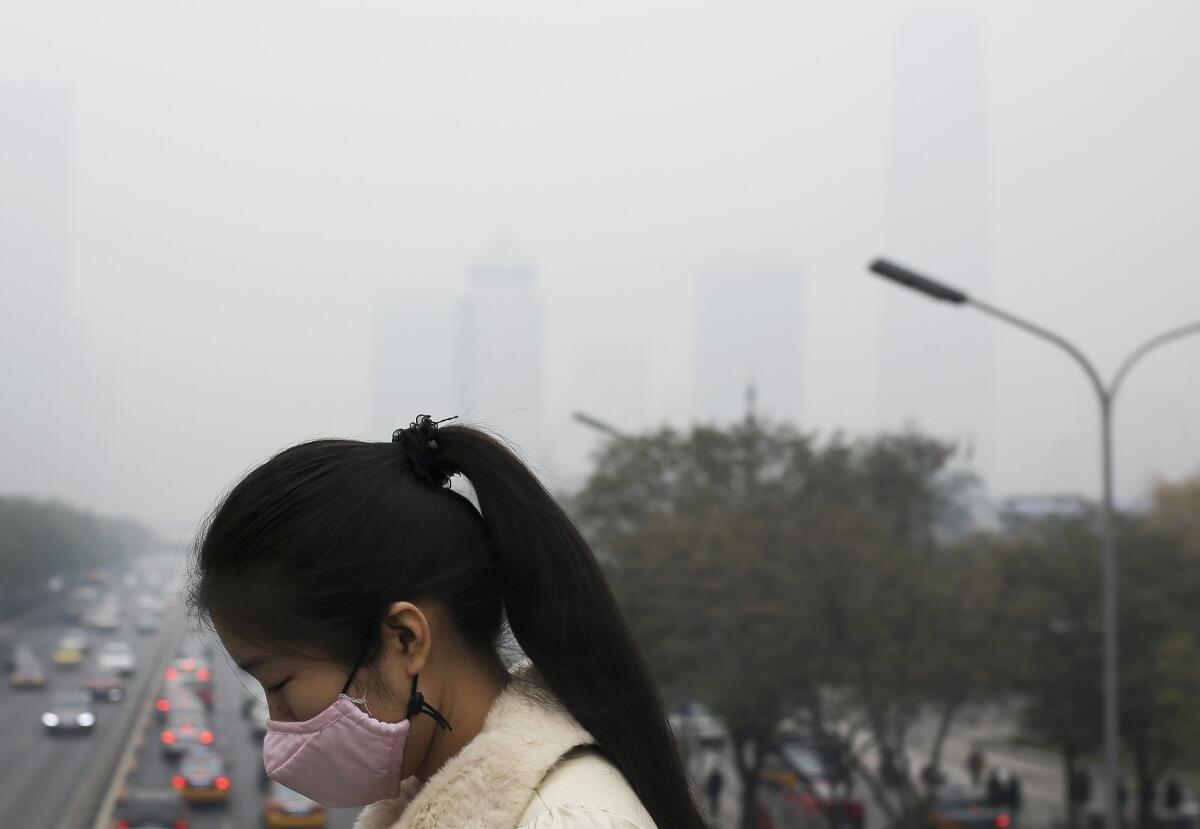 Reporting from Beijing —
Notoriously smoggy Beijing got a breath of fresh air during the Asia-Pacific Economic Cooperation summit last week thanks in part to factory closures in neighboring Hebei province. Now, a new plan announced by the local government might help make those blue skies a more permanent fixture of the Chinese capital.
In an effort to reduce pollution, authorities in Hebei province on Tuesday announced a plan to move steel, cement and glass factories outside of China, the official New China News Agency said. Through preferential policies and financial incentives, local companies will be encouraged to relocate to Africa, Central Asia and South America by 2023.
Industrial pollution is the largest source of the tiny, choking particles that regularly cloud Beijing's skies, according to research last year by the Chinese Academy of Sciences. Hebei, which surrounds the capital, is one of the country's main industrial production centers. But with China's economy slowing, factories have a surplus of capacity.
Authorities now want to put some of these factories offshore, with the government seeking to move 5 million tons of both steel and cement production out of the country by 2017, and even more ambitious targets of 20 million tons of steel and 30 million tons of cement moved out by 2023.
Still, this represents a small fraction of Hebei's industrial might; the province now has a steel-making capacity of 200 million tons per year, though sluggish demand has seen producers change tactics.
A spokesman from the Hebei Development and Reform commission industry site steelhome.com said last week that from January to October this year, steel capacity in the province was slashed by 20 million tons. Prices have dropped precipitously.
The Hebei provincial government will encourage factories to set up joint ventures and subsidiaries in other countries to meet local demand there, the New China News Agency reported, though details were unspecified. While this may reduce the strain on China's capital, other countries will have to evaluate whether environmental costs are worth the benefits.
Pollution from factories has noticeably affected Hebei, which has seven of the 10 most polluted cities in China, according to the central government. Last month, the province announced that it planned to invest more than $9.7 billion in restoring water quality, replanting forests and closing mines to reduce pollution.
Yet while steel demand may be dropping at home, factories are still producing for export, making long-term environmental change questionable. China produces half the world's steel, and exports are on pace to exceed a record 80 million tons this year, according to the China Iron and Steel Assn.
India is considering raising steel tariffs after domestic producers complained about cheap Chinese shipments, Reuters news service reported Wednesday.
Last week, Hebei Iron and Steel Group, China's largest steelmaker, purchased a controlling stake in Swiss-based steel trading service Duferco. Yu Yong, the Hebei company's chairman, told state media that the deal would help Hebei Iron understand global demand and relocate production capacity around the world.
Silbert is a special correspondent.
Sign up for Essential California for news, features and recommendations from the L.A. Times and beyond in your inbox six days a week.
You may occasionally receive promotional content from the Los Angeles Times.