Bring on the fake snow: China aims to create a nation of skiers by the 2022 Olympics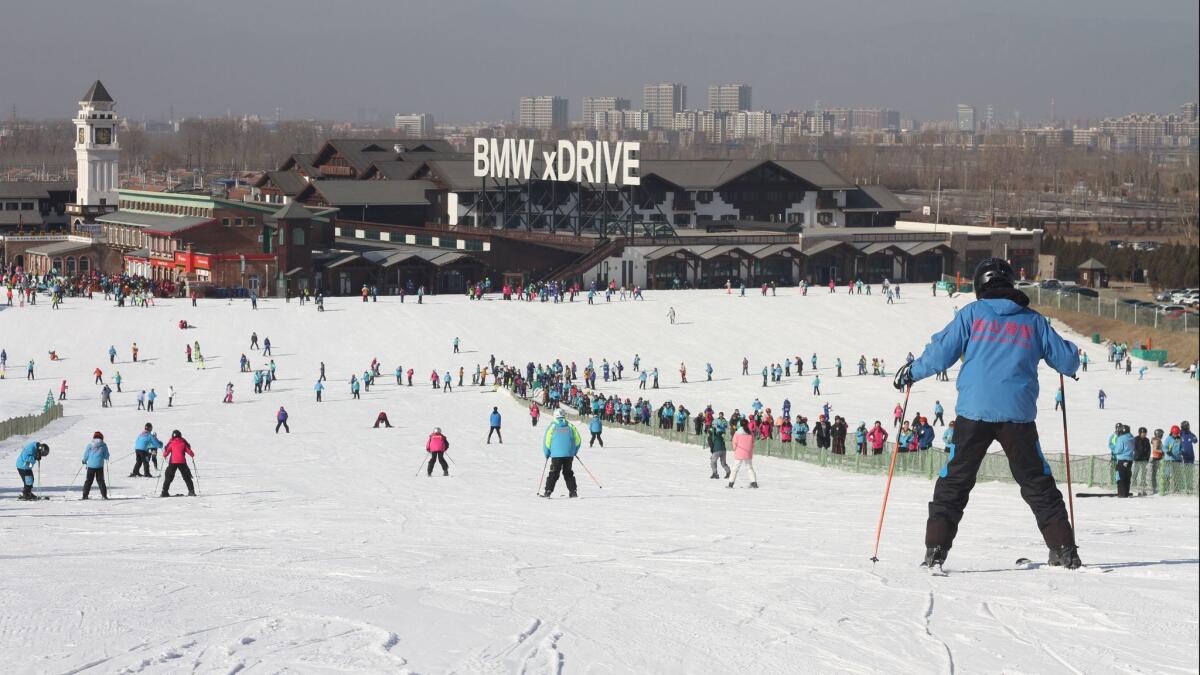 Reporting from Nanshan Ski Village, China —
The students at Nanshan Ski Village stood before their instructor in helmets and rented turquoise jackets, wearing the expression of a platoon preparing for war. One spontaneously slid down the hill. Another couldn't move. Someone on the end chatted on her phone.
"This is a life experience," said Xiang Ying, 28, as if trying to remind herself why she'd agreed to participate in a company-sponsored trip to the ski area. "I'm excited and afraid."
A strip of fake snow amid northern Beijing's low mud-brown mountains, Nanshan serves as a training ground for China's new national ambitions.
The parking lot fills daily with BMWs and school buses and snow machines. These visitors are embracing a government crusade to create a nation of skiers by Beijing's 2022 Olympics and build a winter sports culture from scratch.
China aims to draw 300 million people into winter sports by then with at least 800 ski resorts, nearly double the current number. A high-speed train will soon shuttle Beijing's more ambitious skiers 95 miles north to Chongli, where most of the event's snow sports will take place. It's the centerpiece of a campaign to satisfy evolving tastes and ensure billions funneled into Olympic projects don't go to waste.
The success of this national effort rides on an adventurous, expanding middle class that could redefine the global ski industry.
"It's the only market with such tremendous potential," said Laurent Vanat, a Swiss ski consultant, who spoke recently at a winter sports expo in Beijing that featured exhibitors from around the world selling gondolas and thermal underwear.
Squaw Valley and Alpine Meadows, located near Lake Tahoe, will sponsor a mogul championship at Nanshan this year for the first time. Their logos appear on colorful posters throughout the lodge, a Swiss chalet that sells pork and leek dumplings.
Genting Secret Garden, a luxurious resort in Chongli, even named a run after Squaw. The two launched a partnership in 2016 and Squaw last year hosted the Chinese freestyle team. In turn, gold medal Olympian Jonny Moseley, a Squaw ambassador, sailed down Secret Garden's slopes with an entourage of Chinese skiers.
"The epilogue is self-evident," said Andy Wirth, president of Squaw Valley Ski Holdings, which runs Squaw Valley and Alpine Meadows. "California not only stands to gain, but so does the ski industry in California."
He estimates the increase in Chinese skiers from 2015-2022 will equal the growth in North America and Europe for the last four decades.
The Chinese government laid out a national plan in 2016 that called for ski education in primary schools and the training of thousands of coaches. Companies rushed to oblige.
Real estate tycoon Wang Jianlin last year opened a six-run indoor ski park — the world's largest — as part of a $6-billion project in the country's northeast. Tour operators started heli-skiing and snowboarding trips to China's remote, far western mountains.
Those mountains, according to Chinese archaeologists, hold cave paintings of stick-figure athletes that reveal skiing's origins. Leaders no doubt recognize the discrepancy. A country that may have invented the sport claims only one Winter Olympic gold: aerials in 2006.
China sees the upcoming South Korea Winter Olympics as its dry run. Beijing won 100 medals when it hosted its only Olympics, the 2008 Summer Games. It would like to duplicate that success in 2022.
Beyond nationalist pride lies practicality. Leaders hope to avoid the fate of the 2008 Olympic facilities, which often sit empty. President Xi Jinping is pushing winter sports as a thoughtful development approach and a lifestyle goal, part of a "new era" in which economic progress no longer trumps concerns about polluted air and smart growth.
"Chinese people, nowadays, are more willing to check out new things," said Nanshan deputy manager Sean Wang, who traded a suit for a ski cap when he left his job in financial services. "They're willing to spend."
Just 20,000 visitors showed up at the ski village during its first year in 2001. Now, it sees 300,000 annually. More than 5,000 people arrive on Saturdays to line up for its 25 runs.
Nanshan charges about $71 during the weekend for a full day of lifts and rentals, but fancier resorts come closer to U.S. prices. A package at Secret Garden costs almost $140 per day.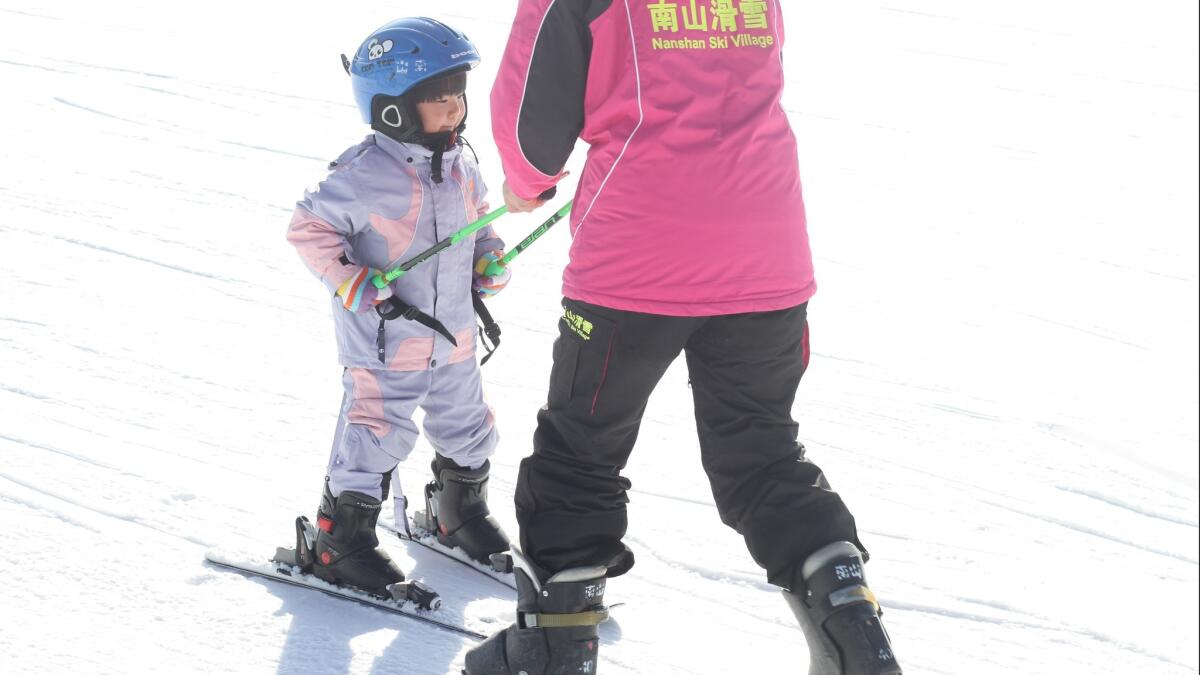 The increased demand presents one problem: When most everyone is starting fresh, who trains the skiers?
"It's the biggest challenge for the market because we don't have enough ski instructors that offer services to beginners," said Benny Wu, chief strategy officer for skiing at Vanke, a real estate developer. "On the other hand, most of the beginners don't want to have a teacher."
Wu estimates about 12 million Chinese skied last year, slightly more than the 11.8 million Americans who participated in downhill skiing, according to the trade group SnowSports Industries America.
Many Chinese viewed the experience as an experiment. Ren Xiaomao, a 60-year-old house cleaner, did it for the photos. She joined former classmates and felt pretty confident after the first few falls. Then, just as she headed to the changing room, a missile of a young man barreled toward her. The impact knocked off both her skis.
"I saw my foot going a different angle," she recalled. The accident broke her leg so badly the hospital had to install a metal plate.
Zhang Yan, among a new breed of ski enthusiasts turned entrepreneurs, hopes to avoid such mishaps by training a younger generation. President Xi appears to agree. He showed up at Zhang's ski camp in Chongli last year and, surrounded by helmeted children, peppered him with questions about safety procedures.
"I thought, 'There goes my career,'" said Zhang, a wiry athlete who opened Magic Ski School four years ago. He must have answered correctly. The school stayed open and the number of students continues to climb.
"It used to be that parents saw skiing as really dangerous, and then the government pushed the program," Zhang said. "Now, if by 2022 their kids can't ski, they think their child will be left behind."
At Zhang's southern Beijing campus, a snow white Mao Tse-tung statue welcomes visitors. Just behind it, a single ski hill juts out amid cornfields.
Zhang runs five schools, including one in Japan, and offers a 15-day training session for kids in Aspen. He'd like to expand the classes to California, and visited Mammoth Mountain with a group of Chinese investors who considered purchasing the resort. The deal fell through, but he still dreams of a campus there.
At the Magic School in Beijing, a group of elementary school students peered from behind scarfs, helmets, hoods and sunglasses. The temperature read 28 degrees. They would spend 20 days out of their monthlong holiday here. This marked day two.
Li Yibo, 12, said he felt "exhilarated," and quickly swiveled to his spot. The instructor had begun the lesson on how to stop.
Gaochao Zhang and Nicole Liu in The Times' Beijing bureau contributed to this report.
Meyers is a special correspondent.
Twitter: @jessicameyers
China wants to build an innovation capital by fiat. Can it?
China embraces hip-hop even a government censor can love
Sign up for Essential California for news, features and recommendations from the L.A. Times and beyond in your inbox six days a week.
You may occasionally receive promotional content from the Los Angeles Times.