China wants to build an innovation capital by fiat. Can it?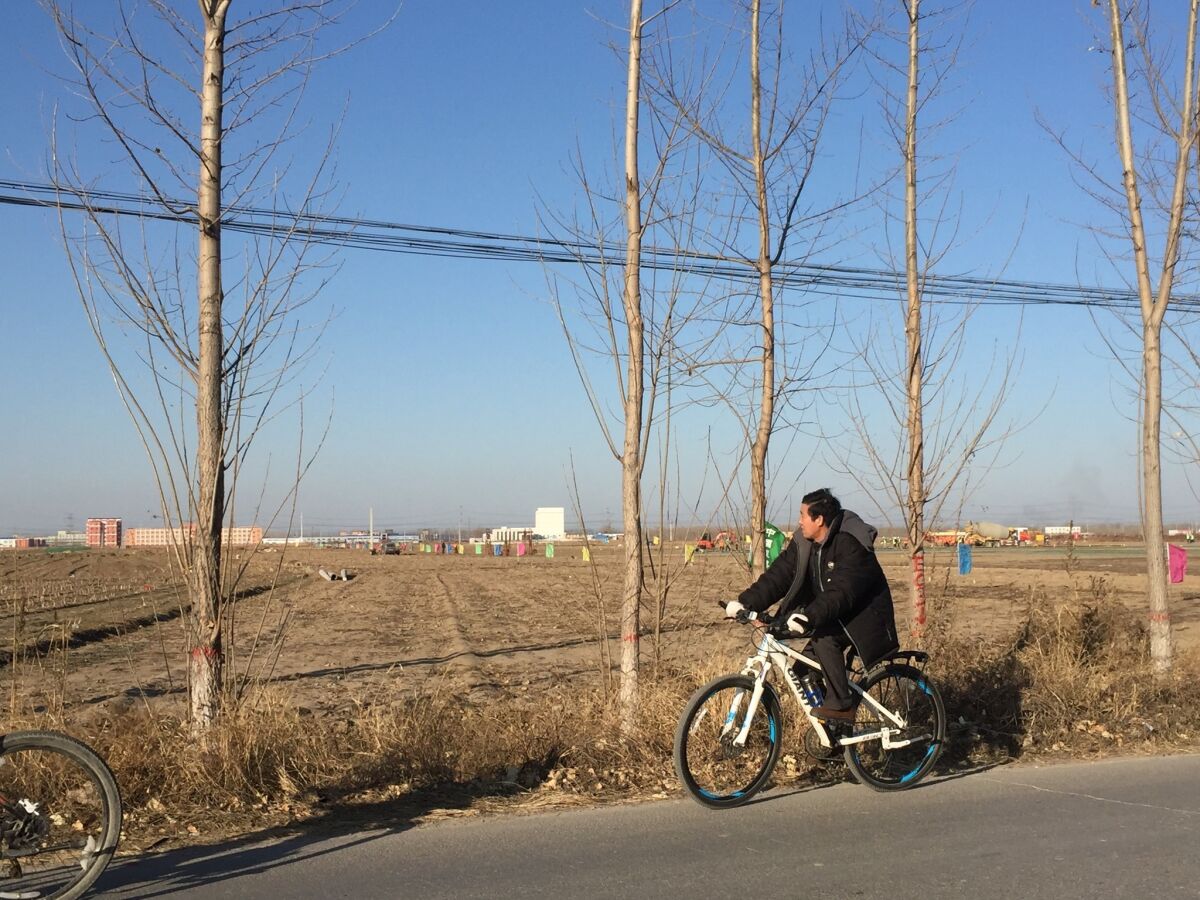 Reporting from RONGCHENG, China —
Farmers often stop to stare at the cement trucks running through their cornfields outside this dusty, frigid town south of Beijing. They're watching the destruction of their livelihoods for the promise of a more prosperous future.
Chinese President Xi Jinping stood in nearby fields in April to herald a project "crucial for the next millennium." Officials described a massive high-tech hub three times the size of New York City that would resuscitate poor areas and transform how China builds urban centers.
They called it Xiongan, "magnificent peace."
The country's sprawling propaganda apparatus compared it in significance to Shenzhen, the wealthy southern metropolis where China first loosened suffocating Mao-era controls and dealt itself in as an aggressive new player in the global economy.
Xi, the most authoritarian leader since Mao Tse-tung, envisions Xiongan as the next chapter of the four-decade boom that helped define modern China. Only this time, he's betting on the Communist Party, more than the markets, to steer it.
A richer, more assertive China faces an unprecedented political test. Shenzhen lit the fuse for decades of rapid economic growth without regard for the legacies of environmental degradation, shoddy construction or gaping inequality. Xiongan is intended to avoid those downsides through a more controlled approach — the world's most modern, sustainable city created by fiat.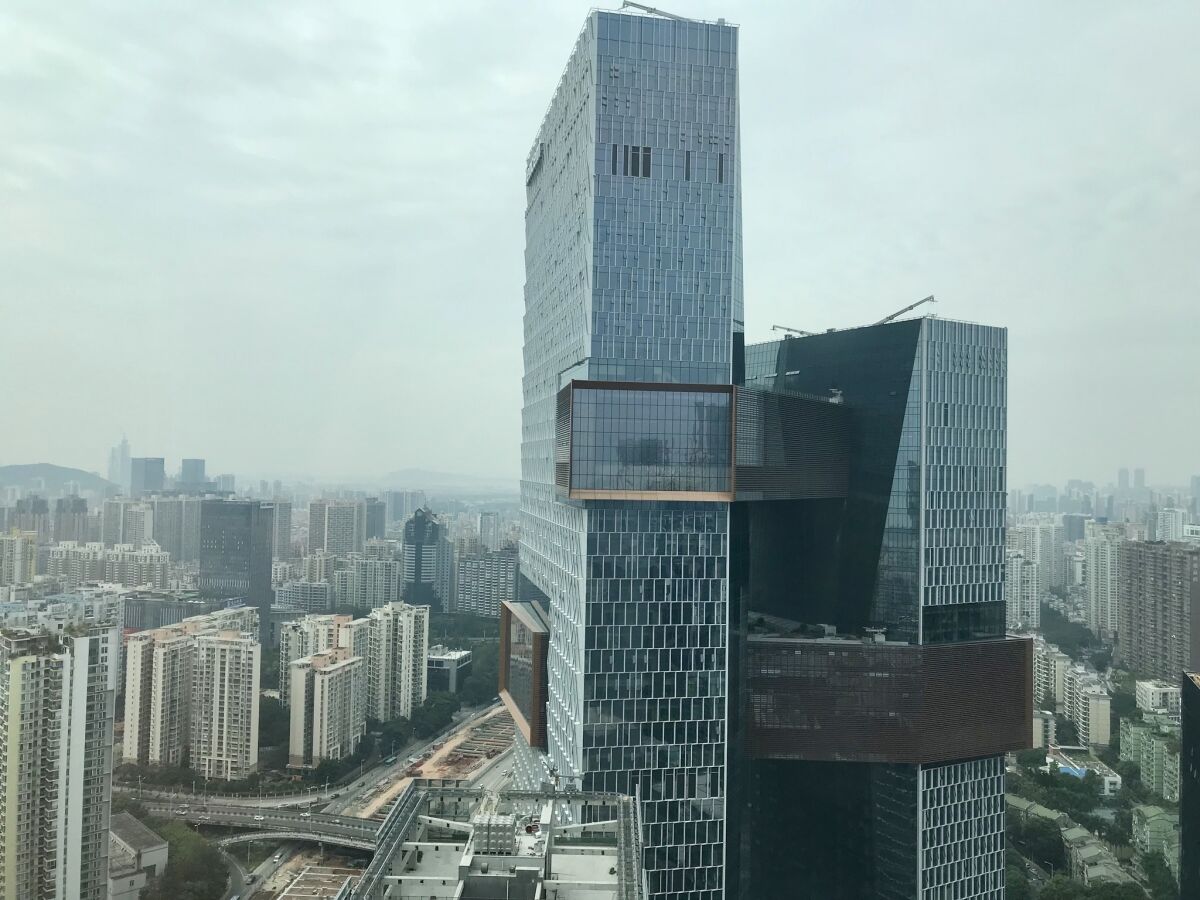 Deng Xiaoping, the former leader who blessed Shenzhen, encouraged society to "let some people get rich first." He catapulted China down the road to capitalism by easing the state's grip on the economy. Xi, through Xiongan, is tightening it. He aims to build a city — a society — that prospers more thoughtfully because the party orchestrates that future.
"Xi has a more convinced view of the necessity of a very large, direct state role in the economy than Deng ever did," said Arthur Kroeber, a longtime China researcher and managing director of Gavekal Dragonomics, a Beijing research firm.
Shenzhen grew rich as a factory for the world. Xi wants Xiongan to grow rich as an innovation center that leads the world.
The barren, frozen plains where orange-vested construction workers toil will house handpicked companies that specialize in the sciences. Authorities last year began construction on high-speed rail from Beijing and are nearing completion of a $12-billion airport that will serve the region.
"Xiongan is very much the Xi Jinping political economy playbook," said Jude Blanchette, a researcher at the Conference Board in Beijing and author of a forthcoming book on Mao's legacy. He's "not only providing leadership, but also the blueprint, the map and the instructional pamphlet for building a city. That's really fundamentally different than Shenzhen."
Not since Mao has a Chinese leader harnessed such unrivaled power. But can Xi use it to prove the Communist Party builds a city better than unfettered markets?
::
Five years ago when Xi became leader, he made another high-profile visit to the booming, balmy city of Shenzhen.
Xi laid a wreath at the foot of Deng's statue, and many thought he would continue on his predecessor's path.
No other spot on Earth developed as quickly as Shenzhen, a cluster of fishing villages that expanded into the cornerstone of China's export engine and, with Hong Kong and Guangdong, part of the world's largest urban cluster. Today, Ferraris zoom past telecom giant Huawei and the electronics markets that ship goods worldwide. Shenzhen's $302-billion GDP is roughly the size of the Philippines'.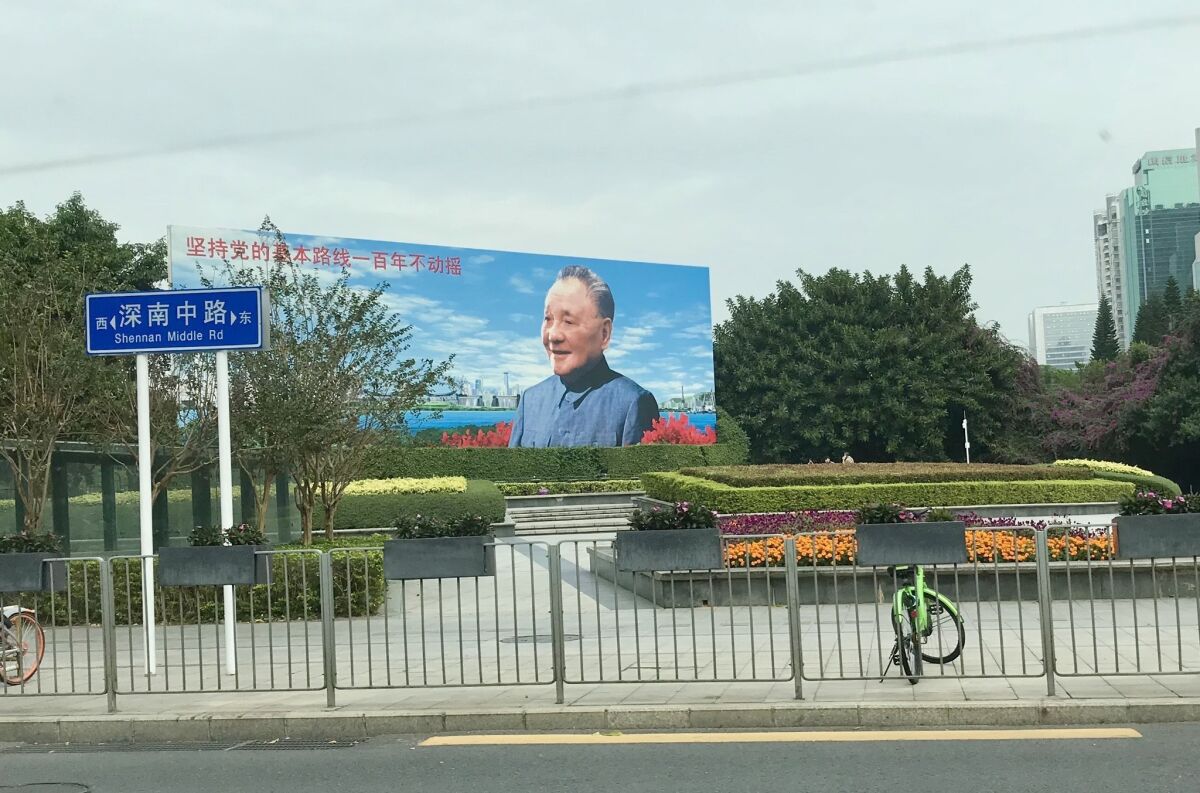 Like Xiongan, Shenzhen arose as an experiment. Mao's Cultural Revolution had shattered the economy, nationalizing all production and abolishing most private property. For his free-market test, Deng chose a port next to flourishing Hong Kong, then ruled by the British, and embraced policies that lured foreign investment. Money flooded in.
Many of Shenzhen's advances started with ambitious entrepreneurs who bent the rules and improvised in ways unheard of in Beijing. The city drew aspiring Chinese like sticky-tack. Today, Shenzhen's glass-towered tech district is filled with global workers.
"The role government played was to allow cooperation to develop, with less control and more freedom," said Chen Gong, founder of Anbound, a public policy think tank in Beijing. "Xiongan is entirely the opposite."
::
A bronze entry gate touts Rongcheng as the "famed northern clothing city," a nod to its past as a garment manufacturer. Red murals painted on village walls nearby speak to its future: "Holding hands together to build Xiongan."
Officials hope the farms and wetlands here in Hebei, a steel-making province that surrounds Beijing, fill with companies and residents fleeing the congested capital. Universities, markets — whatever mars Beijing's identity as a political center — will relocate to a region two hours away.
Xiongan will act as the hub of an area that includes Beijing, Hebei and Tianjin, the port city to the east, in a plan to restructure a region the size of New England and with more than three times California's population.
"It's the only country in the world that's doing it," said Austin Williams, senior lecturer at London's Kingston University and author of a book on China's urbanism. "I wouldn't be surprised if it doesn't work half as successfully [as China expects]. But it will be more impressive than anything we've seen in the West for 50 years."
Officials have yet to describe any role for international businesses, and have only just begun to approve domestic ones. The government plans to relocate premium schools and medical services to tempt companies in fields such as biotech and new energy.
Morgan Stanley predicts infrastructure and moving costs will total about $290 billion over 15 years.
China's three biggest tech companies have eagerly paid homage to Xi's vision. Tencent, the Shenzhen-based social media colossus whose WeChat app boasts nearly 1 billion users, plans to set up a financial technology lab here. Alibaba, the country's equivalent of Amazon, will establish artificial intelligence units. Search giant Baidu and the China Academy of Urban Planning & Design are partnering on a big data lab.
"Future cities should be developed based on the quality of people's life," Alibaba founder Jack Ma said when announcing the company's participation. "It's a millennial plan to create a future city."
When state media announced the plan for Xiongan on April 1, speculators scurried to the region. Shares of construction companies soared and the frenzy forced authorities to freeze property deals.
Villagers simply watched as the government seized their farmland. Private landownership doesn't exist in China, where the party controls all.
"It sounds like a really good idea, but who knows," said Yang Nongchi, 61, whose corn and wheat fields were taken to build Xiongan's temporary headquarters.
The compensation isn't enough for her family of six, she said. "Normally, the common people suffer most."
::
Xiongan's designers recognize the downsides of China's boomtowns, which still reel from the side effects of rapid economic growth and poor planning.
Even in Shenzhen, one of China's most livable and expensive cities, young people struggle to afford basic accommodation. Cramped urban villages reveal widening inequality. A 2015 landslide, in which a collapsing mountain of illegal landfill and construction debris killed more than 70 people, laid bare the consequences of under-regulated development.
Only Shenzhen's position on the coast frees it from the sooty film of smog that hovers over whole swaths of the country.
Xiongan is about "more balance in society and more balance between economic and environmental issues," said Guo Wanda, vice president of China Development Institute, a Shenzhen think tank founded to promote economic reforms.
The new area will focus more on quality of life issues than Shenzhen did as a manufacturing center that prioritized exports.
"If a project like this can succeed, China is the place," said Zhang Yue, who researches urban politics at the University of Illinois at Chicago. "The government is able to mobilize so many resources and political power can be centralized... But we need to be aware of possible problems like no consultation, a lack of policy, no local input."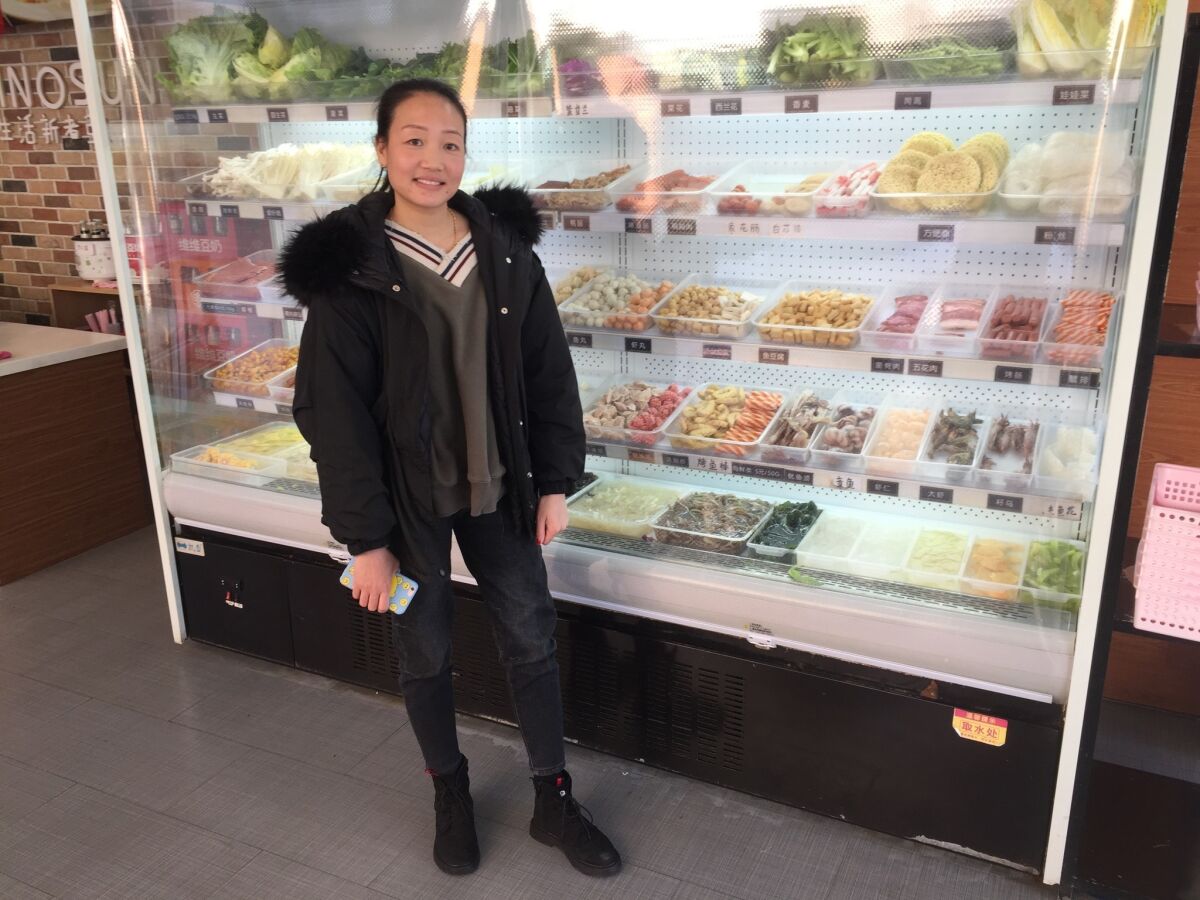 One resident, Zhang Shuanmei, said the rent for her Sichuan restaurant in a Rongcheng strip mall will double next year.
"If other people make a life here it will be good because it will help the economy and improve the environment," she said, amid the smell of pungent peppercorns.
"But at the moment, for local people, it's not good."
This story was reported with a grant from the United Nations Foundation.
Gaochao Zhang and Nicole Liu in The Times' Beijing bureau contributed to this report.
Meyers is a special correspondent.
Twitter: @jessicameyers
ALSO
China's 'sexy cyborg' took on Silicon Valley bro culture — and won
In Beijing, a mass eviction leads to a rare public display of rage
Taiwan has statues of him everywhere. Now many want Chiang Kai-shek's image removed
---
Must-read stories from the L.A. Times
Get the day's top news with our Today's Headlines newsletter, sent every weekday morning.
You may occasionally receive promotional content from the Los Angeles Times.