Upset over a U.S. missile defense system, China hits South Korea where it hurts — in the wallet
The bustling Myeongdong neighborhood has long been this city's most-visited tourist spot, a place where foreign shoppers fill rolling suitcases with South Korea's coveted cosmetics, clothing and electronics.
But over the last year even the street vendors have noticed a steep decline in sales.
"There aren't as many tourists to attract in the streets," said 38-year-old Park Jeong-soo, who sells chicken skewers from a cart. "It was the worst at the end of last year."
The reason: South Korea's new missile defense system, known as THAAD. China objects to it and has been flexing its economic muscle in protest, carrying out an aggressive campaign of economic retaliation that includes sending fewer tourists. In 2017, just over 4 million Chinese visited South Korea, down from roughly 8 million a year earlier after several years of steady growth.
"I don't know why we have to be the ones that suffer because of politics," said Park. "I watch the news more closely now, especially about THAAD. In a sense, my livelihood depends on it."
The Terminal High Altitude Area Defense was installed last spring on a former golf course in the country's south by South Korea's most important ally, the United States. The system is designed to shoot down medium-range missiles from North Korea over parts of South Korea.
China says the system's radar encroaches on its sovereignty and threatens its national security.
South Korean President Moon Jae-in has tried to patch things up, visiting Beijing in December and agreeing to not install any new missile systems or link the current one with the United States' overall defense network in Asia.
The meeting seemed to help, but merchants say the effects of the retaliation linger.
"They say THAAD retaliation is over, but I think it will take awhile for us to recover," said Han Soo-young, 42, a clothing store manager in Myeongdong. "I've lost a lot of customers since our relationship with China became worse. I have even had to get rid of employees, and now I run the store alone."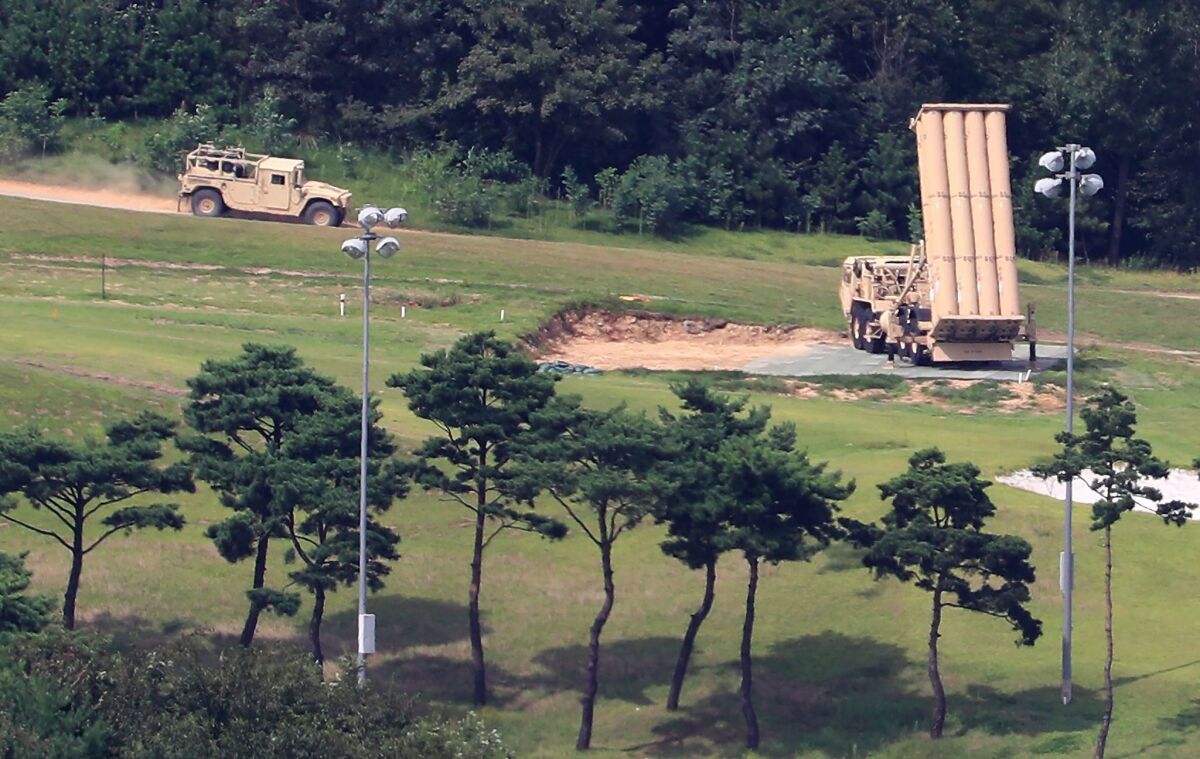 In addition to sending fewer tourists to South Korea, China also limited domestic distribution of South Korean entertainment, such as streaming of popular television shows and movies, according to a report by the U.S.-China Economic and Security Review Commission.
The retaliation also reduced sales of South Korean cosmetics, which are enormously popular in China, and South Korean automobiles, with Hyundai and Kia seeing big drops in their exports to China.
South Korea's leading retail conglomerate, Lotte, which gave Seoul the land for the missile-defense system in a real-estate swap, has also been targeted, suffering cyberattacks and losing hundreds of millions of dollars in the closure of more than 70 of its stores in China because they failed to pass fire-safety inspections.
But South Korea's tourism industry perhaps suffered most, both economically and psychologically.
The decline began in March 2017, when the China National Tourism Administration ordered domestic travel agencies to stop selling package deals to South Korea.
It was obvious and immediate across the country, especially as the peak summer season opened in places such as Myeongdong, which was visited by 81% of all foreign tourists in 2016, according to a survey by the government's Tourism Ministry.
Given that Chinese tourists spend about $1,900 on average during a visit, the cost of China's travel restrictions could be as high as $15 billion, according the Hyundai Research Institute. The figure is a small fraction of South Korea's $1.4-trillion economy — the 11th largest in the world — but it hurt nonetheless.
Restaurant owners and hoteliers on South Korea's Jeju Island, once a popular beach destination for Chinese, saw their revenue decline precipitously. The island attracted about 1,200 visitors from China last year during the popular fall holiday known as Chuseok — down from roughly 8,800 visitors during the 2016 holiday.
Nationwide, Chinese visits during the holiday fell 87%, according to the island's tourism association.
The Korea Tourism Organization has tried to make up for the losses by focusing its marketing on countries in Southeast Asia as well as Chinese who are willing to travel independently and not as part of an organized tour group. But that has barely helped.
Business owners across the country, and particularly in Seoul, have been left to wonder why their companies were caught up in a geopolitical row.
Kim Ji-seon, who manages a cosmetics store, used to see so many Chinese customers — up to 40 a day — that she hired Chinese-speaking clerks to serve them. Now those workers might help 10 of them a day.
"Unfortunately we don't use Chinese that much anymore," said Kim, 34. "There were very few Chinese tourists in Myeongdong this winter. Not a lot of people come into the stores. As you can see, it's empty right now."
Stiles is a special correspondent.
---
Must-read stories from the L.A. Times
Get the day's top news with our Today's Headlines newsletter, sent every weekday morning.
You may occasionally receive promotional content from the Los Angeles Times.