Naval commander stresses no change in U.S. policy on South China Sea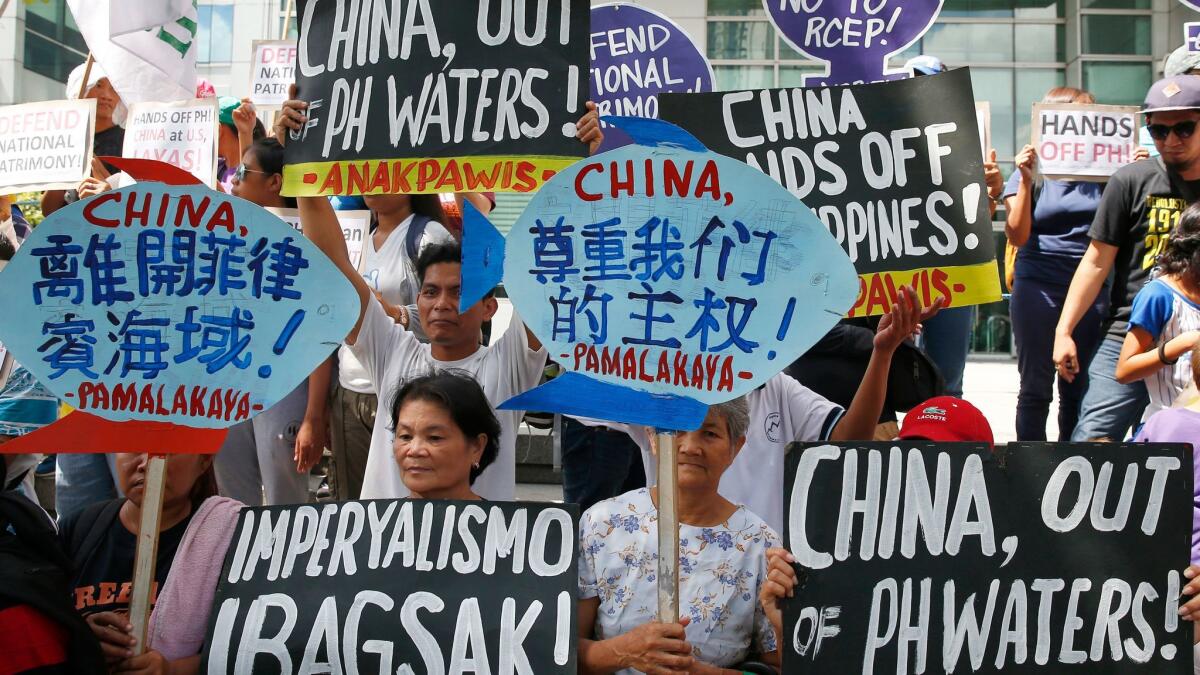 Reporting from ZHANJIANG, China —
A senior U.S. naval commander insisted Thursday that American policy on the South China Sea has not shifted, despite uncertainty about President Trump's response to Chinese militarization of the disputed waters.
"The policy is consistent between the two administrations," said Adm. Scott Swift, who leads U.S. naval forces in the Pacific. "I don't think anybody is expecting this huge reversal."
Swift spoke aboard the guided-missile destroyer Sterett during its scheduled stop in Zhanjiang, a seaside steel town on China's far southern tip. The ship docked amid People's Liberation Army ships at a Chinese naval base. The port city is the naval headquarters responsible for operations in the South China Sea.
The commander stressed continuity amid concerns Trump is looking the other way on China's island-building in favor of its help thwarting North Korea's nuclear ambitions.
Allies received some reassurance last month when a U.S. warship sailed near artificial islands China claims, the first test of Beijing's assertiveness since Trump took office. (Chinese Foreign Ministry spokesman Lu Kang accused the U.S. of trespassing near islands where China has "indisputable sovereignty.")
Swift stressed America's "consistent presence" in the region, but also played down the focus on these freedom of navigation operations, or FONOPS.
"The amount of FONOPS we do is infinitesimal compared to our everyday exchanges," he said. "I don't see how those operations in the South China Sea should be viewed from a Navy perspective as any more consequential than anywhere else."
Swift noted U.S. "ship days" in the South China Sea would probably reach 900 this year, up from about 700 annually. But he attributed it to carrier strike groups temporarily in the Pacific and cautioned against assuming a regular increase.
China claims almost all of the South China Sea and has intensified its grasp in recent years by converting submerged reefs into full-scale islands with runways and military installations. It vies against neighbors for stretches of the strategically vital and mineral-rich waters, through which more than $5 trillion worth of trade passes each year.
The fight is about sovereignty and security, but it's also about the ability to drill for oil and fish in plentiful waters. Brunei, Malaysia, the Philippines, Vietnam and Taiwan all have competing claims.
American officials haven't taken sides on the sovereignty dispute, but they have sought to reinforce the right to sail in international waters. Trump criticized China's island buildup during the campaign and then spoke less about the issue once he took office.
"The mixed messages are still there," said Euan Graham, director of the international security program at the Lowy Institute in Australia. Officials "are trying to demonstrate consistency against a pattern of inconsistency at the White House," he said.
Defense Secretary James N. Mattis, speaking at an international security conference in Singapore this month, attempted to find a balance. He pledged to work with China on issues the two nations care about while also criticizing its "indisputable militarization" of artificial islands and "excessive maritime claims unsupported by international law."
The U.S., he said, "cannot and will not accept unilateral, coercive changes to the status quo."
Swift and the ship crew sought to highlight the collaborative side.
The destroyer's stop marks the first visit this year of a U.S. warship to mainland China. Officials billed the five-day layover as a chance to build maritime cooperation through pleasantries such as ship tours and a cooking exchange. Each side hosted an evening reception, where sailors exchanged belt buckles and uniform ornaments.
Swift's wife accompanied sailors to a special education school. He gave Vice Adm. Wang Hai a tour of the ship.
The destroyer, deployed from San Diego in March, recently assisted in a training exercise with two Air Force B-1B Lancer bombers over the South China Sea. Cmdr. Sean Lewis, the ship's executive officer, said they conducted three other operations there "showing our presence."
Chinese analysts saw the visit as illustrative of the complex, ruffled rapport between the two countries.
"Two tracks are happening at the same time," said Xu Guangyu, former vice president of the People's Liberation Army Defense Institute of China. "There are actions that are provocative, yet this visit is just friendly. This reflects the internal contradiction in the U.S.-Sino relationship."
Nicole Liu in The Times' Beijing bureau contributed to this report.
Meyers is a special correspondent.
Twitter: @jessicameyers
ALSO
Beijing protests U.S. patrol through South China Sea
China's claims in South China Sea are invalid, tribunal rules, in victory for the Philippines
Philippine president's swagger recedes in the face of a powerful China
Sign up for Essential California for news, features and recommendations from the L.A. Times and beyond in your inbox six days a week.
You may occasionally receive promotional content from the Los Angeles Times.