China struggles to make sense of Trump and his phone call with Taiwan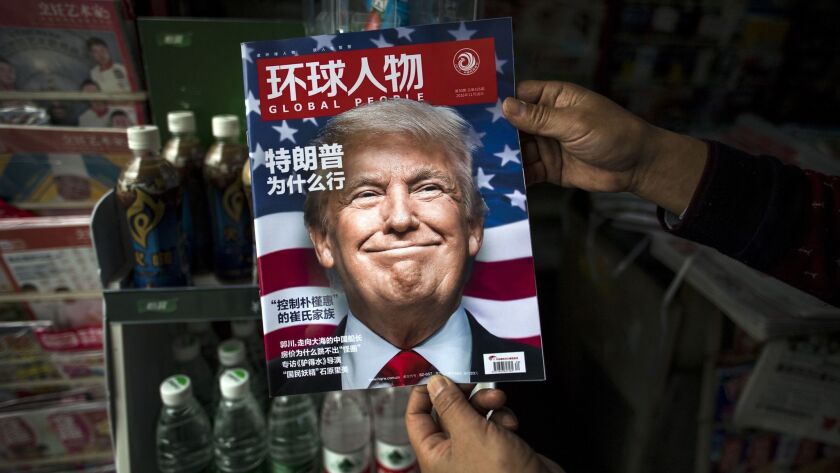 Reporting from BEIJING —
President-elect Donald Trump's surprise phone call with Taiwan's president left many in China reeling over a perceived assault on the country's sovereignty and questioning their assumptions about America's future leader.
Although Trump repeatedly denounced China's trade policies as unfair during the campaign, many here thought that his "America first" rallying cry might spare their country from lectures on human rights, territorial disputes and other diplomatic sore points.
"This is a message that their predictions were too optimistic," said Shi Yinhong, director of the Center on American Studies at People's University in Beijing. "China leaders will be quite prudent in their response, but this naturally increases worries in their minds about Trump's possible attitudes and policy towards China."
No president or president-elect is believed to have spoken directly with a Taiwanese leader since the United States recognized the mainland government and cut ties with Taiwan in 1979. China views the self-governing island as a breakaway province and opposes any attempt to recognize it.
China's Foreign Ministry issued a "stern" notice to the U.S. on Saturday evening, stressing "there is only one China in the world, and Taiwan is an inseparable part of Chinese territory."
But officials directed most of the blame at Taiwan. Earlier in the day, Chinese Foreign Minister Wang Yi referred to the call as a "little trick by Taiwan" and said he did not believe it would alter long-standing U.S. policy toward China.
Jonathan Sullivan, director of the China Policy Institute at the University of Nottingham in Britain, said Beijing has nothing to gain by souring relations with the U.S. and hopes to have a productive relationship with Trump.
"While I'm sure they were taken aback by this faux pas, it won't be a total surprise to them, given what they know about Trump's modus operandi," he said.
Despite Trump's frequent criticism of cheap Chinese exports, and his claim that China is stealing American manufacturing jobs, the president-elect has attracted considerable support on Chinese social media sites in recent months.
Many users appreciated what they perceived as an authoritarian streak, one that mirrors that of their own leaders. Some were also drawn to Trump's tough rhetoric about Muslims.
The response to Saturday's 10-minute call was more divided, however. Some users labeled Trump a two-faced businessman and accused him of "breaking the rules." Others struggled to understand what the call could mean for their country.
"Trump is not the president yet, so he took advantage of being a political nobody to harass China," one person said on Zhihu, a question-and-answer platform similar to Quora.
Another guessed that Trump might "use Taiwan as a card to play" and test China's diplomatic capabilities.
The strained relations between China and Taiwan date to 1949, when Mao Tse-tung's Communist forces defeated Chiang Kai-shek's Nationalist army, ending a protracted civil war. Mao established the People's Republic of China; Chiang fled to Taiwan and named Taipei the capital of his own domain, the Republic of China.
Both sides consider themselves rightful governments of a unified Chinese state. The upshot is that foreign powers can have formal diplomatic relations with only one or the other — and the vast majority chose Beijing.
Western governments, therefore, approach relations with Taiwan with extreme delicacy and deliberate ambiguity. The U.S. claims to have relations with the "people on Taiwan" — not of Taiwan — and instead of an embassy, it operates an American Institute in Taipei.
The stakes are high. When the U.S. offered a visa to Taiwan's then-president, Lee Teng-hui, to speak at Cornell University in 1995, China recalled its ambassador to the U.S. and fired a series of missiles into the Taiwan Strait.
That's why Trump's call — which appeared to recognize Taiwanese President Tsai Ing-wen as a head of state — was seen as a dramatic, and potentially dangerous, break from protocol.
"Obviously, it's not just a phone call, but a signal, even a series of signals, that Trump is telling Beijing," said Shen Yi, an international studies professor at Fudan University, in an online article published Saturday. "He is not a president-to-be that plays by the rules."
Alex Huang, the island's presidential spokesman, told the South China Morning Post that Tsai initiated the call.
During the conversation, Tsai expressed the wish to establish closer ties with the U.S. and said she hopes Washington can help Taiwan "have more chances to participate" in international relations, according to a statement issued by her office.
Taiwan's lack of formal ties abroad has hampered the export-reliant island of 23 million in its ability to sign trade deals.
Tsai won a landslide election in January on promises to take a harder line with China. But her popularity has plummeted amid economic malaise; more than 100,000 people protested outside her office in September.
Trump and Tsai exchanged ideas about stimulating Taiwan's economic development and stepping up security, her office said.
The U.S. government has sold Taiwan advanced weapons in the past despite strong disapproval from China, which is 99 miles away and the island's most likely opponent in any war.
Even before the conversation, China's leaders were scrambling to understand a president-elect with virtually no stated policy on the region. Chinese President Xi Jinping spoke with Trump days after he was elected.
On Friday, Xi welcomed former Secretary of State Henry Kissinger to the Great Hall of the People, as he tried to discern how the new administration might deal with issues such as trade and territorial disputes. Kissinger quietly orchestrated President Nixon's historic 1972 visit, which paved the way for normalized relations. He also just met with Trump.
"We are now in a key moment," Xi said as he sat down with his guest. "We on the Chinese side are watching the situation very closely."
Meyers is a special correspondent. Yingzhi Yang and Nicole Liu in The Times' Beijing bureau contributed to this report.
For more news from Asia, follow @JRKaiman on Twitter
ALSO
At defense forum, Trump's promises on spending draw praise, but other questions linger
Steven Mnuchin, Trump's pick for Treasury, resigns as MOCA board member
For 11 years, he'd never felt like he'd been targeted for the way he looked. Donald Trump's victory changed that
---
Must-read stories from the L.A. Times
Get the day's top news with our Today's Headlines newsletter, sent every weekday morning.
You may occasionally receive promotional content from the Los Angeles Times.