Chinese democracy activist gets 6 years in prison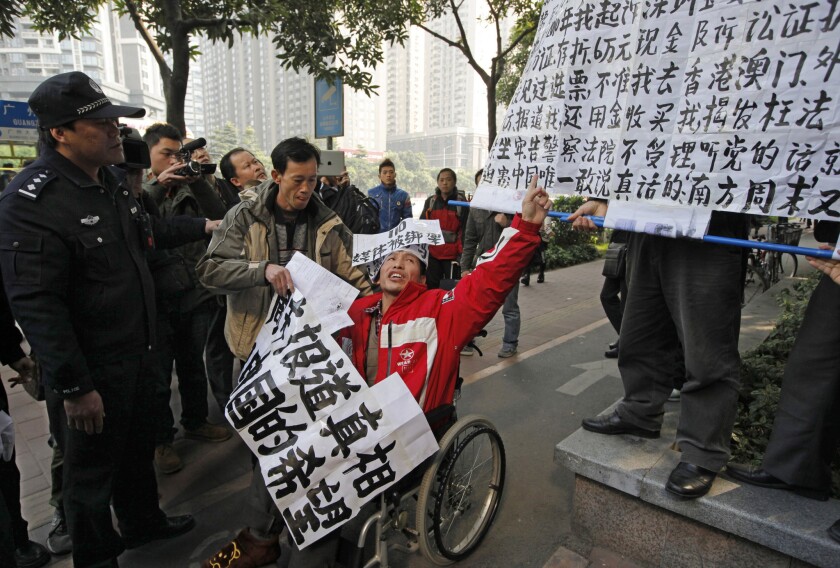 Reporting from Beijing —
One of southern China's most prominent activists was sentenced to six years in prison for participating in anti-censorship and pro-transparency protests, his lawyer said on Friday, making him the latest victim of President Xi Jinping's crackdown on dissent.
Guo Feixiong, 49, was convicted by the Tianhe District People's Court in the southern city of Guangzhou for "assembling a crowd to disrupt public order" and "picking quarrels and provoking troubles," vaguely defined offenses that Chinese authorities have increasingly used to imprison activists and critics.
Guo — whose birth name is Yang Maodong — was detained in August 2013 after he participated in an anti-censorship protest at the Guangzhou headquarters of the newspaper Southern Weekly. The paper had recently grappled with censors over an outspoken editorial, and several of its journalists were on strike.
Guo's lawyer, Zhang Lei, said Guo was also convicted for organizing pro-transparency demonstrations in eight cities across China. Zhang added that Guo maintains his innocence and plans to appeal.
"Whatever he did — including what he did in front of the [Southern Weekly] — was just him exercising his freedom of speech, a normal citizen's right," Zhang said. "And when he went around pushing officials to declare their assets, he didn't cause any social disorder — that was also a citizen's right."
Since top Communist Party leader Xi Jinping assumed his post in 2012, he has overseen the country's greatest crackdown on freedom of speech and assembly in recent memory, jailing scores of activists, journalists and human rights lawyers for even modest acts of dissent.
Guo has already been in prison for more than 800 days; his trial was held last November. Zhang said he was held in a cramped cell with no natural light, causing him severe physical and psychological distress.
The court on Friday also handed prison sentences to two other activists who took part in the Southern Weekly protests. Sun Desheng was given 2 1/2 years in prison, and Liu Yuandong was given three. Both were convicted of "gathering a crowd to disrupt order in a public place."
"It's a dark day when people advocating for press freedom and democracy are subjected to torture and other ill treatment and sentenced to lengthy prison terms after sham trials," said Roseann Rife, East Asia research director at Amnesty International, in a statement.
"These three activists were simply exercising their human rights and making legitimate calls for Chinese citizens to have a greater say in their country's future. The chilling answer from the authorities is, yet again, anyone perceived to be challenging the government will be severely punished."
Guo said in a court statement last November that the Tiananmen Square massacre of 1989, in which the People's Liberation Army killed hundreds of unarmed pro-democracy protesters, cemented his commitment to activism.
"At that moment I decided never to compromise with the autocrats who had slaughtered innocent citizens and to throw myself into the work of bringing freedom and democracy to China to the full extent of my abilities and of the will of heaven," he said, according to an English translation of the statement on the website ChinaChange.
In the statement, he laid out the high costs of his activism: "From April 2005 until now, I have been criminally detained four times and jailed three times, for a total of five years," he said. "I was taken to six detention centers, evenly split among the provincial, municipal and district levels. The police have interrogated me more than 200 times, which is probably some sort of record."
He said police have subjected him to several forms of torture, including beatings, forced sleep deprivation and electric shocks to the "head, hands, shins, thighs and private parts," adding that he remains unbowed by the mistreatment.
"The system of free democracy that we aspire to transcends our personal destinies of success and failure," he said. "This is the sacred nature of this Earth, which transcends the Earth and rules it at the same time."
Nicole Liu in The Times' Beijing bureau contributed to this report.
ALSO
Hollande and Putin agree on closer anti-Islamic State coordination
Pope Francis calls for unity, links terror to poverty as he launches Africa tour
Debate over rhino horn trade ramps up as South Africa ban is lifted
---
Must-read stories from the L.A. Times
Get the day's top news with our Today's Headlines newsletter, sent every weekday morning.
You may occasionally receive promotional content from the Los Angeles Times.