In Hiroshima, Obama visit stirs warm but complex feelings
Reporting from Hiroshima, Japan —
Even today, almost 71 years after the U.S. dropped an atomic bomb on Hiroshima during World War II, Michiko Yamaoka's 91-year-old mother hates fiery sunsets. "It reminds her of the red sky after the blast," says Yamaoka.
The bombing of Hiroshima on Aug. 6, 1945 — and three days later, another blast at Nagasaki — was not necessary, Yamaoka believes. "Even now, many Japanese people — and Americans — think the bomb ended the war. … But I think Americans knew that Japan was weak and would surrender soon," she says. "I believe the bomb was used to show Americans' supremacy to the USSR after the war."
On Friday, President Obama will visit this southern Japanese city, becoming the first sitting U.S. president to do so. During his brief stay in Hiroshima, he will visit the atomic bomb memorial, lay a wreath and deliver some remarks on the subject of nuclear weapons.
Although aides say he will not offer an apology for the bombings, Obama's visit has struck a powerful chord among both Americans and Japanese. Stateside, supporters see the trip as an inspiring example of moral leadership on a topic — nuclear disarmament — that often gets short shrift. Detractors say the move is a display of weakness and even perhaps an affront to U.S. veterans who fought in the war. Historically, the American position has been that the bombings saved lives by forestalling an invasion of the Japanese mainland.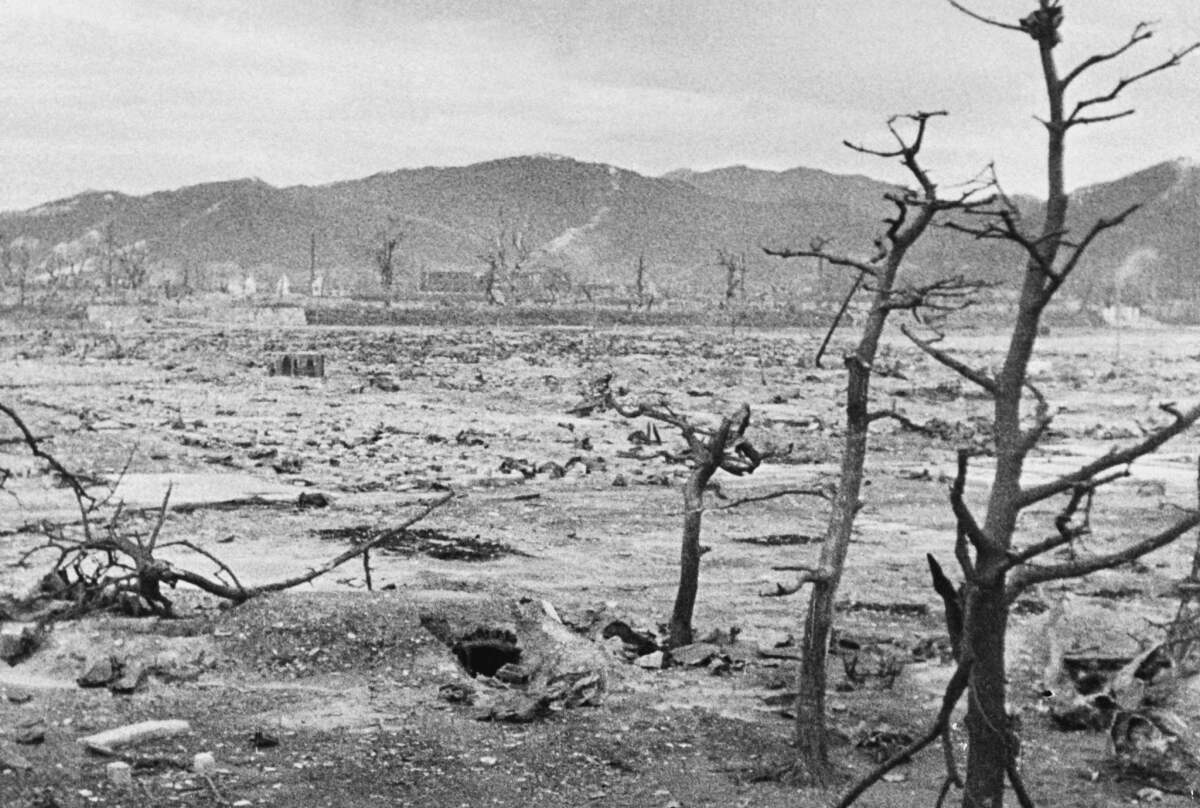 In Japan, the apology question is present, but — somewhat surprisingly — is not as charged. Japanese officials have gone on record as saying they see no need for Obama to say he's sorry. And even Hiroshima residents like Yamaoka, who would like to hear some words of regret from the U.S. government, say they still welcome Obama's trip.
"It's very important for us. Obama's visit will help stir interest in the issue of nuclear weapons and we hope be a step toward abolishing them," says Yamaoka, a 65-year-old widow who volunteers at Hiroshima's Peace Memorial Museum and started learning English eight years ago so she could share her mother's story with foreign visitors to the city.
Koji Fujibayashi agrees. "Obama is finishing his job soon, but it's still brave of him to come here," says the 64-year-old Hiroshima resident. The visit, the retiree hopes, will help get young Japanese engaged in questions of war, peace and whether Japan should modify its U.S.-imposed, postwar pacifist constitution as some Japanese politicians, including Prime Minister Shinzo Abe, advocate.
"Some people say it was not made by Japanese, but by the Americans, and we should get rid of it," said Fujibayashi, whose father was one of the pilots who flew the Mitsubishi A6M Zero, a feared long-range Japanese fighter plane, during the war.
These days, Fujibayashi volunteers as a docent at a Hiroshima elementary school-turned-museum, where many children died in the atomic bombing. He fears what might happen if Japan walks away from its pacifist principles.
"We've had 70 years of peace; that shows it's been effective. I think we should keep [the constitution] as is."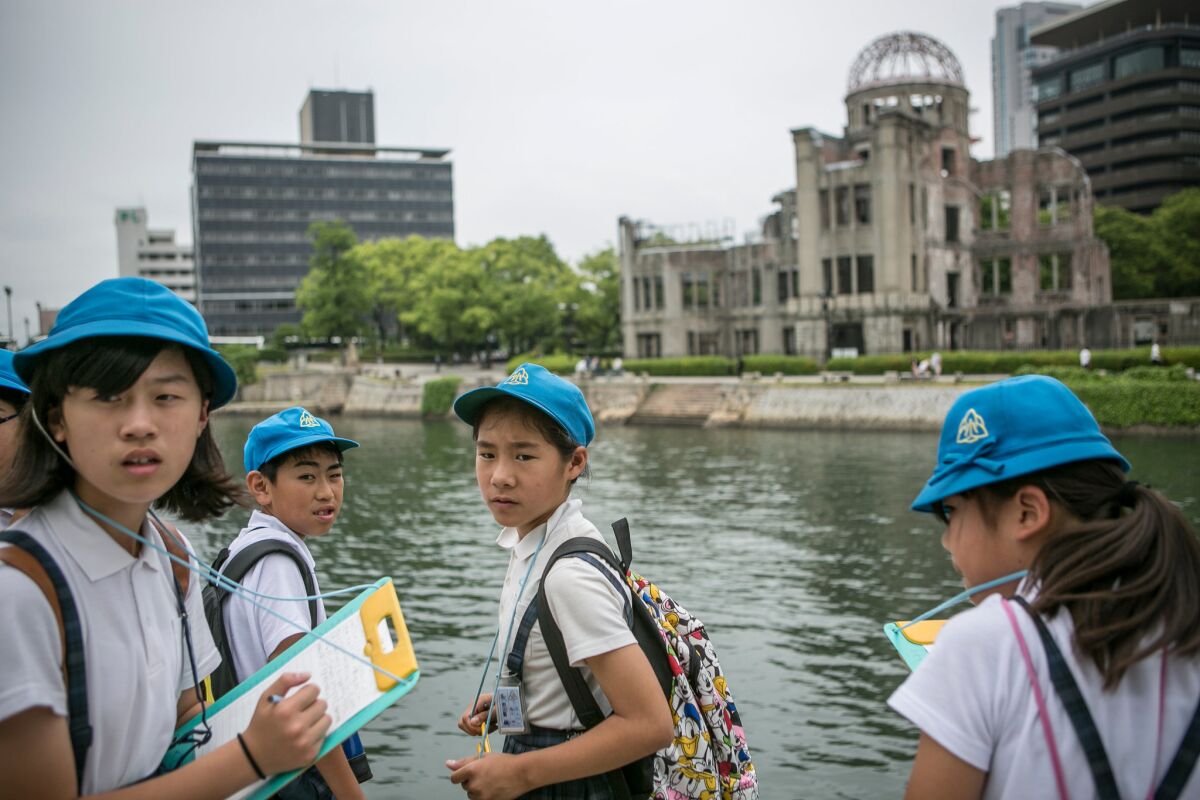 Although Obama's visit is aimed in part at strengthening the U.S.-Japan military alliance forged after the end of World War II, Nobuko Morikawa says she hopes it might get young Japanese to question whether their own government has shown sufficient commitment to issues of denuclearization and peace.
"Abe's government has not done enough on the issue of disarmament," says Morikawa, whose mother was 14 when the Hiroshima bomb was dropped. "I'm uncomfortable with changing the constitution. … I fear it could go back to the way things were. Until now, we haven't been able to get into a war because of the constitution, and that's been a good thing."
Some Americans visiting Hiroshima this week said they were supportive of Obama's decision to come.
"As an African American woman, I'm very proud that it took the first black president to come over here. He should be honored, and he should go down in history for that," said Andrea Jackson, a counselor who works in the Detroit public school system. "I'm very proud that he has a heart."
Frederic Pearson, director of the Center for Peace and Conflict Studies at Wayne State University in Detroit, said Obama's visit might prompt Americans to look more deeply at the wartime history.
"If you look at the bombing [of Hiroshima], the targeting was over the center of the city. They [the U.S.] gave the excuse that there were military bases on the fringes," said Pearson, who was touring the Peace Museum with Jackson on Sunday.
"Two of those pictures of the mushroom cloud [displayed in the museum] were taken from the military bases, neither of which were hit. So there was absolutely no excuse for bombing the center of the city," he said.
Marina Sanders, an engineer from the Netherlands who was touring Hiroshima this week, said Obama's visit was even resonating with Europeans.
Having now visited the site of the Chernobyl nuclear meltdown and the atomic bomb memorial in Hiroshima, she said her skepticism about the costs versus the benefits of nuclear technology had only grown.
"I think it's good he came," Sanders said. "It's about time."
Follow @JulieMakLAT for news from Asia
---
Must-read stories from the L.A. Times
Get the day's top news with our Today's Headlines newsletter, sent every weekday morning.
You may occasionally receive promotional content from the Los Angeles Times.