Hong Kong student leaders jailed over pro-democracy protest tied to Umbrella Movement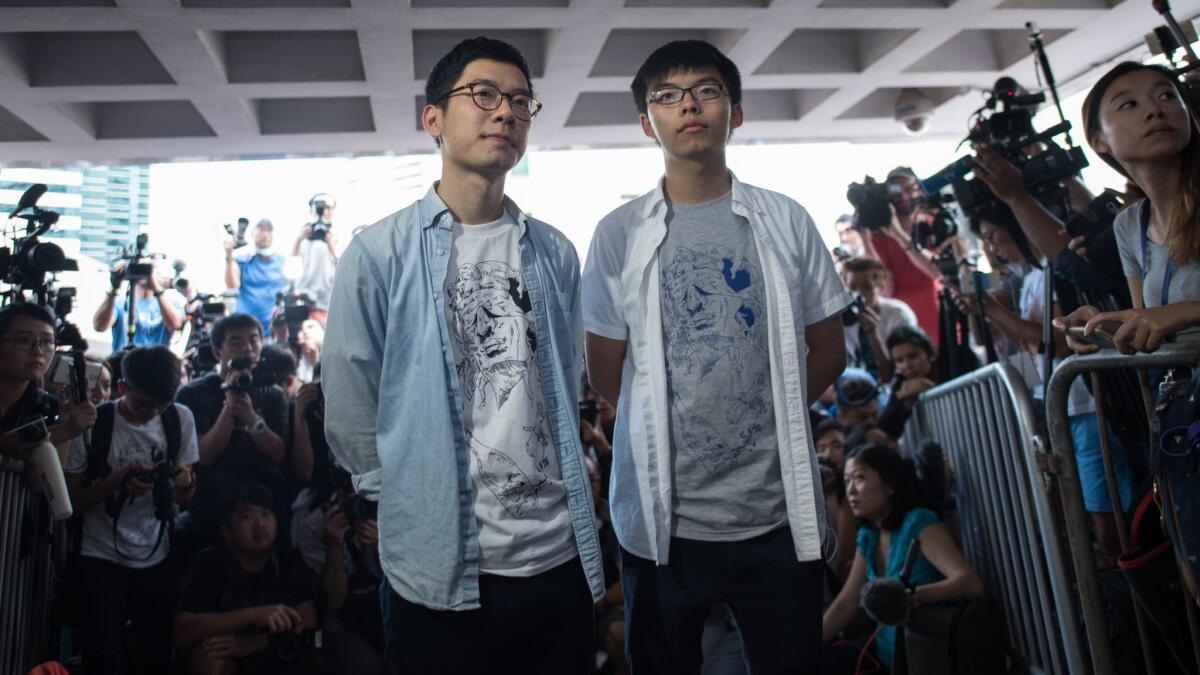 Reporting from Hong Kong —
Nearly three years ago, several Hong Kong youth with hopes of greater democracy led a downtown protest that ballooned into thousands and lasted for 79 days. Now, they're going to jail.
Three student leaders who helped catalyze the city's pro-democracy movement were sentenced to prison on Thursday, heightening alarm about China's snaking influence over this semiautonomous territory and the continued independence of its courts.
Joshua Wong, the skinny schoolboy with black-rimmed glasses who became the poster child of the 2014 protests, was sentenced to six months in jail. Former legislator and co-leader Nathan Law, 24, received eight months. Another protest leader, Alex Chow, 26, got seven months.
"They can silence protests, remove us from the legislature and lock us up," Wong, 20, tweeted minutes after he received his sentence. "But they will not win the hearts and minds of Hongkongers."
The three originally were sentenced to community service for storming a fenced-off section of Hong Kong government headquarters three years ago. They were charged with unlawful assembly, essentially an illegal rally, or inciting people to take part in one.
Their actions helped spur months-long demonstrations later called the Umbrella Movement. Tens of thousands set up tents in major intersections and camped out for the right to elect their own leader.
But the local government, which is backed by Beijing, appealed the case on the grounds that community service was too light a punishment for breaking the law.
The terms bar the three from public office for five years — meaning Wong, who was considering a run for office in the next parliamentary elections, no longer can.
Throngs squeezed into the courtroom Thursday, some crying when the three-judge panel announced its decision. Other supporters wedged into the High Court lobby and chanted, "We're all Joshua Wong! We're all Nathan Law! We're all Alex Chow! We want genuine universal suffrage!"
Hong Kong's Department of Justice on Thursday defended its decision to appeal the original sentence as lawful and independent. They "were convicted not because they exercised their civil liberties," the agency said in a statement, "but because their relevant conduct in the protest broke the law."
The former British colony returned to China 20 years ago under a "one country, two systems" framework that allowed it to keep civil liberties, such as free speech, the right to protest and an independent court — aspects not enjoyed on the mainland. But many saw the new sentence as another sign the division is eroding, with little protection against those who fight against it.
"It felt like a punch in the stomach," said Jason Y. Ng, a lawyer and personal friend of Wong's, who has written a book about the Umbrella Movement.
"Going forward, we will see young people second-guessing themselves whether they should participate in organized protests for fear of knowingly or unknowingly tripping themselves up with the law and end up spending many months in jail."
The latest sentence follows the removal last month of four pro-democracy members, including Law, the city's youngest-ever legislator. A court unseated them, along with two others last year, for altering their oaths of office. Some used a derogatory term for China in their oath; others read the text in slow motion.
"The Hong Kong judiciary has thus shown itself to be not independent but very political," said Suzanne Pepper, an honorary fellow at the Chinese University of Hong Kong. "It's fair to call them political prisoners."
The pro-democracy camp has had a tough week. One Democratic Party member was accused Tuesday of crafting an elaborate lie about abduction and torture by Chinese secret police. Then 13 protesters, including some from the Demosisto political party Law and Wong started, were sentenced to jail in a similar case.
Pro-establishment groups stayed largely quiet, but reaction from democracy advocates was quick and fierce.
"The relentless and vindictive pursuit of student leaders using vague charges smacks of political payback by the authorities," said Mabel Au, Director of Amnesty International Hong Kong.
Wong's lawyer said all plan to appeal.
Supporters on Thursday waved banners outside the courthouse and squeezed into the lobby, yelling and dancing, eager to get close to their idols. One cupped Wong's cheek in his hand. Others cried.
"We just turned something impossible into something possible," Wong told The Times earlier this summer. "We will never stop."
Meyers and Choi are special correspondents.
Twitter: @jessicameyers
ALSO
On eve of Hong Kong's 20th anniversary under Chinese rule, many residents wonder what's to celebrate
President Xi warns Hong Kong about crossing a 'red line' as thousands protest anniversary of Chinese rule
Hong Kong opposition party member arrested for allegedly falsifying story of abduction
Sign up for Essential California for the L.A. Times biggest news, features and recommendations in your inbox six days a week.
You may occasionally receive promotional content from the Los Angeles Times.