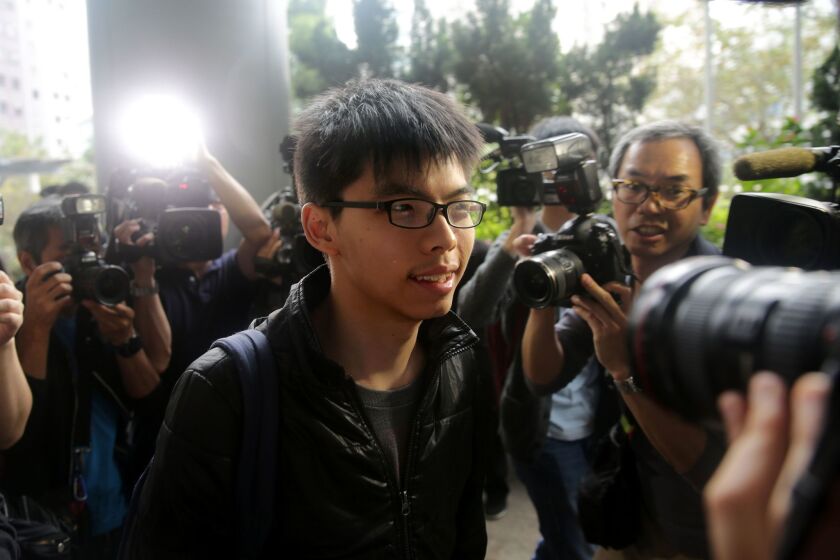 Student leaders seeking greater autonomy for Hong Kong are forming a political party to field candidates in local elections this fall, a move likely to provoke a Chinese leadership that has long condemned separatist movements.
The newly formed group, Demosisto, or "the will of the people," was formed by Joshua Wong and other activists who have run up against the Chinese government in the past for their political activism. Wong, 19, is facing a potential prison sentence for his involvement in the pro-democracy movement.
"We believe the power to change Hong Kong and determine its destiny is rooted in the collective will of the masses, not only in the hands of the few political leaders or protesters," the party's leaders said in a news release.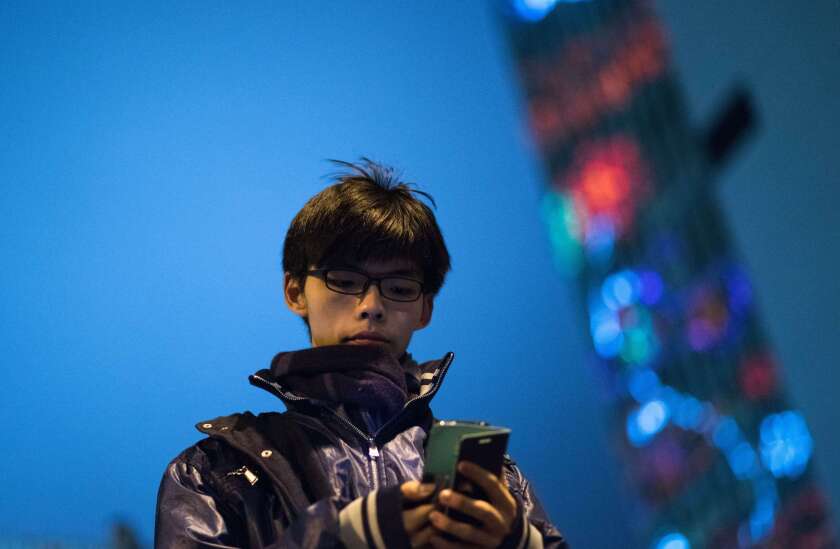 The newly formed group is set to make a formal announcement Sunday and has distributed media invitations that have a Western flair, featuring a mash-up of the movie poster for "The Hunger Games: Mockingjay Part II" that depicts one of Wong's colleagues as the film's rebellious heroine.
The emergence of Demosisto marks the young activists' push into electoral politics, after failing to bring about change with street protests.
Hong Kong, a former British colony, is a semiautonomous Chinese territory of 7.3 million people that governs itself under a "one country, two systems" framework. Hammered out in 1997, the agreement is set to expire in 2046, when Hong Kong could be absorbed by China.
Demosisto's candidates are likely to run on a platform of pushing for a referendum to decide the territory's future. Wong and his fellow activists believe Hong Kong should decide for itself what its future will look like.
In 2013, Wong and others founded an activist group known as Scholarism, which organized high school students to oppose the government's education policies. But the group was disbanded last month so that leaders could form the new party and groom themselves for politics.
Wong and another founder of the political party, Nathan Law, 22, were charged with participating in an unlawful assembly and tried last month for their involvement in the pro-democracy movement. Law was the outgoing president of the college group Hong Kong Federation of Students.
Both face lengthy prison sentences. A verdict is expected by late May.
Wong and others believe that the territory's mini-constitution could be amended to allow for such referendums and that they could call for a Hong Kong-wide vote on self-determination in a decade or so. But most of them, like Wong, are too young to run for elected office now.
Wong has filed a judicial review on Hong Kong's electoral rules seeking to lower the minimum age to run from 21 to 18. A decision is pending, though unlikely.
Despite his age, and the possibility of spending years in prison, Wong believes the political fortunes of the newly formed group are bright.
Dixon Ming Sing, a political scientist at the Hong Kong University of Science & Technology, said the young activists have been inspired by the new party formed in Taiwan by the veterans of the student movement there.
For the last two decades, Sing said the so-called pan-democratic camp in the legislature has failed to broaden its base and mobilize the public, while the more militant activists who have burst onto the political scene in recent years were viewed as too radical to be electable.
Last week, another group of college students and young professionals -- the Hong Kong National Party -- was founded and is pushing for secession. Already the group has been condemned by the state-controlled media in Beijing and public officials in Hong Kong.
Law is a special correspondent.
ALSO
China censors media coverage about the 'Panama Papers'
Student slain in Bangladesh criticized religious extremists on Facebook
Taiwan charges 5 people for apartment tower collapse in deadly February quake
---