Hong Kong's leader tells protesters to clear streets by Monday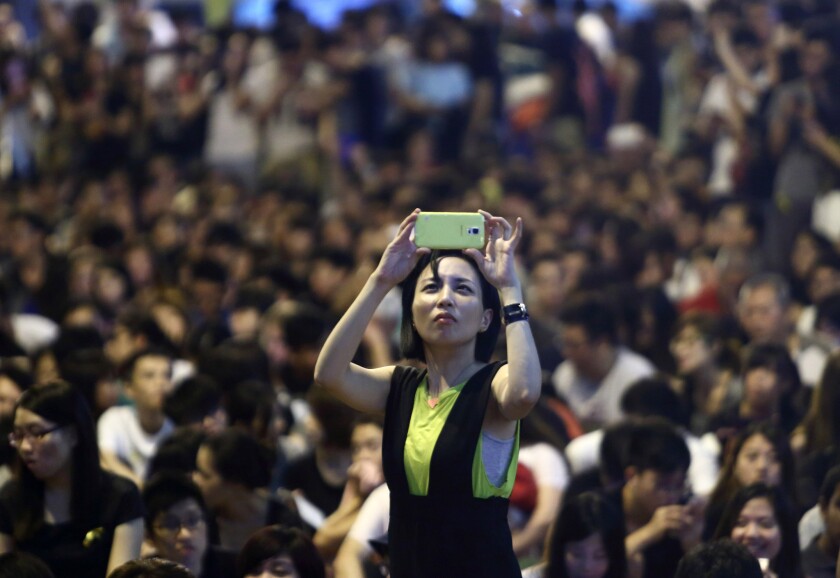 Reporting from Hong Kong —
Pro-democracy protesters in Hong Kong and the Beijing-backed government appeared to be on a collision course Saturday night as the city's chief executive issued a stern warning that people should clear the streets and protest leaders staged a defiant rally drawing tens of thousands.
"The most urgent thing is that the government headquarters' entrances and exits must be kept clear on Monday, so 3,000 government staff can go to work normally and serve citizens," Chief Executive Leung Chun-ying said in a televised address. "The roads … must no longer be blocked, so all schools can resume classes on Monday."
Leung took note of violence Friday as opponents of the protests assaulted pro-democracy demonstrators, but he did not directly address demonstrators' vociferous complaints that police had failed to act forcefully enough to protect them. Police said they arrested 19 people, including eight with links to Triad gangs.
"It was very chaotic, injuring many people, including members from the press," said Leung. "The government strongly condemns all people's violent behavior. If the incident continued, it is very likely to keep going out of control, causing serious effect on citizens' safety and social order."
But supporters of the movement that has brought traffic to a halt in several key districts of Hong Kong for a week showed no sign of giving in. A massive crowd packed the Admiralty district, where the government headquarters are located, for an 8 p.m. rally.
The rally kicked off with witness accounts, at times emotional, of violence targeting protesters in Mong Kok and Causeway Bay on Friday. But the recollections of pain were soon eclipsed by upbeat performances of songs composed by local stars for the protest movement.
"This is no longer a student movement but a Hong Kong people's movement," said Alex Chow, secretary-general of the Hong Kong Federation of Students. "We're fearless. We're undaunted."
The federation presented a united front with the two other groups spearheading the protest, Occupy Central With Peace and Love and the student group Scholarism.
Dennis Kwok, a member of the Hong Kong Legislative Council, addressed the crowd and added: "This is the purest form of courage Hong Kong people have shown. This is the kind of courage that will change the politics of this country forever."
After the rally ended, Chow spoke to reporters shortly before midnight and said volunteer "stewards" would be on the lookout for any indications that police were preparing to move in and clear protesters by force. Chow appeared to leave the door open for talks, however, though not under conditions laid out by Leung.
Tensions later flared in the Mong Kok neighborhood as police with batons and shields deployed early Sunday to a street where the two camps were again facing off. Several people, including at least one police officer, were injured.
Hong Kong, a former British colony, was returned to Chinese rule in 1997 and promised a high degree of autonomy for 50 years under a framework known as "one country, two systems."
The protesters have taken to the streets to demand the reversal of guidelines for the 2017 election that were issued by mainland authorities last month. The framework would, for the first time, allow Hong Kong's 5 million eligible voters to cast ballots for the chief executive but said the number of candidates would be limited to two or three and would have to be approved by a Beijing-backed screening committee.
The demonstrators have derided that requirement as "fake democracy."
The protests, launched last weekend, were met last Sunday with strong police reaction. Officers fired 87 rounds of tear gas and used pepper spray in an attempt to disperse the massive crowds.
Though Hong Kong has a long tradition of mass rallies, they are typically orderly and are held in a park or follow a designated route, after which attendees disperse. The democracy rallies this week, spontaneous and shutting down major transportation arteries in the heart of the city, have represented an unusual challenge to authorities, even though protesters have been orderly, clean and courteous.
On Thursday, student protest leaders and Leung's administration appeared to be on the path to negotiations. Besieged by protesters at his office and facing a midnight deadline to resign, Leung said one of his top aides, Carrie Lam, would hold talks with the Federation of Students. Leung refused to resign, however, saying that doing so would derail efforts to bring universal suffrage to the semi-autonomous Chinese territory.
But before a time, place and other parameters for discussions could be worked out, violence erupted Friday as opponents of the pro-democracy demonstrations set upon a sit-in in the densely packed, working class commercial district of Mong Kok and other areas.
Angry men ripped down canopies and other equipment that the democracy protesters had set up at the key intersection of Nathan Road and Argyle Street. Police arrived and spent hours trying to keep the two sides apart, but scuffles broke out and punches were thrown.
In wake of the violence, the protest groups said they were suspending plans to talk with the government.
Groups including Amnesty International and the Hong Kong Foreign Correspondents Club condemned the violence and police reaction.
"The police inaction tonight is shameful. The authorities have failed in their duty to protect peaceful protesters who came under attack," said Mabel Au, director of Amnesty International Hong Kong.
"There has been a heavy police presence during the past week, but their failure [Friday] risks fueling an increasingly volatile situation."
The journalists' group said there had been several reported cases of overseas and local reporters being either assaulted or intimidated while covering the demonstrations, including a reporter from Radio Television Hong Kong who was "reportedly beaten by police."
"No one has so far been arrested, to the best of our knowledge, and in one case police were observed leading an alleged assailant to a taxi instead of making an arrest," the correspondents' club said. "There have also been allegations that officers have taken away alleged assailants, only to release them within minutes."
Disappointment with the police actions Friday seemed to be galvanizing some supporters of the movement.
"This government really is doing some crazy things," said Ady Li, a fashion design student who was making signs Saturday afternoon in Admirality. "I can't understand the police response yesterday."
"We are peaceful, but these people came in and hit and pushed students and police didn't do anything," said Jayce Lau, who was hanging a banner in Admiralty. Its message: "Desire for true democracy will not be defeated by police-mob collaboration and paid thugs."
Law is a special correspondent.
Follow @JulieMakLAT for news out of Hong Kong
---
Must-read stories from the L.A. Times
Get all the day's most vital news with our Today's Headlines newsletter, sent every weekday morning.
You may occasionally receive promotional content from the Los Angeles Times.