Amid extradition bill protests, a cry: 'Hong Kongers save Hong Kongers!'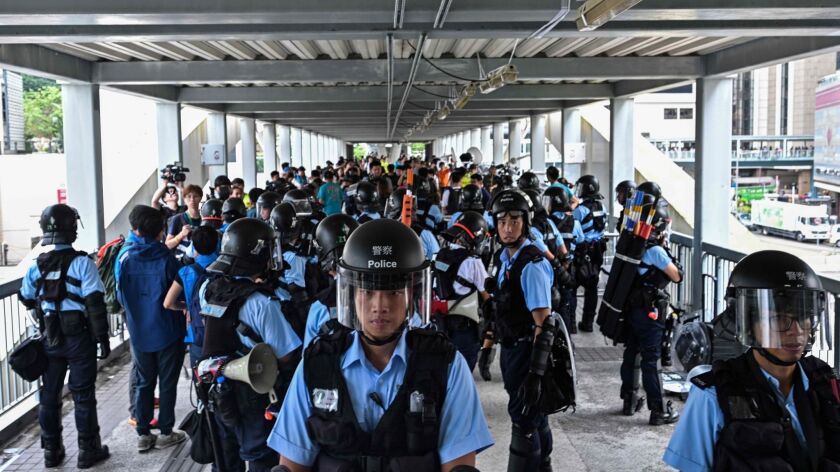 Reporting from Hong Kong —
The streets of Hong Kong were relatively clear Thursday morning, but images of protesting teenagers fleeing from police batons, tear gas and rubber bullets the previous night raised the levels of anger and tension to new highs.
Since Sunday, hundreds of thousands of Hong Kong residents have taken to the streets in opposition to a legislative bill that would authorize China to extradite criminal suspects to the mainland.
Many Hong Kongers believe it could doom the freedoms — including those of the press and of assembly — that set Hong Kong apart from the rest of the People's Republic of China.
When mass protests ended in violent clashes Wednesday, older residents took to recalling the Tiananmen Square killings of 1989 in Beijing as they condemned Hong Kong's government and its police force, which pointed guns at the youths of the semiautonomous Chinese territory.
Younger protesters vowed to adopt more secure technology for communications, breaking mass chat channels into smaller, verified groups, spreading legal advice in case of police confrontation, and pledging not to give up.
Almost no one believes that the extradition bill will be discarded or altered before the June 20 deadline set for a final legislative vote. Public opinion holds little sway over lawmaking in Hong Kong because Beijing controls a majority in the legislature, which is not elected directly.
But while resistance may prove futile, many are not giving up without a fight.
Police have made 34 arrests on charges as diverse as rioting and conspiracy to incite public nuisance since the initial march Sunday. On Thursday, four protesters were arrested in hospitals while receiving treatment and charged with rioting.
Pro bono lawyers have stepped forward to defend the arrested, many of them university students.
Those arrested in the hospitals included two university students and a secondary school teacher injured by a rubber bullet.
"He actually got hit by a bullet in his face, from the police. He was in the hospital and he was arrested for rioting. It's really shocking," legal volunteer Angeline Chan said.
Police chief Stephen Lo held a news conference Thursday afternoon defending police actions as "restrained" and "tolerant." Police deployed 150 rounds of tear gas, several rounds of rubber bullets and 20 bean bag shots on the protesters on Wednesday, Lo said.
Asked why police would arrest civilians in the hospital, Lo compared the protesters to organized crime gang members.
"If there's a Triad attack and we know the Triad is in the hospital, does that mean we have to wait until he comes out to make an arrest? We have absolutely no bad intentions to cause trouble to anyone. We just are doing our duty," Lo said.
Ivan Ip, 22, said more than 10 police officers showed up at his door late Tuesday, arresting him in front of his parents and grandmother after demanding access to his phone and computer.
The vocational school student said he didn't attend a protest but was one of several administrators in a group of more than 20,000 users on the messaging app Telegram, where Hong Kong protesters discussed their plans for Wednesday's demonstration.
He'd only consolidated and reposted lists of which schools planned to go on strike, he said.
Ip's lawyer Bond Ng said the police hadn't provided a copy of an arrest warrant but said he could face charges of conspiracy to incite public nuisance and using abusive words in a public place.
Ip didn't sleep at home or attend the protests Wednesday.
"I think this is crazy. I'm shocked," said a friend, Holok Chen, 30. "This is obviously the police trying to send out a message to deter others from administrating groups."
"This is like martial law. You're administrating a Telegram group, then suddenly you're a criminal and you're colluding in planning confrontation?"
Protesters are now switching to better encrypted apps and verifying the identities of the people in their chat groups, Chen said.
Telegram founder Pavel Durov confirmed that the app received a "state-actor-sized" denial-of-service attack — a mass overload of servers through "garbage requests" sent from devices infected with malware — coming from IP addresses mostly in China on Wednesday.
Telegram has been subjected to attacks like this before, Durov said on Twitter, timed to coincide with Hong Kong protests.
"This case was not an exception," he said.
Early Thursday, scuffles broke out between small groups of protesters and police across Hong Kong.
Police cars were stationed around Wednesday's protest locations. The central government building, nearby metro station and adjoining shopping mall where protesters had thronged were shut down.
Several hundred protesters continued to mill around the central business district and legislative areas, picking up trash and sorting supplies from the day before.
Police surrounded and forced some of the volunteers to leave. They also checked young protesters' identifications and searched their bags, arousing crowds gathering around to shout criticisms of the police.
Young demonstrators interrupted several metro lines by deliberately falling over in the train entrances, blocking the doors from closing.
In Tiu Keng Leng metro station, several police officers surrounded and pushed one person to the ground and searched him after a cry of "Hong Kongers save Hong Kongers!" was heard. A crowd of passengers flocked around the police angrily, filming them on their phones and yelling, "Shame on you!"
More than a hundred protesters returned to a pedestrian overpass near the legislative complex, holding up signs decrying violence against students and singing "Sing Hallelujah to the Lord" for hours, facing a group of police who blocked their way in silence.
One of the singers, 60-year-old retired teacher Alex Tan, said he was angry at Hong Kong Chief Executive Carrie Lam for ignoring public opinion and allowing use of force against young protesters.
"The policemen are using too much violence, really. I was hurt. I was sad. I've never heard of using the rubber bullets," Tan said. "Why should they shoot the youths here, just like June 4 in 1989? That makes us angry, so angry, and Carrie Lam doesn't represent us anymore."
Another singer, 43-year-old Sing Chung, also said the police force reminded her of the Tiananmen Square killings.
"I was in secondary school when Tiananmen happened. I remember very clearly. It's unforgettable, just like yesterday. I never thought it could almost happen in Hong Kong, but it really did," Chung said, adding that she disagreed with the government's labeling of protests as riots.
"If the umbrella is a weapon, then OK, it's violent. What I can see is, they're all fully armed, but the other side only has bare fingers or umbrellas. Is that a riot?" Chung said.
Choi Yan Chai, a 65-year-old retired truck driver, said he'd come to the protest site to coax both the youths and police to calm down.
"No matter what, we know this bill will definitely pass. But we come here just to be a fence surrounding our youths to protect them, so they aren't hurt. So many young people, just like June 4. Hong Kong has walked through that once already," Choi said, adding that he'd berated the police during Wednesday's protests.
"I don't care if they come to me with their big shields. I just saw them and I scolded them, 'You are Hong Kongers! How can you beat Hong Kongers!'" he said. "I'm here to watch until 10 p.m. Then I'll go home. I'll come back tomorrow. I'll come back the next day too."
The Civil Human Rights Front, organizers of Sunday's march, has requested police permission for a second march this Sunday.
"Right of peaceful assembly is a basic human right," said Bonnie Leung, a spokeswoman for the front. "We can see no reason that the police should oppose our application. If so, that would be a serious breach of Hong Kong people's basic human right."
Grass-roots resistance is likely to spread whether the police give permission or not, and the more brutally the police engage in, the more outraged citizens of the former British colony will become, predicted pro-democratic legislator Charles Mok.
"This is the start of a widespread grass-roots noncooperation type of movement that could spill out of control. The city is becoming ungovernable," Mok said, adding that police brutality had already alienated young Hong Kongers.
"The police are dealing with them like the mafia, but these are just 15- or 16-year-old kids in Hong Kong," Mok said. "If you're 16 years old and the government shoots bullets at you, what are you going to feel about growing up? The damage is already done."
Bonna Yu, a 22-year-old protester who returned to the legislative complex on Wednesday, said she'd told her manager at a sales company that she wasn't coming back to work until the extradition bill was revoked and that she was ready to resign if necessary.
"To me, this is our last step. I'd rather give up my work to protect my future and my future kids," Yu said. Her boyfriend, 25-year-old Edward Tsang, held her hand. They'd been hit by tear gas together the day before.
"When the smoke came, we just felt that our eyes hurt and kept crying. At that time I felt so pained in my chest. I didn't know if it was because the tear gas was so bad or because my heart was breaking," Yu said, adding that she had thought about Tiananmen.
"In our hearts we feel, if it really becomes like June 4 again, at least in Hong Kong we will write this history. History will not change, and even if it does change, when our generation is old, we will have children and tell them: We gave our best for you. We gave all our strength to try and make a change," Yu said.
Zena Tsui, a 20-year-old who works in a salon, said she will continue to speak against the bill.
"We just want to express something. We're not attacking at all and you've hurt us, and it's just teenagers or youths in their 20s. Hong Kong people see this and feel our hearts in pain," Tsui said. "More and more people will come out and speak and say, we want to return to our old Hong Kong. We don't want this bill to pass because as soon as it passes, our Hong Kong will not be Hong Kong anymore."
ALSO:
As Hong Kong marked the Tiananmen Square massacre, this activist couldn't stay away
Hong Kong aims to solve its housing crisis with an $80-billion artificial island
In Hong Kong, a single mom faces a bitter backlash against mainland Chinese
---
Must-read stories from the L.A. Times
Get all the day's most vital news with our Today's Headlines newsletter, sent every weekday morning.
You may occasionally receive promotional content from the Los Angeles Times.