Hong Kong students, officials set Friday for start of reform talks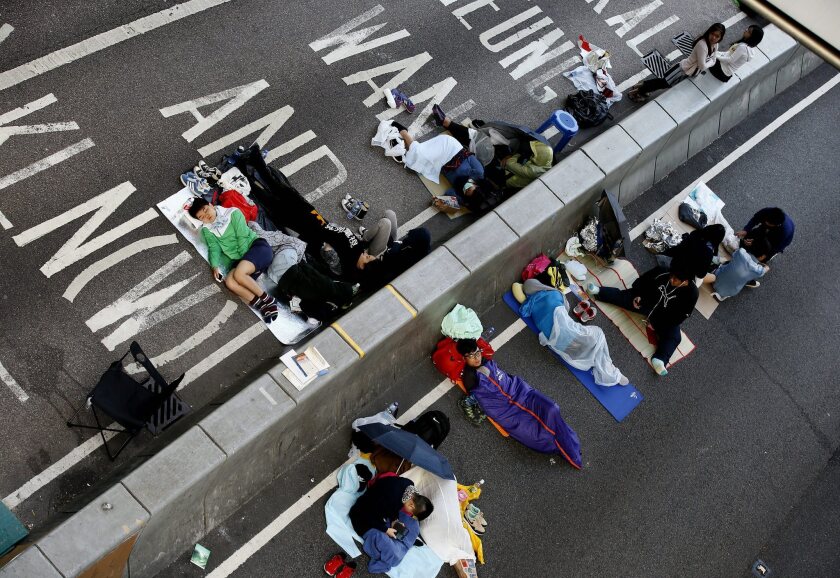 Reporting from Hong Kong —
Student leaders and Hong Kong government officials said they will begin formal talks Friday aimed at ending mass demonstrations that have shut down key parts of this semiautonomous Chinese city for more than a week.
The meeting will be open to the media but will be closed to the public, Undersecretary for Constitutional and Mainland Affairs Lau Kong-wah said during a news conference late Tuesday.
Student leaders welcomed the meeting but said in a later news conference that they were skeptical the government would address their chief demand for more democratic elections to choose the territory's next leader.
Earlier in the day, the president of Hong Kong's legislative body postponed a council meeting for at least a week because of concerns that protesters would block access to the government complex and incite a confrontation.
"We have seen in the last week, I think, very clearly that sometimes the situation can get out of hand," Jasper Tsang, head of the Legislative Council of Hong Kong, better known as Legco, said during a news conference Tuesday.
The decision comes as thousands of demonstrators remain camped in the Admiralty district of Hong Kong, the main protest venue, which includes government buildings. They opened a path for civil servants to return to work Monday as part of an agreement leading to talks between student leaders and officials to resolve the standoff.
A debate over the government's handling of the mass sit-in was scheduled for the council meeting Wednesday. The decision to postpone the session was made after 41 lawmakers signed a letter expressing concern for their safety.
The demonstrations in Admiralty have been largely peaceful since riot police fired tear gas Sept. 28 in a failed attempt to clear the area of occupiers.
The same can't be said for the second-largest protest venue, Mong Kok, which has been the site of heated confrontations between pro-democracy supporters and their opponents.
At a news conference Tuesday, Hong Kong police spokesman Steve Hui said Mong Kok remained a "high-risk area" and that officers would not hesitate to use appropriate force when needed.
"If there is any violence at the scene, the police will take actions resolutely," Hui said, according to the South China Morning Post.
Hong Kong's embattled chief executive, Leung Chun-ying, has reportedly been holed up at his residence, a former British governor's mansion. He has been communicating with the public strictly with recorded video messages.
Demonstrators are demanding freer elections to choose Leung's successor, scheduled for 2017.
Hong Kong's government has worked under a framework known as "one party, two systems" ever since the British returned the colony to Chinese rule in 1997. That gave the territory a greater degree of autonomy than elsewhere in China, allowing for free speech and an international financial system.
One of the stipulations of the handover was that Hong Kong move toward a system of "universal suffrage upon nomination by a broadly representative nominating committee in accordance with democratic procedures."
But China's legislature, the National People's Congress, issued a white paper in August that essentially required nominees for the chief executive position to be approved by pro-Beijing lawmakers. That set off the wave of anger that eventually spilled into the streets.
It remains to be seen whether the occupy movement can maintain momentum and garner wider support. Members of Hong Kong's business community have been expressing increasing frustration over the disruption.
Follow @dhpierson for more news from Hong Kong
---
Must-read stories from the L.A. Times
Get all the day's most vital news with our Today's Headlines newsletter, sent every weekday morning.
You may occasionally receive promotional content from the Los Angeles Times.