39 Indians kidnapped by Islamic State in Iraq were killed, officials say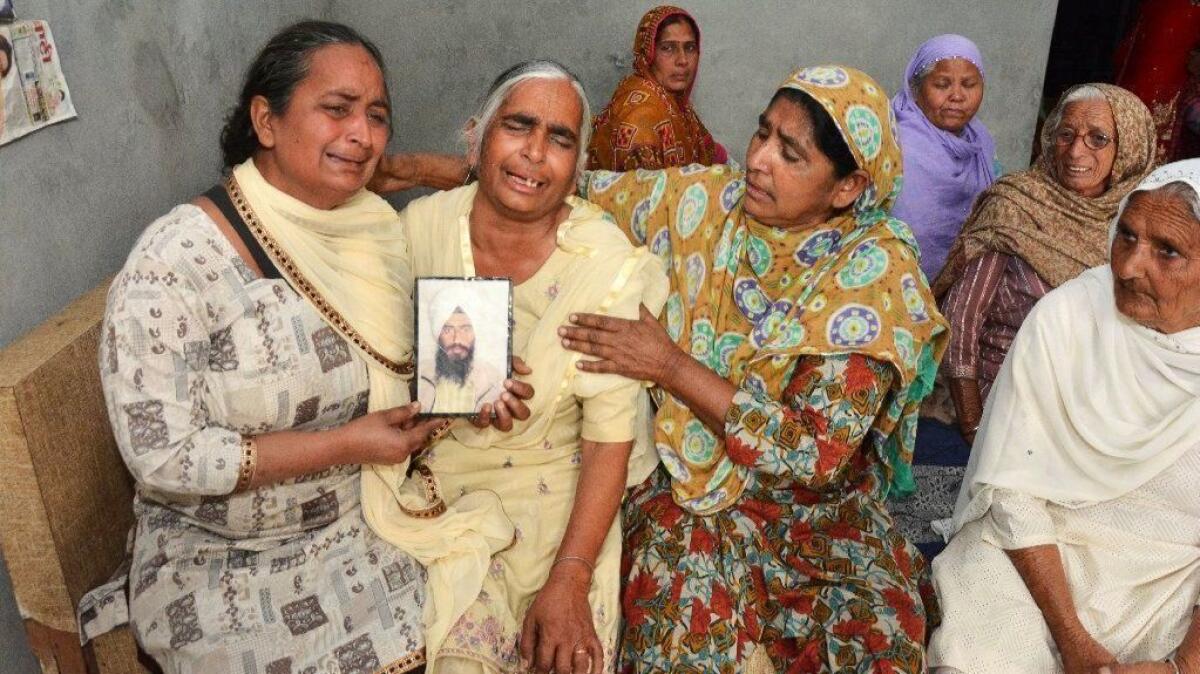 Reporting from MUMBAI, India —
India said Tuesday that 39 of its citizens who were abducted by Islamic State militants had been found dead in northern Iraq, ending a four-year mystery that had gripped the South Asian nation.
India's foreign minister, Sushma Swaraj, told Parliament that Iraqi authorities found 39 bodies buried under a mound near a village northwest of Mosul, the city that Iraqi forces freed from Islamic State control last July.

For the record:
6:10 p.m. March 20, 2018An earlier version of this story said the bodies were found near a village northeast of Mosul. The village is northwest of Mosul.
Swaraj said DNA testing confirmed that 38 of the victims were Indian construction workers — most from the northern state of Punjab — who were employed by a company operating near Mosul when the militants overran northern Iraq in 2014. The workers were taken that year in June.
Tests were still being conducted on the 39th victim, who is believed to be part of the same group, she said.
Amarinder Singh, the top official in Punjab, said he was "shattered at the heart-wrenching news."
Indian and Iraqi officials did not disclose details of when and how the victims were killed. Swaraj said Iraqi authorities used radar to locate the bodies outside the village of Badush last September, and the Indian government sent DNA samples from relatives of the missing workers to Iraq for testing.
Many of the victims wore the long hair and simple bracelets identified with followers of the Sikh faith, which is widely practiced in Punjab, Swaraj said.
There were approximately 10,000 Indians working in Iraq in 2014, according to the Indian government, many drawn to the turbulent Middle Eastern country by relatively high-paying jobs as construction workers, oil field engineers and medical professionals.
Swaraj said the Indian government had "worked tirelessly" to locate the missing workers, who were captured as they attempted to flee Mosul. In the days following their disappearance, some placed distressed cellphone calls to family members back in India, pleading for help.
India said it had no contact with the workers after that. But in several public statements and meetings with family members, Swaraj said the government had information suggesting that the workers were still alive.
Last July, she said six sources had told her the workers were being held in a jail in Badush and that she had sent an envoy to Iraq to "try to evacuate our people."
She and other officials repeatedly dismissed the account of Harjit Masih, an Indian national who was also captured in Mosul and escaped, who said in November 2014 that the other workers had been shot and killed.
"I have been saying what Sushma-ji said for three years, but nobody was ready to believe me," Masih said in a phone interview Tuesday, using an honorific for Swaraj. "I saw them dead with my eyes."
Opposition politicians and some victims' family members — who said they were not told the news before Swaraj addressed lawmakers Tuesday morning — criticized the minister for raising hopes that the workers could have survived.
"For the past four years, the minister had told me that they were alive," Gurpinder Kaur, sister of one of the slain workers, told India's NDTV. "I don't know what to believe anymore."
Swaraj accused the opposition of politicizing the incident and said it would have been irresponsible to declare the workers dead without evidence.
"I understand the anger of the families. It is a natural reaction," Swaraj told a news conference. "But I didn't give anyone false hope or keep anyone in the dark. I was consistent in my statements over the last three years that I don't have proof to declare them alive or dead."
Parth M.N. is a special correspondent.
Twitter: @SBengali
Sign up for Essential California for the L.A. Times biggest news, features and recommendations in your inbox six days a week.
You may occasionally receive promotional content from the Los Angeles Times.