Big-budget TV meets Bollywood as Amazon and Netflix do battle in India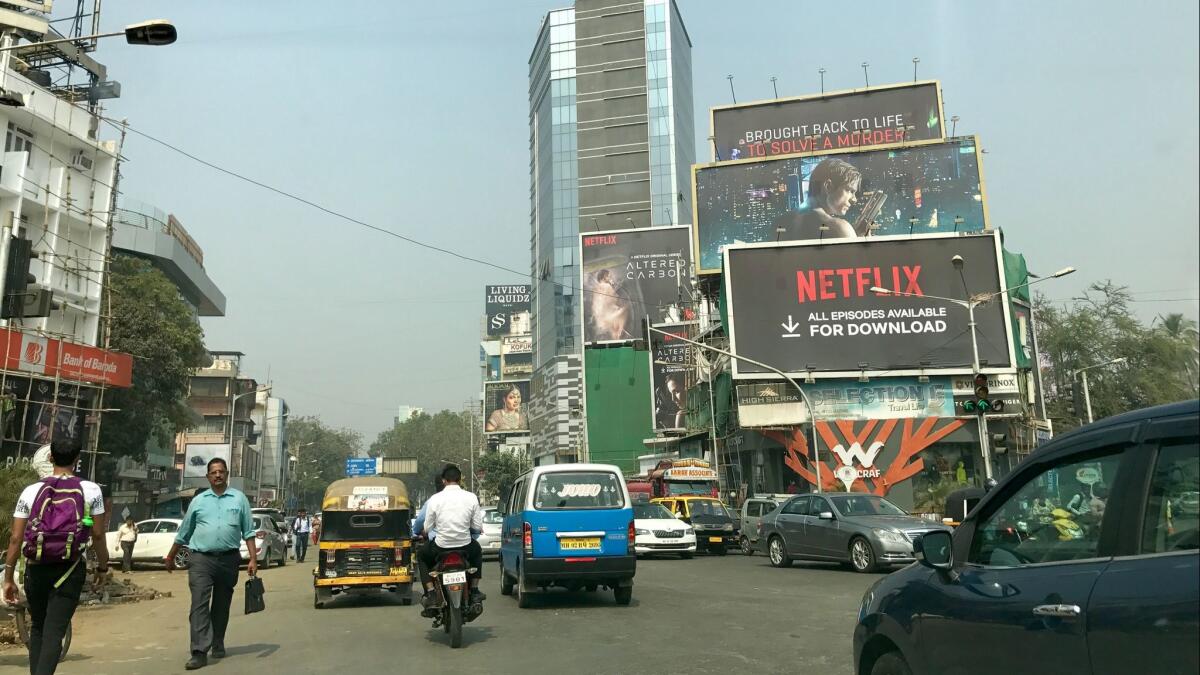 Reporting from Mumbai, India —
Among the billboards for jewelers, stylish sedans and vacation destinations plastered across this commercial hub, two new American imports now beckon India's aspirational class.
Amazon and Netflix are barreling into the entertainment business in the world's second-most populous country, investing millions of dollars to develop Indian series that they hope will make this their next big growth market.
Amazon Prime Video, the video-on-demand platform of the Seattle-based online retailer, is producing more than 20 original series in India, which the company says is among the most of any country where it is active.
Netflix has announced seven local series, with the first — "Sacred Games," a Hindi- and English-language adaptation of Vikram Chandra's 2006 novel steeped in Mumbai's criminal underworld — due for worldwide release this year with two well known Indian actors in lead roles.
The competition not only reflects how the American studios' global ambitions increasingly center on India, home to half a billion Internet users, which is second only to China. But it also points to changing tastes in entertainment in a country that has long been defined by the extravagant, genre-mashing melodramas of Bollywood cinema.
"The Indian audience is maturing," said Vikram Malhotra, chief executive of Abundantia Entertainment, a Mumbai studio that produced "Breathe, an eight-episode crime thriller that Amazon launched in India and 200 other territories in January.
"Our audience is used to seeing romance, action, thriller, emotion, suspense, mystery — and sometimes science fiction thrown in for good measure — all in the same story," Malhotra said. We wanted 'Breathe' to be an emotional drama at the core … and to Amazon's credit, they were extremely confident of this approach from the word go."
Both companies have big budgets, aggressive marketing and growing libraries of Indian content; Amazon secured the TV rights to Bollywood megastar Salman Khan's movies, while Netflix won global streaming rights for movies produced by another A-lister, Shah Rukh Khan.
"Both Netflix and Amazon realize that, independent of their international library, local content is extremely important in India," said Frank D'Souza, a media and entertainment analyst with PricewaterhouseCoopers in Mumbai.
"They're pumping in quite a lot of money in creating that local library … and original programming is going to be important for both of them."
But initial subscriber figures are low: Amazon had a little more than 600,000 Prime Video users at the end of 2017 while Netflix had 520,000 subscribers, according to IHS Markit, a market research group. Their paid services are competing against nearly 30 Indian streaming portals, many of which give away popular sports and local-language programming for free.
Meanwhile, the country's biggest streaming platform — Hotstar, part of an Indian media conglomerate owned by 21st Century Fox with tens of millions users — is minuscule next to the more than 2 billion movie tickets sold in this country every year, or the estimated 152 million who subscribe to pay-TV services.
Still, with China all but closed off to U.S. content providers, India remains a prize worth chasing. Its number of internet users has risen fivefold since 2011. Thanks to better mobile connectivity and cheaper data plans, the amount of time that Indians spent on video and entertainment apps rose by 85% in 2017 from the year before, according to the market research group App Annie.
"Even we couldn't predict the last two years of Indian internet growth," Netflix founder Reed Hastings told an audience in New Delhi in February. "It's the most phenomenal example anywhere in the world in terms of lower data costs, more people online, expansion of 4G [mobile data].… And we didn't see that coming."
Netflix, which has 120 million subscribers worldwide, half of them outside the U.S., entered India quietly in early 2016 with no Indian shows in the works. It has slowly recruited a team in Mumbai, although most of their executives who work on India are based in Los Angeles or Singapore.
The Los Gatos, Calif.-based company also refused to discount its prices for overseas customers — a subscription in India starts at about $8 per month, the same as in the U.S. That is more than a day's wages for nearly 90% of Indians, and affordable only for a small urban elite that has spent time abroad, regularly speaks English and takes cultural cues from the West.
"Netflix's pricing makes it clear they're in it to get the really wealthy Indian population," said Kartik Hosanagar, a professor at the University of Pennsylvania's Wharton School who studies internet media. "At that rate they're not ever going to be making crazy amounts of money from India."
But the company is betting that Indian customers will judge its original series favorably compared to their local TV dramas, with their broad storylines and low production values, and that it can produce high-quality shows in India that will appeal to its global audience, like the dystopian thriller "3%," which was made in Brazil. One industry executive estimated that Netflix could produce an entire eight-episode season in India for the cost of making one episode in the United States.
Hastings said that if viewers liked "Narcos" or "The Crown" — two of Netflix's most popular dramatic series — they would enjoy "Sacred Games," which features the Bollywood A-lister Saif Ali Khan and an entirely Indian production team.
"I think we'll be a giant exporter of Indian stories," Hastings said.
Amazon launched a year later with a markedly different content strategy. The video service, as in the U.S., is bundled with its Prime membership, which offers free shipping for its e-commerce site and costs about $15 a year in India.
Analysts say Amazon's main competitor is not Netflix or any other video platform but Flipkart, a giant shopping portal that it's battling for supremacy in India's $33 billion e-commerce market.
Amazon has already released several original Indian series aimed squarely at the mass market — including a drama about professional cricket, a workplace sitcom, a musical reality show, a dating program and a slew of stand-up comedy specials — all which have received primarily middling reviews.
"Our goal is to win with Indian customers first," said Vijay Subramaniam, director of Amazon Prime Video in India. "We're really looking to make sure that our stories and content selection are providing our customers in India with the best value at all times."
One Indian industry executive, who did not want to be named criticizing a company he works with, said Amazon was trying "a Walmart approach."
"If the quality of [cable] television is 2 on a scale of 1 to 10, they're happy with being a 4," he said. "They're green-lighting a bunch of stuff and saying, 'Let's see what sticks, and maybe I'll get my 'Handmaid's Tale,'" the breakout web series by Hulu.
Still, for Indian artists, the entry of Netflix and Amazon has opened new opportunities for storytelling and reaching a global audience. Writers, especially, are earning higher fees than they typically do in Bollywood, where budgets are opaque and set aside little for anyone besides directors and actors.
"These platforms provide an unparalleled opportunity for writers," said Datta Dave, a partner in Tulsea, India's first talent agency representing writers and directors, which has more than 30 clients working on programs for Amazon, Netflix and other online platforms.
"Experienced feature film writers are given the opportunity to be showrunners, which essentially elevates them to a producer role," Dave said. "Up-and-coming writers get the chance to contribute to writers' rooms. There's a renewed respect for the profession, which is a wonderful step toward creating better content."
These platforms provide an unparalleled opportunity for writers.
— Datta Dave, talent agent
On a warm afternoon in February, inside a derelict former textile mill now used as a set for film and TV, a cast and crew of dozens bustled around a shabby brick interior built to look like a trendy dive bar — the set of a yet-to-be announced Amazon original series focusing on four young Indian women in Mumbai.
Series creator Rangita Nandy, who has producer credits on 20 Bollywood films, approached Amazon with the idea in mid-2016, arguing that Indian dramas rarely featured such women in lead roles or dealt frankly with issues like sex and relationships.
"You've seen Indian women in villages, women who've had crimes done to them, who've been victims," said Nandy, 39. "You haven't seen a group of women like this who try to do what women in the rest of the world do."
In addition to putting up a bigger budget than usual for an Indian TV show, Nandy said Amazon brought in a U.S. showrunner to run a workshop for its Indian writers and directors. Nandy, whose creative team had never written for television before, got help in episode structure and character development.
"Amazon gives us wings," Nandy said. "We can develop content we always wanted to do without worrying about censorship or the box office. All of us are doing pieces we've wanted to make but haven't had the platform for."
Shashank Bengali is South Asia correspondent for The Times. Follow him on Twitter at @SBengali
Sign up for Essential California for news, features and recommendations from the L.A. Times and beyond in your inbox six days a week.
You may occasionally receive promotional content from the Los Angeles Times.