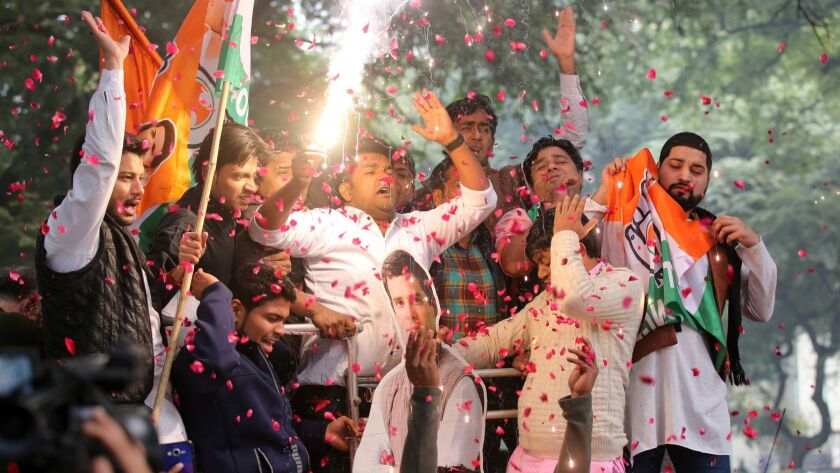 Reporting from New Delhi —
Five months before a crucial national election, India's ruling Hindu nationalist party led by Prime Minister Narendra Modi on Tuesday apparently lost control of three state assemblies.
The state elections had been billed in the Indian press as something of a semifinal before the nationwide vote in May that will serve as a referendum on Modi's four and a half years in office. Based on early returns, Modi's Bharatiya Janata Party was in danger of losing three large and influential states in the northern belt widely seen as its political heartland.
Early returns showed the BJP losing to the Indian National Congress, India's main opposition party, in the states of Rajasthan, Chhattisgarh and Madhya Pradesh, signs of Modi's vulnerability, largely because of economic issues.
"There is a feeling among the people in the country that what Mr. Modi had promised, he hasn't been able to deliver," said the president of the Congress Party, Rahul Gandhi.
The results were a shot in the arm for the ailing Congress, which has led India for most of the last 70 years but was nearly wiped out of the national scene in the 2014 national elections.
Under Gandhi, the once diffident heir to a political dynasty and great-grandson of founding Prime Minister Jawaharlal Nehru, election wins were expected to boost the Congress Party's chances to ally with regional parties in a bid to unseat Modi in May.
Modi swept to power in 2014. His popularity and his feverish campaigning has propelled the BJP to become a vote-winning machine, at one point controlling 20 of 29 state assemblies in addition to the national Parliament.
But his controversial 2016 demonetization drive – which withdrew most of the currency in circulation – and his government's much criticized implementation of a new goods and services tax have angered many of his urban, middle-class supporters.
There is also frustration in rural areas, where most of India's 1.3 billion people live. In recent weeks, distress over poor agricultural prices resulted in massive protests led by farmers.
The country's top bank's governor resigned this week after a prolonged standoff with the government.
Tuesday's results "should be worrying for the BJP as these three Hindi-speaking states form the core of their vote base," said Neelanjan Sircar, professor of political science at Ashoka University in Delhi. "The result signifies that economic distress has spread from farmers to other parts of the rural population."
Vote counting continued late into the night and the state of Madhya Pradesh remained a toss-up between the BJP and Congress, neither of which could claim an outright majority and would have to form an alliance with smaller parties or independent candidates to lead the assembly.
BJP leaders maintained that the losses would not have a bearing on the national elections, arguing that state elections are fought on local issues.
But Modi's critics said that amid these losses and the economic worries, his party was likely to rely more heavily on sectarian politics to drum up support from India's Hindu majority.
In 2014, Modi distanced himself from the pro-Hindu ideology known as Hindutva by casting himself as a champion of economic development. But since he became prime minister, independent groups say that hate crimes against minority Muslims have been on the rise.
Modi selected an extremist Hindu preacher and politician to lead India's largest state, where last week a police officer was killed by Hindu vigilantes who accused authorities of failing to protect cows, a sacred animal to orthodox Hindus.
The Congress Party, too, has sought to court the Hindu vote by promising to build cow sanctuaries and establish a government department of spirituality if elected to power.
"My own view, which is not the popular view, is that ramping up Hindutva is not a winning strategy," Sircar said. "It will galvanize a section of the Hindu vote but will not be a majority winning plank. The BJP needs to distance itself from the dismal economic narrative, which is what will damage them."
Masih is a special correspondent. Times staff writer Shashank Bengali contributed to this report from Singapore.
---