People are dying because of an audacious cash policy that India says will modernize its economy
Reporting from Mumbai, India —
Usha Boinavad, a farmworker in western India who underwent a heart operation as a teenager, began suffering from chest pains last month. A doctor advised the 26-year-old to seek heart valve surgery in the nearest major city, 200 miles away.
She immediately ran into another problem: cash.
India has been in the grip of a severe currency shortage since early November, when the government banned 500 and 1,000 rupee bills — amounting to 86% of the cash in circulation — in an effort to fight corruption and tax evasion by forcing so-called black money into the formal economy and the banking system. Indians had until Dec. 30 to deposit the old notes at their banks.
In the farming region where Boinavad and her husband live, banks have been slow to receive the new replacement bills, leaving most customers to wait. And like most rural Indians, the couple did not have a checkbook or debit card.
Not that they even had the $1,500 or more that the operation would cost. But amid the currency crisis, they couldn't even scrape together $100 for transportation to the hospital.
To raise cash, Boinavad's father decided to sell his two buffaloes. But the buyer asked him to wait a few days because he couldn't find cash either.
It didn't come in time. Boinavad's pain worsened for several days until she died at her parents' home Dec. 13 in Nanded, 300 miles east of Mumbai.
"If not for demonetization" — the name for the government's policy — "she would still be with us," said Boinavad's cousin, Sanjeev Halde.
Few peacetime episodes in India's 70-year history have proved as contentious or chaotic as the currency ban, which has unleashed tragic consequences across this cash-dependent economy and stained Prime Minister Narendra Modi's reputation as a capable administrator.
Nearly two months after Modi canceled the value of the two biggest bills in circulation — worth about $7.50 and $15 — cash remains scarce and Indian news reports have attributed scores of deaths to the stress of not having access to cash, with some people collapsing after hours in the line at the ATM. Others have reportedly died after being refused treatment at hospitals because they couldn't pay cash. Bank employees have been said to have died of overwork. Reports of suicides and even a killing have been linked to the new policy.
Modi had said the "pain" would be over by now, but fewer than half of the country's 200,000 cash machines are working and strict limits remain on how much currency can be withdrawn from bank accounts.
The misery has also taken subtler forms: migrant workers unable to send money home to their families, small businesses forced to close, a slowdown in sales of everything from SUVs to spinach. Foreign banks have slashed their 2017 growth forecasts for India, which has been the world's fastest-expanding major economy.
Modi's government has struggled to explain why the policy, crafted in near-total secrecy, has been implemented in such a disorganized way. The central bank — the Reserve Bank of India, whose well-regarded Gov. Raghuram Rajan resigned amid disagreements with Modi's government in June — has found itself becoming a national punchline as it issues rule upon rule on deposits and withdrawal limits, some conflicting with one another.
"It is unfathomable why some of the smartest minds and most competent officials were unable to see that the currency transfusion will be a complex, difficult, painful process full of unintended consequences," said Nitin Pai, co-founder of the Takshashila Institution, an independent policy research organization.
Modi has offered alternating explanations for why he took such drastic action. He initially said his target was tax evaders who had supposedly stashed away large hoards of undeclared wealth — giving them until Dec. 30 to deposit it in banks, where it could be audited, or watch its value evaporate.
But 80% of the canceled bills were deposited in the first three weeks. Some experts said that indicated there was less black money in the market than the government expected — or that much of it had effectively been laundered into legitimate accounts and would escape scrutiny from India's much-maligned tax authority.
More recently, Modi has emphasized the need to reduce India's reliance on cash, encourage more people to use bank accounts and electronic payment methods and modernize the economy.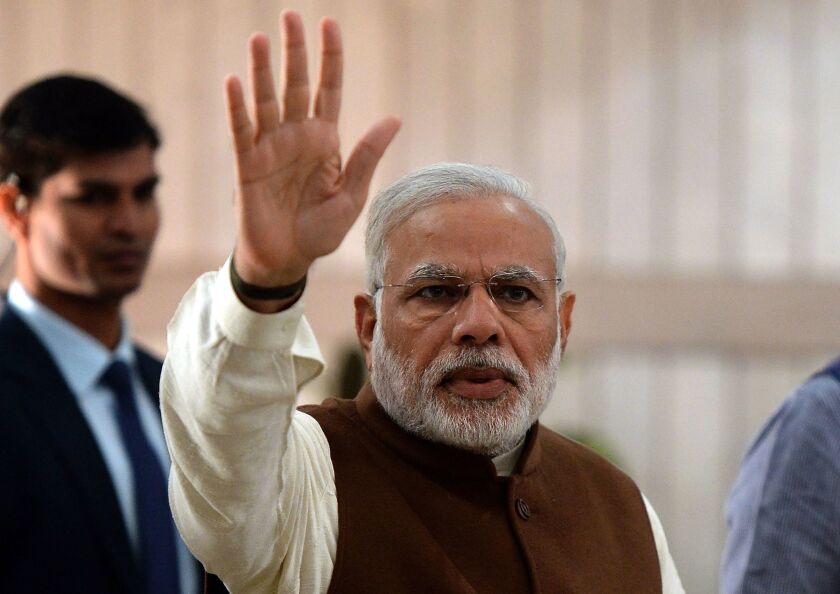 In that case, analysts said an overnight currency swap was too extreme.
"The shifting goal posts are a sign that the authorities are desperately clutching at straws to justify their terribly flawed decision on demonetization," said Meera Sanyal, an opposition politician and former chief executive of the Royal Bank of Scotland in India.
Meanwhile, Indians have been outraged by stories of law enforcement agencies uncovering huge quantities of the otherwise scarce new bills. Tax inspectors in the eastern city of Chennai reportedly seized more than $5 million in new notes in a series of raids on well-connected businessmen, including $45,000 found at properties used by the state's top-ranking civil servant.
Modi has expressed regret for the inconvenience but cast the policy as a nation-building project. One of the government's top economic advisors compared the disruption to Hurricane Katrina's effect on New Orleans, saying the economy would eventually rebuild.
"We cannot allow this fight against black money and corruption to stop or slow down," Modi said in a nationally televised speech New Year's Eve. "Firmness in truth is a guarantee for success."
Modi, elected in 2014 on promises to boost economic growth, remains popular, partly because of the shambolic performance of the political opposition. His Bharatiya Janata Party, or BJP, performed well in a pair of local elections in northern India last month, suggesting that many citizens are willing to tolerate the turmoil if it results in reforms.
"I think [Modi] must have thought it through," said Sayyad Jamal, a Mumbai furniture seller who pleads with customers to pay cash but ultimately supports the policy "if black money is being eradicated."
Experts say there is a powerful feeling of schadenfreude among the general public: a hope that India's highflying, tax-dodging one-percenters will suffer more if the economy is cleaned up. But that could have limits.
"If their inconvenience does not diminish faster than their schadenfreude, the mood will turn against Mr. Modi," Pai said. "It all depends on how quickly the [cash] transfusion can be completed."
An analysis by IndiaSpend, a news site, suggested that the earliest that government printing presses could replace all $210 billion that was withdrawn from circulation is April 2017 — five months after the policy was introduced.
It could take even longer for sufficient quantities of bills to reach the two-thirds of Indians who live in rural areas and remain tethered to cash. Only 2.5 million rural Indians had enrolled in cashless systems in the six weeks after the announcement, according to a government task force assigned to increase the use of electronic payments.
Raghunath Kasbe, who works for a local council in Nanded, recalled how his father, a farmer, lined up outside the bank near his village for two straight days in mid-November, yet failed to obtain cash. On the third day he returned and joined the line before 8 a.m.
Around noon, Kasbe got a call saying his father had collapsed while waiting.
Digambar Kasbe, 60, died of a heart attack, doctors said. His son said he had been worried about paying for seeds and the wages of laborers who work on their 3-acre farm.
"He was desperate because even my salary had been delayed … and it wasn't going to come any time soon," Raghunath Kasbe said. "There is no way we can do without cash."
Follow @SBengali on Twitter for more news from South Asia
MORE WORLD NEWS
The children of Mosul talk about life under Islamic State. They saw things no child should see
With the two-state solution a distant dream, Palestinians ask if it's time to push for a one-state solution
Obama slaps Russia with expulsions and broad sanctions for meddling in the U.S. election
---
UPDATES:
Jan. 2, 2:05 p.m.: This article has been updated to include new comments by Modi.
This article was originally published Dec. 30 at 3 a.m.
---
Must-read stories from the L.A. Times
Get the day's top news with our Today's Headlines newsletter, sent every weekday morning.
You may occasionally receive promotional content from the Los Angeles Times.