Man pulled alive from earthquake-flattened mosque on Indonesia island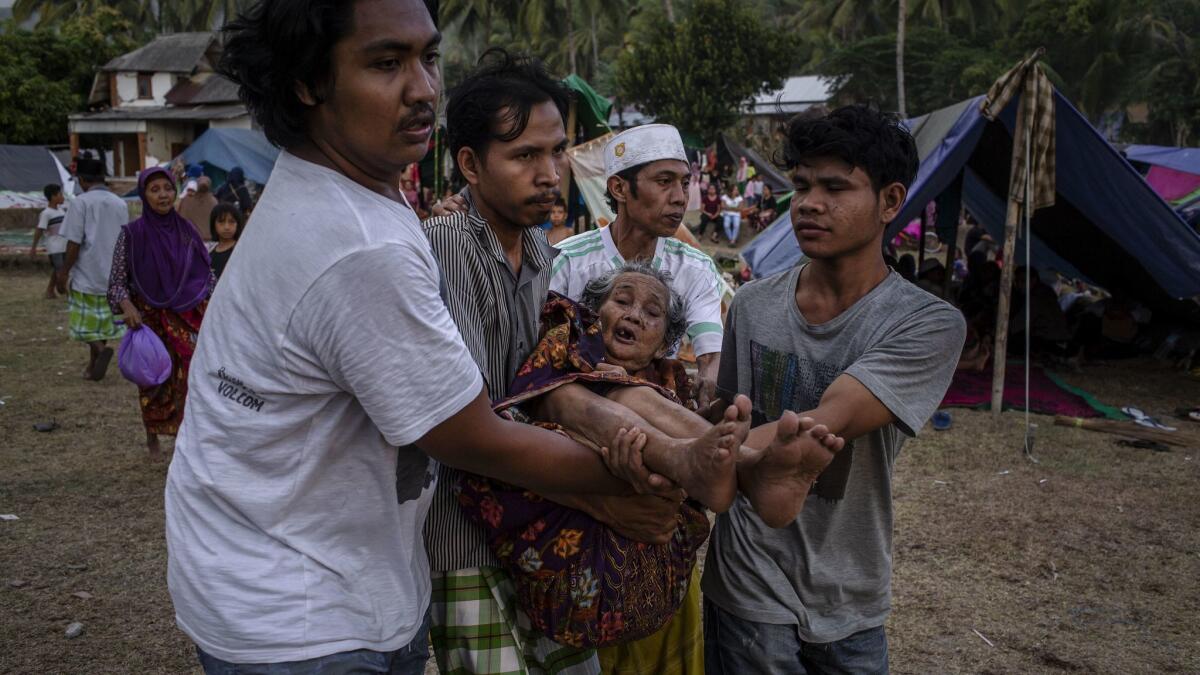 Reporting from JAKARTA —
The death toll in Sunday's 6.9-magnitude earthquake on the Indonesian island of Lombok has risen from 98 to 105, a number that is likely to increase as relief and rescue teams struggle to reach cut-off villages in the worst-hit areas.
"It is estimated that the number of victims will increase because the evacuation of victims affected by the [collapsed] buildings is still [being] carried out," said Sutopo Purwo Nugroho, spokesman for the Indonesian Disaster Management Agency, which put the number of those displaced by the disaster at 84,000.
On Tuesday, rescue workers pulled a man alive from the rubble of a mosque that collapsed during evening prayers when the earthquake struck at 7:46 p.m. on Sunday. A 23-year-old woman was also rescued from the rubble of a minimart in the town of Pemenang.
Approximately 100 people are thought to have been praying at the mosque at the time, with an estimated 30 unable to escape as the tremors started, according to eyewitness accounts reported by the Associated Press.
Nugroho said many people were sleeping in the open or in tents on hillsides after homes were pancaked or were damaged by the earthquake, which Indonesia's Agency for Meteorology, Climatology and Geophysics measured at magnitude 7.0 (the 6.9 figure comes from the U.S. Geological Survey) and which came a week after a 6.4 earthquake killed 17 people on Lombok.
Nugroho encouraged those left homeless in mountainous regions to descend to meet relief workers who were struggling with damaged roads and bridges that are hindering access to some of the worst-hit areas in the north of the island, close to the epicenter of the temblor.
"We advise people to come down and move closer to the camps," he said during a Tuesday news conference in Jakarta, Indonesia's capital. More than 200 aftershocks have further hampered rescue and relief work, with the disaster management agency estimating 18 villages remain inaccessible.
Lombok is itself a magnet for surfers, hikers and divers keen to escape the better-known resort island of Bali, which last year received more than 5.7 million foreign visitors and where Sunday evening's earthquake caused two of the 105 fatalities.
According to Indonesia's National Search and Rescue Agency, nearly 5,000 people, mostly tourists, had been evacuated by Tuesday from the white-sand Gili Islands, a smaller archipelago off the north coast of Lombok. Some of the evacuees were taken by boat to Bali while others were taken to Lombok.
Indonesia is hit regularly by earthquakes. Close to 120 active volcanoes dot the 17,000-island, 3,000-mile wide archipelago.
A 9.1 earthquake off the coast of Sumatra in 2004 caused a devastating tsunami that killed 226,000 people in 13 countries, including around 120,000 Indonesians, mostly in the north Sumatra region of Aceh, where over 100 people were killed in another earthquake in 2016.
Earlier this year buildings in Jakarta, center of a vast urban area that is home to around 30 million of Indonesia's 260 million people, shook when a 5.0-magnitude tremor hit the western part of Java.
Roughneen is a special correspondent.
Sign up for Essential California for the L.A. Times biggest news, features and recommendations in your inbox six days a week.
You may occasionally receive promotional content from the Los Angeles Times.