Families of Lion Air crash victims sued Boeing days before Ethiopian Airlines disaster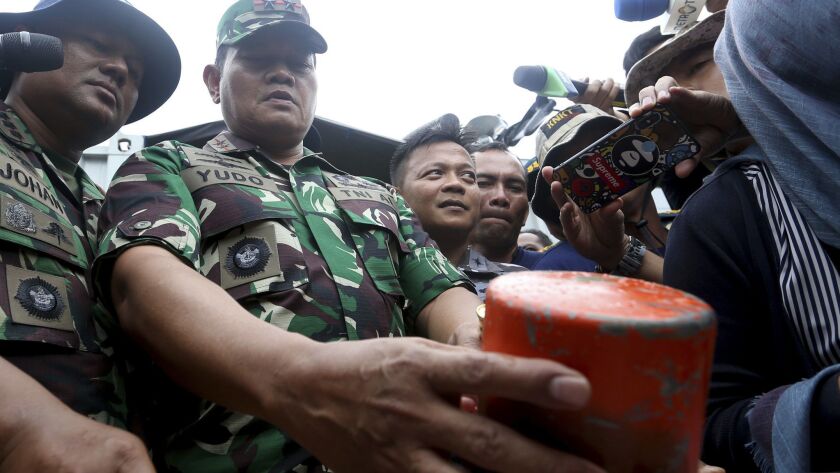 Reporting from Singapore —
The crash of an Ethiopian Airlines Boeing 737 Max jetliner Sunday comes days after surviving family members of last year's Indonesian Lion Air disaster filed another lawsuit against Boeing, accusing the company of installing a faulty flight control system in the popular aircraft and failing to inform pilots of its existence.
The suit filed Thursday includes relatives of 17 victims of Lion Air 610, which crashed into the Java Sea shortly after takeoff from the Indonesian capital of Jakarta on Oct. 29, killing all 189 passengers and crew on board.
Boeing is already being sued by dozens of victims' families over the incident but is now facing a wider crisis over one of its signature aircraft.
On Monday, China, Indonesia and Ethiopia ordered their airlines to ground all 737 Max planes on the heels of the Ethiopian Airlines crash, which killed all 157 people on board.
It's too early to know why the Ethiopian jetliner crashed minutes after takeoff. Meanwhile, investigators in the Lion Air crash are still trying to determine what caused that passenger plane to slam into the ocean at 500 mph.
A preliminary report released in November suggested a faulty sensor reading might have triggered an automated flight control system that sent the plane into a series of 26 dives at under 5,000 feet.
The software, known as the "maneuvering characteristics augmentation system" or MCAS, was designed to thwart a stall by automatically correcting the pitch of the 737 Max to compensate for bigger, fuel-efficient engines that shifted the plane's center of gravity forward.
Lion Air crash shows cockpit computers are no substitute for pilot skills »
It's unclear if the pilots of Lion Air were aware of the system, which would have superseded their hands at the controls. Unions representing U.S. airline pilots said they were unaware of the MCAS prior to the Lion Air disaster.
Family members named in the latest lawsuit accuse Boeing of not properly informing pilots that the system would kick in uncommanded. They said the company was negligent for not building fail-safes into the MCAS.
The automated system, they allege, was built to maximize profit because Boeing could tout the new 737s as requiring little additional training.
"Generating profit in a fiercely competitive market too often involves cutting safety measures. In this case, Boeing cut training and completely eliminated instructions and warnings on a new system," Charles Herrmann, principle of Herrmann Law, a Seattle- and Tacoma-based personal injury firm representing the families, said in a statement.
Herrmann and his partners did not immediately respond to a request for comment.
"Boeing extends our heartfelt condolences and sympathies to the families and loved ones of those onboard Lion Air Flight 610," a Boeing spokesman wrote in an email when asked about the lawsuit and its allegations. "As the investigation continues, Boeing is cooperating fully with the investigating authorities. We won't comment on the lawsuit directly."
The lawsuit seeking damages was filed in King Country Superior Court because Lion Air 610 was manufactured in Washington state, the complaint said.
The plaintiffs also say the U.S. Federal Aviation Administration is partially culpable for negligently certifying Boeing's 737 Max flight manual without requiring more training on the MCAS.
Lion Air, which already had a checkered safety record before the October crash, is currently being probed by Indonesian transportation authorities for a series of recent problems, including an instance of cabin depressurization, a plane that skidded off a runway, and the discovery of a scorpion on a flight bound for Jakarta.
Times staff writer Matt Pearce in Los Angeles contributed to this report.
---
Must-read stories from the L.A. Times
Get the day's top news with our Today's Headlines newsletter, sent every weekday morning.
You may occasionally receive promotional content from the Los Angeles Times.