Indonesian crews sift through mall wreckage where hundreds may be buried after quake
Reporting from Palu, Indonesia —
A week after a magnitude 7.5 earthquake and tsunami devastated this Indonesian coastal town, emergency workers equipped with excavators Friday dug through the rubble of a shopping complex where hundreds of people were feared to have been buried.
Broken glasses and other personal items were visible in the ruins, and a sickly smell hung in the air outside what remained of the multistory Ramayana mall, the biggest in Palu, where residents said as many as 250 people were inside when the quake struck Sept. 28.
That relief teams were still digging for bodies seven days after the disaster illustrated what many residents said was the slow pace of the recovery effort. At least 1,571 people were killed, according to the latest official reports, and tens of thousands left homeless.
A crew of French firefighters said they did not find signs of life in the debris of the five-story Mercure hotel, where 40 people had been reported missing. A day earlier, the crew from the nongovernmental International Emergency Firefighters said its high-tech sensor had "detected the presence of a victim" beneath piles of concrete. Later, though, the group said that appeared to have been a false reading.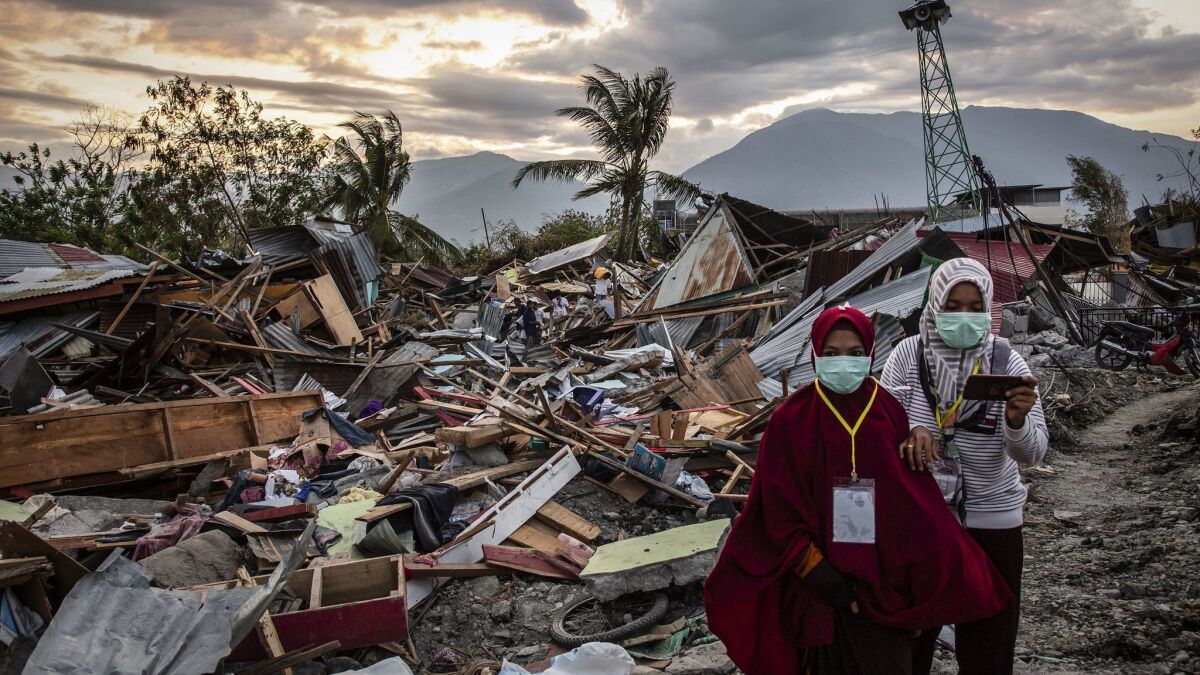 Hopes of finding more survivors were fading, and officials appeared close to calling off the search for bodies, which so far has been the main focus of the emergency teams.
Residents gathered near the coastline of Palu, the capital of Central Sulawesi province in eastern Indonesia, and held an evening prayer, a solemn weekly ritual observed for the first time since the disaster.
In many areas near the beaches, residents said that help had yet to arrive and that they have been forced to survive on bananas, the only available food. Some still wore the same clothes they had on the day of the earthquake.
Some had watched the tsunami, which reached 20 feet high in some places, carry away their loved ones. It was as if "the sea came to eat them," one person said.
Aid was trickling in slowly from Palu's damaged airport, which was receiving a limited number of military relief flights, and by road from Makassar, a drive of up to 24 hours. Some agencies had begun to send supplies via Balikpapan, on the island of Borneo, from which it could take 20 hours by ferry to reach Palu.
Some survivors, growing frustrated, were leaving on scooters or on foot to find shelter in nearby relief camps, which were swelling with new arrivals. Aid workers said they feared that communicable diseases could spread, particularly with a lack of electricity, which remains cut off in much of the area.
Pregnant women and the elderly, and some children carrying only pillows and backpacks, boarded military aircraft to Makassar, but they were unsure of where they would go from there.
Some children had been separated from their parents and were left to beg for help along the main road into Palu, said Dini Widiastuti, executive director of Yayasan Plan International Indonesia, an aid agency.
Gasoline was also in short supply, and drinking water remained scarce. Some shops had reopened and were providing rice and bottled water, and cellphone service had been restored across the area.
Still, aid agencies were struggling to reach survivors because of the damaged roads in and around Palu, some of which all but vanished when the quake caused the earth to dissolve into a quicksand-like muck, a phenomenon known as liquefaction.
"It is difficult to move aid around; the airport is operating but limited," Widiastuti said.
"Warehousing, storage, channels of transportation, these are all difficult."
Wahyu Widayanto, emergency response coordinator for the relief agency CARE, said the agency was buying blankets, tarps, water buckets and water purification kits in Makassar and looking for ways to move the supplies quickly into Palu.
"There are currently only two banks that have reopened and just some small food stores, which aren't sufficient for the community here," Widayanto said. "Gasoline is limited, and drinking water is a problem and a real basic need."
Special correspondents Seth and Roughneen reported from Palu and Jakarta, respectively. Times staff writer Shashank Bengali in Mumbai, India, contributed to this report.
---
Must-read stories from the L.A. Times
Get the day's top news with our Today's Headlines newsletter, sent every weekday morning.
You may occasionally receive promotional content from the Los Angeles Times.