Japan will hold a major election on Sunday. Here's why you should care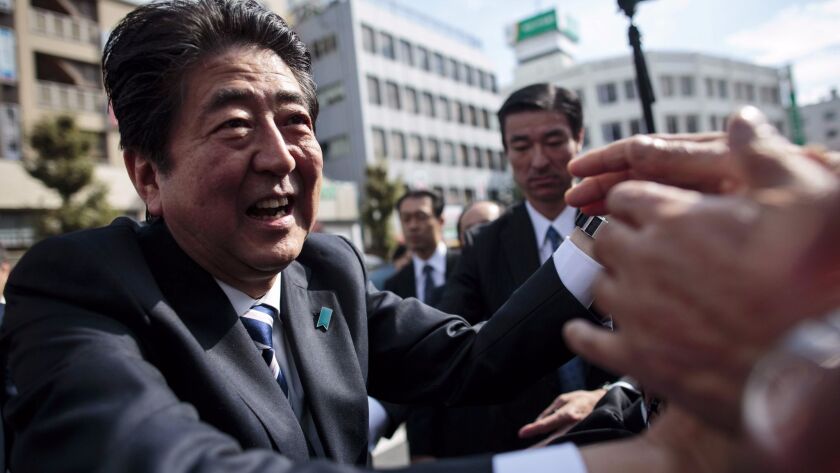 Reporting from BEIJING —
East Asia is tense. North Korea is lobbing missiles over Japan and engaging in a war of words with the United States. China is flexing its muscle as its leader, Xi Jinping, consolidates his power.
Against that backdrop, Japanese voters are expected to stick with the status quo Sunday in a snap election that Prime Minister Shinzo Abe looks likely to win. The election has already reshaped the Japanese political landscape and increased the likelihood that Abe will realize his long-cherished goal of reforming the country's constitution to legalize Japan's Self-Defense Forces.
Here's what's you need to know:
Why is this happening now?
Prime Minister Abe's Liberal Democratic Party (LDP) rules in a coalition with Komeito, a smaller party. When Abe called the election, his coalition held more than two-thirds of seats in Japan's House of Representatives — a supermajority, allowing the coalition to start amending the constitution and unilaterally pass legislation. In the general election, Abe is hoping he can preserve that supermajority, or even expand it. It's a risk, especially given that the LDP already occupies a strong position.
The election's timing caught many by surprise. The LDP has been dogged by scandals in recent months. Critics have accused Abe's government of arranging a land deal for a favored kindergarten operator, and of providing government support for a family friend's veterinary college. In July, Abe's approval rating dipped to 36%. It has since recovered, but doubts about his leadership remain.
Fortunately for Abe, his opposition is in disarray. Japan's center-left Democratic Party, formerly its largest opposition party, disbanded after the election was announced. It threw its support behind the center-right Party of Hope, which is led by Tokyo Gov. Yuriko Koike and is less than a month old.
But if the LDP isn't popular, neither is anyone else. Abe figured that by calling the election now, he could take advantage of his opponents' weaknesses.
"The weakness of the opposition was the major factor here," said Sheila Smith, a senior fellow at the Council on Foreign Relations in Washington.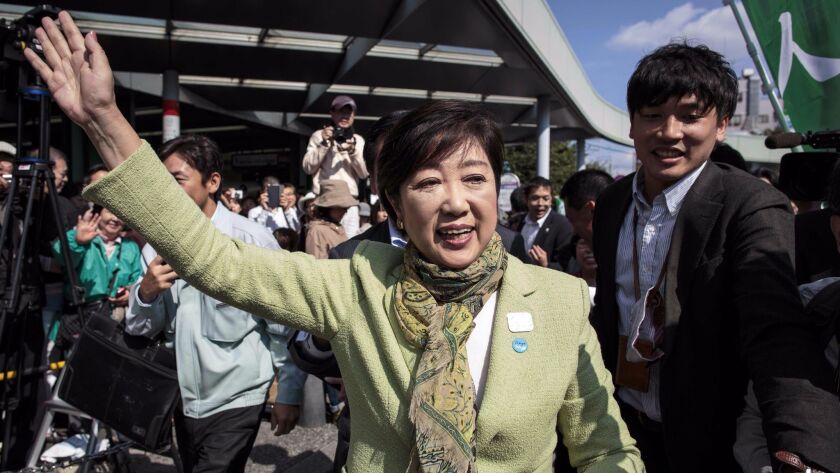 Will Abe remain in power?
Almost certainly.
Abe's strongest challenge has emerged from Koike, the Tokyo governor. Charismatic and media savvy, she defected from Abe's party last year in a successful run for governor. Her new party, the Party of Hope, has sought to unite voters skeptical of the LDP.
But there's a catch: Koike won't resign as Tokyo's governor to run with her party in the election, citing an obligation to complete her term as governor. That means she can't become prime minister.
"It's a strange proposition," said Mireya Solís, a senior fellow at the Brookings Institution. "You're asking voters to vote for the Party of Hope, while the face of the party is not a contender to occupy the top position."
With the election looming, Koike also hasn't had time to field candidates in all of Japan's competitive districts. Many of Abe's legislators will not face a Party of Hope candidate at all.
Koike's struggles to recruit aren't accidental. By calling the election early, Abe gave her party little time to prepare.
All of this leads most analysts to agree that Koike is unlikely to claim the majority from Abe. The question isn't whether Abe will win or lose, but rather his margin of victory. Koike's goal is to claim more seats — not to win outright.
If this election is more of the same, why does it matter?
The election has transformed Japan's opposition. The collapse of the Democratic Party was a seismic event. The Democratic Party and its predecessor, the Democratic Party of Japan, have been the face of Japan's opposition for almost 20 years. The Democratic Party is the only party besides the LDP with experience governing Japan. Its destruction means Japan's two major parties — the LDP and the Party of Hope — are both conservative.
This leaves left-leaning voters without a major-party choice. On Oct. 2, the Democratic Party's former deputy leader, Yukio Edano, announced a new center-left party, the Constitutional Democratic Party of Japan. It remains small.
As a result, constitutional reform just got a lot more likely. Japan has never amended its constitution, which was written by American occupation forces after World War II. Its controversial Article 9 renounces "the use of force as means of settling international disputes."
Abe wants to tweak that provision by explicitly legalizing Japan's de facto military, the Self-Defense Forces. Koike's Party of Hope is open to revising Article 9 as well. If both the government and the largest opposition party support constitutional reform, Abe may get his wish.
"Abe's party has always advocated for constitutional revision, even when it wasn't a practical reality," said Smith. Now the debate has begun. "Japanese politics are catching up with the issue."
In the long term, barring a shock on Sunday, conservative forces will likely emerge stronger in Japan. Eventually, this may lead to a more muscular Japanese foreign policy.
The United States and Great Britain have each seen an election-night surprise. Might it happen in Japan too?
Populist fever has pulsed through developed world democracies in the last year and a half. The LDP, which has ruled Japan almost continuously since 1955, is the quintessential establishment party. Might it suffer the same setbacks as the establishment elsewhere?
It doesn't look that way. Although a large number of voters remain undecided — in a recent poll, 54% of respondents hadn't picked a candidate in their district — Japan lacks a credible populist challenger. Koike's party, while new, doesn't threaten the existing order.
Explanations for Japan's resistance to populism run the gamut. Analysts have pointed to its lack of immigrants (1.5% of Japan's population was foreign-born in 2015, compared with 13.4% in the U.S.), its electoral system (which privileges the rural vote) and a recent brush with anti-establishment rule in the late 2000s, widely viewed as a failure.
Angst over North Korea may also be driving voters into the arms of the familiar. Though Abe has been beset by scandals, his approach to the North Korea issue — tough, but not bellicose — has won him admirers. He has deepened cooperation with traditional allies South Korea and the United States, and has refrained from taking actions that might inflame tensions.
In a debate on Oct. 8, he emphasized continuity: "I'd like to win a public mandate for my current policy regarding North Korea, which is to thoroughly pressure the regime," he said.
With Japan on edge, it stands to reason that voters may want to stick with a known quantity.
"The North Koreans are now shooting medium-range missiles over the top of Japan, with military purpose and with abandon," said Smith. "Japan's security environment has deteriorated. It's just a fact."
DeButts is a special correspondent.
ALSO
Escalating tension has experts simulating a new Korean War, and the scenarios are sobering
Xi Jinping lays out vision for a stronger China, with Communist Party at the center
China welcomes the Kings and hockey as it tries to stir interest before 2022 Olympics
---
Must-read stories from the L.A. Times
Get the day's top news with our Today's Headlines newsletter, sent every weekday morning.
You may occasionally receive promotional content from the Los Angeles Times.