Flush, then fill up: Japan taps sewage to fuel hydrogen-powered cars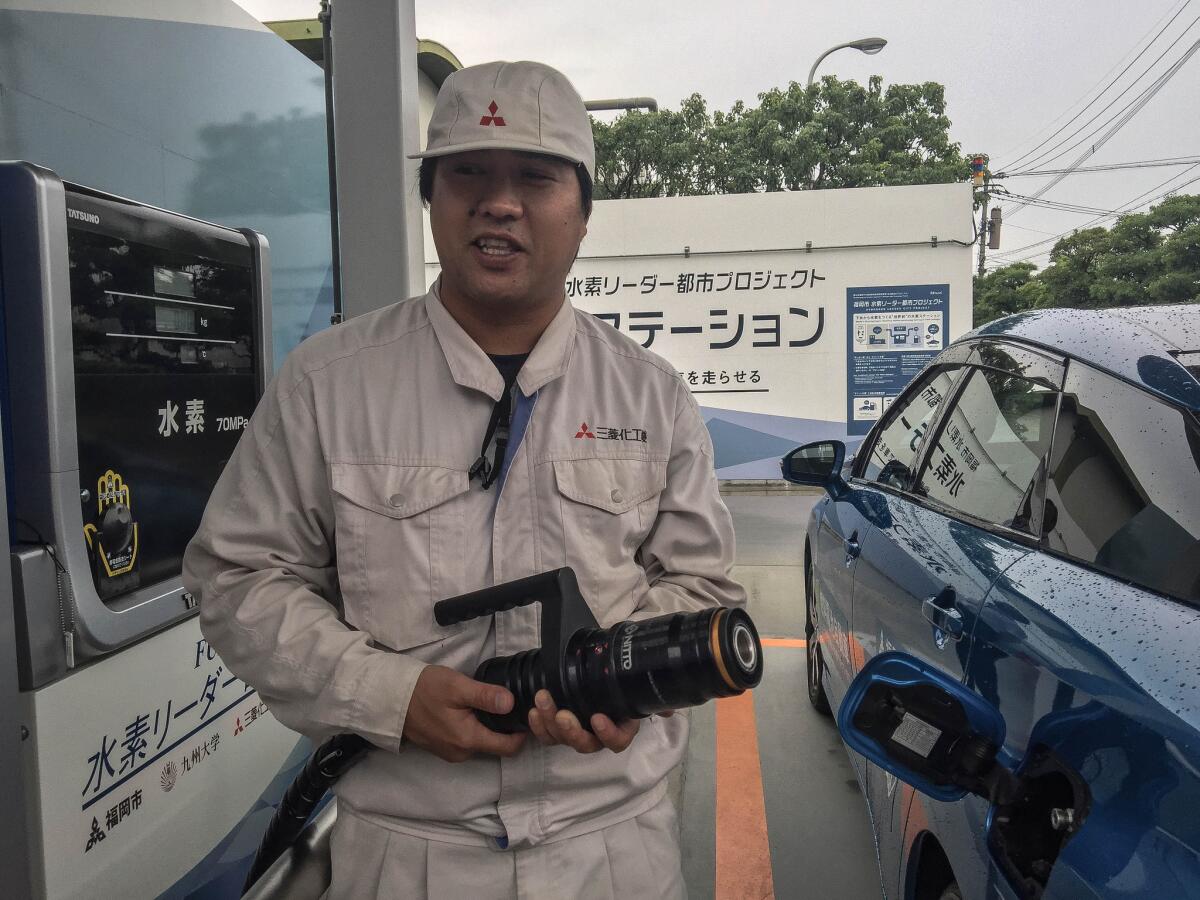 Reporting from Fukuoka, Japan —
Does the future of driving start with flushing your toilet?
When Mutsuro Yuji, chief of the central sewage plant here in this southern Japanese city, first heard about the idea of making hydrogen from biogas — the combination of methane and carbon dioxide produced by the breakdown of stinky matter — he was skeptical. "I thought it was a joke," he says.

For the record:
1:06 a.m. June 25, 2019This article reported that Japan is touting the hydrogen station at a sewage treatment plant in Fukuoka as the first facility of its kind in the world. A demonstration facility using similar technology was commissioned at a Fountain Valley wastewater plant in California in 2011; however, that station is no longer in operation.
But after a $12-million investment from Japan's government, plus research, engineering, design and building work by Mitsubishi, Toyota and Kyushu University, Yuji is no longer laughing. Starting late last year, drivers of vehicles like the Toyota Mirai and Honda Clarity have been able to roll up to the sewage plant and power up their hydrogen fuel cell cars at what you might call the world's first toilet-to-tank filling station.
The station is working only 12 hours per day but already is making enough hydrogen to fill 65 cars daily — and that could grow to 600 if all the biogas at the plant was harnessed.
After years of fits and starts, Japan is in the midst of a major push to move hydrogen-powered cars off the drawing board and into driveways. The government this year has doubled its funding for fuel cell vehicle subsidies, construction of filling stations and hydrogen energy farms to about $280 million, up from $120 million last year. Meanwhile, carmakers including Toyota are ramping up production plans for the zero-emission vehicles.
The effort could have profound ripple effects in California, which along with Japan and Germany is one of the first three places in the world where interest in hydrogen fuel cells and investment in infrastructure look to be approaching a level where the technology could be commercially viable.
After years of chicken-and-egg debate about which should come first, the cars or the stations to support them, the numbers of both are mushrooming. Japan now has about 80 stations operating, and Germany has 50. In California, 20 retail hydrogen stations are now open, making it possible to drive from the Mexican border to far Northern California, and another 16 are slated to come online this year, according to the California Fuel Cell Partnership.
In the U.S., most hydrogen is produced from natural gas. But a 2014 study by the U.S. Department of Energy's National Renewable Energy Laboratory found that biogas from waste water treatment plants, landfills, animal manure and industrial facilities could be used as a major source of hydrogen — enough to support 11 million fuel cell vehicles per year.
"Sewage sludge is completely untapped today as a fuel source," said Yoshikazu Tanaka, chief engineer of the Toyota Mirai. "We believe it's very promising and would bring ultimate self-sustainability to communities."
California is one of the most biogas-rich states in the nation, and Los Angeles in particular is well positioned to tap this resource, the Renewable Energy Laboratory's survey indicated.
Presumably because of its size, Los Angeles ranked as the top county in the nation in terms of potential to produce hydrogen from landfills. (Orange County was No. 2) Los Angeles was also rated No. 1 in terms of its potential to generate hydrogen from biogas at industrial and commercial facilities ranging from meat-packing plants to hospitals, universities and even jails. The city was ranked No. 2 in the nation in potential to produce hydrogen from sewage plants.
Californians are adopting hydrogen fuel cell cars faster than initially expected, the state's Air Resources Board said in a report last year. The state is expected to have 10,500 fuel cell cars by the end of 2018 and 34,000 by the end of 2021 — twice as many as anticipated in a 2014 study. The majority of those — some 20,000 — will be in Los Angeles and Orange counties.
Toyota started offering the Mirai last fall and has sold about 1,000 in Japan and 200 in California, Tanaka said. The company has already received more than 2,000 orders in the U.S., and Americans who reserve vehicles now will have to wait until 2017 to get them. There's an even bigger backlog in Japan. In addition to Toyota, Honda and South Korean automaker Hyundai have offered fuel cell vehicles in California.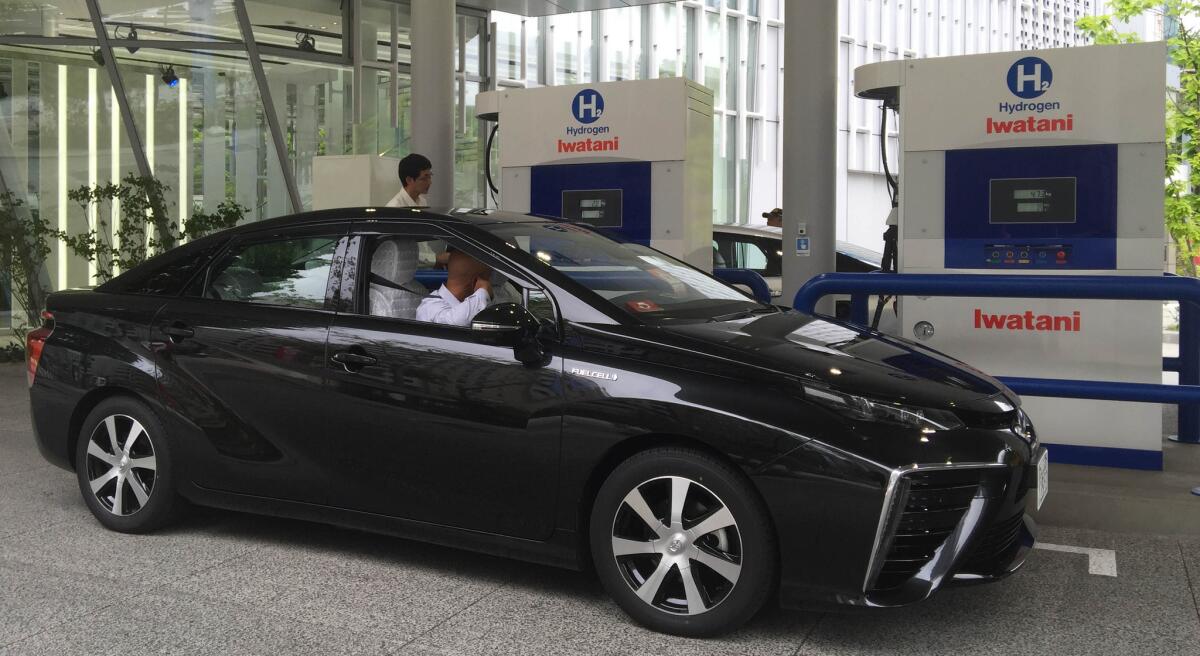 Phil Fuchs of Irvine is among the early adopters of the Mirai. The 67-year-old project manager for a chair manufacturing and design firm usually fuels up at a station on the UC Irvine campus. There isn't one near his office in Cypress.
Though he says he loves the car itself, stations are out of service "more often that you might expect." He keeps abreast of what stations are open via a Facebook group.
"It's not like a regular gas car; you have to think about [fueling up] in advance," he said. He'd like to see stations in Riverside and Barstow so he could drive to Las Vegas.
The public interest is prompting the Air Resources Board to warn that California's currently funded hydrogen stations may not be sufficient to support demand after 2018. On average, California's stations can produce half as much hydrogen as Fukuoka's sewage-based filling station already generates.
But if the Bay Area and Sacramento tapped all their landfills, sewer plants and other biogas-generating locations to make hydrogen, the region could support 527,300 fuel cell cars, the Renewable Energy Laboratory's survey projected. The pioneers of Japan's toilet-to-tank plant say they're looking to export their expertise.
"We hope to be able to take our advanced technology and sell it to Europe and the U.S.," says Seiichi Hirashita, manager of the Kyushu branch of Mitsubishi Chemical Engineering, which installed the Fukuoka station and has planned and built around a third of Japan's hydrogen stations to date.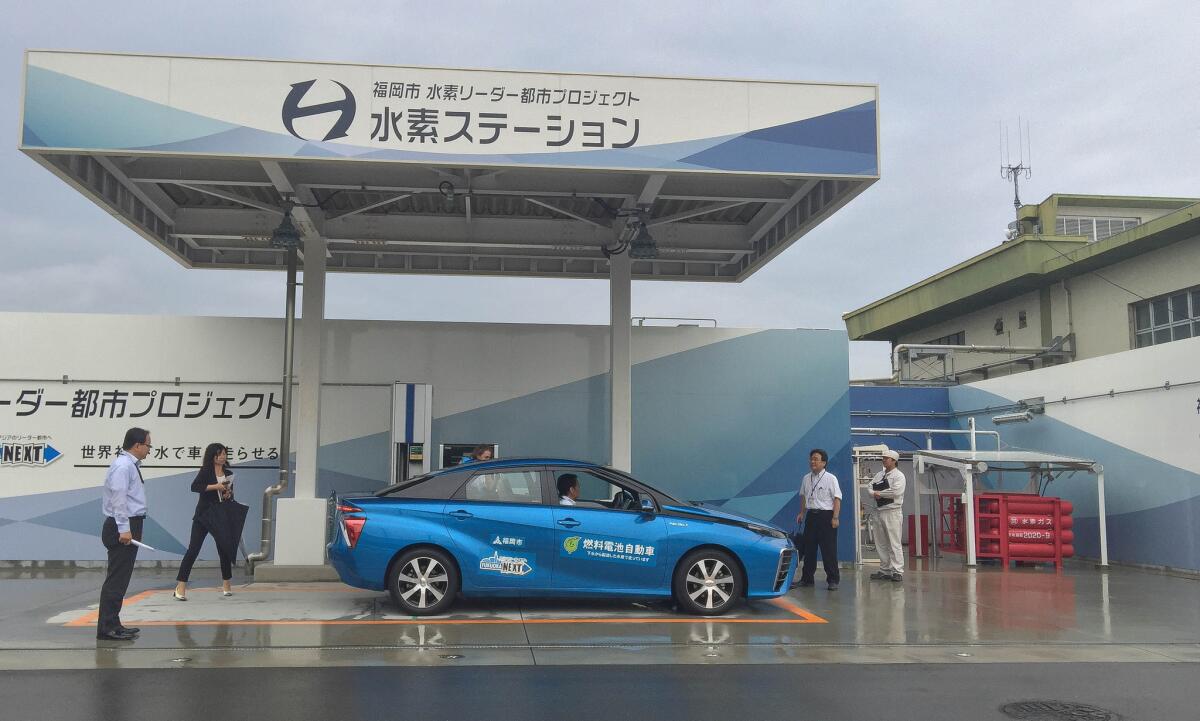 That's not to say that the poo-powered hydrogen is cheap. "We're not making any money off this yet," says Sumito Tachibana, chief of the energy and environment section of Fukuoka's startup and investment department.
Customers are charged about $11 for a kilogram (2.2 pounds) of hydrogen, and a fill-up requires about five kilograms, making the cost comparable to driving a gasoline car. But producing a kilogram of hydrogen at the sewage plant costs about $100, Tachibana said, and the number of fuel cell vehicles in the city is still so low — 30 to 40 — that the station is open just one day a week. The Mirai has a range of about 310 miles, and in the U.S., the purchase price includes three years of complimentary fuel.
Takeo Kikkawa, a professor at Tokyo University of Science's Graduate School of Innovation Studies, said even with government subsidies worth thousands of dollars to each buyer, hydrogen fuel cell cars like Toyota's Mirai and Honda's Clarity remain out of reach of middle-class consumers. In the U.S., the suggested retail price of the Mirai is $57,000, but buyers are eligible for about $20,000 worth of incentives, rebates and tax credits.
Japan is the most advanced country in terms of developing fuel-cell technology, Kikkawa said, but "we are lagging on infrastructure because we don't yet have a mass market." California, he said, has done a better job of promoting other fuel-cell powered vehicles, including buses and forklifts used in warehouses, ports and airports.
But Japan, he said, has an opportunity to catch up by using the 2020 Olympics in Tokyo as a focusing event. On July 1, the city announced it would open a Hydrogen Museum to educate residents and visitors alike about the technology.
In addition, the city and national governments have pledged to have 100 hydrogen-powered buses on the city's streets in time for the Summer Games. Those will require four high-capacity hydrogen stations, according to Kikkawa. "This is a major development," he says.
Tanaka, the Toyota engineer, admits that if the price of crude oil stays low, interest in hydrogen fuel cells and all kinds of alternative energy may wane. "We've already seen the sale of hybrids come down with crude oil prices plummeting," he concedes. "We cannot predict the future. Oil is a commodity, and the price fluctuates."
Yet Tanaka says he's determined to push ahead.
"It took 20 years for us to establish Prius as a standard choice," he says of the gasoline hybrid cars. "But regardless of what happens with oil, we should be preparing to transform our society into a more eco-friendly and sustainable place."
Follow me on Twitter @JulieMakLAT.
ALSO
How to combat Asian carp? Get an alligator gar
Without a parachute, sky diver plummets into net from 25,000 feet
It's billionaire versus billionaire as Mark Cuban targets Donald Trump for Hillary Clinton
Sign up for Essential California for the L.A. Times biggest news, features and recommendations in your inbox six days a week.
You may occasionally receive promotional content from the Los Angeles Times.