Kerry, in L.A., touts Pacific trade deal as vital to Hollywood, Silicon Valley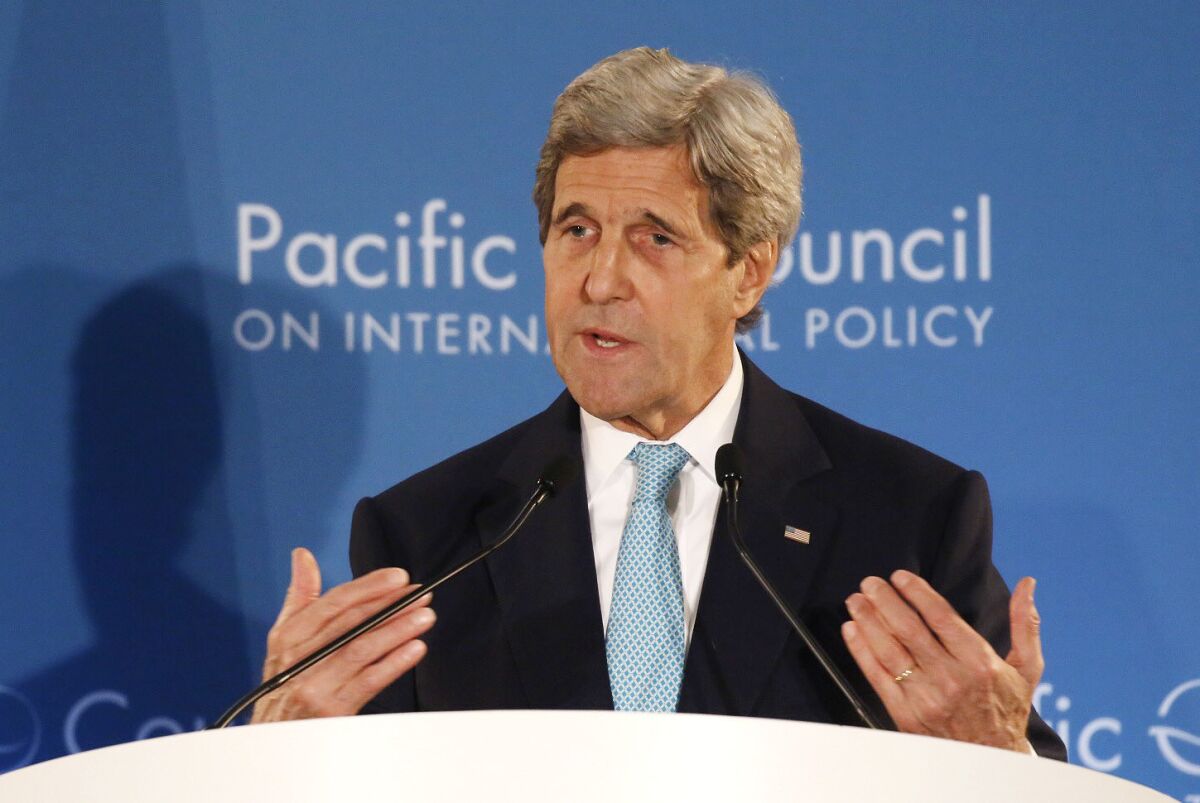 Secretary of State John F. Kerry used a stop in Los Angeles on Tuesday to mount one of the strongest defenses yet of the Obama administration's Pacific trade deal, which has taken a battering on the presidential campaign trail.
Speaking at an event hosted by the Pacific Council on International Policy, Kerry portrayed the Trans-Pacific Partnership, which would relax trade barriers among participating nations, as especially vital to California's major industries: trade, entertainment, technology and agriculture. And he criticized those who exploit "fear and anger" among the economically vulnerable — a clear shot at the presidential candidates who have assailed the deal.
The secretary also used his address to urge support for the Transatlantic Trade and Investment Partnership, a free trade and investment agreement being negotiated between the U.S. and the European Union.
"These trade agreements are at the center of defending our strategic interests, deepening our diplomatic relationships, strengthening our national security, and reinforcing our leadership across the globe," Kerry said. "The importance, my friends, cannot be overstated."
All four leading presidential candidates — Republicans Donald Trump and Ted Cruz, and Democrats Hillary Clinton and Bernie Sanders — oppose ratification of the Trans-Pacific Partnership, which was signed in February but awaits congressional approval.
Clinton worked on this trade agreement while serving as President Obama's first secretary of State. Back then she described it as the "gold standard" of such deals, but lately she has criticized it for failing to sufficiently safeguard U.S. workers.
Trump and Sanders in particular have made the agreement a major issue in their campaigns. Trump has called it "insane," and Sanders said, after it was made public in November, that it was "even worse than I thought."
They have portrayed the agreement, which bonds the U.S. and 11 other countries in the Americas and Asia, as potentially devastating to American workers. The participating countries — Australia, Brunei, Canada, Chile, Japan, Malaysia, Mexico, New Zealand, Peru, Singapore, the U.S. and Vietnam — account for nearly 40% of the global economy.
Conspicuously absent from that list: China. Obama has framed the trade pact as a way of countering China's rising influence in the region.
Kerry, returning after a trip that included stops in Iraq, Afghanistan and Japan, contended that the agreement "will be a clear win for American workers, American businesses and communities," and referred tartly to "a tremendous amount of misinformation floating around about the economic impact of TPP."
"In the 21st century," he said, "you cannot only sell to yourself and expect to grow and survive, let along compete and thrive."
Kerry also sought to allay concern that the agreement would weaken U.S. trade ethics, arguing that by deepening commercial connections the United States would be in a position to rewrite the rules governing the global economy "in accordance with our values and the crucial standards of transparency, accountability and rule of law."
He said that each of the accord's participants would have to keep the promises they make — including upholding consumer, environmental and labor protections — or face tough sanctions for any violation.
"Make no mistake: This is not your parents' or your grandparents' trade agreement," Kerry said. "TTP is the highest-standard trade deal ever reached — period."
Playing to his audience, which included dozens of Los Angeles-area businesspeople, Kerry touted the deal's benefits to California.
The agreement, he said, "establishes strong, balanced rules to protect intellectual property and the 40 million Americans working in creative and digital industries — which I don't have to tell you is a huge issue for California film studios and Silicon Valley."
And, he said, the deal would benefit California and its agricultural and manufacturing exports. "Three of L.A.'s top five export markets are TPP members — Mexico, Canada and Japan," he said.
Under the agreement, many of the products shipped from the Port of Los Angeles would face lower barriers to critical markets, Kerry said.
"That means cotton exports will no longer face a 10% tariff in Vietnam; frozen beef exports will no longer face a tariff of nearly 40% in Japan; automotive exports will no longer face up to 75% tariffs; and almonds, walnuts and pistachios will no longer face as high as a 30% tariff in the region," he said.
Still, Kerry acknowledged that many Americans feel a sense of anxiety about the trade agreements. For example, some fear businesses might be shuttered as a result of foreign competition, and for many, "free trade is seen as a proxy for the underlying and disruptive forces reshaping the global economy," Kerry said.
But, he argued, "the primary reason old jobs disappear is technology, not trade, and certainly not trade agreements." He added: "When machines do more, productivity goes up, and the demand for human labor will shift to other industries."
His message hit home for many of the 250 or so who attended the speech.
Steven Gitlin, vice president of marketing at AeroVironment Inc., a world leader in small, unmanned aircraft systems and electric vehicle charging technologies, took notes on key points he found poignant.
"The first is, 'You can't build a wall against knowledge,'" he said. "And secondly, 'No one can put the genie of globalization back in the bottle.'
"These points are exceptionally important because for many people this whole idea of international trade — it's complex, it's foreign and it's not something they deal with on a day-to-day basis," said Gitlin, whose company is headquartered in Simi Valley.
"For many people this topic can generate anxiety and fear of the unknown. What people need to understand is that globalization is going forward whether we're a part of it or not."
Charles Carmona, president of Los Angeles-based Guild Laboratories Inc., a trader of gems and precious metals around the world, echoed the sentiment.
"I feel badly for the people who are losing their jobs … and that's certainly something we have to deal with," he said. "But I agree that we have to move forward."
Many of the country's largest labor unions, including the Teamsters, United Steelworkers, the United Food and Commercial Workers International, Machinists, and Communication Workers of America, strongly oppose the trade agreement. They reject the argument that it would create jobs, protect the environment and ensure safe imports.
"Rather, it appears modeled after the North American Free Trade Agreement, … [which] boosts global corporate profits while leaving working families behind," the AFL-CIO says on its website.
Union leaders fear that U.S. manufacturing and service jobs would be outsourced to low-wage countries , such as Vietnam, and wages of American workers would nose-dive when threatened with competition from cheaper labor markets.
ALSO
U.S. Navy officer is charged with espionage
Car bombing in southern Lebanon kills local Palestinian official
German comedian may be prosecuted for obscene poem about Turkish president
---
Must-read stories from the L.A. Times
Get the day's top news with our Today's Headlines newsletter, sent every weekday morning.
You may occasionally receive promotional content from the Los Angeles Times.