South Korean judge turns down warrant request for Samsung executive's arrest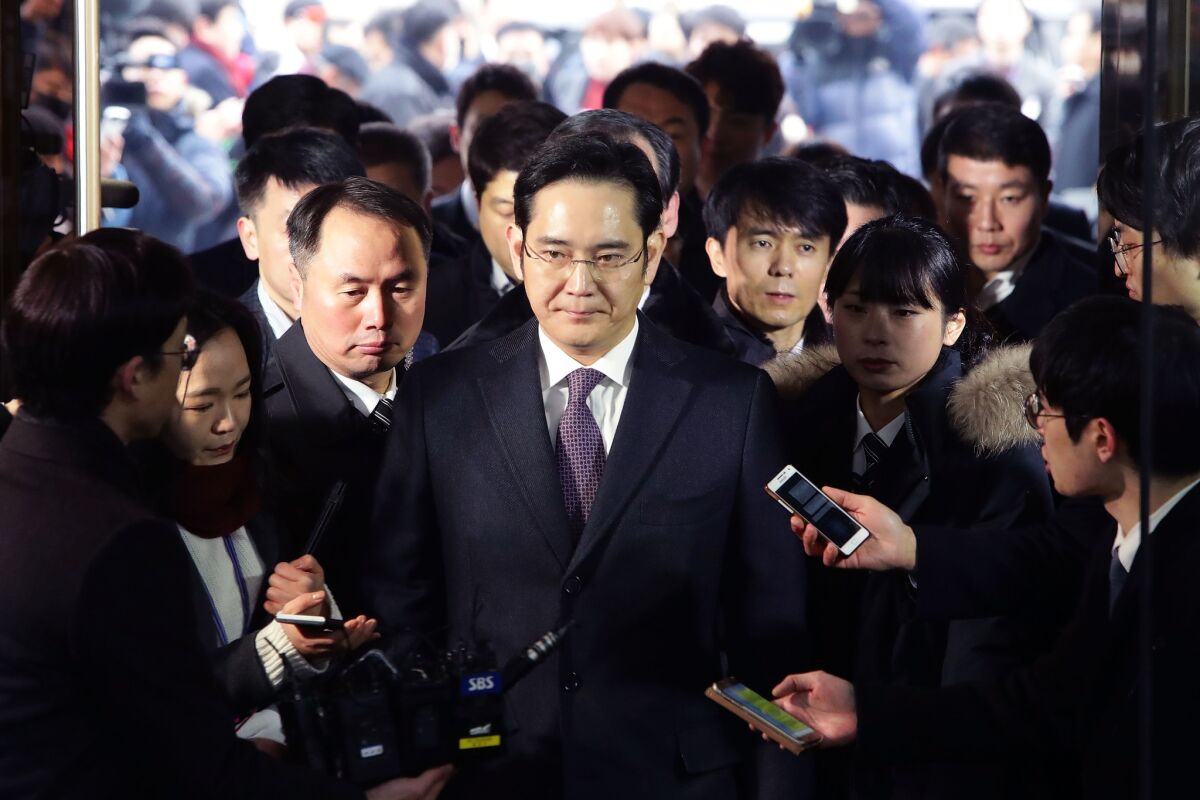 Reporting from Seoul —
A South Korean court ruled Thursday that prosecutors lacked sufficient grounds to arrest the de facto head of Samsung Electronics Co. in a bribery case that reached into the highest levels of business and politics in the country.
The ruling by Judge Cho Eui-yeon appeared to put to rest, at least for the time being, the prospect of jail for Lee Jae-yong, one of South Korea's most powerful men, whose company's tentacles extend deep into daily life. The case stemmed from a bribery investigation involving President Park Geun-hye, who has been impeached.
Cho's ruling did not exonerate Lee and appeared to leave open the possibility that a future arrest could be sought. Given the "contents of the investigations up to this point," Cho wrote, "at this current stage it is difficult to accept the grounds, necessity and reasonableness of detainment."
Samsung issued a terse statement saying: "We appreciate the fact that the merits of this case can now be determined without the need for detention."
The ruling was certainly a relief for the company. But regardless of how Cho had ruled, analysts said the allegations against Lee are unlikely to deeply harm his brand's main global business: selling useful devices to consumers.
"Because they are very tilted to the consumer business, I don't think this is going to have any impact at all," said Patrick Moorhead, president and principal analyst Moor Insights and Strategy, a technology industry analyst firm. "Samsung's senior leadership is not directly related to the global brand."
Samsung, by far South Korea's largest company, may be best known as the world's top smartphone manufacturer, but it also is involved in life insurance, shipbuilding, medicine and more.
Lee, the grandson of Samsung's late founder, holds the title of vice chairman but is considered the top executive and heir apparent at Samsung. Prosecutors had sought his arrest on charges that he improperly directed about $36 million to firms associated with a confidant of Park.
Prosecutors leading the sprawling investigation into a power abuse scandal that has upended South Korea's political scene have accused Lee of facilitating a bribe to the president's longtime friend, Choi Soon-sil, who has been jailed amid allegations that she used her influence with Park to meddle in state affairs and extort funds from companies for personal gain.
In Samsung's case, prosecutors allege that the funds were an effort to obtain approval for a controversial merger between two Samsung Group affiliates, an effort seen by some as a move to solidify Lee's dynastic control of the company.
Prosecutors had sought his arrest after summoning Lee, 48, for a marathon questioning session — a process that forced the publicly reserved corporate executive to face a mass of reporters. "I am deeply sorry, and I apologize to the Korean people for failing to put our best face forward due to this incident," he said.
Samsung officials reject the idea that the company contributed funds to receive favors, taking issue, in particular, with the suggestion that Lee's succession or a merger were involved. "We believe the court will make the appropriate judgment on this matter," said Rhee So-eui, a company representative.
Lee's lawyer, Song Woo-chul, had appeared confident about his client's fate after the hearing. "We are certain the court will make a wise decision," he said.
Bringing the charges was no small step for the prosecution because of Samsung's dominance in South Korea. Prosecutors have also signaled they will target Park if her impeachment is upheld by a constitutional court. The president has denied acting illegally but has so far declined to cooperate personally with investigations — both legal and political — into her conduct. Several other people in her orbit have been arrested in the investigation.
In an economy that is still heavily driven by exports, Samsung's products account for about 20% of South Korea's exports and a significant share of its gross domestic product.
Serving justice is far more important than the impact the arrest could have on the national economy.
— Lee Kyu-chul, spokesman for the prosecution
Although the case has dominated the news in South Korea, the company's electronics business — the main driver of its global presence — marches forward. Tens of millions of its ubiquitous smartphones, for example, still ship each quarter.
The company, of course, faces other challenges that industry analysts say are more daunting. Last year, Samsung faced the specter of recalling its Galaxy Note 7 smartphone — thought of initially as a solid iPhone competitor — after some caught fire. It's also faced controversy about washing machines that had mechanical problems.
Such tangible issues, which has even led to late-night comedy jokes in the United States, are much more important to worldwide consumers than South Korean political intrigue surrounding the influence scandal that one of the country's leading family-owned conglomerates, known as a chaebol, finds itself enmeshed in.
"There is a gap between what every Korean knows, and what everyone outside of Korea knows," said Avi Greengart, who directs consumer device research at Current Analysis, an industry firm. "I would argue that the scandals around product matter far more to Western consumers than political corruption and corporate structure."
Some local experts remain confident of the company's short-term prospects, despite the recent hiccups.
The broader political scandal unfolding in South Korea, which could ensnare other chaebol leaders who have admitted a connection to the president's confidant, might also lead policymakers here to seek regulatory changes. The prosecutors on Wednesday said they would still investigate other companies' roles in the scandal, regardless of the outcome with Lee.
The leaders of such conglomerates — who, with government acquiescence, have lifted the country's economy from the ashes of the Korean War and transformed it into an Asian powerhouse — have long been given a measure of immunity from legal accountability. Many have been charged with misdeeds only to receive presidential pardons or light sentences in the name of economic progress.
Some observers wonder whether that economy-first sentiment is as resonant today with South Koreans, many of whom are struggling with income inequality, high household debt — and, of course, a frustration with the political system. In this case, prosecutors acknowledged weighing the economic effect of their charges.
Still, the prosecution's spokesman, Lee Kyu-chul, said, "Serving justice is far more important than the impact the arrest could have on the national economy."
Stiles is a special correspondent
ALSO
The Chinese zodiac says Jan. 20 is not an auspicious day to inaugurate anything
Search for missing Malaysian Airlines Flight 370 ends after nearly 3 years
Two countries, one economy: A Mexican town whose chief earners are in the U.S. worries what happens if they're sent home
---
UPDATES:
3 p.m.: This article has been updated throughout with the judge turning down the warrant request.
This article was originally posted at 7:40 a.m.
---
Must-read stories from the L.A. Times
Get the day's top news with our Today's Headlines newsletter, sent every weekday morning.
You may occasionally receive promotional content from the Los Angeles Times.