South Korea's newest menace: 'Smartphone zombies'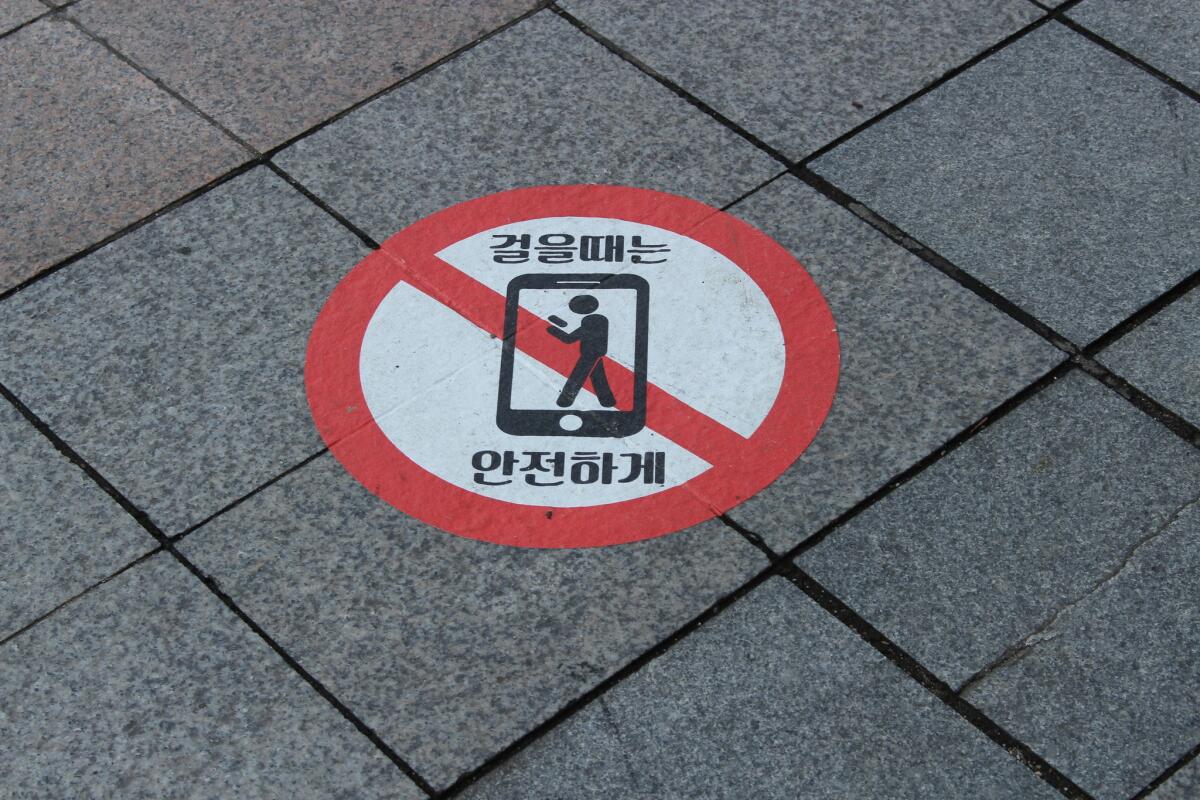 Reporting from Seoul —
Bae Min emerged from the subway station with his head bowed and eyes glued to his smartphone. As he scrolled through news alerts on his morning commute, he shuffled right past a white sticker on the ground a few feet from the exit.
The sticker showed a person looking down at a handheld phone, accompanied by Korean text that translates as "Walk safely." The sticker is meant as a caution to people like Bae, who walk around focused not on their surroundings, but on their glowing handheld devices.
On South Korean social media, such folks are called "smartphone zombies." Recently, the Seoul city government started to putting up warning signs for smartphone users, seeking to communicate that, if they don't look up, they could collide with another pedestrian, or wander into the street and get run over.
One of the warnings is the sticker put on the ground, where pedestrians engrossed in their phones are more likely to see it. The other is a sign put up on traffic lights, in bright red and yellow, featuring a person walking into a moving car.
Dressed in a dapper dress shirt and khaki trousers, Bae said he didn't notice the warning on the sidewalk. "I think it's a good idea though," said Bae, who is in his late 20s, while on his way to his job at a television network. "Nowadays people don't really pay attention, and there's the danger of accidents."
Weighing on the minds of policymakers have been shocking videos that have circulated on the Internet of South Korean pedestrians getting hit by cars while using their smartphones. In one widely viewed video, a driver turns a corner and, at fairly high speed, hits an unsuspecting young man who was looking down at his phone while jaywalking. The video, taken from the driver's dashboard camera, shows the pedestrian's body shatter the car's windshield; it ends with him lying in the road writhing in pain.
Use of smartphones has exploded in South Korea in recent years, and the country now has the world's highest rate of smartphone ownership, with 88% of adults having one. The Korea Transportation Safety Authority, a government body, says that as the rate of smartphone use has increased, there has also been a rise in the number of pedestrians involved in road accidents.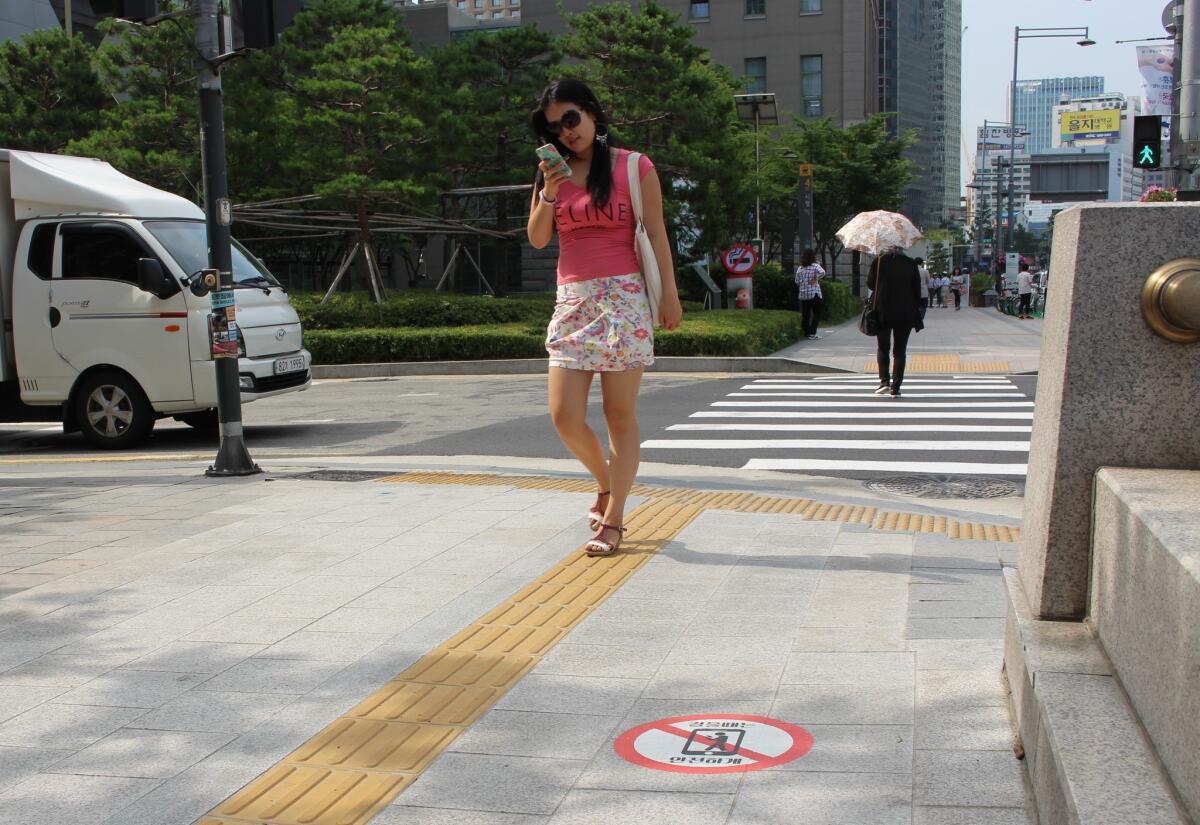 Government statistics show that the number of traffic accidents involving smartphones more than doubled from 437 in 2009 to 1,111 in 2014. However, it's impossible to know how many of those accidents involved pedestrians.
South Korea's population density means people sometimes can't help but bump into each other; the country has roughly 1,200 people per square mile (the United States, by comparison, has about 85 people per square mile).
Seoul is far from the being the only city in the world seeking measures to protect the growing numbers of people texting or playing games while walking along city streets. In Stockholm, artists put up red and yellow traffic signs warning of people looking at their phones while walking.
See the most-read stories in World News this hour »
The town of Fort Lee, N.J., slaps anyone caught texting while crossing the street with a $54 fine. In Antwerp, Belgium, authorities created a special lanes on pedestrian walkways for people who are texting while on the move. At train stations in Japan there are signs warning smartphone users not to fall onto the tracks.
Back in Seoul, Jung Joon-woo, 35, came out of another nearby subway station exit, peering down at his smartphone as he veered slowly from one side of the sidewalk to the other. He, too, missed the warning sign on the ground as he passed.
When it was pointed out to him, he smiled, bowed slightly and said, "I'll walk safely," as he turned to leave. He almost immediately went back to looking at his phone.
Borowiec is a special correspondent.
ALSO
Ramshackle South Korean island faces a threat more urgent than North Korea
How a South Korean entrepreneur plans to take on American and Chinese gaming giants
A woman's slaying in Seoul's tony Gangnam district stirs emotions in South Korea
Sign up for Essential California for news, features and recommendations from the L.A. Times and beyond in your inbox six days a week.
You may occasionally receive promotional content from the Los Angeles Times.