North and South Korea break ground on linked railway despite sanctions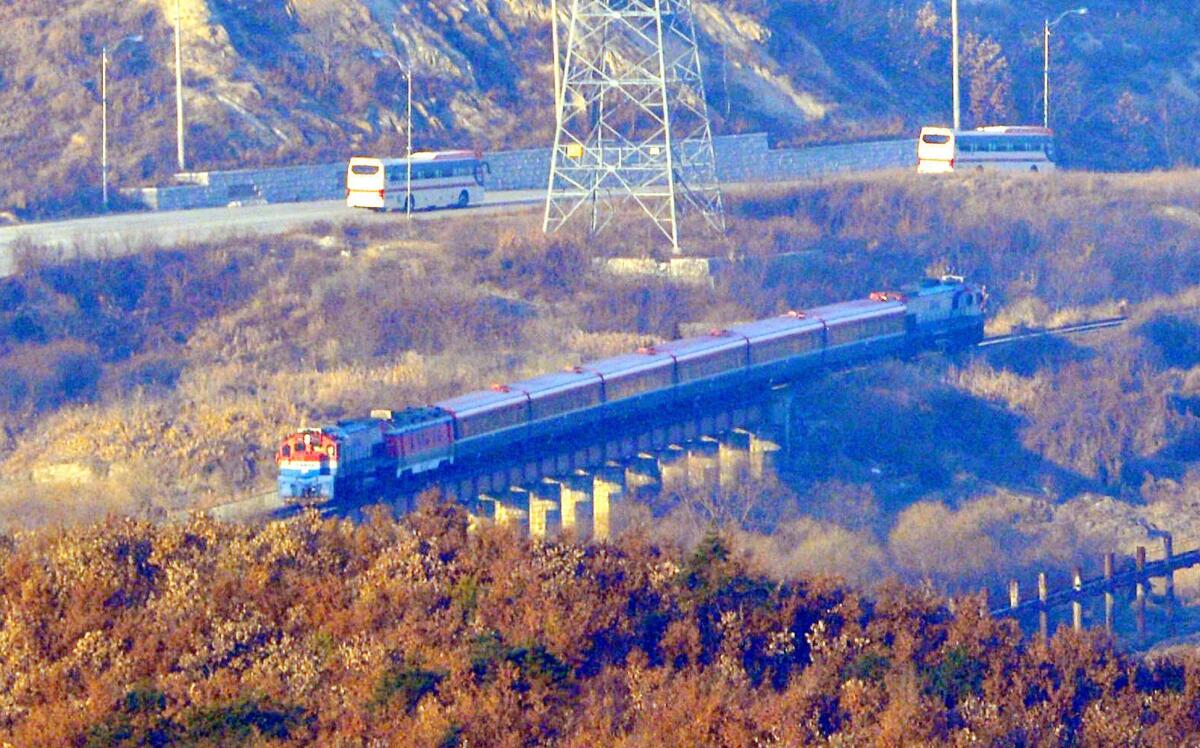 Reporting from Seoul —
The train ride across the heavily fortified border took all of 27 minutes.
The train departed from South Korea's Dorasan Station, just outside the demilitarized zone dividing South and North Korea, around 8:29 a.m. Wednesday.
It arrived at Panmun Station on the North Korean side at 8:56 a.m. That was in spite of the fact that the train noticeably slowed as it neared North Korea, presumably due to disrepair on tracks that have sat unused for a decade.
The short travel time belied the torturous path the Koreas have taken over the past decades in their bid to reconnect railways and roads between two nations still technically at war, and the numerous hurdles that still lie ahead.
The nine-car train carried a host of South Korean unification and transportation officials, traveling north for a largely ceremonial groundbreaking on a railway that officials said they hoped would one day ferry people and goods by land from South Korea all the way to Western Europe — through North Korea and across China or Russia.
"We know that linking the railways and roadways is much more than just a physical connection," South Korean Transportation Minister Kim Hyun-mee said at the ceremony, according to prepared remarks provided by the government. "The railways will not only cut down on time and space, but also the distance between the hearts of North and South Korea."
South Korea received exemptions from U.N. sanctions — designed to pressure North Korea to relinquish its nuclear weapons — to survey conditions and hold Wednesday's ceremony. But any significant progress to update the railways and resume regular train service is likely out of the question until the U.S.-enforced sanctions are rolled back.
Connecting the railways was one of the first pledges announced by South Korean President Moon Jae-in and North Korean leader Kim Jong Un when they first met in April.
In the months since, both in domestic addresses and before the U.N. General Assembly, Moon has touted connecting the railways as the first step to forming what he termed the East Asian Railroad Community — something he said would integrate North Korea into the regional economy and bring all-around prosperity and peace.
This is not the first time the Koreas have sought to link up the rail systems severed during the Korean War. A former South Korean unification minister noted that Wednesday marked the third time officials broke ground on railroad projects, following similar ceremonies in 2000 and 2002.
Trains regularly operated across the border for about a year from late 2007 to 2008, before North Korea abruptly shut down the service in protest of a shift in South Korean policies. Ever since, Dorasan Station has sat deserted, serving only as a stop for tourists on their way to the DMZ.
The continued entreaties by South Korea to engage its neighbor come as concern mounts in Washington that the warming of relations is speeding ahead despite stalled talks between the U.S. and North Korea. Korea observers in D.C. have cautioned that South Korea's eagerness to improve relations between the Koreas could drive a wedge between Washington and Seoul.
A North Korean official, speaking at Wednesday's ceremony, hinted at those tensions.
"The success of the North-South Korea rail and road projects is dependent on our willpower and determination," Vice Minister of Rail Kim Yun Hyok said, according to pool reports. "If we waver based on others' views, we will never be able to realize the unification and union that our people want."
Also present at the ceremony in Kaesong, North Korea, were Chinese, Russian and Mongolian dignitaries, who expressed support for the project.
Conservatives within South Korea have criticized the project as running counter to efforts to get North Korea to denuclearize. Before the train departed Seoul Station early Wednesday en route to Dorasan Station, a small group of about 10 protesters held up signs decrying the rail project, referring to Kim Jong Un as a "murderous dictator," according to pool reports.
Even if the project were to get past political opposition, there's also the matter of cost: updating more than 3,000 miles of tracks in North Korea, which Kim Jong Un admitted were in an "embarrassing" state, is expected to run in the hundreds of millions of dollars at minimum. South Korean officials have said they expect to foot the bill using North Korean labor and materials but that costs will be recouped once the trains are up and running.
The connected railways could ultimately bring significant economic benefits throughout the region, said Cho Bong-hyun, deputy director of Seoul-based IBK Economic Research Institute.
"We can transport what we used to move by sea by train. It'll cut the time and cost in half," he said. "The economic impact will contribute to peace."
ALSO
More naughty than nice: In South Korea, motels, condoms and the pill are in hot demand for Christmas
U.S. has little to show for stalled nuclear talks with North Korea
I grew up within striking distance of North Korea's artillery. Covering Kim's summit with Trump was sobering and personal
Follow me on Twitter @vicjkim
Sign up for Essential California for the L.A. Times biggest news, features and recommendations in your inbox six days a week.
You may occasionally receive promotional content from the Los Angeles Times.