U.S. professors protest Indian Prime Minister Narendra Modi's Silicon Valley visit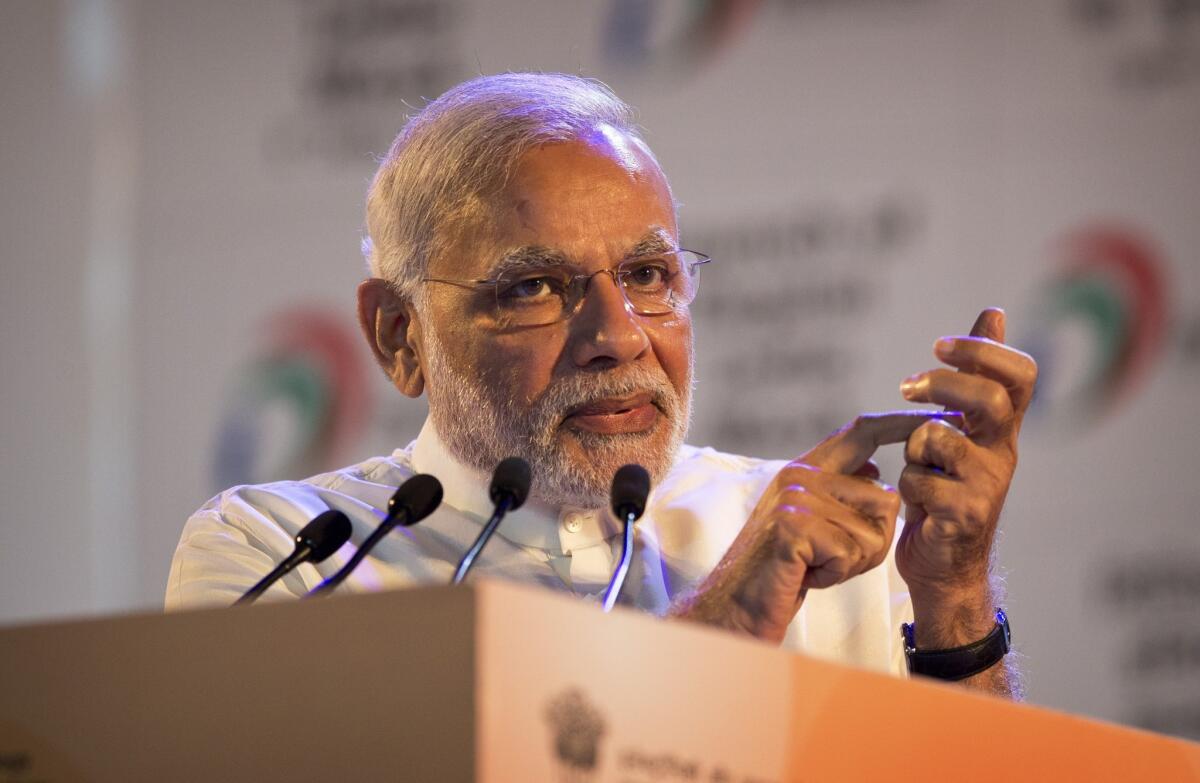 Reporting from Mumbai, India —
More than 100 academics from major American universities have issued a scathing critique of Indian Prime Minister Narendra Modi ahead of his visit to Silicon Valley and warned U.S. technology executives against supporting his Digital India initiative.
A letter sent last week to leaders of Silicon Valley tech companies said Modi's initiative — which seeks to expand Internet access and develop online tools to improve government performance — lacks adequate privacy protections and could impinge on Indians' rights.
But the letter goes further by accusing Modi's conservative government of authoritarian practices, including harassing critics, clamping down on advocacy groups, meddling with academic institutions and denying foreign scholars entry into India for conferences.
See the most-read stories this hour >>
"We urge those who lead Silicon Valley technology enterprises to be mindful of not violating their own codes of corporate responsibility when conducting business with a government which has, on several occasions already, demonstrated its disregard for human rights and civil liberties, as well as the autonomy of educational and cultural institutions," the letter said.
The letter also raises an uncomfortable episode from Modi's political past: the religious riots that occurred in the western state of Gujarat in 2002, when he was the state's chief executive. Modi was denied a U.S. visa for a decade following the violence that killed hundreds, mainly Muslims, while state security forces were slow to intervene.
Months after taking office as prime minister, Modi visited New York last fall and delivered a speech to more than 20,000 people at Madison Square Garden, organized by Indian Diaspora groups. It was a triumphal moment for Modi, who is scheduled to give a similar address to an audience of Indian Americans in the Bay Area in late September.
NEWSLETTER: Get the day's top headlines from Times Editor Davan Maharaj >>
While Modi has not been charged with wrongdoing in the Gujarat violence, the state's high court will hear a case this month that accuses Modi and his state security services of failing to suppress the pogroms.
The letter was signed by scores of professors, mainly liberal arts scholars and South Asia specialists at universities, including Harvard, Stanford and USC. Among them is Wendy Doniger, a University of Chicago divinity professor whose recent book on Hinduism was taken off the shelves in India because religious conservatives objected to her account of the country's dominant faith.
It is not the first time U.S. academics have expressed concerns over Modi's record. In 2013, Indian American faculty members at the University of Pennsylvania led an effort to cancel a speech Modi was scheduled to give by video at a conference hosted by the prestigious Wharton business school.
Two English professors who helped spearhead that drive, Ania Loomba and Suvir Kaul, also signed the letter sent last week.
Modi is expected to address the United Nations General Assembly on Sept. 24 in New York before traveling to the Bay Area for a visit aimed at attracting investment in technology and electronics manufacturing in India.
Modi's digital governance efforts, including plans to give every Indian a bank account, hit a snag last month when the country's supreme court imposed limits on the use of Aadhaar, a biometric identification system that assigns each Indian a unique 12-digit number. The court ruled that the government could not make it mandatory for citizens to obtain an Aadhaar card, pending a broader decision on whether the biometric system violates Indians' privacy rights.
Although the Aadhaar program predates Modi's digital push, the U.S. academics cited fears that such systems "will be used to enhance surveillance and repress the constitutionally protected rights of citizens."
Modi's supporters have accused his liberal critics of indulging in paranoia and impeding efforts to improve Indians' lives.
"What we are witnessing is the willingness of an intellectual diaspora to actually wage war on India's development," commentator Swapan Dasgupta wrote in the Daily Pioneer newspaper. "From political opposition to Modi, they have moved to sabotaging India in the world."
For more news from India, follow @SBengali on Twitter
ALSO:
India allows Jains to continue fasting until death

China is rattling nerves as it prepares to strut its military might
China and Russia are using hacked data to target U.S. spies, officials say
Sign up for Essential California for news, features and recommendations from the L.A. Times and beyond in your inbox six days a week.
You may occasionally receive promotional content from the Los Angeles Times.