'Jacindamania' sweeps New Zealand as it embraces a new prime minister, Jacinda Ardern, who isn't your average pol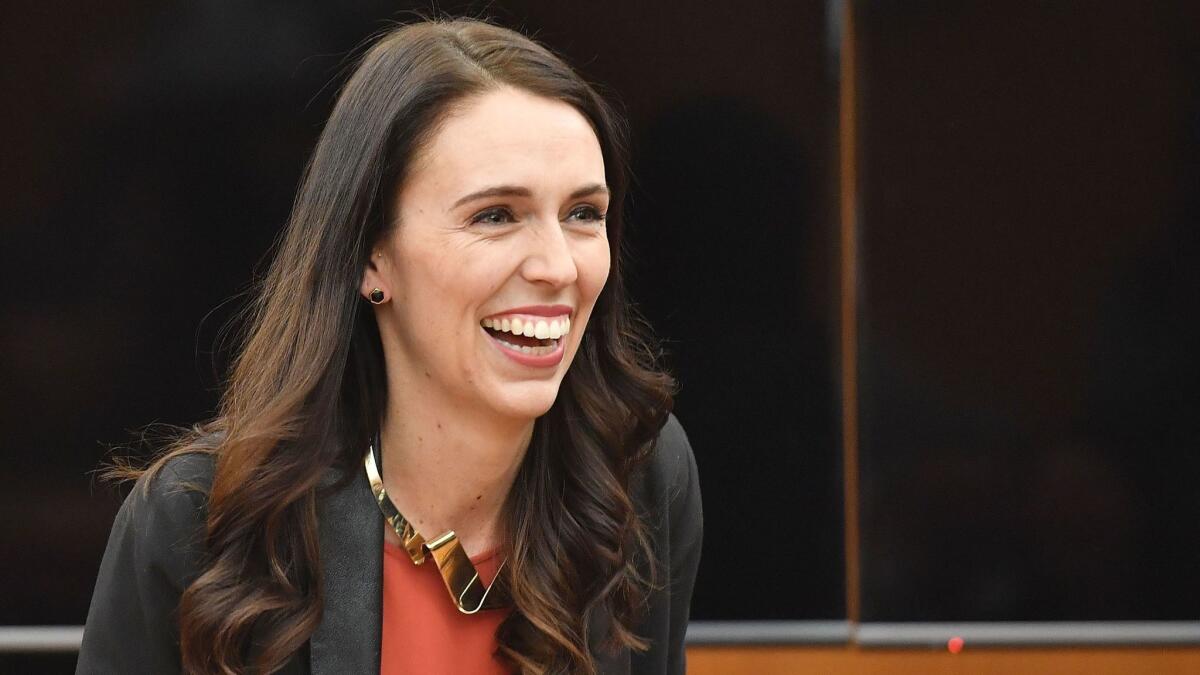 Reporting from Wellington, New Zealand —
New Zealanders call their seat of power the Beehive, a sparkle of Kiwi humor for a spiraling concrete building that looks exactly as it sounds. On the ninth floor, the country's leader greets visitors in an unassuming office with posters of women in wartime and a view of the Wellington harbor.
"I'm Jacinda," she says, extending her hand.
The calm belies a movie-worthy first 100 days for Prime Minister Jacinda Ardern, who in October, at 37, became the world's youngest female leader.
Ardern took control after jumping into the race seven weeks before the vote. She formed a coalition government of rivals, akin to Bernie Sanders sharing power with Ted Cruz. Then, in January, Ardern announced her pregnancy — which means later this year she'll become the only elected world leader besides the late Pakistan Prime Minister Benazir Bhutto to give birth in office.
She rose to power on a platform of positivity and optimism, more in line with Canadian Prime Minister Justin Trudeau than President Trump. It's not just her age or pregnancy that has sparked the rush of adulation known as "Jacindamania." It's her message. Ardern offers a vision of hope for liberal democracy in a region where those values face a resurgent threat and America's role is shrinking.
"It's about us ultimately being responsive," said she in an interview with The Times. "Seeing what change is bringing and acknowledging the needs there are and doing something about it."
Ardern begins her tenure at a precarious time for the Asia Pacific region, and the world. China — New Zealand's largest trading partner — just announced it would abolish term limits, setting up President Xi Jinping to stay in power indefinitely and wield greater control. Strongman leaders in the Philippines and Cambodia threaten to unravel fledgling democracies. Trump has pulled the U.S. out of a global climate change agreement and the massive trade deal known as the Trans-Pacific Partnership.
When Trump met Ardern at a summit in Vietnam last November, he noted that her surprise win caused "a lot of upset in her country."
She chuckled and replied: "No one marched when I was elected."
Ardern has helped craft a new version of the trade deal. She trumpets the need to combat climate change and is reinforcing the country's commitment to reduce nuclear weapons internationally, even as Trump calls for the U.S. to build more. (New Zealand is a nuclear-free zone by law and Ardern recently reinstated a Cabinet post focused on disarmament.)
"We feel quite proud that she is leading us, in comparison to the rest of the world," said Ruby Topzand, 22, a communications student at Massey University's Wellington campus. "She's the rebellion."
Ardern wasn't even supposed to be in the election — at least not this one.
Last March, she took over as deputy leader of the Labor Party. By July, its head, Andrew Little, announced his resignation amid record-low poll ratings. That left Ardern to dive in mid-race and duke out a victory for Labor against the conservative, longtime incumbent National Party. Ardern's slogan sprang from one of her social media sign-offs: "Let's do this."
Neither side won enough seats for a majority government, so the decision about the country's future came down to the grouchy, anti-immigration leader of the New Zealand First Party, Winston Peters. (He became deputy prime minister and foreign minister as part of the deal.) Ardern told reporters she celebrated her win by heading back to her Wellington studio apartment and eating a "pot of noodles."
Ardern, whose partner is fishing show host Clarke Gayford, discovered she was pregnant six days before learning she would become New Zealand's third female prime minister.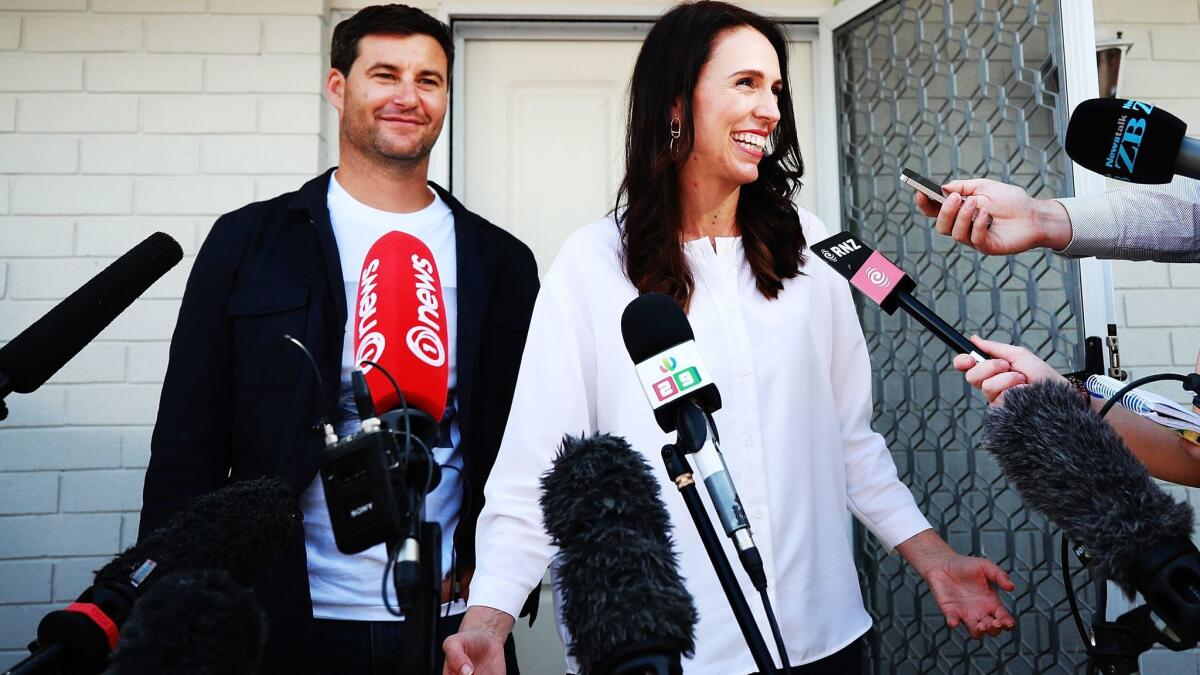 "I certainly didn't set out to necessarily do any of these things in this order," said Ardern, flashing one of her wide, trademark smiles. "But I'm determined that people see that the trade-offs that women have been asked to make in the past don't have to be."
Her new role has drawn global attention to this former British colony: a congratulatory letter from Hillary Clinton, a Vogue photo shoot, an Australian interviewer who wanted to discuss her baby's conception. (She had said earlier that the pregnancy was unexpected; the couple thought they would need medical help to conceive.)
"In one way, I'm lucky because I didn't have a choice," Ardern told The Times. We didn't sit at home and say, 'Who is going to quit their job?'"
Ardern announced her condition on Twitter, saying Gayford would be "the first man of fishing & stay at home dad."
A Scotch lover, Ardern used to have a nose piercing and occasionally DJs. She won fans worldwide when, during the campaign, a radio show host asked if she planned on having children. Ardern said she could respond, but pointed a finger at him. "For other women, it is totally unacceptable in 2017 to say that women should have to answer that question in the workplace," she said.
People started crafting tote bags and internet memes. Jacindamania had begun.
"She's captured the imagination of a lot of women out there who might have political ambitions," said Jennifer Curtin, a University of Auckland professor who researches women in politics. "I wouldn't like to say Trump and Brexit gave her a halo, but her relentless positivity was able to give her more traction."
New Zealand — with a population under 5 million and incredible natural beauty — is often cast as paradise at the bottom of the world. The post office conducts a national Secret Santa gift exchange. Airport signs tell travelers to relax. Even the sheep look happy.
But Ardern faces a less serene reality. Housing prices rank among the highest in the world. Homelessness is the worst among developed countries. Signs on farmhouses warn against child abuse.
Ardern named inequality and child poverty as priorities for her administration. Last month, she became the country's first prime minister to march in a gay pride parade. But she must also find common ground with a coalition diametrically opposed to her on many issues. As one of her first dealmaking moves, Ardern outlined a plan to ban foreign homebuyers.
Peters, her right-leaning deputy, said it meant New Zealand "was no longer for sale." She said it followed through on a promise to lower spiking property prices and equalize opportunity.
"We have a real duty and responsibility to make sure that everyone has their basic needs met," she said in an interview. "Because when you have your basic needs met, that's when you can really find your own path and fulfill your potential."
Not all embrace her progressive politics — even in Morrinsville, the North Island dairy farm town where Ardern spent much of her childhood. The main street is filled with cow sculptures and old timey shops like the Golden Kiwi, a fish and chips takeaway where Ardern worked as a teenager.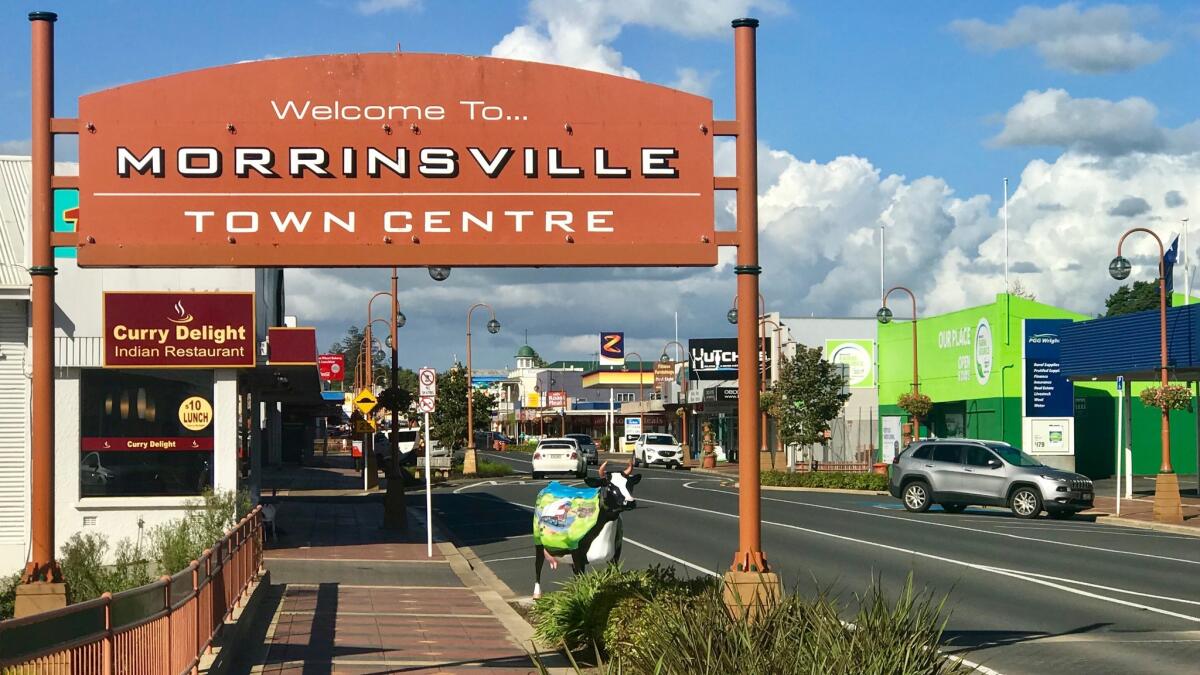 "Some people have asked me if I'm a radical," Ardern said in her 2008 introductory speech to Parliament. "My answer to that is simple. I'm from Morrinsville."
Ardern's father worked as a police officer, her mother as a school cafeteria employee. She grew up in the Mormon church, although, vexed by its conservative beliefs on sexuality and feminism, she left it in her early 20s.
She was "very socially aware of the plight of many New Zealanders and also people around the world," said John Inger, the principal of Ardern's high school. She still visits.
Ardern founded an Amnesty International group there, he said, and led a successful campaign to allow women to wear pants instead of skirts. She rocked public speaking competitions. In 1998, Ardern's high school classmates voted her most likely to become prime minister.
She studied politics and public relations at a nearby college and spent a semester at Arizona State University, where she watched America grapple with the aftermath of the 9/11 attacks.
Ardern's path to politics went through New York; she volunteered for a workers' rights campaign and assisted in a soup kitchen. She served as a researcher for former New Zealand Prime Minister Helen Clark and a policy advisor for former British Prime Minister Tony Blair before entering the New Zealand Parliament in 2008. She was 28.
"My passion for social justice came from what I saw," she said in her introductory speech. "My love of politics came when I realized that it was key to changing what I saw."
Conservatives label her allure "stardust." Ardern, to some, is not a refreshing breath of sincerity and openness — "I've probably been an over-sharer" — but an untested, dangerously naive social democrat driven by idealism.
She ignores them.
"It's just for us to do our bit, regardless of what anyone else is doing," she said, before returning to her desk and the day that awaited. "I hope all the international community finds the path to make its contribution. That doesn't change our duty."
ALSO
Australia and U.S. work to repair relationship after early Trump thrashing
At Japan's suicide cliffs, he's walked more than 600 people back from the edge
Upset over a U.S. missile defense system, China hits South Korea where it hurts — in the wallet
Meyers is a special correspondent.
Twitter: @jessicameyers
ALSO
China proposes to scrap presidential term limit, clearing way for Xi Jinping to stay in power
A look at China's pervasive attempt to exert its influence around the world
Australia and U.S. work to repair relationship after early Trump thrashing
Sign up for Essential California for the L.A. Times biggest news, features and recommendations in your inbox six days a week.
You may occasionally receive promotional content from the Los Angeles Times.