North Korea detains another U.S. citizen amid rising tensions, state media reports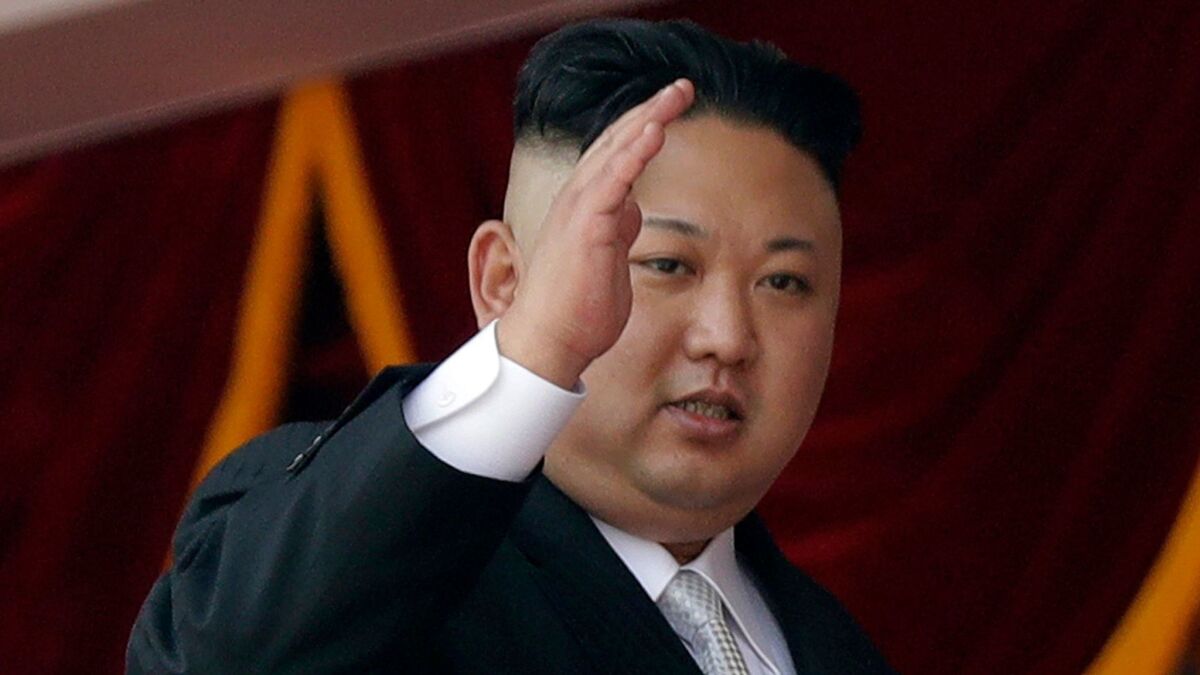 Reporting from Beijing —
North Korea claimed it detained another U.S. citizen on Sunday, stoking further discord as the two countries face their biggest tensions in years.
The North's state media said Kim Hak-song, who worked at Pyongyang University of Science and Technology, was arrested on Saturday on charges of "hostile acts" against the country. This would bring to four the number of U.S. citizens held by the reclusive nation.
"The relevant authority is currently carrying out a detailed investigation into the crime of Kim Hak-song," the Korean Central News Agency said. The KCNA report did not specify the nature of the "hostile acts" or offer any further information about Kim.
Officials confirmed Wednesday they also were holding an accounting instructor tied to the school, which was founded by evangelical Christians in 2010. They said Kim Sang-duk, who also goes by the name Tony Kim, was arrested at the Pyongyang airport for "hostile criminal acts" intended to subvert the country.
State media did not say whether the two detentions were connected.
A State Department official said the government was aware of reports about the arrest and considers the security of U.S. citizens one of its "highest priorities." The department declined to comment further, citing privacy considerations.
Because the U.S. has no embassy in North Korea, Sweden assists with consular matters involving American citizens.
North Korea last year sentenced University of Virginia student Otto Warmbier to hard labor after officials accused him of trying to steal a propaganda sign from a Pyongyang hotel. It also sentenced Korean American businessman Kim Dong-chul to 10 years of hard labor for espionage charges.
Officials have held Canadian pastor Lim Hyeon-soo since 2015.
The latest arrest came days after American officials pressed the United Nations for stronger sanctions to thwart North Korea's nuclear weapons ambitions. The U.S. also recently directed an aircraft carrier strike group toward the Korean peninsula.
"Failing to act now on the most pressing security issue in the world may bring catastrophic consequences," Secretary of State Rex Tillerson told the United Nations Security Council in late April.
North Korea tested two ballistic missiles in recent weeks, both of which were flubs.
The country is trying to build a nuclear-tipped missile that could reach the U.S. and, according to analysts, soon may conduct its sixth nuclear test.
Both countries have heightened their rhetoric in recent weeks.
President Trump last month warned of the potential for a "major, major conflict" with the isolated nation and has not ruled out military action.
North Korea on Friday accused the CIA of attempting to assassinate leader Kim Jong Un using a biochemical substance. The country's Ministry of State Security said in a statement that the spy agency bribed a North Korean man named Kim to carry out the deed.
The statement said North Korea recently "uncovered and smashed" a "heinous crime" that is a form of terrorism and "an act of mangling the future of humankind."
North Korea's media, which enjoy bluster and strongman rhetoric, also have taken a rare swing at China — its main economic benefactor. China suspended coal imports from North Korea this year, and its state media have warned of stronger sanctions should North Korea attempt another nuclear test.
A commentary released last week by KCNA called these "reckless remarks" and warned such antagonism could trigger "grave consequences."
Sunday's claim of detention follows the April 22 arrest of Kim Sang-duk, a former accounting instructor at Pyongyang University of Science and Technology, the KCNA report said. It said he was intercepted at Pyongyang International Airport "for committing criminal acts" to overthrow the North's government.
The Pyongyang University is the only privately funded university in North Korea and is unique for having a large number of foreign staff.
Washington, Seoul and others often accuse North Korea of using foreign detainees to wrest diplomatic concessions, which in recent years have involved high-profile American missions sent to secure the release of the Americans.
North Korea's announcement of the detentions comes amid tensions over fears that Pyongyang is preparing another round of nuclear or missile tests and comments. Trump has further heightened animosity by saying he isn't ruling out military action against the North, although the president also has said he would be willing to talk with Kim Jong Un under the right circumstances.
Times staff writer Laura King in Washington contributed to this report.
Meyers is a special correspondent.
Twitter: @jessicameyers
ALSO
In a rare direct criticism, North Korea says China's 'reckless remarks' are testing its patience
Here's what's driving North Korea's nuclear program — and it might be more than self-defense
Passing 100-day mark, Trump offers mixed signals on healthcare, taxes and North Korea
---
UPDATES:
10 a.m.: This article has been updated throughout with staff reporting.
This article was originally published at 6:50 a.m.
Must-read stories from the L.A. Times
Get the day's top news with our Today's Headlines newsletter, sent every weekday morning.
You may occasionally receive promotional content from the Los Angeles Times.