Trump tweeted that China is 'trying hard' to handle North Korea. That's a generous way of looking at it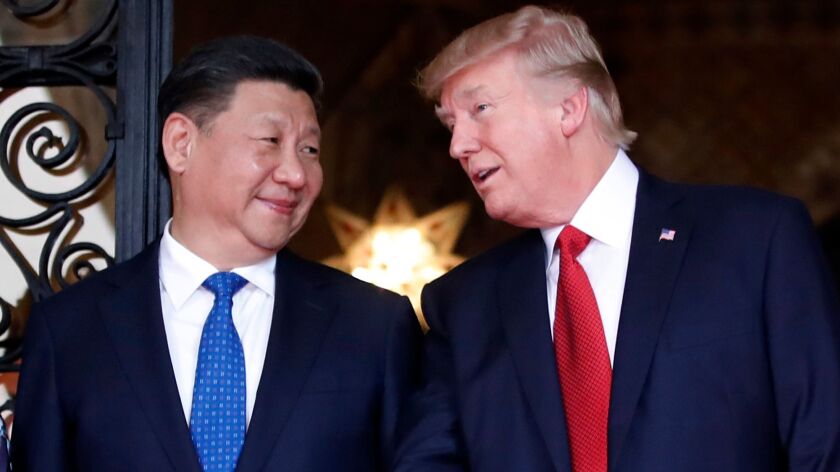 Reporting from BEIJING —
The narrative is becoming familiar. North Korea test-fires a missile; the White House issues a vaguely worded threat; and the cycle of tensions continues unabated.
On Monday morning, North Korea test-fired a ballistic missile, its third in as many weeks.
The projectile flew for six minutes, then landed in the waters near Japan.
Then President Trump took to Twitter.
With so much else in the American political news cycle — deadly stabbings in Portland, Ore., Trump's meetings in Europe, the FBI's inquiry into Trump's possible Russia ties — the tweet has gotten lost in the mix. Yet if the president's words are to be taken at face value, they may suggest a misreading of the rapidly evolving situation in Northeast Asia.
Here's what's been happening, and why Trump's response may have been overly optimistic.
Trump implies that China has been trying to rein in North Korea. There's not a lot of evidence to support that idea
The first thing to know is that the fundamentals of China's relationship with North Korea haven't changed in years. China is North Korea's only major ally and trading partner; it has abetted the country's leadership for decades. Above all, China desires stability on the Korean peninsula — a political crisis in Pyongyang could send countless refugees into northeastern China and push a U.S.-friendly united Korea up to Beijing's doorstep.
The Trump administration has leaned on China — and especially its president, Xi Jinping — to dissuade North Korea from developing its nuclear program. "We don't know whether or not they're able to do that, but I have absolute confidence that he will be trying very, very hard," Trump said in April, after meeting with Xi.
And some signs have been positive. China announced in February that it would ban North Korean coal imports — which account for 40% of the country's total exports to China — for the rest of 2017, in line with existing United Nations sanctions. Chinese experts have said that Beijing could halt crude oil exports to North Korea should Pyongyang test a nuclear weapon (it has carried out five nuclear tests since 2006 and could soon conduct another).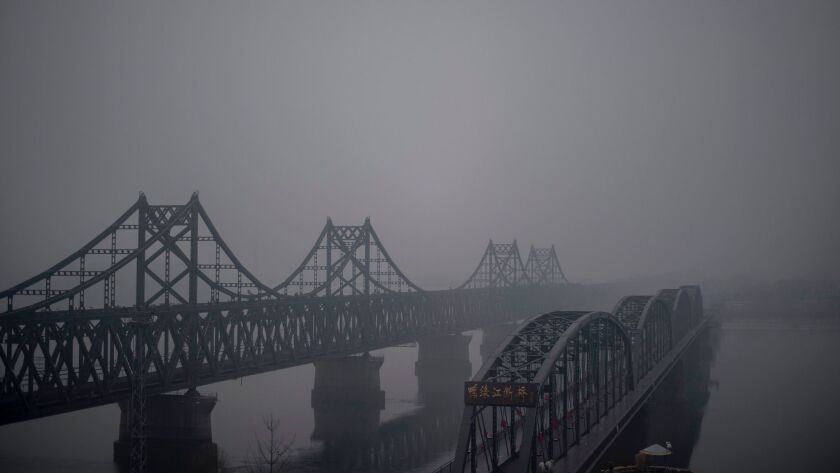 Yet the picture is far from clear. Visitors to the Chinese-North Korean border have witnessed coal trucks crossing, suggesting that the ban hasn't been fully implemented. North Korea's exchange rate has held stable, suggesting that its economy hasn't taken a dive. And China's trade with North Korea grew nearly 40% in the first quarter of the year, according to Chinese official figures.
Maybe Trump is "trying to shame, or guilt, or flatter Xi into doing something," said Robert Kelly, a professor of political science at Pusan National University in Seoul. "But the Chinese are craftier than that. They're playing the long game on this one — they're thinking of the next 20 or 30 years. That's why this stuff isn't going to work — it's not how the Chinese make these kinds of decisions."
What about Japan?
Last week, during a visit to Brussels, Trump declined to affirm NATO's Article 5 — the organization's mutual-aid clause, which states that an attack on a member state is an attack on all. European leaders were unsettled. German Chancellor Angela Merkel later said that "the times when we could completely rely on others are, to an extent, over," underscoring the extent to which Trump's rhetoric has damaged at least one traditional U.S. alliance.
Experts say the same could be happening in East Asia, where the U.S. has traditionally played a crucial role in defining the relationships between its allies (Japan, South Korea) and China and North Korea. North Korea's latest test missile landed in Japan's "exclusive economic zone," a maritime buffer zone off its shores. Tokyo reacted angrily, saying that the launch violated United Nations Security Council resolutions.
Now, with Trump declining to publicly stand up for a historical U.S. ally, "people are thinking the Merkel thought — just change the names and the places," said Daniel Pinkston, an international relations expert at Troy University in Seoul.
"Merkel's saying we don't have to count on the U.S., and we have to go it alone — and now, in this part of the world, we can't count on the U.S. either," he continued. South Korea and Japan "have the potential to enter into a vicious arms racing spiral. And these kinds of statements just aren't supportive, or don't help to mitigate those types of dangers."
Washington doesn't seem to have a coherent strategy
Trump's Washington — and even the president himself — seems divided over how to handle the North Korea crisis. Trump has suggested the use of force against North Korea, then said that he'd meet with North Korean leader Kim Jong Un under the right circumstances. "There is a chance that we could end up having a major, major conflict with North Korea," he told Reuters in April. Defense Secretary James N. Mattis said Sunday that an armed conflict with North Korea would be "catastrophic."
Even throughout the Republican Party ranks, there seems to be no consensus that China is, indeed, trying hard to rein in its northeastern neighbor. "Every time we hear from a Chinese official, it's 'Well, we don't have the leverage that everybody thinks we have,'" said Sen. Cory Gardner (R-Colo.), who met with South Korean officials on Tuesday in Seoul. "The answer is they have tremendous leverage."
Gardner said he wants the Trump administration to confront China with a list of its residents who have violated United Nations sanctions. He said many of them are still doing business with North Korea, particularly in banking.
Meanwhile, Gardner said, China benefits as the United States, Japan and South Korea remain distracted by the North's continued provocations. "For China, it's about what's in their own self-interest," he said. "They've made a calculation that they'd rather see a nuclear-armed madman in Pyongyang than a peninsula that has a unified ally that includes the United States."
Don't forget about South Korea
South Korea is a country in flux. On May 9, its voters elected a new president, the liberal Moon Jae-in. He replaced the conservative Park Geun-hye, who was removed from office this spring — and indicted on corruption charges — after months of mass protests.
The country is also key to the U.S. defense against a potential North Korean missile strike. In March, Washington and Seoul, with Park's approval, deployed the U.S.-developed Terminal High Altitude Area Defense, or THAAD, antiballistic missile system on South Korean soil, allowing the U.S., at least in theory, to intercept North Korean missiles midflight. Yet the system is controversial. China protested that THAAD could jeopardize its defense systems and retaliated with unofficial sanctions against South Korean businesses.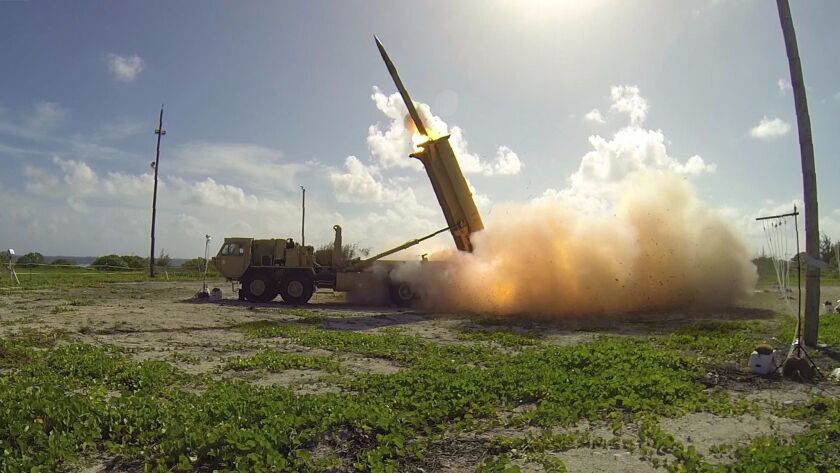 On Tuesday, Moon ordered an inquiry into THAAD's deployment. Since his election, South Korea's relations with China have improved.
The Trump White House, some experts say, is poorly equipped to navigate these developments. The administration has not yet nominated an ambassador to South Korea, and several other important diplomatic posts remain vacant.
"You can just tell from the bureaucratic disinterest that the Trump people just don't take East Asia seriously," said Kelly, the political science professor. "So the Chinese are gonna move into the space they vacate."
Special correspondent Matt Stiles in Seoul contributed to this report.
For more news from Asia, follow @JRKaiman on Twitter
ALSO
Does President Trump's 'America first' policy cede U.S. global authority?
The day road rage led to a treason charge in Zambia, as democracy falters in Africa
South Africa's president has survived a rape trial, corruption charges and many bids to oust him
---
Must-read stories from the L.A. Times
Get the day's top news with our Today's Headlines newsletter, sent every weekday morning.
You may occasionally receive promotional content from the Los Angeles Times.