South Korea's new leader faces some big challenges — one named Trump and one named Kim Jong Un
Seoul —
South Korea's left-leaning new president, vowing to unite a nation bruised by a historic corruption scandal, takes power as North Korea flexes its nuclear muscles and Washington sends mixed signals over rising tensions on the Korean peninsula.
The landslide election win by Moon Jae-in, who favors talks with North Korea and is wary of too much dependence on Washington, throws a new element of uncertainty into the Trump administration's dealings with North Korea's isolated and mercurial leader, Kim Jong Un.

For the record:
5:50 p.m. May 9, 2017
An earlier version of this story incorrectly spelled Katharine Moon's first name as Katherine.
Moon, a lawyer and former presidential aide representing the center-left Democratic Party, pledged in a midnight victory speech to restore the public's faith in the country after a tumultuous six months that saw the ouster and arrest of the former president, Park Geun-hye.
Under the circumstances, with Park jailed and the prime minister serving as a caretaker, Moon was expected to take office almost immediately. No elaborate inauguration is scheduled.
"My fellow Koreans, I will not forget what you have asked for as a nation, as a people," Moon told a large crowd in a central square where protesters have gathered in recent months.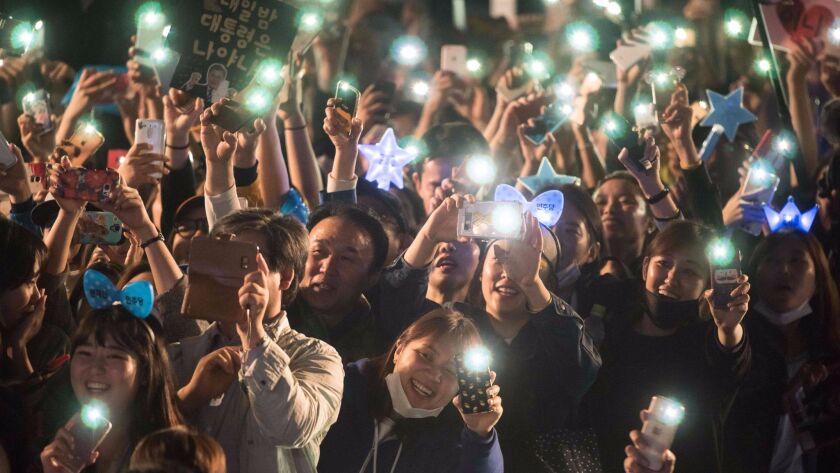 "I will work toward putting our country back on its feet and helping all of you realize your dreams, as Koreans."
The White House, in a brief statement, offered congratulations and expressed hopes for a continuing close partnership with the government in Seoul.
Moon's lopsided victory — he received 41% of the vote in a field of more than a dozen candidates, nearly double that of second-place finisher Hong Joon-pyo — was widely expected by policymakers in Washington and elsewhere, muting its immediate impact.
But going forward, the relationship Moon forges with Trump will be heavily influenced by the White House response to North Korea's nuclear testing program and the communist government's efforts to build an intercontinental ballistic missile that could deliver a warhead to U.S. shores, analysts said.
In recent weeks, Trump has engaged in both heavy-handed saber-rattling and seeming outreach toward North Korea's leader — sometimes within a span of days.
Some analysts pointed to Trump's declaration last week that he would be "honored" to meet with Kim under the right circumstances as perhaps dovetailing with Moon's own stated willingness to engage the North.
Trump also warned North Korea, however, that bellicose acts would carry the potential for "major, major conflict."
Last month, Trump said he had dispatched a powerful "armada" — a Navy aircraft carrier task force — to sail toward the Korean peninsula as Washington was strongly cautioning Kim not to conduct a sixth nuclear test.
Days later, the Navy acknowledged that the warships were going in the opposite direction at the time to engage in exercises with Australia's navy. The U.S. task force, led by the Carl Vinson, ultimately steamed north to within range of Korea.
There are lots of opportunities and lots of pitfalls.
Jae Ku, director of the U.S.-Korea Institute at Johns Hopkins University
Trump also caused an uproar in South Korea last month when he suggested that Seoul should foot the $1-billion bill for an advanced missile defense system — an assertion that his national security advisor, H.R. McMaster, subsequently walked back, according to South Korean officials.
Moon has questioned the decision by the previous South Korean administration and U.S. officials to install the missile defense system known as THAAD, or Terminal High Altitude Area Defense, and called for a review of the decision to make it operational.
China strongly opposes putting the system in South Korea, arguing that its sophisticated radar could undermine China's military capabilities. U.S. officials insist the antimissile system is only aimed at North Korea.
Some analysts said Trump's seeming changeability added greater unpredictability to the standoff with North Korea, and U.S. relations with Seoul, than did the results of Tuesday's election in South Korea.
Trump "has made the U.S. into this big question mark as an alliance partner," said Katharine Moon, a political science professor at Wellesley College in Massachusetts and a nonresident senior fellow at the nonpartisan Brookings Institution.
In the past, she said, even serious differences between U.S. and South Korean leaders — and strong anti-American sentiment among parts of South Korean society — did not pose a significant threat to an alliance forged in the Korean War more than 60 years ago.
"Moon [Jae-in] has said he wants South Korea to follow a more independent path vis-a-vis the United States, but that does not mean reneging on the alliance," she said.
South Korea has been in political limbo for months. Park, the now-jailed former president, was impeached last December in a corruption scandal and officially removed from office in March.
Given the domestic turmoil, Moon Jae-in is likely to move swiftly to try to establish Seoul's place as a decision-making partner to Washington when it comes to dealing with North Korea, analysts said.
"There are lots of opportunities and lots of pitfalls," said Jae Ku, the director of the U.S.-Korea Institute at the School of Advanced International Studies at Johns Hopkins University. "That's why it makes it so important for the new administration to have early meetings with President Trump."
Trump is expected to visit Asia this year, but the White House has not yet said if he will visit Seoul.
Heading into the vote, South Koreans appeared determined to put the scandal behind them and turn a new page. Nearly 80% of voters went to the polls to decide who would lead the country.
Moon, 64, had consistently led public opinion polls during the campaign. A final survey showed him ahead with about 40% support in a crowded field of 15 candidates. A plurality was all that was needed for victory.
The new leader's ascension to the Blue House — South Korea's presidential complex, named for its distinctly colored tile roof — should represent an ideological shift from two administrations of conservative policies, especially on foreign affairs.
Senior U.S. lawmakers called the U.S.-South Korean relationship crucial for both countries.
"With threats in the region escalating, it is vital that the United States and South Korea continue to work together," Sen. John McCain (R-Ariz.), chairman of the Senate Armed Services Committee, said in a joint statement with the committee's ranking Democrat, Sen. Jack Reed of Rhode Island.
ALSO
Five big takeaways from France's presidential election
She's young, transgender and an anarchist, and is leading Taiwan's drive to become a digital powerhouse
Mexicans were afraid Trump would bring disaster. So far, his bark is worse than his bite
Special correspondent Stiles reported from Seoul and Times staff writer King from Washington. Staff writer Lisa Mascaro in Washington contributed to this report.
Twitter: @laurakingLAT
---
UPDATES:
5:55 p.m.: This article has been updated throughout with reporting from South Korea, analysis, background.
---
Must-read stories from the L.A. Times
Get all the day's most vital news with our Today's Headlines newsletter, sent every weekday morning.
You may occasionally receive promotional content from the Los Angeles Times.